Afraid of the dark?
Head out there with a DIY landscape lighting kit and things could get really scary.
Maybe you've been thinking of heading to the big box store and grabbing some landscape lighting components.
We know you can pull it off.
But should you? Or is this one of those jobs best left to the pros?
Let's shed some light on the subject.
Solar Lights? Just Say No
Yes, these DIY landscape lighting kits are easy, cheap, and tempting, but please, just say no to those flimsy solar light fixtures.
The solar panels don't last long, so you're just wasting your money. And it's wasteful to keep throwing your worn-out plastic fixtures into the landfill. The environment will thank you for going with hard-wired lighting, and your home will look more high-end, too.
Considering a Hard-wired Kit? How's the Quality?
Chances are, not so great.
Your fixtures will either be made of plastic or cheap aluminum. As the months and years pass, you can watch them deteriorate, from flaking paint to water damage.
Landscape lighting companies in Orlando have access to higher-quality fixtures and components than you have as a do it yourselfer.
Wiring Worries with DIY Landscape Lighting
Wiring is a crucial part of your outdoor lighting system.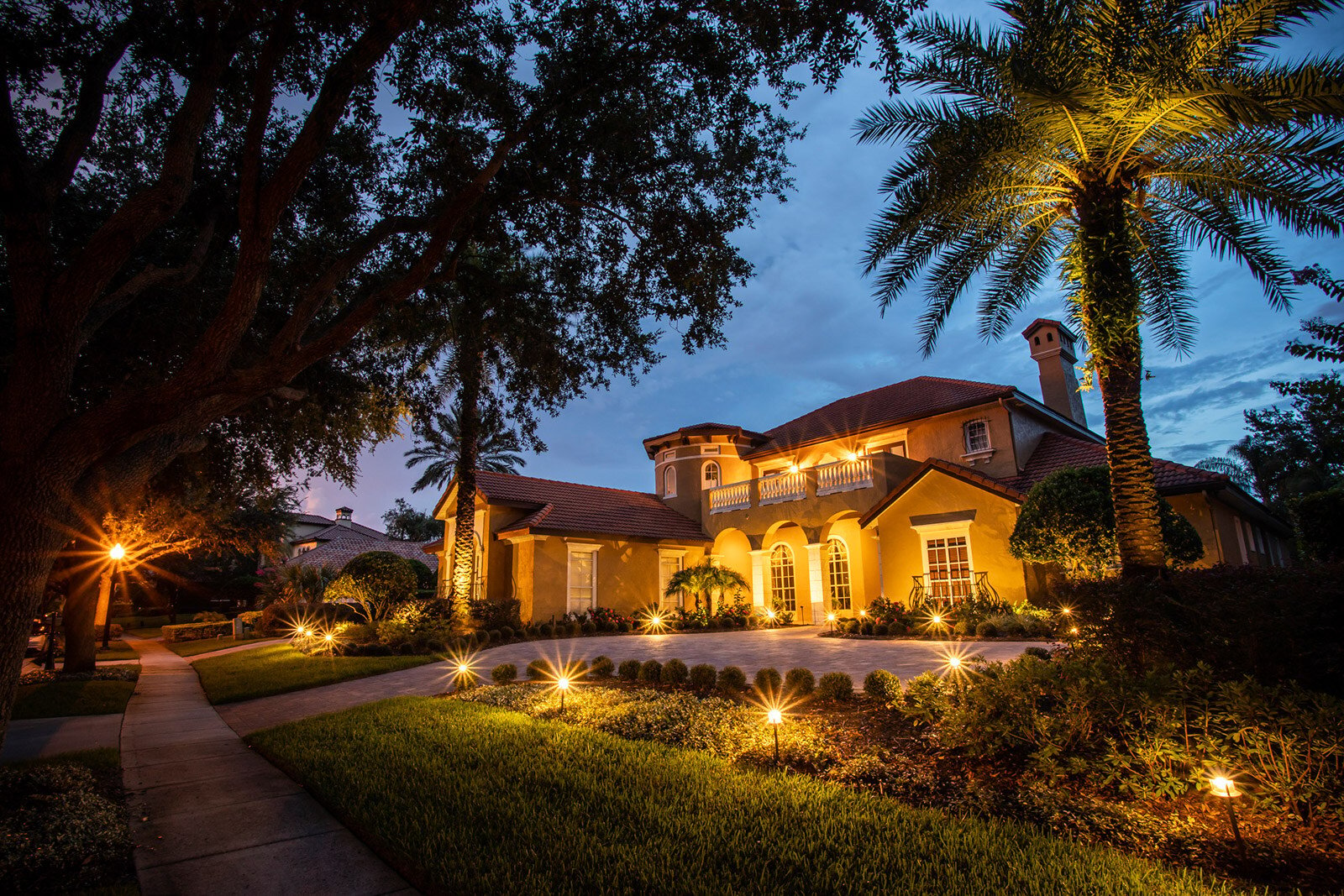 Take a peek in that DIY box and look at the wiring. Does it seem kind of skimpy?
It has a big job to do. Your fixtures could be pretty far away from your transformer. The farther away they are, the fixtures are less likely to receive the voltage they need to work at full capacity.
You might notice all the lights are dim. Or your bulbs might constantly burn out.
Landscape lighting companies in Orlando use heftier wire, which allows the electricity to flow with less resistance.
No voltage drop.
Can You Trust the Transformer?
DIY landscape lighting transformers usually don't provide the power that professional units do.
They carry a big load. If yours isn't powerful enough, you'll get uneven voltage and dim or burnt-out lights.
Is Your Yard Exactly Like Your Neighbor's?
Of course not. Unless they copied your cool landscaping.
Expert landscape lighting should be suited to your landscaping's exact needs.
That means a variety of different bulbs, with assorted beam spreads and wattage.
Your yard isn't just like everybody else's. Your house has its own architecture, unique plantings, maybe a pool or pergola.
Why would that box of fixtures on the store shelf perfectly highlight your home if it's the same kit your neighbor bought?
Easy answer: It wouldn't.
Landscape lighting companies in Orlando customize your landscape lighting to your home and landscaping. Your prized Sylvester Date Palm, basked in a subtle glow, will look great.
What About Warranty?
Check the fine print onuse here at Ground Source, offers a 10-year warranty against corrosion on all powder-coated finishes, natural metal finishes, and all composite fixtures and enclosures.
All stainless steel transformers manufactured after 2004 have lifetime warranties on enclosures, finishes, and internal com that DIY landscape lighting box for the warranty. It probably has a limited 1-year warranty.
Even the manufacturers don't trust this stuff to hold up.
But high-quality lighting designed and installed by professionals is guaranteed much longer.
Vista, the supplier of the lighting we ponents.
Other components come with substantial warranties, too.
No Offense, But Do You Know What You're Doing?
Sure, that box comes with instructions. But they'll only take you so far.
DIY landscape lighting is trickier than it looks.
How do you figure out if you're about to overload your transformer or breaker?
Can you position the lights so they don't cause annoying glare for your neighbors?
Is uplighting best for a certain spot? Or downlighting?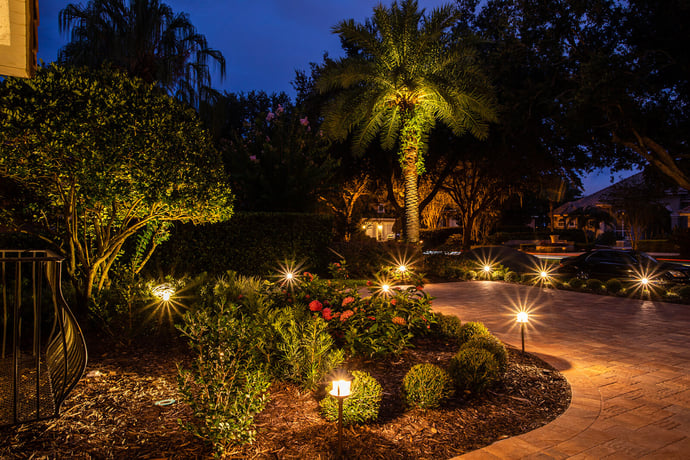 How do you get the wiring to the other side of your driveway? (Tip: if you hire us to install your paver driveway, we'll install PVC sleeves underneath to make adding landscape lighting easier later. That way, you won't have to tear up the whole driveway to do work underneath it.)
One DIY customer we encountered discovered they couldn't open the door because they installed the transformer too close to it.
You don't want to mess this up. Your homeowner pride is on the line.
Landscape lighting companies in Orlando know about the big things, like planning the right color temperature and expert placement so your yard looks subtly stunning, not garish and overdone.
We also know the little things, like putting grease on your bulb pins so they don't corrode and get stuck.
Pros know walkway and path lights should be staggered along paths, not all lined up, so it doesn't look like an airport runway.
We know to avoid those lantern-style lights lining your paths. All you see is the bulb, so you have a bunch of bright dots in your landscape.
Instead, we choose fixtures with caps that direct the light down, so you don't see the fixture or bulb — you just see nice light illuminating your path.
We'd love to help you do it right. Let us uplight your Pygmy Date Palm and watch how its multiple trunks take on a whole new look once the sun goes down.
DIY Landscape Lighting: Is the Cost Savings Worth It?
Yes, it's cheaper. But at what cost?
If you're going to go to all that trouble, you want quality lighting as your reward, right?
The last thing you want to do is spend a bunch of money and give up a whole weekend for DIY lighting — then have to call in the pros to get the results you really wanted.
Professional lighting doesn't have to break the bank.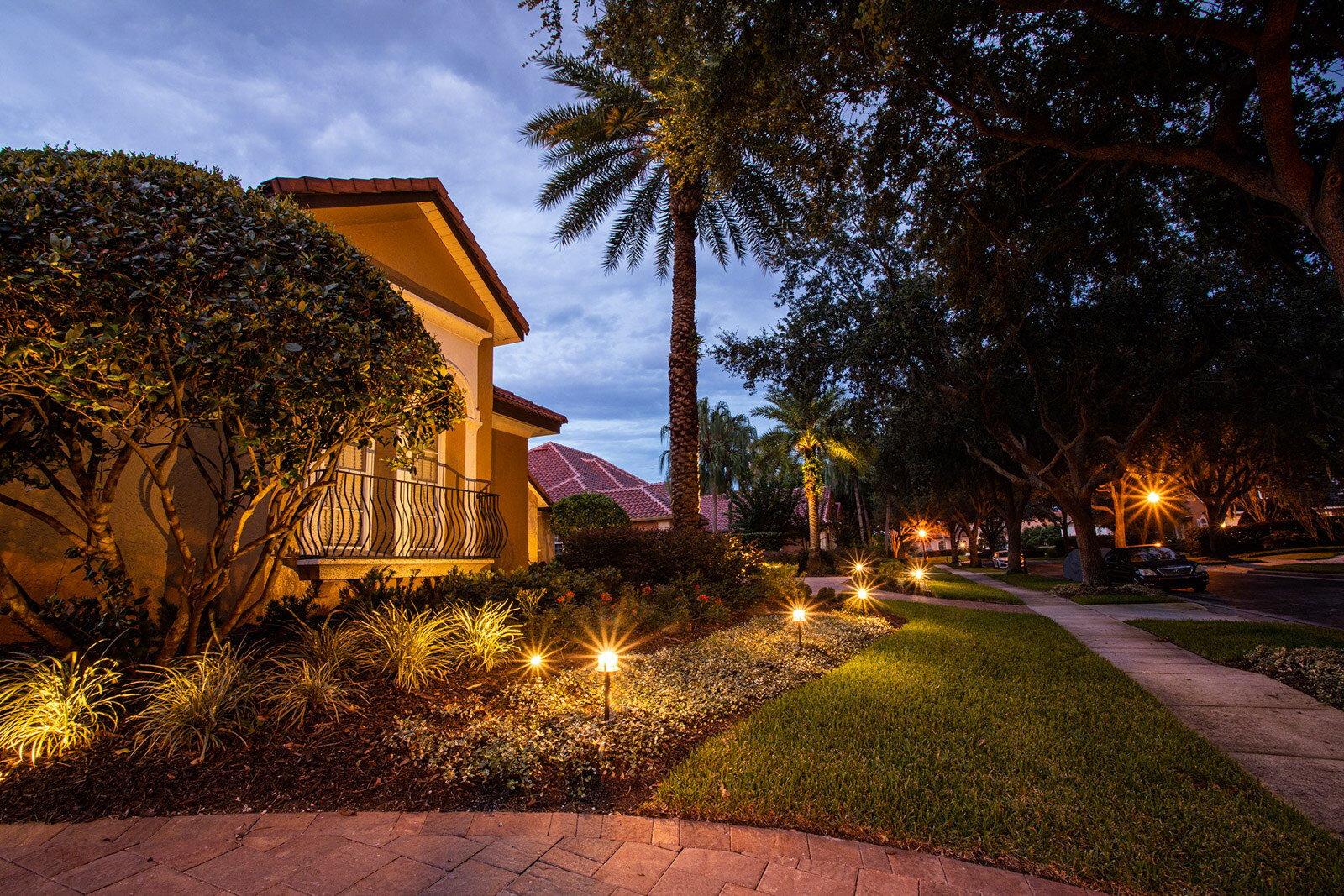 Professional landscape lighting starts at $2,200 for a basic package that includes a transformer, five or six lights, LED bulbs, and 200 feet of wire — all high-quality components.
Of course, you can pay more. The sky's the limit, really.
Landscape lighting companies in Orlando can help you add color changing lights to create a red, white, and blue extravaganza for the Fourth of July or a theme-park quality light show to dazzle the neighbors.
Add WiFi options so you can control your landscape lighting from your phone.
Just want to highlight your new grove of palms? We can do that, too.
Why Take a Risk With DIY Landscape Lighting? Trust Ground Source
Before you head to the lighting aisle, give us a call.
We're happy to tell you more about how we can transform your yard with professional, expertly designed landscape lighting.
No digging, sweating, or swearing for you — just relax and wait for the stunning results.
We're landscape lighting experts, but our skills don't stop there. We're with you every step of the way as you plan your perfect outdoor space.
Sod, irrigation, landscape design: Let us transform your yard from an embarrassing eyesore to a place you spend every spare minute.
Are you ready to enjoy the vibrant, impressive yard you've always wanted? Request a quote today! We'll help you review your options and then transform your property.