When they say a picture is worth a thousand words, they're talking about photos like you see here, the before and after photos of this Windermere, FL front yard.

Before: scruffy old shrubs; a leaning, aging palm tree; a bunch of brown sticks; ratty old mulch.

After: Wow.

The homeowners worked with Eric Frisch, landscape designer at Ground Source, to completely re-do their worn-out front yard landscaping.

Here's how Frisch pulled together the vibrant new look of this Orlando landscape design.
Time to Bring the Landscaping Back to Life
The aging landscaping of this lovely home in the west suburb of Orlando detracted from the home's beauty.

"It was 20 years old, the shrubs were tired, there were no flowers, no real design," Frisch says. "The plants were in bad shape and no longer healthy. It was time for them to go.

"We cleared everything out," he says, including removing a leaning old palm tree with a gouge in its trunk.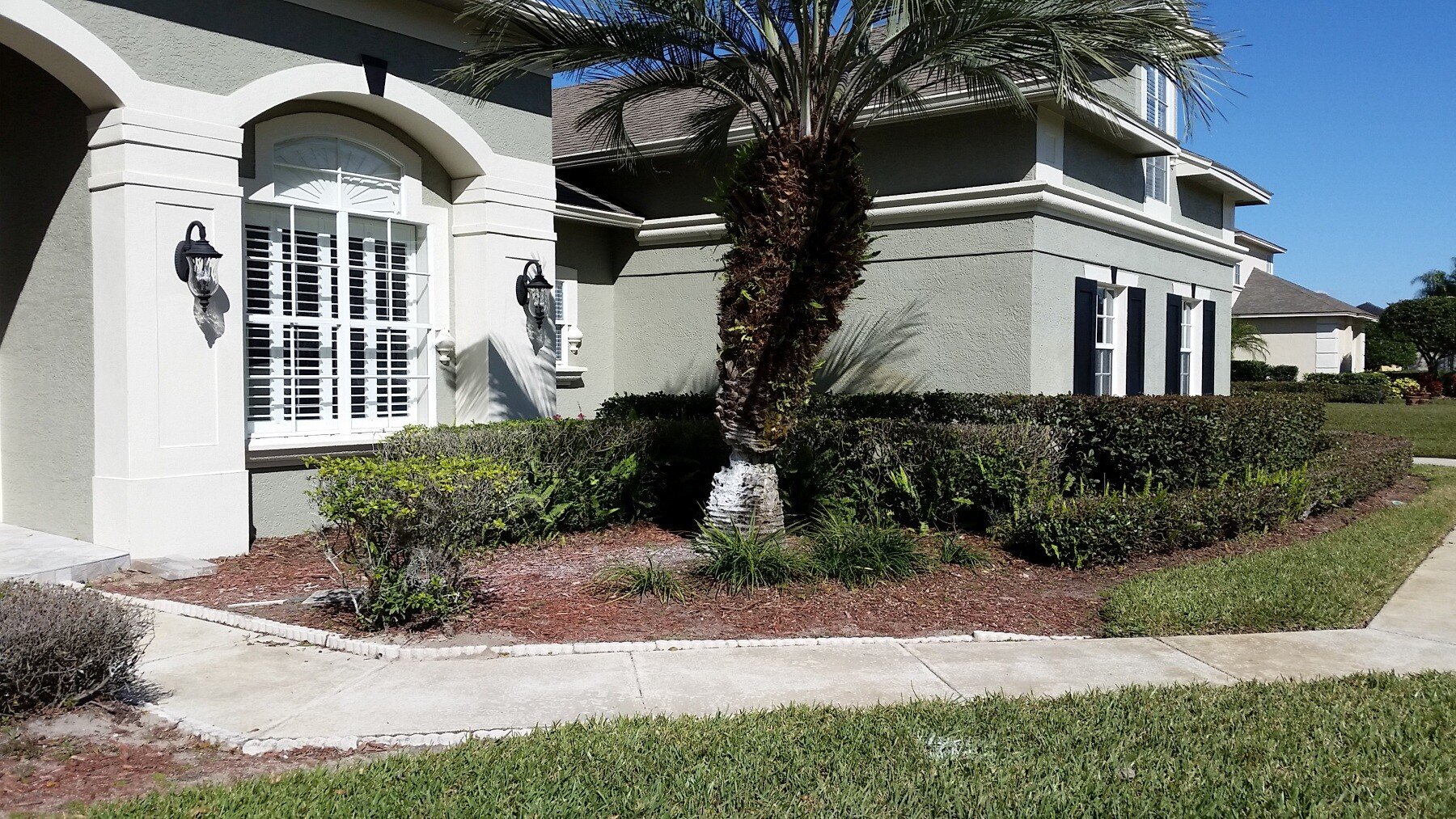 Frisch saved one palm tree and a crape myrtle from the existing landscaping. That's it.

But Frisch had a good framework to start with, he says, including healthy sod, a professional irrigation system, and a newly installed paver driveway and front walkway that was there when Frisch started on the project.

"It was time to bring the landscaping back to life."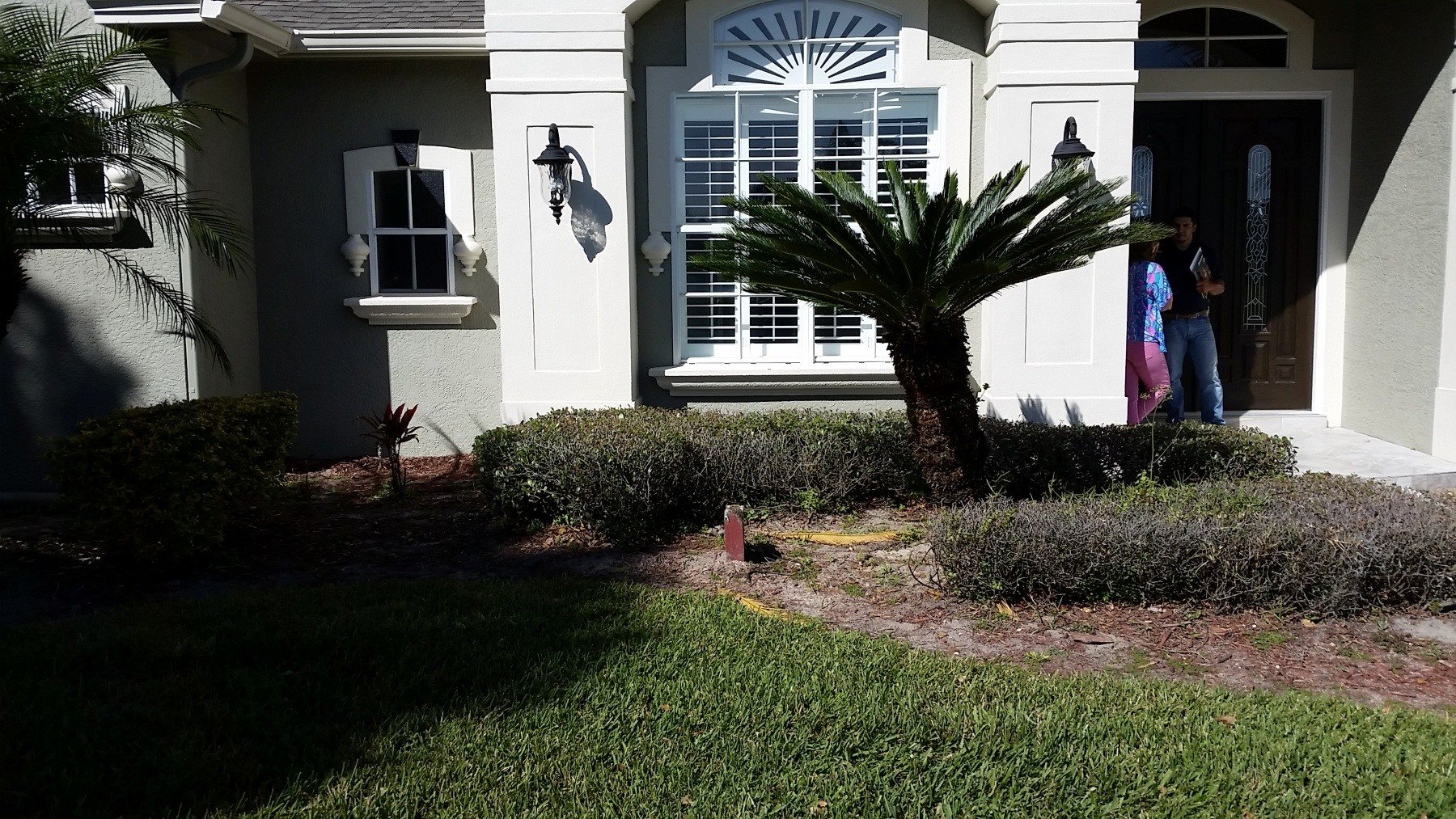 The Case for Curves
Frisch used the style of the house and the surrounding neighborhood houses as inspiration for a neat, well-manicured look "with a touch of formality," he says.

He reshaped the planting beds into graceful curves that are deliberately not symmetrical.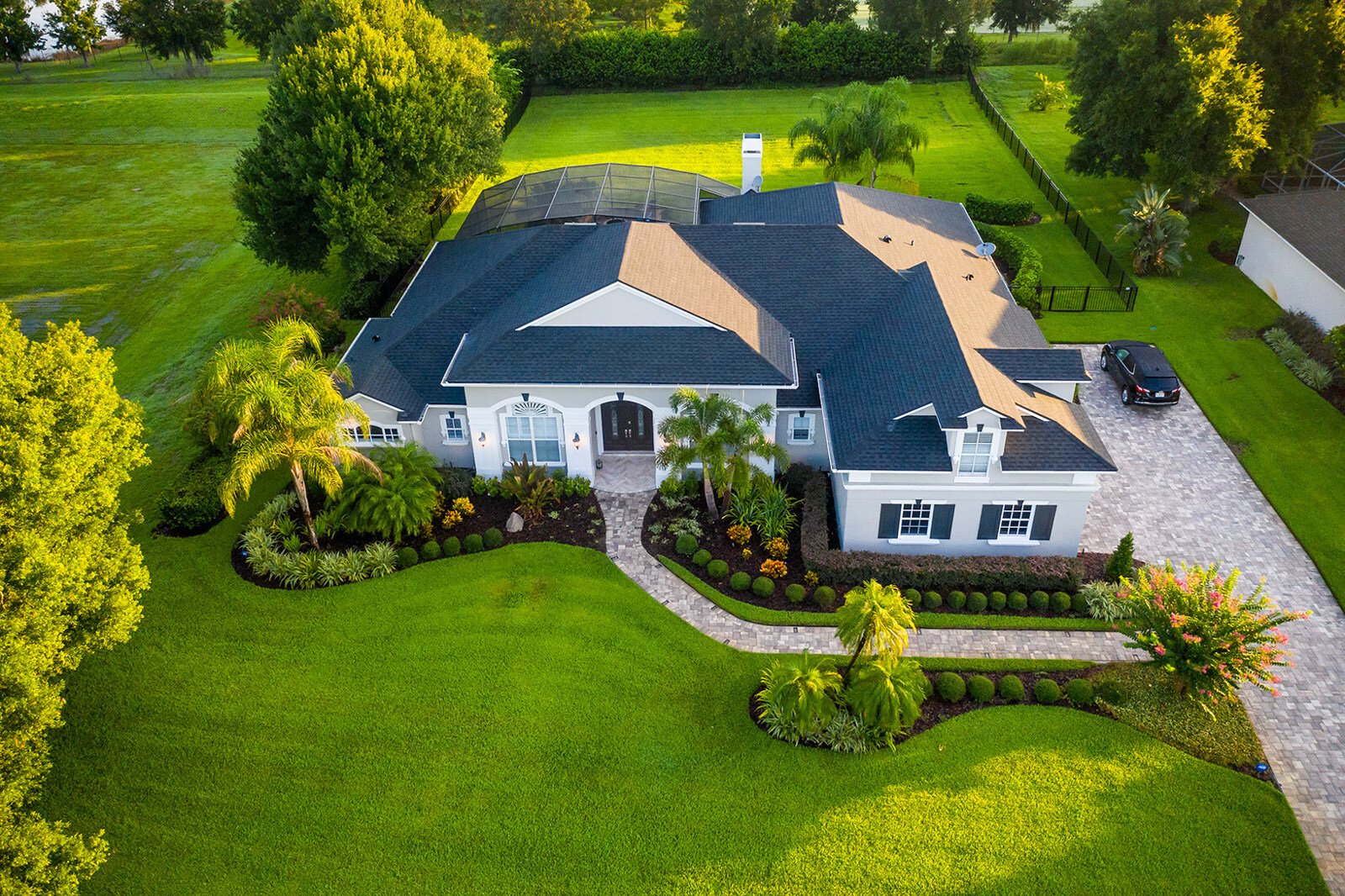 "Curves don't always work," he says, "but they work here. A modern home might call for more squared-off beds. This house is traditional, but not too classic and not modern.

"The curves soften the square angles of the house," he says. "And nature doesn't follow straight lines."
Palm Trees, Please
It's not an Orlando FL landscape design without palms, right?

Frisch used several to anchor the new landscape design: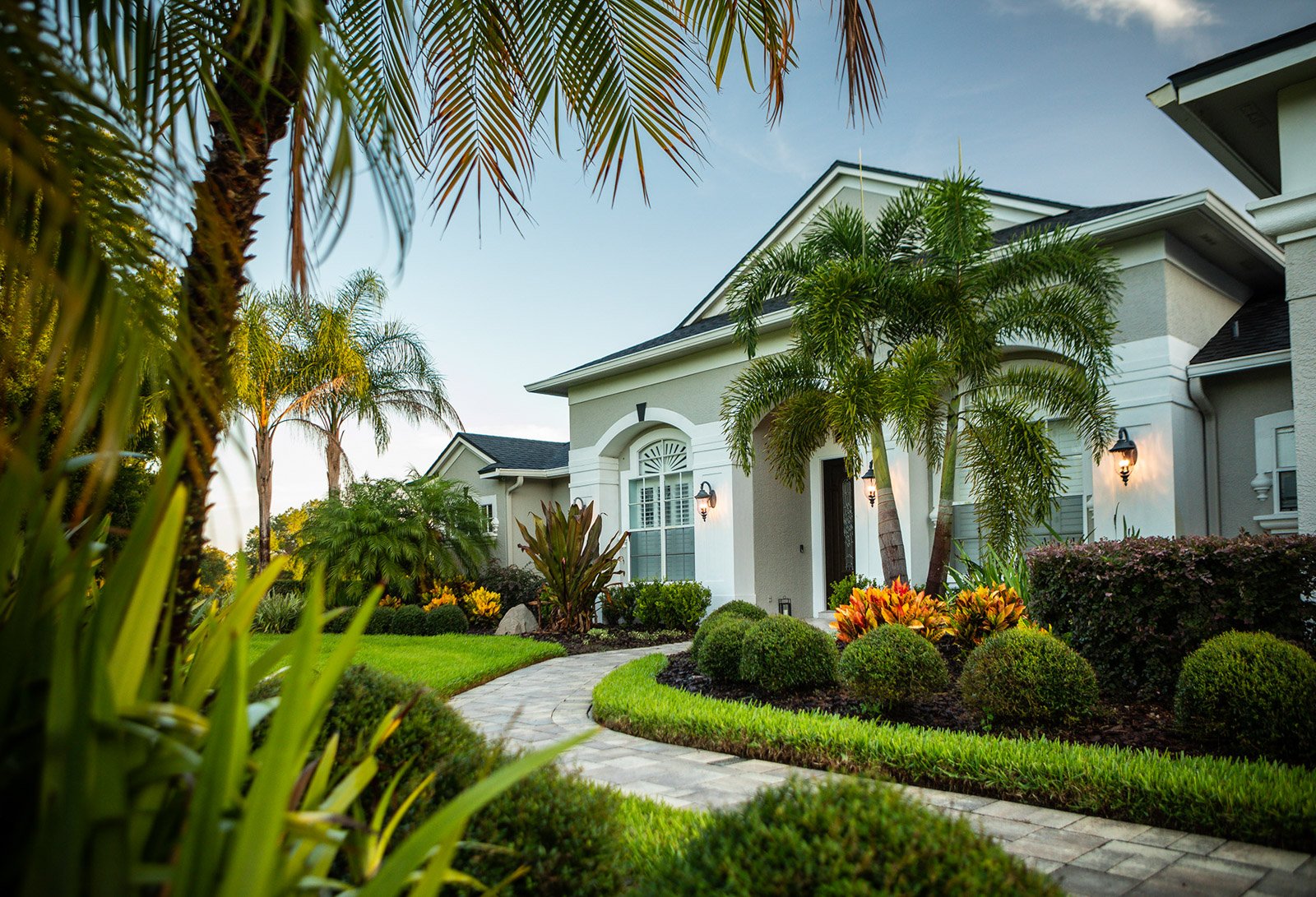 Queen Palms
Two Queen Palms add height and balance. Also called Feather Palms, these trees are
graceful and lush, boasting intriguing gray bark and long, glossy fronds.

With a wide canopy and no thorns, this is the most common palm used in new construction, but works great for a landscaping refresh like this, too.
Roebelenii Date Palm
This petite multi-trunk palm is often used in small landscape beds or even inside pool screens. It's perfect for tight spots where you still want a tropical punch.
Foxtail Palm
A double-trunk Foxtail Palm by the front door is a landscaping standout, with its big fluffy fronds that look like the bushy tail of a fox.
Plants: The Stars of the Show
Frisch blended an artistic mix of color and texture for this Orlando landscape design.

Here's a look at the plants:
"Plum" Loropetalum
Frisch loves loropetalum, a compact shrub that sports colorful foliage that looks great year-round.

This variety, 'Plum,' boasts pretty burgundy leaves that offer a striking contrast to the greenery around it. Pink fringe-like flowers are stunning, but this plum-hued hedge doesn't need them to make a big impact.
Schilling Holly
Frisch layered the plum-leaf loropetalum hedge with a curving row of Schilling Hollies, also known as Dwarf Yaupon Shrubs. The holly's dense, rounded form makes it great for hedges. It looks like it's been professionally shaped — without any formal cutting.

If left alone, these individual shrubs would grow together as a solid hedge, but Frisch designed this row of shrubs to be kept trimmed into spheres.

"It's a nice contrast, instead of a solid hedge," Frisch says. "It brings some design and architecture."
Tri-color Jasmine
Tri-color Jasmine blankets the ground beneath the crape myrtle This evergreen vine boasts beautiful variegated leaves that mix dark green, white and pink. It's great as a groundcover or climbing vine.
Crotons
An Orlando FL landscape design favorite, crotons offer a dependable, impressive, vibrant pop of color. Crotons thrive here and add stunning tropical color, six feet tall.
'Regina' Iris
An exotic addition with big purple-blue flowers and brilliant jade foliage, this iris adds texture with its course, sword-shaped leaves, Frisch says.
Crinum Lily
Big showy flowers, big leaves, fast growing — this substantial lily adds a big punch to the landscape.

"It works nice as a tropical accent," Frisch says, "without having a big trunk."
Boxwood
A boxwood hedge beneath the front windows adds a classic landscape element.

"It's something short to keep the formality going," Frisch says.
Next Up: Landscape Lighting
When landscaping looks this good, it seems a shame to let it lurk in the dark.

The best Orlando landscape design companies incorporate lighting to add drama and curb appeal.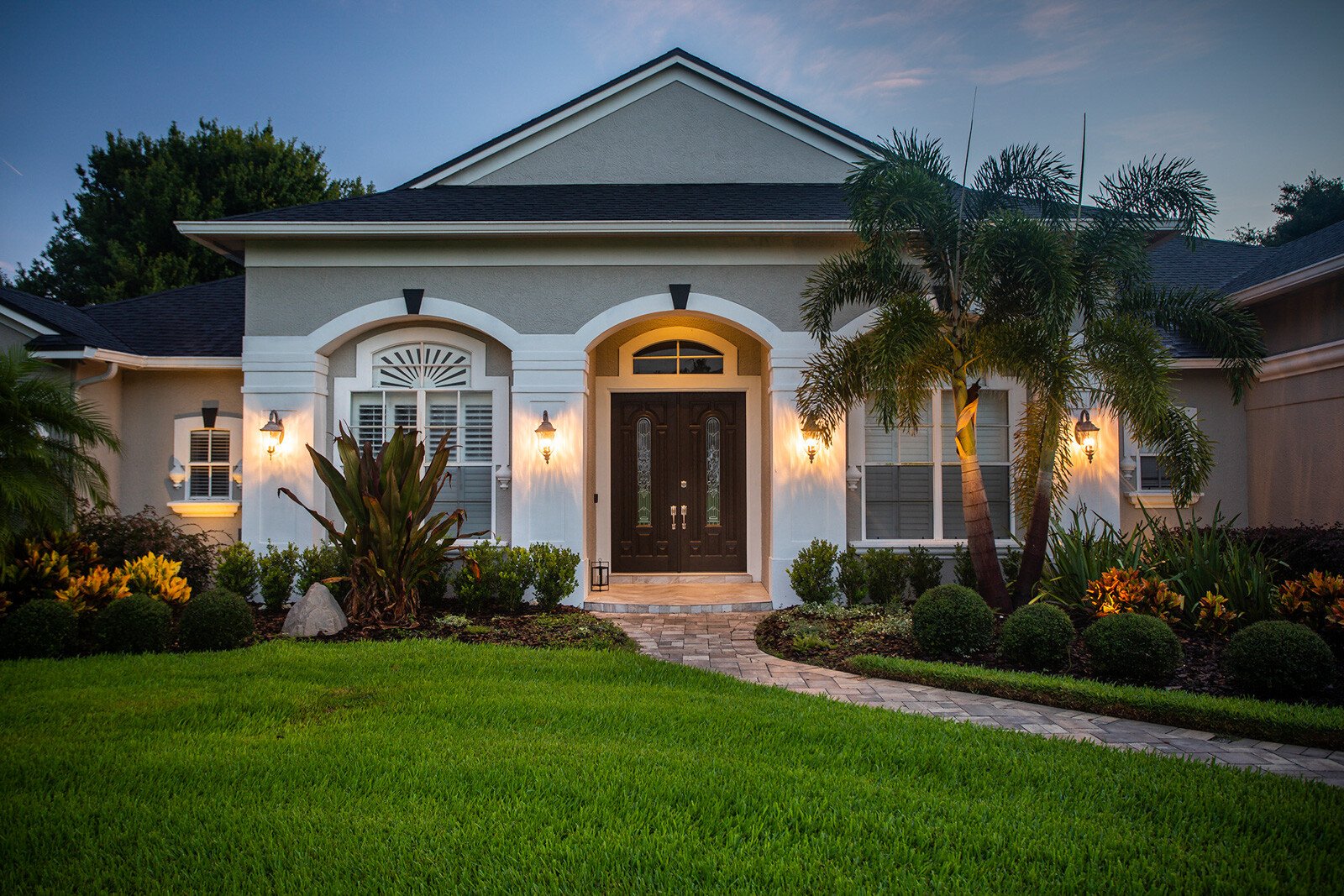 Frisch added lighting to a few key areas:
Uplights for all the palm trees and the crape myrtle to add evening drama and highlight the trees' structure.
Lighting the nook to the left of the front windows to highlight the architecture.
Backlighting for the hedge in front of the garage to highlight both the hedge and the home's architecture.
Remember, front yard lighting is for security, not just curb appeal.

A well-lit house will deter people from looking in your windows or lurking in the bushes. It makes it easy for neighbors to spot any would-be prowlers.
Bring on the Bubblers
The property already had a professional irrigation system but Frisch added "bubblers" to all the big trees that provide extra water straight to the roots.

Otherwise the large root balls have trouble absorbing all the water they need.

The finishing touch, of course, was a rich layer of mulch to help hold in that moisture and keep weeds at bay.

"It's a nice big open front yard," Frisch says. "You don't feel confined as you walk up the sidewalk. There's no big tree blocking the view of the house. The yard and house blend together."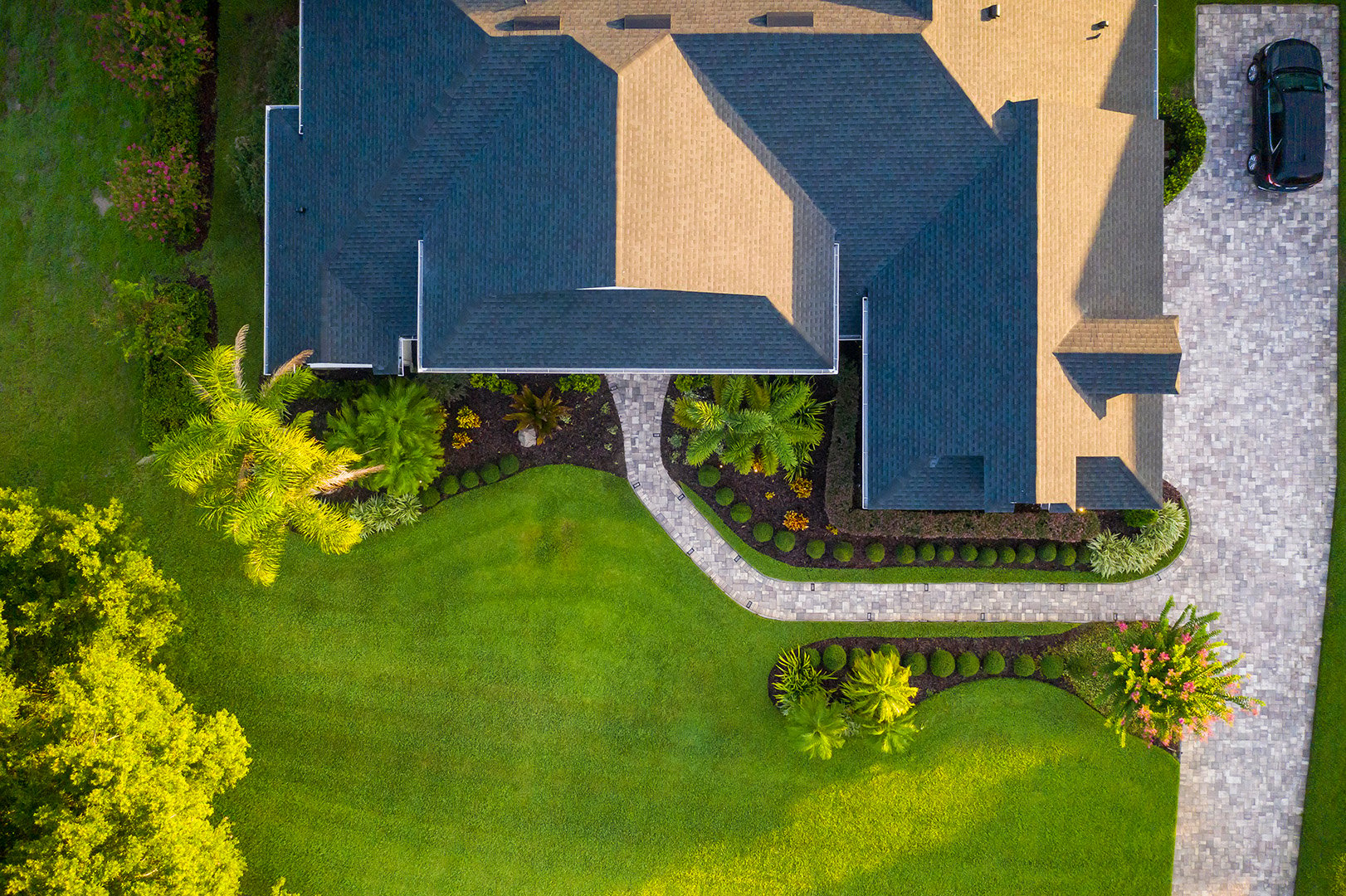 Trust Your Front Yard Landscaping Design to Ground Source
How old is your landscaping? Is it time for a refresh?

Take a hard look.

"Maybe your shrubs are no longer blooming as much, or they've been trimmed so much they're just sticks," Frisch says.

"If your yard is 25 years old, it's due."

New trees, plants and shrubs? Healthy new sod? Updated irrigation? Lighting to show off your home's best features after dark?

You're in luck. At Ground Source, we do it all. Start to finish. Not all Orlando landscape design companies do.

We're front yard landscaping experts, but our skills don't stop there. We're with you every step of the way as you plan your perfect outdoor space.

Sod, irrigation, landscape design: Let us transform your yard from an embarrassing eyesore to a place you spend every spare minute.

Are you ready to enjoy the vibrant, impressive yard you've always wanted? Request a quote today! We'll help you review your options and then transform your property.