So, you're ready to do some landscaping! We can sense your excitement way over here.
Got your plan in place? Considered the one-third rule? Varied your colors and textures? Planned for staggered bloom times?
If all you've done is bought three azalea shrubs, you're reading this just in time.
Let these seven Florida landscaping ideas get you off to a great start.
1. Landscape Design Plants: Plan Proper Placement
Deciding on what plants to include is fun. Where you plant them is actually even more important.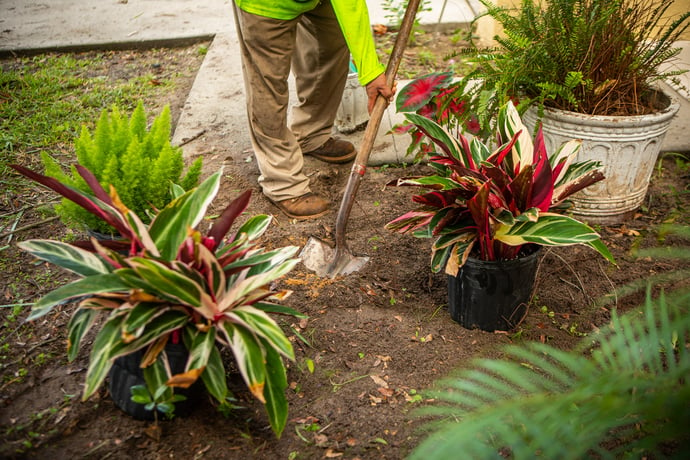 Bad placement means your plants could be overcrowded, vulnerable to diseases and insect damage, or just plain die of thirst.
You don't want a shade-loving plant next to a sun-loving plant. One of them will suffer.
Pros cluster drought-tolerant plants together so they can share the same watering needs.
Also consider the size of your landscape design plants and trees at maturity — not just when you plant them. Things grow fast here in Florida.
Some plants will get too big for the spot when they're full grown, so you'll have to rip them out.
Ugh. That's the worst. A waste of money, time, and now you'll have to start all over again with something else.
Do this right the first time.
2. Florida Landscape Design: The One-Third Rule
Keep in mind the one-third rule for landscaping design. One-third of your front yard should be planting beds and two-thirds should be lawn.
3. Florida Landscaping Ideas: Vary Textures and Colors
Maybe you really love azaleas. Sure, they're pretty.
But if you fill your yard with them and nothing else, it'll be pretty boring out there.
Now imagine the deep blue flower clusters of Lily of the Nile rising above the delicate white blooms of Asiatic Jasmine, a great groundcover that fills in like a carpet.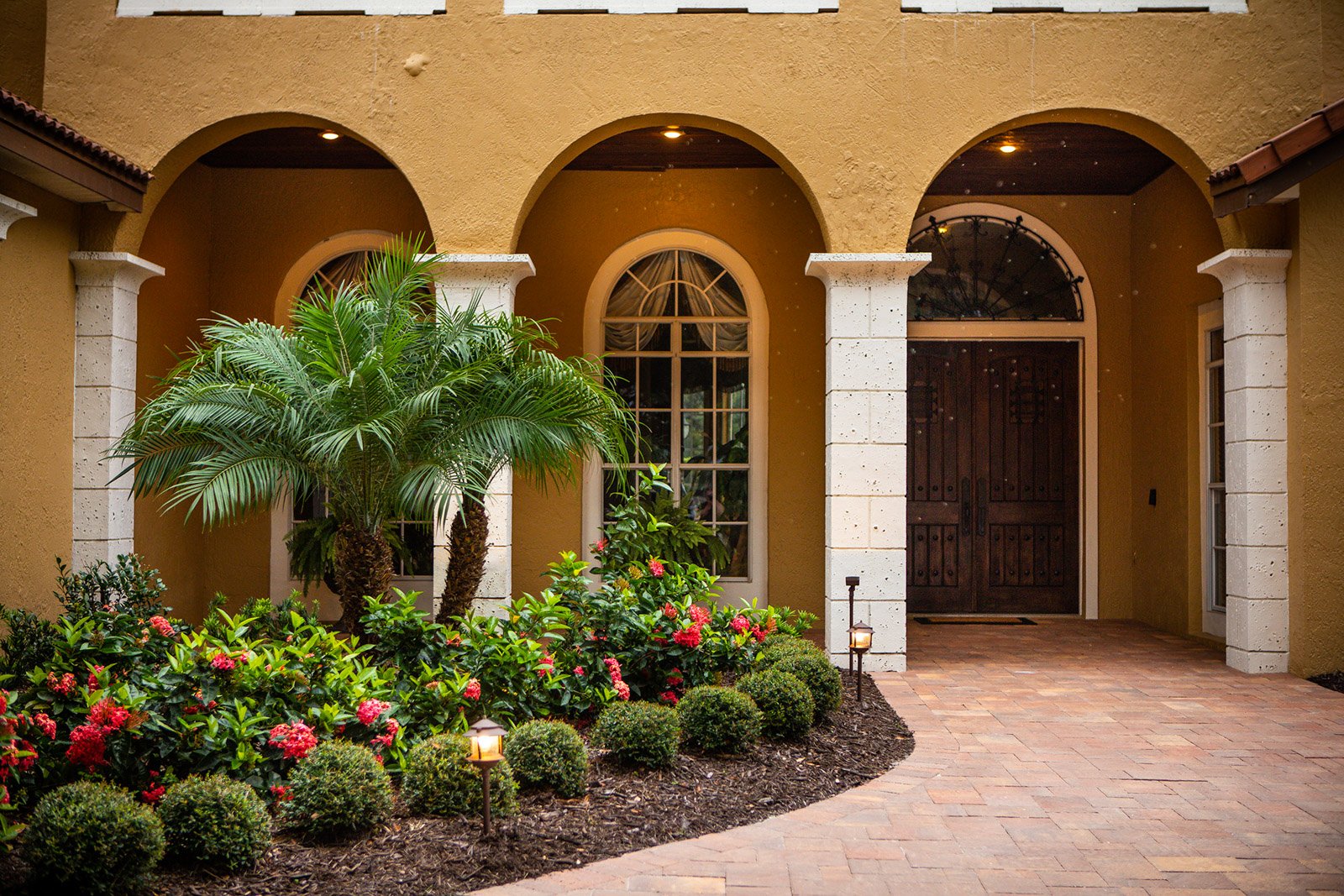 How about a few Croton? Their leaves add bold, stunning tropical color — no flowers needed.
Landscape design plants for Florida come in all colors, textures, and shapes. Part of the fun is mixing it up so you have an intriguing landscape that's beautiful without being too busy.
4. Landscaping Doesn't Last Forever
Part of Florida landscape design is replacing plants occasionally.
If your shrubs have been there for a couple of decades, they've done their job. It's time for retirement. After 20 years they're usually scraggly, overgrown, and full of dead spots.
They may even have been planted in the wrong spot in the first place, by builders who weren't experts in landscaping design.
5. Florida Landscape Design: Don't Forget About Function
Don't get so carried away by how your landscaping will look that you forget about how it will work.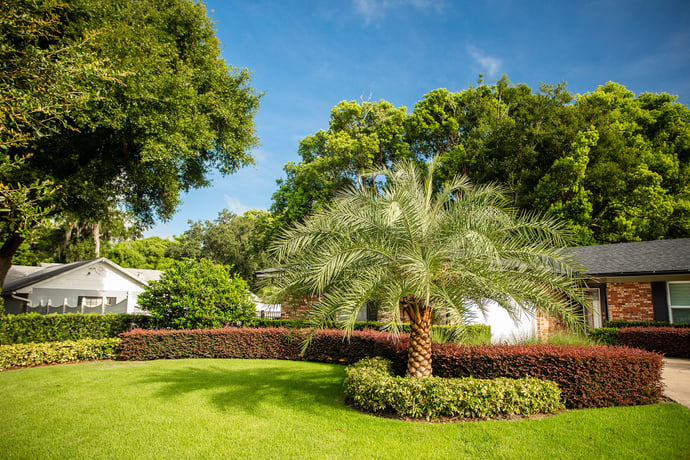 Do you love spending weekends tending to the garden, or are you out on your boat with little time for yard work?
Do you have three rambunctious dogs?
Craving some privacy from a nosy neighbor?
The answers can help direct you to landscape design plants that fit your lifestyle, not just your Pinterest page.
Maybe you should look at sturdy ground covers, not delicate annuals. Or plants that create a nice privacy screen.
If low maintenance is important to you, think about that before you choose your plants. (More on maintenance in a bit.)
6. Plant for Staggered Bloom Times
If everything in your yard explodes into bloom at the same time, that will look amazing — for about two weeks.
What about the rest of the year?
Careful planning and good plant choices means your Florida landscape design will always look great, with plants blooming year round.
And consider plants that don't flower at all — but their foliage is just as cheerful and intriguing as flowers.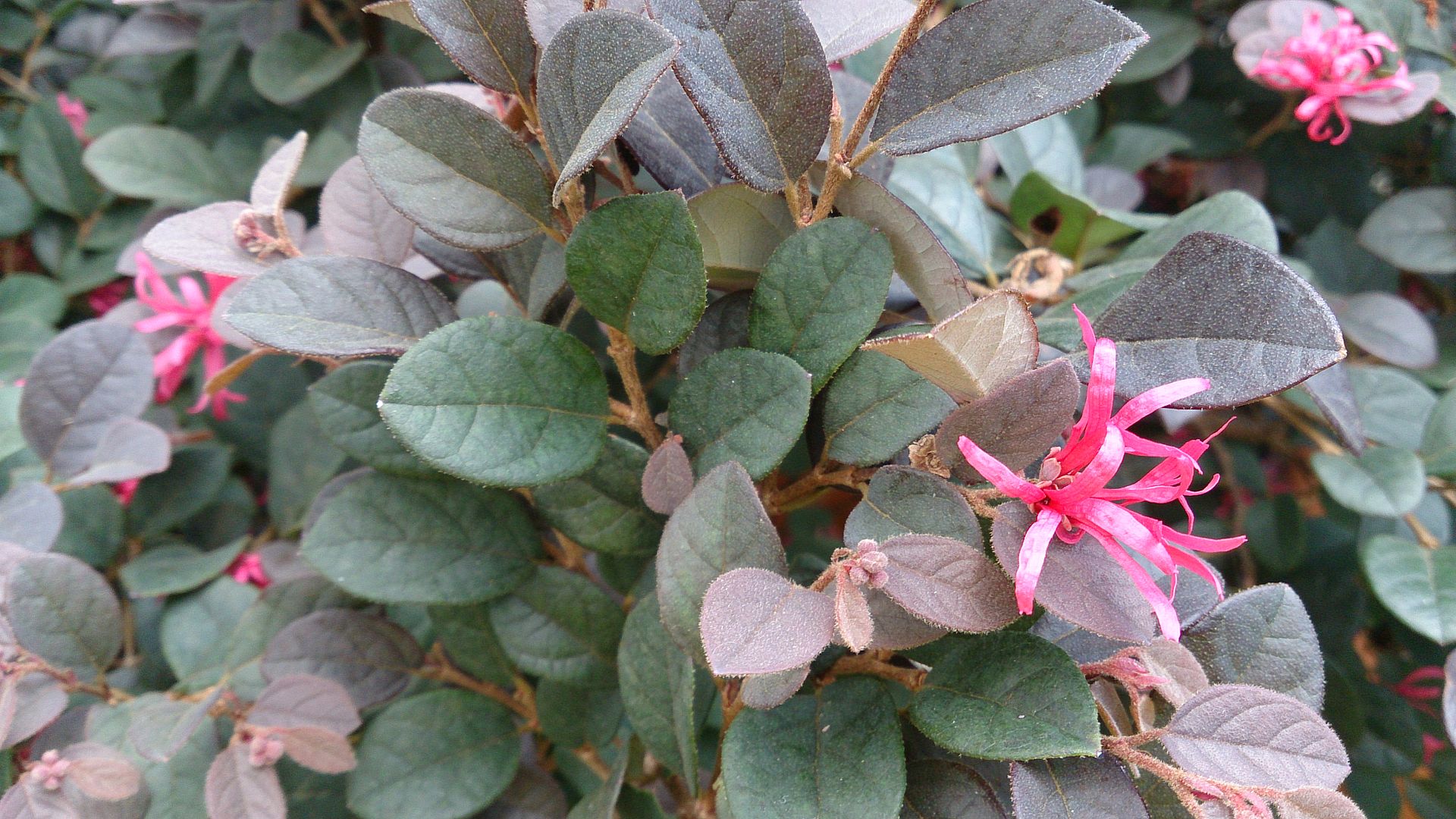 Chinese Fringe Flower is a compact shrub that sports colorful foliage that looks great year-round.
Gold Mound Duranta has bright yellow foliage, pretty as any flower, but that cheerful hue works hard in your landscaping all the time, not just for a fleeting couple weeks.
7. Maintenance Matters
(Sigh….) everything's been planned and planted to perfection.
Now you can sit back and relax, right?
Not exactly.
Your new landscaping will need some care. How much depends on the choices you make.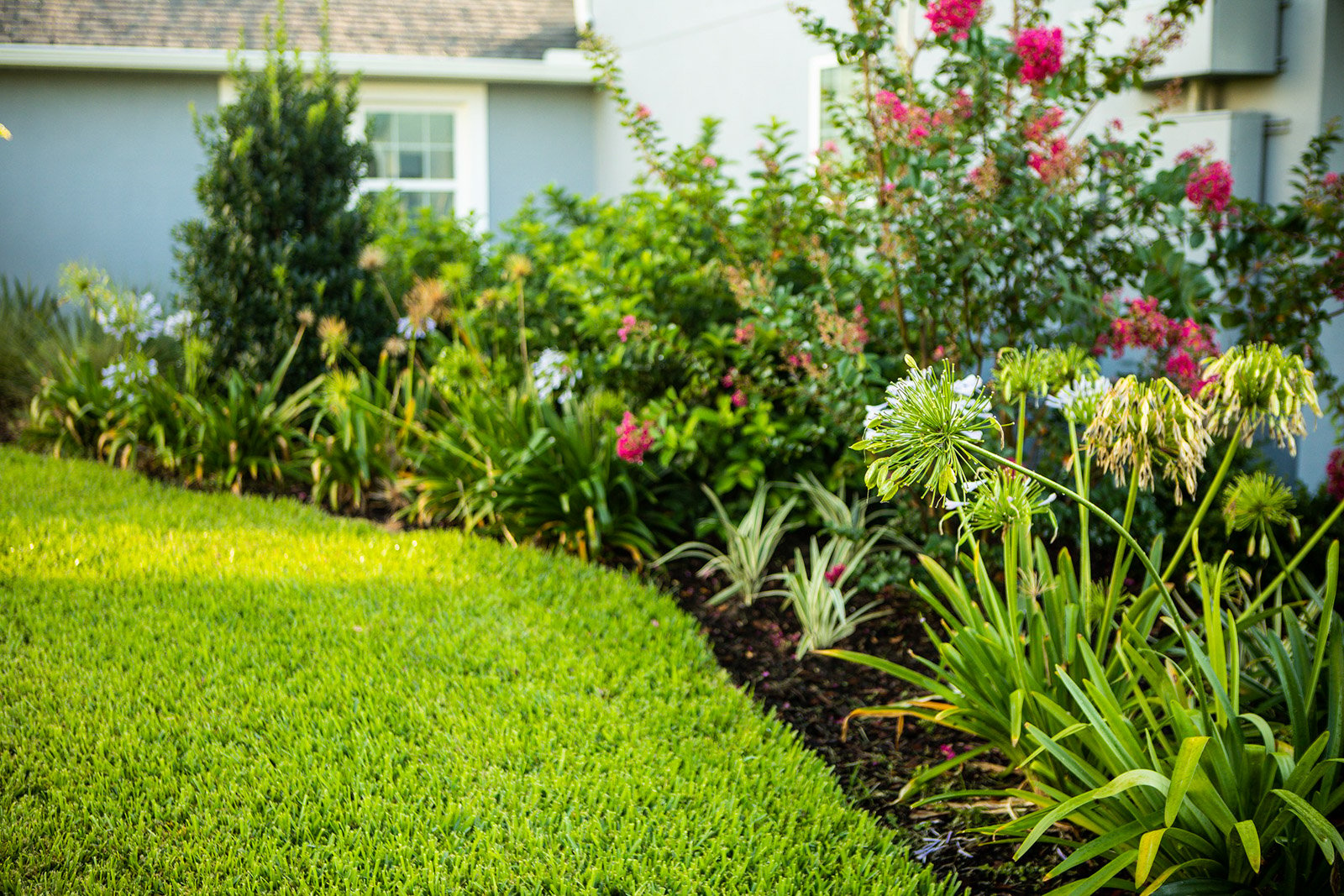 Some landscape design plants are needier than others.
Have your heart set on a Queen Palm? We don't blame you.
Graceful and lush, it boasts intriguing gray bark, long, glossy fronds and clusters of small, orange dates.
But It needs to be pruned with a pole saw or boom, and its fruit pods can be messy if not removed along with the old palm fronds.
Hawaiian Ti plants are tempting, with their striking colors and tropical look, but they drop leaves like crazy.
Annuals need more water and attention than sturdy native perennials.
If you're all about low maintenance, add ornamental grasses to your Florida landscape design.
They soften the landscape and add graceful motion. But, yay, they're low maintenance. No muss, no fuss.
And some are truly stunning.
Pink Muhly grass actually thrives on neglect. But it explodes in airy pink plumes that will wow you.
Need Florida Landscaping Ideas? Trust Ground Source
If you're suddenly thinking there's more to this landscaping stuff than you realized, you're right.
An expert, thoughtful landscape design will use all these tips, and a few others we have up our sleeve.
Professional landscape designers are your knowledgeable partners, making your yard dreams come true with plants that are in perfect scale, offer year-round interest, and fit your lifestyle, so you don't waste time and money.
Let us help you figure it all out.
We're Florida landscape design experts, but our skills don't stop there.
Sod, irrigation, landscape design: Let us transform your yard from an embarrassing eyesore to a place you spend every spare minute.
Are you ready to enjoy the vibrant, impressive yard you've always wanted? Request a quote today! We'll help you review your options and then transform your property.
Image Sources: Chinese Fringe Flower