If you're hosting a fancy party by your pool and, wearing your prettiest summer dress, carry a tray of bacon-wrapped shrimp out to your guests, but trip in the dark and fall into the pool, that's a good reason to add pool landscape lighting.
OK, so that's pretty specific. Here are a few more reasons to add lighting around your pool in Central Florida.
1. Pool Landscape Lighting for Safety
This is number one for a reason— it's super important.

Lots of activity happens around a pool. Add light to any dark areas where people could trip, slip, or fall.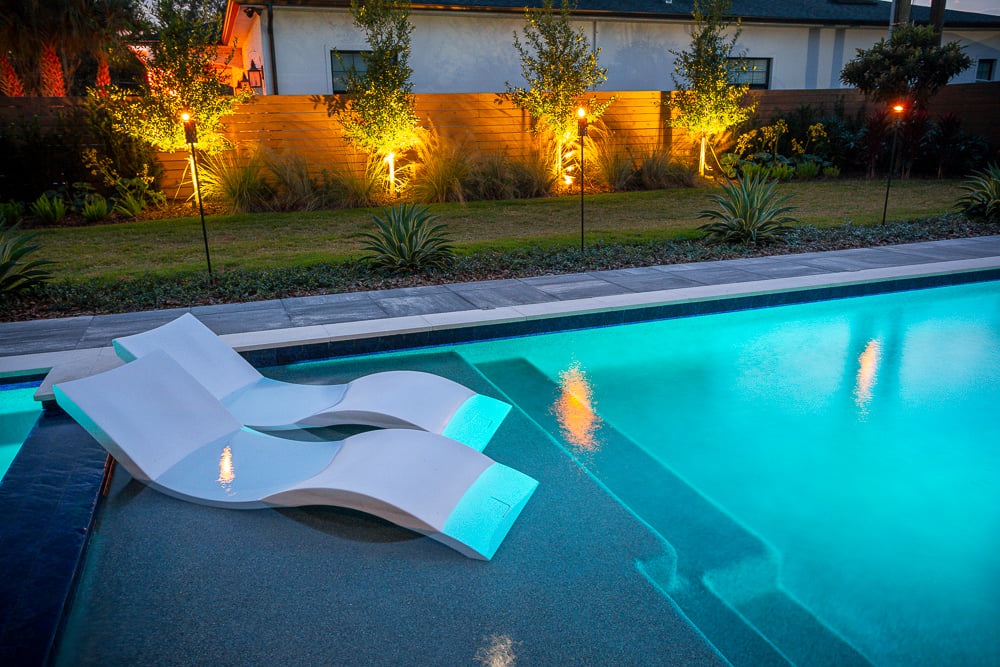 That means the pool deck, steps, walkways, and the path from your house to the pool. Subtle recessed landscape lighting offers just enough light for safety without distracting from the evening fun.

Don't worry about step lighting getting in the way. Central Florida landscape lighting companies can tuck inconspicuous lights right into that vertical part of a stair, called the riser.

You won't notice the fixture — just the perfect pools of light keeping everybody safe.
2. Pool Area Lights Set the Mood for Fun
Add festive string lights to your pool area and you've got an instant party atmosphere — or the setting for a romantic poolside evening for two.

Hang them over your poolside patio. String them around tree trunks or in branches. Magical.

Next up: outdoor tiki torches. Suddenly, your pool area feels like a tropical resort. Battery-operated and electric torches are a safer choice than old-school torches with open flames.
3. You Want a Great View from the Pool
As you lounge poolside, sipping tropical drinks from a hollowed out pineapple (you live this kind of life, right?) you'll be looking around occasionally.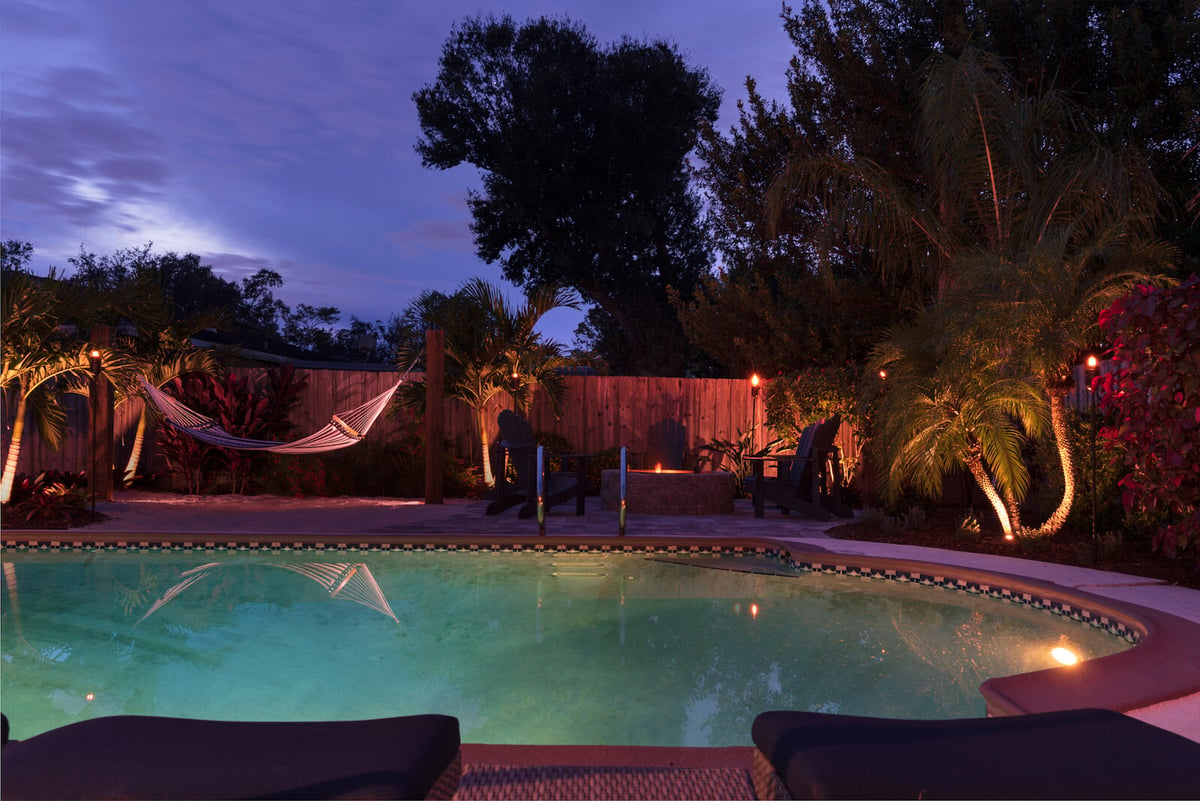 Do you want to gaze out into a spooky black hole? Add pool area lighting to your trees and plants to create pretty scenery you can enjoy after the sun goes down.

Light the pretty stuff, from your pool's fountain to statues to your fire pit to your koi pond.
4. Pool Landscape Lighting Looks Great from Inside, Too
Great lighting makes your pretty pool area do double duty, creating a magical view from inside your house.

Are there palms or other trees nearby that would love some pool area lighting? That can make a huge dramatic impact around your pool.
5. You Can make Your Own Moonlight!
Moonlight swim, anyone? Wait, the moon is hiding behind clouds? No problem, with the right pool lighting.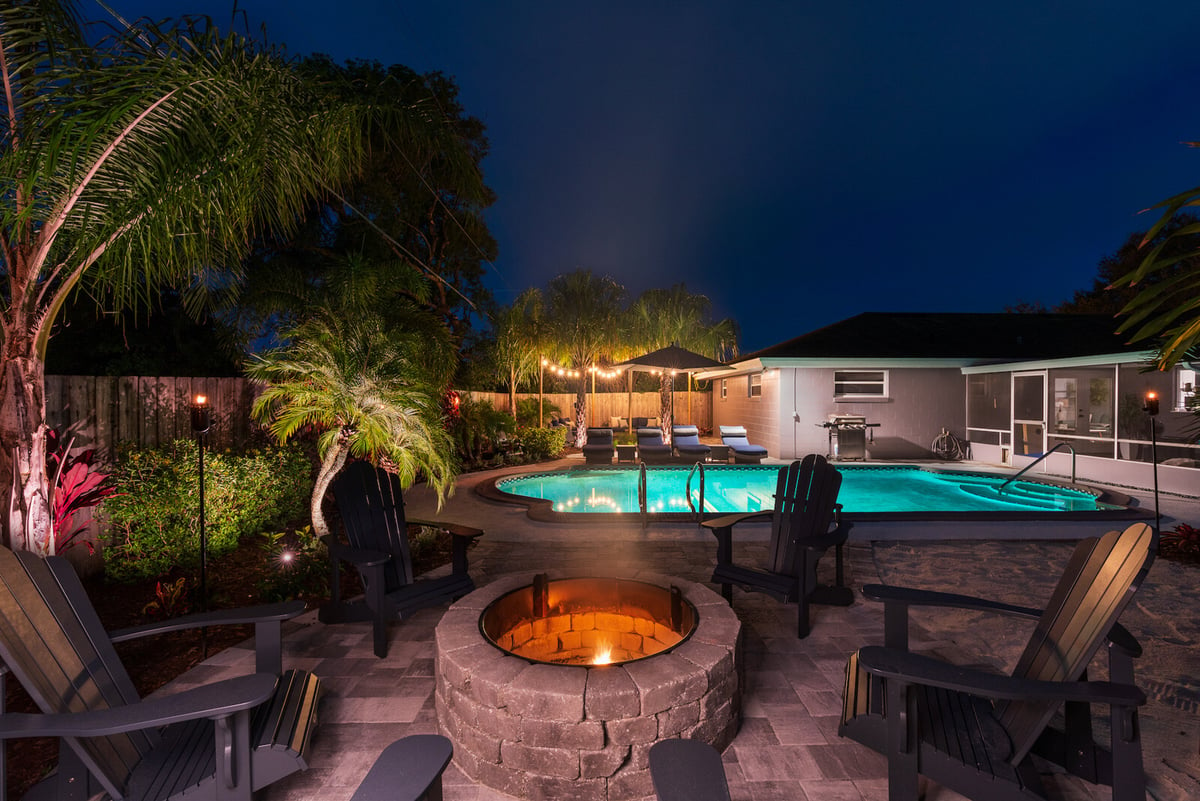 Tuck lights up high in surrounding trees or even in the eaves of your house to cast a moonlike glow over your pool area.
6. Smart Lighting Makes Controlling It Easy
You can set up a smart lighting system to control your pool landscape lighting.

Many systems have Wi-Fi and Bluetooth control options, making it easy to turn your lights on and off from different devices or locations.

Don't forget dimmers. Put your pool area lighting on dimmers you can control with your smartphone.

Then with a simple click, you can make the landscape lighting brighter or dimmer to suit the atmosphere and your safety needs.
7. Pool Area Lighting Extends the Fun After Dark
Don't let sunset end your pool-time fun. Adding outdoor lighting around your pool can extend your summer fun into the evening hours.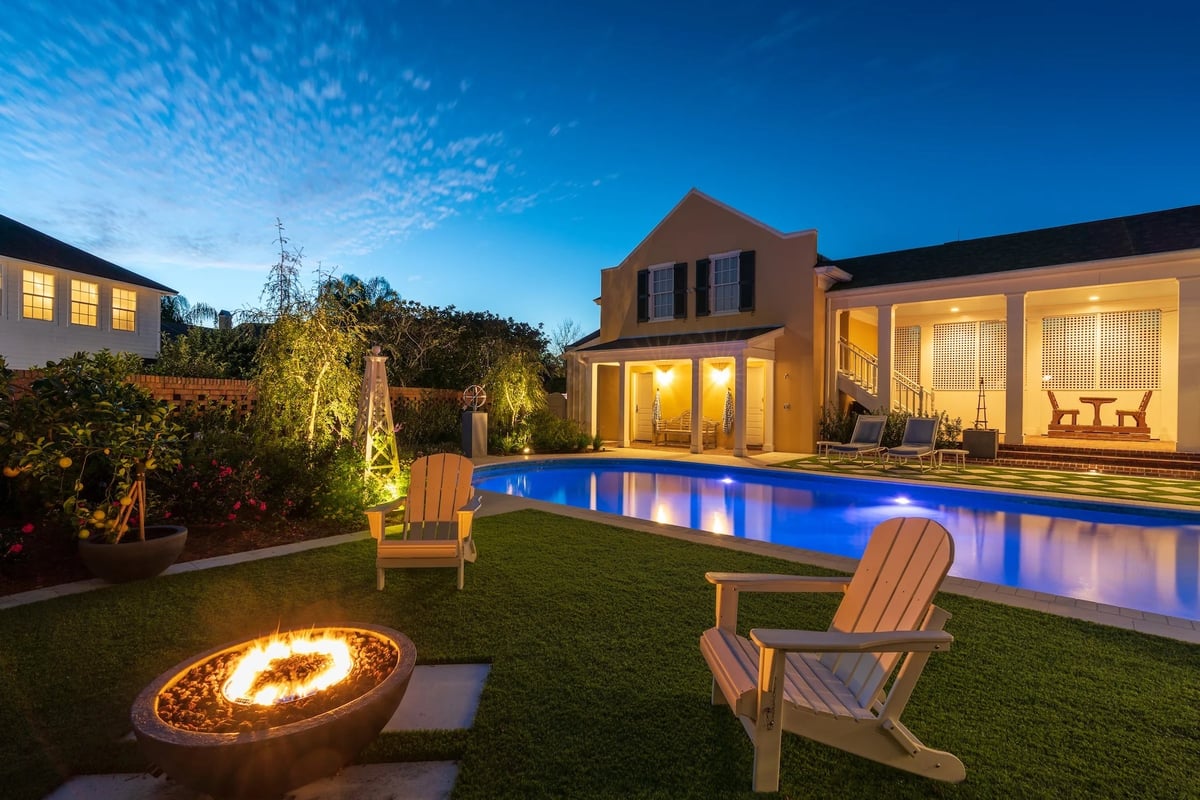 Need Central Florida Pool Area Lighting? Trust Ground Source
What's a pool without lighting? Just a bunch of dark water. That doesn't sound very fun.

Now imagine a magical area with pools of subtle light, strings of festive lights, tropical tiki torches, and illuminated landscaping that adds to your enchanted poolside evenings.

Better start wrapping that bacon around the shrimp.

We're landscape lighting experts, but our skills don't stop there. We're with you every step of the way as you plan your perfect outdoor space.

Sod, irrigation, landscape design: Let us transform your landscape from an embarrassing eyesore to a place you spend every spare minute.

Are you ready to enjoy the vibrant, impressive landscape you've always wanted? Request a quote today! We'll help you review your options and then transform your property.