The word "free" is so tempting, right? Free pizza! Two great words.

So when you hear "free landscape lighting from the sun" it makes you want pizza. Or maybe that's just us.

Yes, solar lights give you free light, thanks to the sun.

But are solar landscape lights worth it?

Should you choose solar or wired landscape lighting?

Let's shed some light on the choices. (You knew we had to…)
First, How Does Solar Landscape Lighting Work?
It's pretty simple. Sunlight shines on the light fixtures you stick into the ground. The solar panels absorb the sun's energy, which is transferred into a battery.

When the sun goes down, the solar panels use the energy they stored to light the fixtures. When that energy level falls, the battery kicks in to power the light.
How Does Wired Landscape Lighting Work?
Wired low voltage landscape lighting all starts with the transformer, the power source. It plugs into a GFCI-protected outdoor electrical outlet and "steps down" your house current from 120 volts to 12 volts.

Next up: laying the cable. Low-voltage electrical cable is designed to be buried underground. It runs from the transformer to each light fixture in your system.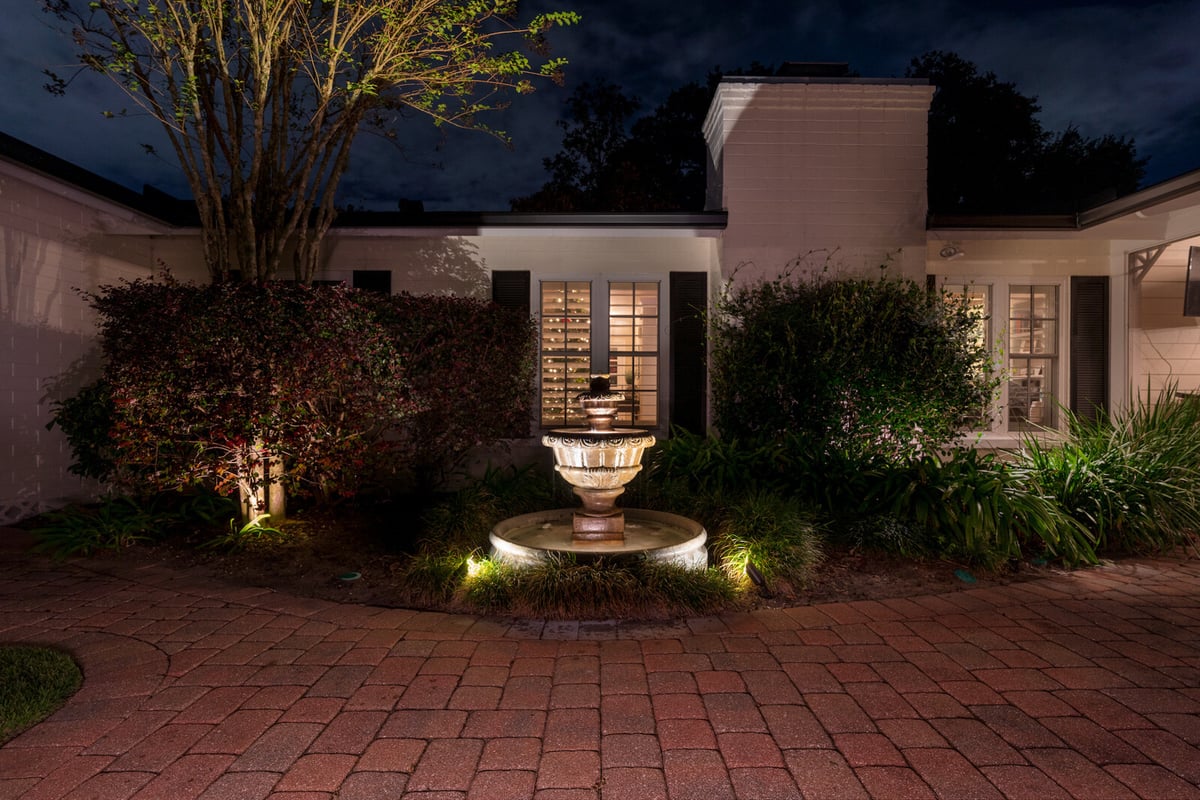 After the lights are connected, you're ready to go.
Most transformers are equipped with a 24-hour timer that allows you to decide when the lights go on and off automatically.

You can also have a smart landscape lighting system installed that lets you control the lights with your phone. (If you try this with solar lights, you'll quickly be disappointed and have to console yourself with pizza.)
Solar vs Wired Landscape Lighting: Pros and Cons
Solar lights are cheaper and easier to install. They won't add to your electric bill. You can install them yourself — just stick them in the ground. Maintenance? Not much. Just keep them clean so dirt and dust don't block the sun's rays.

But they don't shine as brightly or as long as wired landscape lighting. They need near constant sun all day to absorb enough energy. That doesn't always happen, even here in Central Florida.
And they don't provide nearly as much power and flexibility to offer quality, personalized landscape lighting.

Meanwhile, wired lights will stay the same brightness until you turn them off. Cloudy? Rainy? No problem. They'll work dependably, no matter the weather.

There are other important differences, too:
Solar vs Wired Landscape Lighting: Want Control?
Solar lights give the sun all the control. You just watch, hope, and see what happens.

You have all the control when it comes to wired landscape lights. You turn them on and off whenever you want, you set the timer schedule, you can even change the colors to celebrate holidays.

Wired landscape lighting systems offer separate zones you can control. That lets you put your front yard on its own timer, to stay on longer than your backyard, for bonus curb appeal.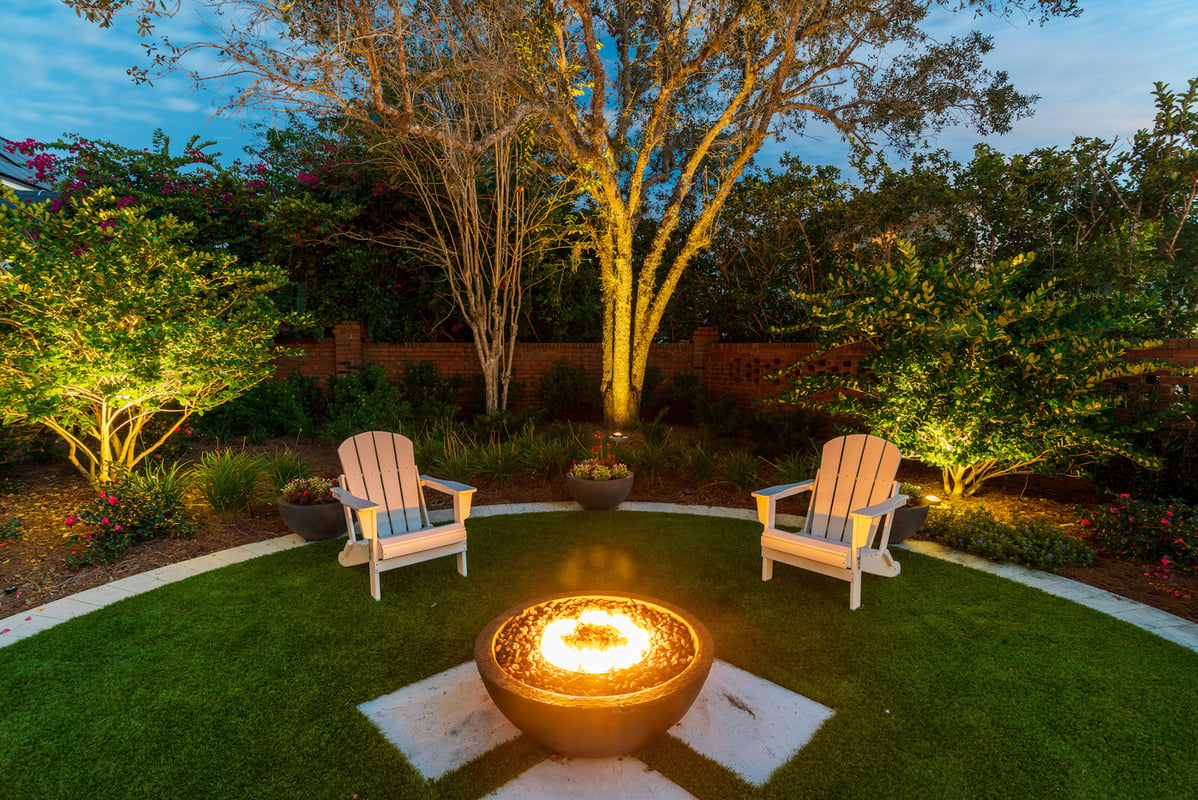 Many systems have Wi-Fi and Bluetooth control options, making it easy to turn your lights on and off from different devices or locations.

Don't forget dimmers. Put your lighting on dimmers you can control with your smartphone.

Then with a simple click, you can make the landscape lighting brighter or dimmer to suit the atmosphere and your safety needs
Solar vs Wired Landscape Lighting: Security
Don't plan on solar lighting deterring any bad guys. They laugh at those things. Plus, they can just pull them out of the ground.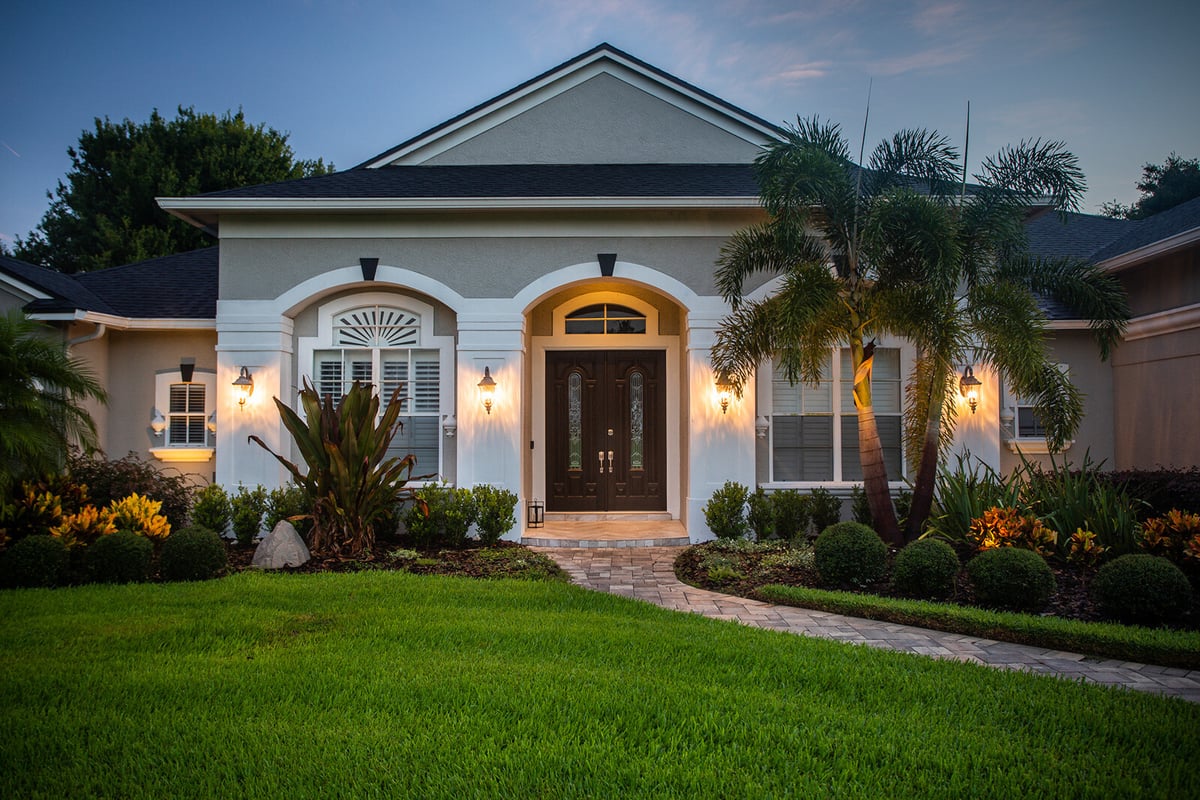 Expert wired landscape lighting is bright enough to deter people from looking in your windows or lurking in the bushes. It makes it easy for neighbors to spot any would-be prowlers.

Wired lighting also keeps your entries safe and welcoming for both you and your guests.
Solar vs Wired Outdoor Lighting: Curb Appeal
Are solar landscape lights worth it? Not if you're counting on curb appeal.

Expertly lighting architectural features like stone veneer, arches and columns, trees, shrubs, and your front walkway takes the power and flexibility that wired landscape lighting provides.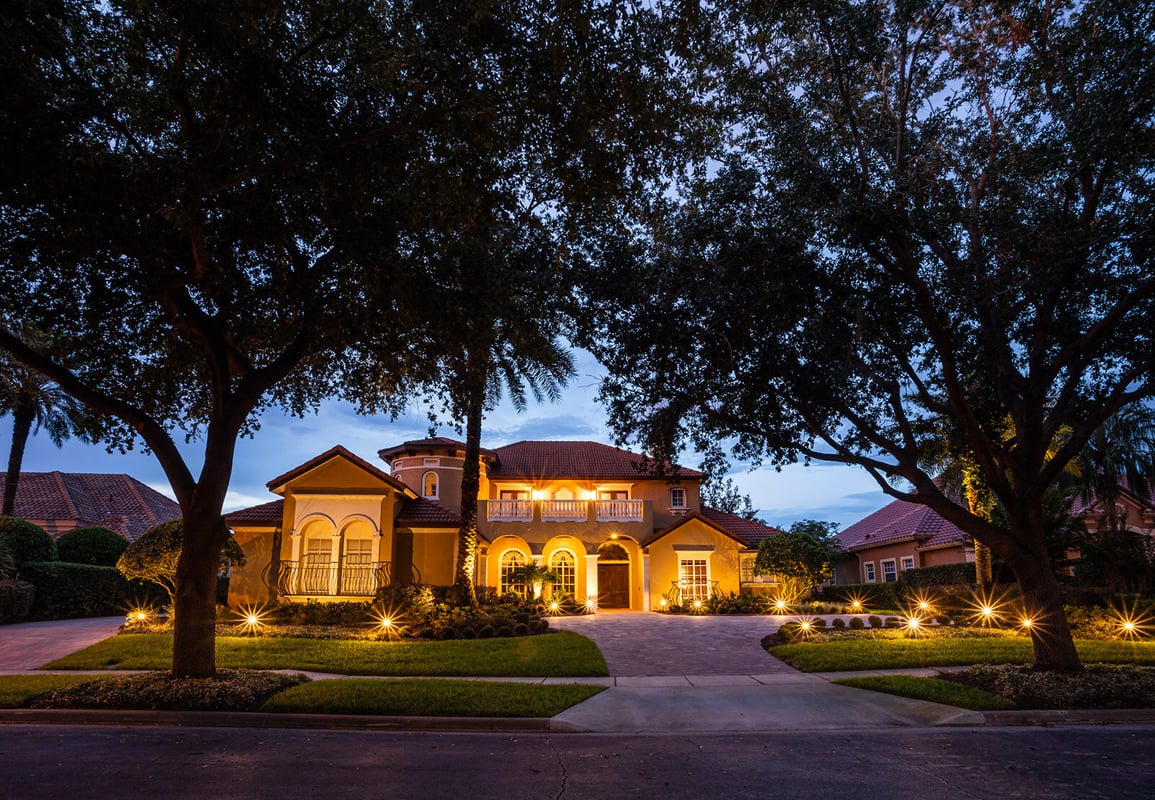 Tall trees like palms, magnolia, and oaks need serious uplighting, with MR-16 bulbs that shine light from the ground up. These wired lights come in various widths and wattages to allow for flexibility so each tree can get just the right effect.

Shorter palms and shrubs look great with "wall washer" fixtures that have a large mirror to help scatter the light all over to highlight the tree's features.

You can't achieve these impressive landscape lighting effects with solar lights.
Solar vs Wired Landscape Lighting: Wired Wins
We understand the temptation. Solar DIY landscape lighting kits are easy and cheap, but please, just say no to those flimsy solar light fixtures.

The solar panels don't last long, so you're just wasting your money. And it's wasteful to keep throwing your worn-out plastic fixtures into the landfill.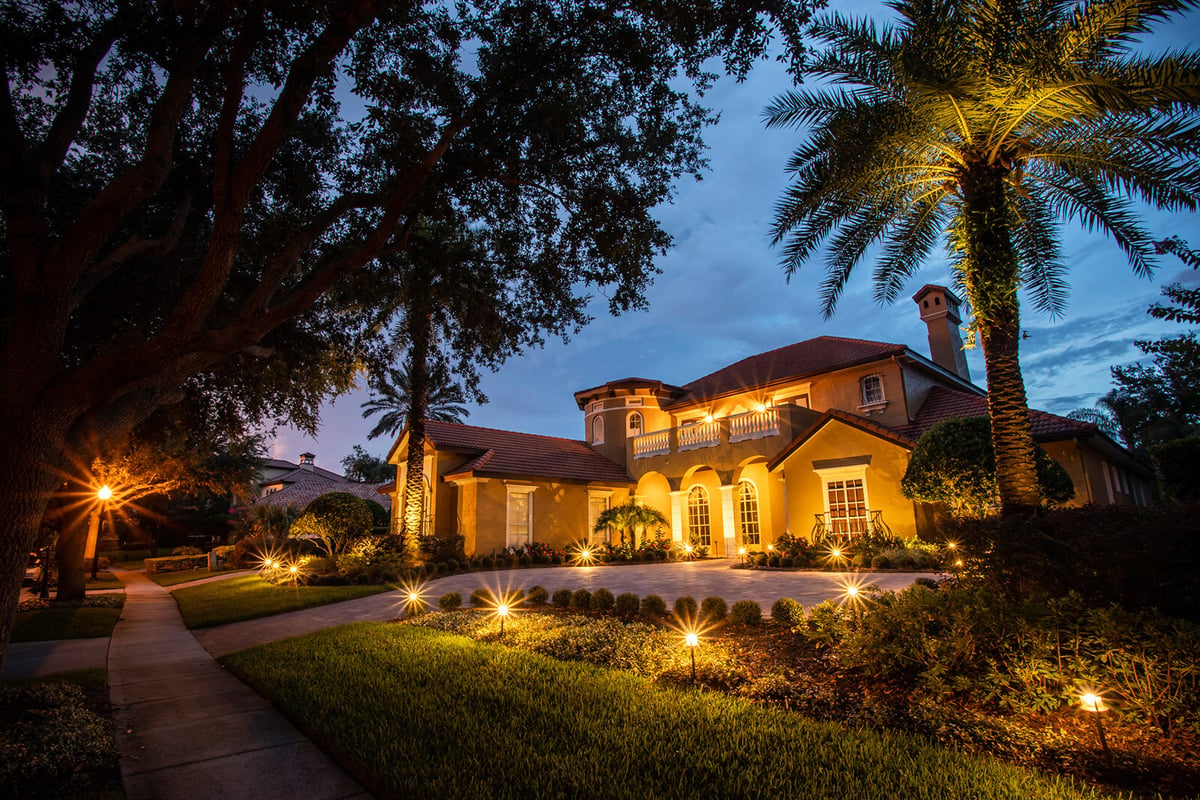 The environment will thank you for going with hard-wired lighting, and your home will look more luxurious, too.

Thinking of it as a wise budget move? Maybe it used to be, but today's LED lighting uses a small fraction of the energy older incandescent landscape lighting does.
Solar vs Wired Outdoor Lighting: Choose Wired with Ground Source in Central Florida
Your home isn't like everyone else's. Why should you settle for lined-up rows of basic solar lights?

This is an investment in your Central Florida home that you'll enjoy for years. Your homeowner pride is on the line.

Skilled landscape lighting shows off your home's architecture, plants, and entertaining areas after dark, making your property impressive day and night.

Put a pro on the job.

We're landscape lighting experts, but our skills don't stop there. We're with you every step of the way as you plan your perfect outdoor space.

Lighting, sod, irrigation, landscape design: Let us transform your landscape from an embarrassing eyesore to a place you spend every spare minute.

Are you ready to enjoy the vibrant, impressive landscape you've always wanted? Request a quote today! We'll help you review your options and then transform your property.