Palm trees scream vacation. Maybe even louder than you scream "vacation!" as you load your packed suitcases into the car.

One of the great things about living in Central Florida is you can have that great tropical palm tree vibe all the time, right in your own yard.

Landscape design in Central Florida often includes these frond-filled beauties.

Need landscaping ideas with palm trees?
So glad you asked. Let's get to it.
1. First, Don't Assume Every Palm Will Thrive
Just because this is Florida doesn't mean every variety of palm loves it here.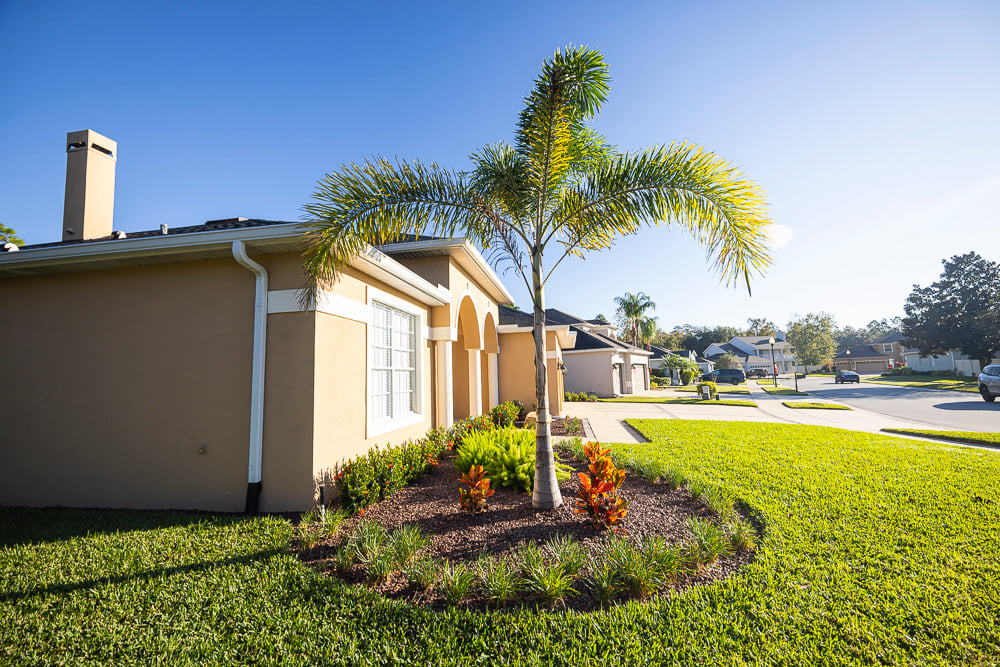 Some varieties, like Royal, Traveler's, or Coconut palms will likely die here in Central Florida if we get a bad frost or freeze.

Play it safe and check with a Central Florida landscape designer before you splurge on a palm.
2. Pick the Right Palm for the Right Spot
All palms aren't alike. Sure, some are towering, but others are petite, perfect for that small yard or inside your pool screen.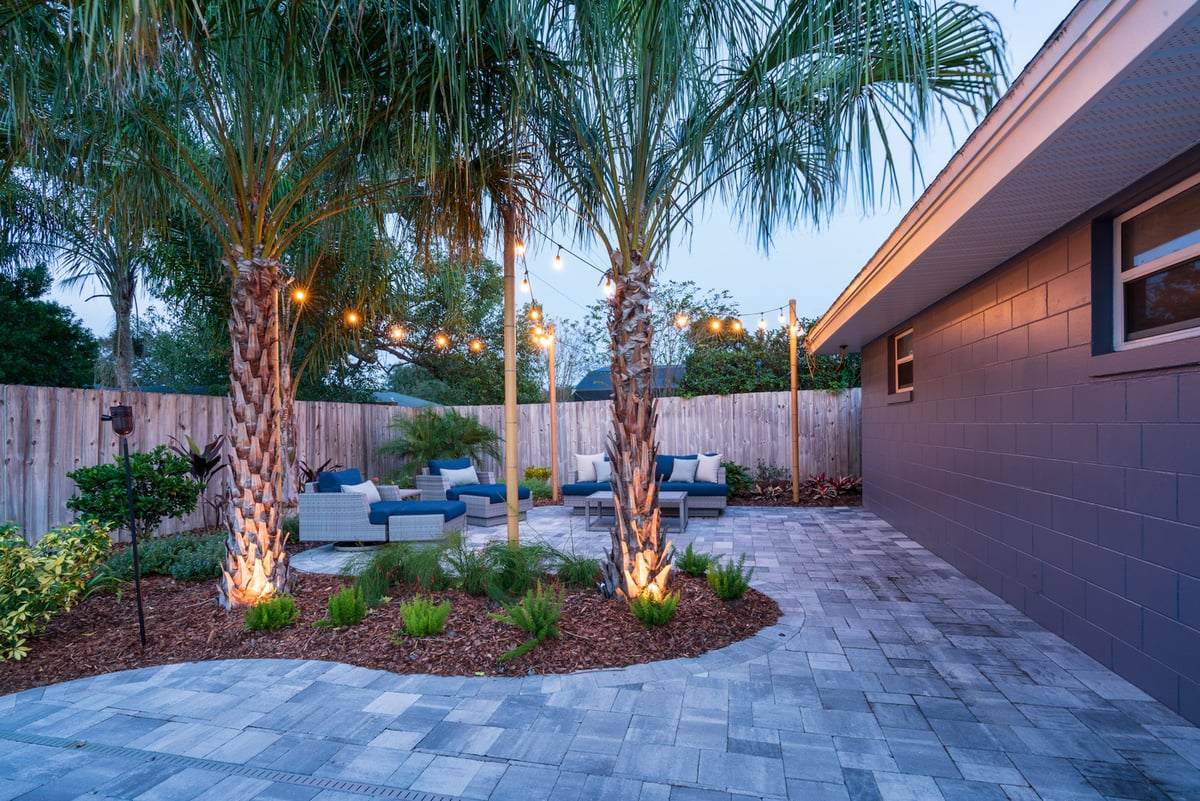 Some are easy care, others need regular trimming or drop messy debris.

Before you start your palm tree landscaping, do your research. Here's a start:
Looking for big impact? The Canary Island Date Palm is the largest of the date palms in trunk diameter, longest fronds, and largest thorns. This beauty needs a big, open area to fit properly in the landscape, but can be a great focal point tree in a front yard.


Need a native? Some HOAs require it. Check out the Sabal Palm, Florida's state tree.


Want something fancier in your palm tree landscaping? The Sylvester Date Palm has a distinctive diamond-cut trunk that adds value — and cost. It's an expensive tree, so consider this a real landscape investment, good for making a statement.


Live in Northern Orlando? The Foxtail Palm is a palm tree landscaping standout, with its big fluffy fronds that look like the bushy tail of a fox. Bonus: it's slightly cold-sensitive.


Is your heart set on a palm inside your pool screen? The Roebelenii Date Palm is a dwarf version and is usually planted with more than one palm in a single pot for a multi-trunk effect. This petite palm is often used in small landscape beds or, yes, even inside pool screens.
Get the idea? There's probably a palm for your exact need, but it takes some planning. A landscape designer can offer great landscaping ideas with palm trees.
3. Create Your Own Beach Resort
That's right — don't be afraid to go big.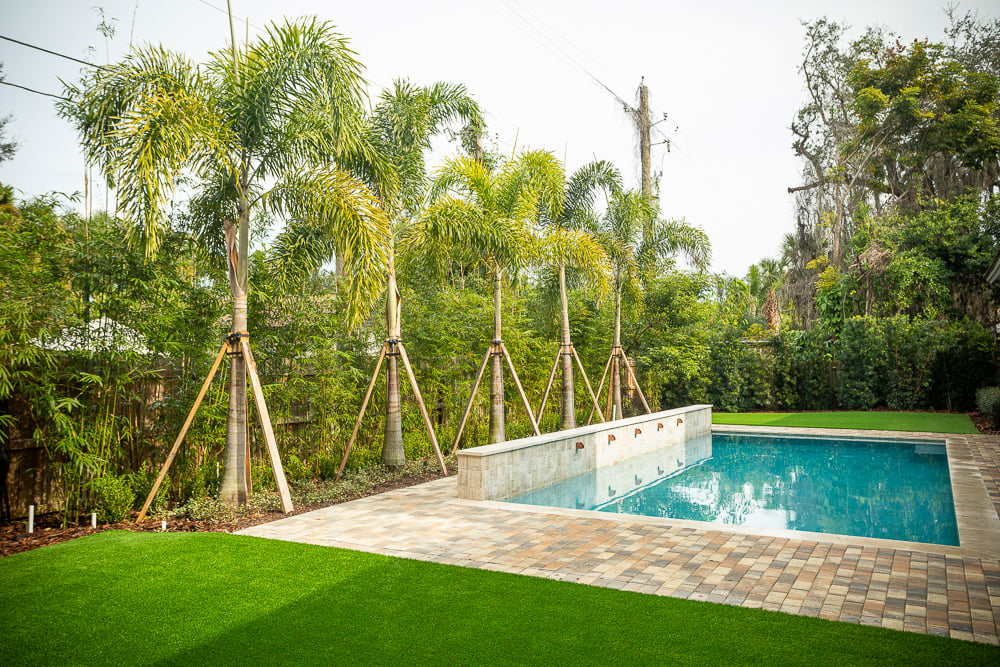 Ground Source landscape designer Eric Frisch used an assortment of palms to help a client create a backyard resort, with separate sections for relaxing by the pool, hanging out in the hammock, or lounging under festive string lights. There's even a sand beach.

Fan Palms divide a formerly long patio into two sections, creating more intimate hang-out areas while also offering shade. It's knockout palm tree landscaping.
4. Don't Forget Lighting
Frisch loves adding uplights to palm trees to add evening drama and highlight the trees' impressive structure.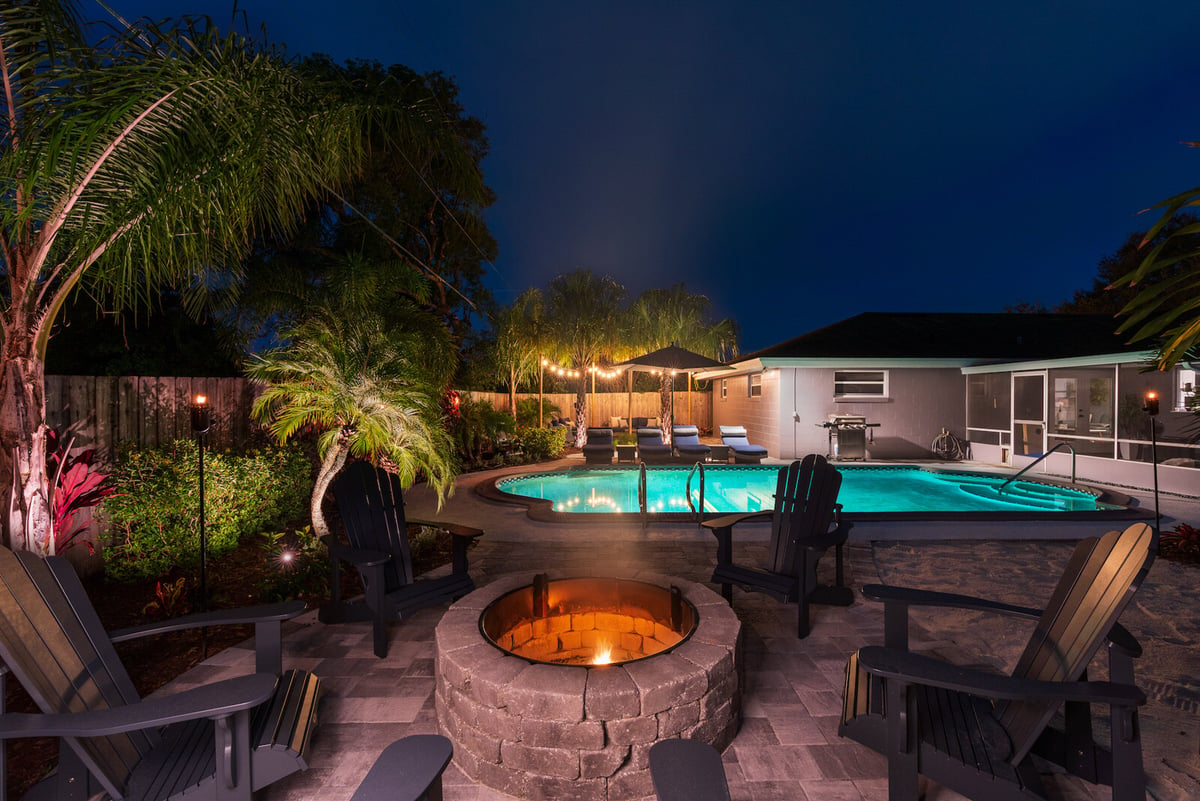 Tree uplighting directs light up at the trunk or canopy of a tree in your landscape.

Tall trees like palms get MR-16 bulbs that shine light from the ground up. They come in various widths and wattages to allow for flexibility so each tree can get just the right effect.
5. Some Palms Are Pickier Than Others
When planning your palm tree landscaping, be sure you know exactly what kind of maintenance your new palm will need — and what you're willing to do.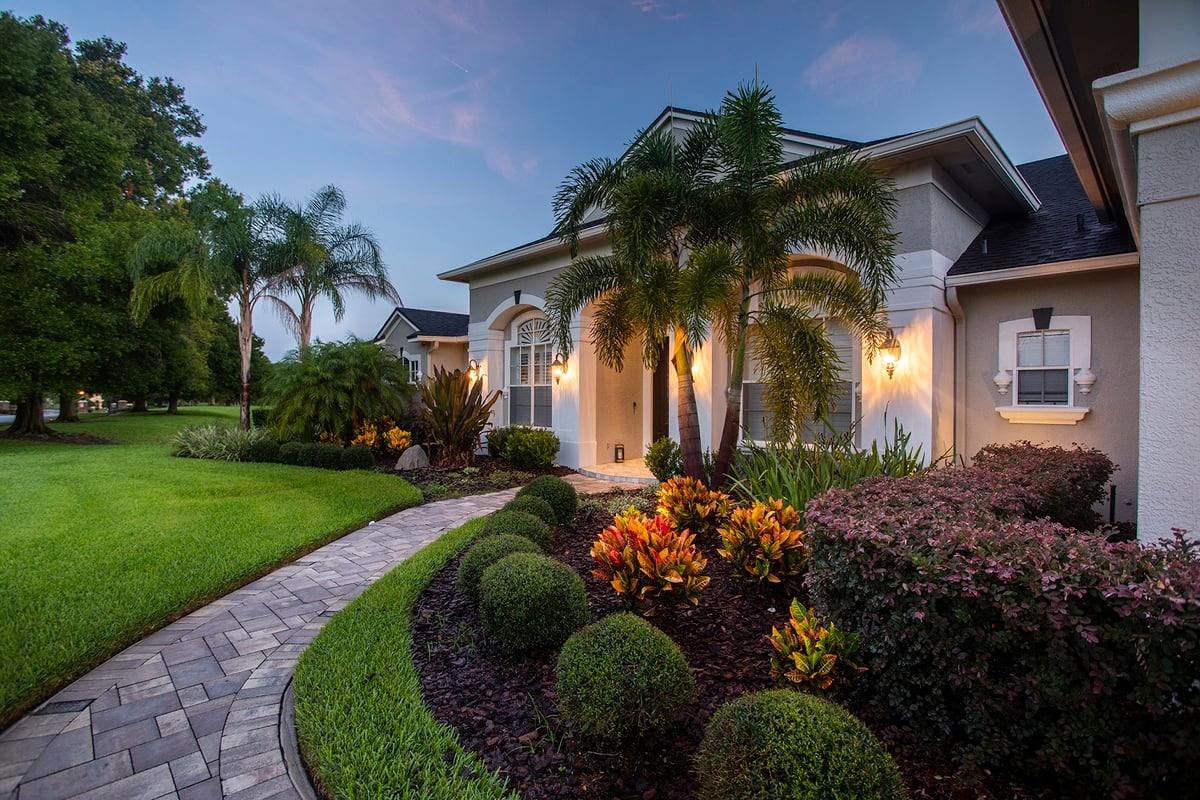 The Foxtail Palm doesn't have thorns and will self-prune its brown fronds.
But the Queen Palm, a beauty with waxy flowers and clusters of small, orange dates, needs to be pruned with a pole saw or boom, and its fruit pods can be messy if not removed along with the old palm fronds.
6. Bring on the Bubblers
Consider adding "bubblers" to your irrigation system at the base of big palms. They provide extra water straight to the roots.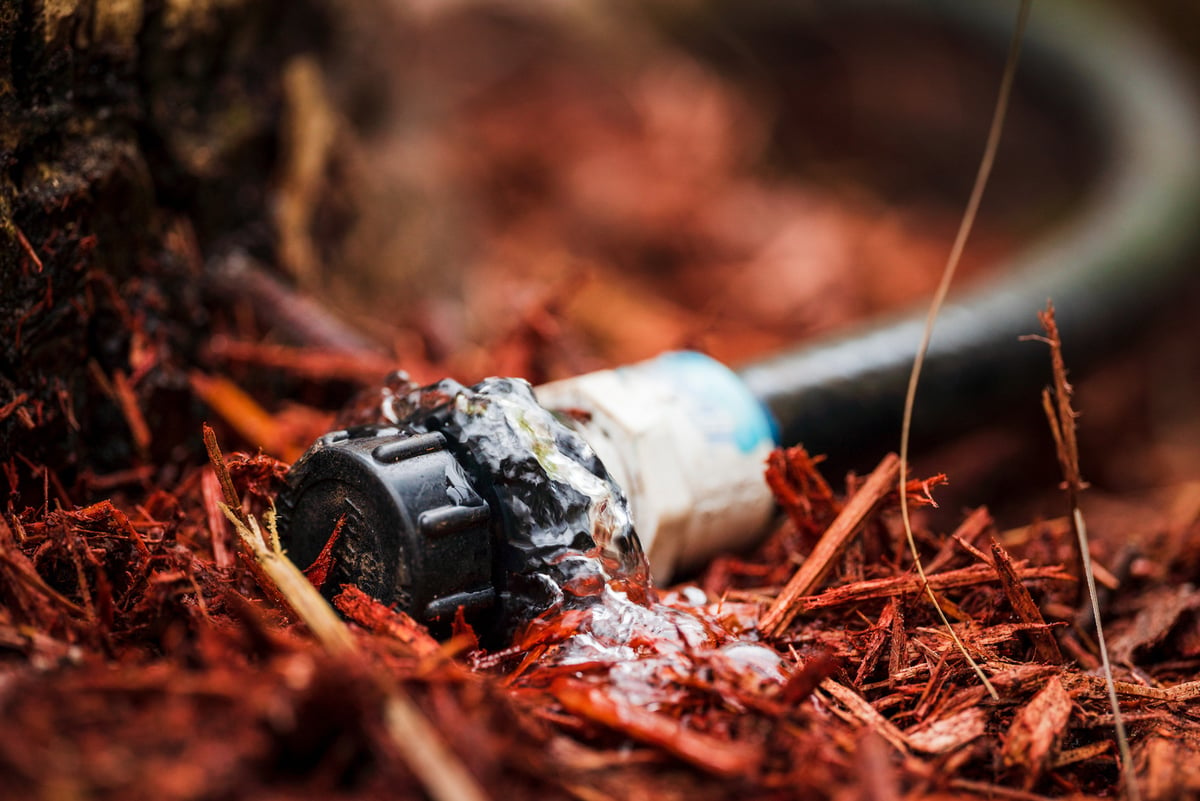 Otherwise the large root balls have trouble absorbing all the water they need.
7. Group Palms for Impact — and Shade
Queen Palms are among the best shade trees for Central Florida landscaping, offering the widest canopy of any of the fast-growing palms.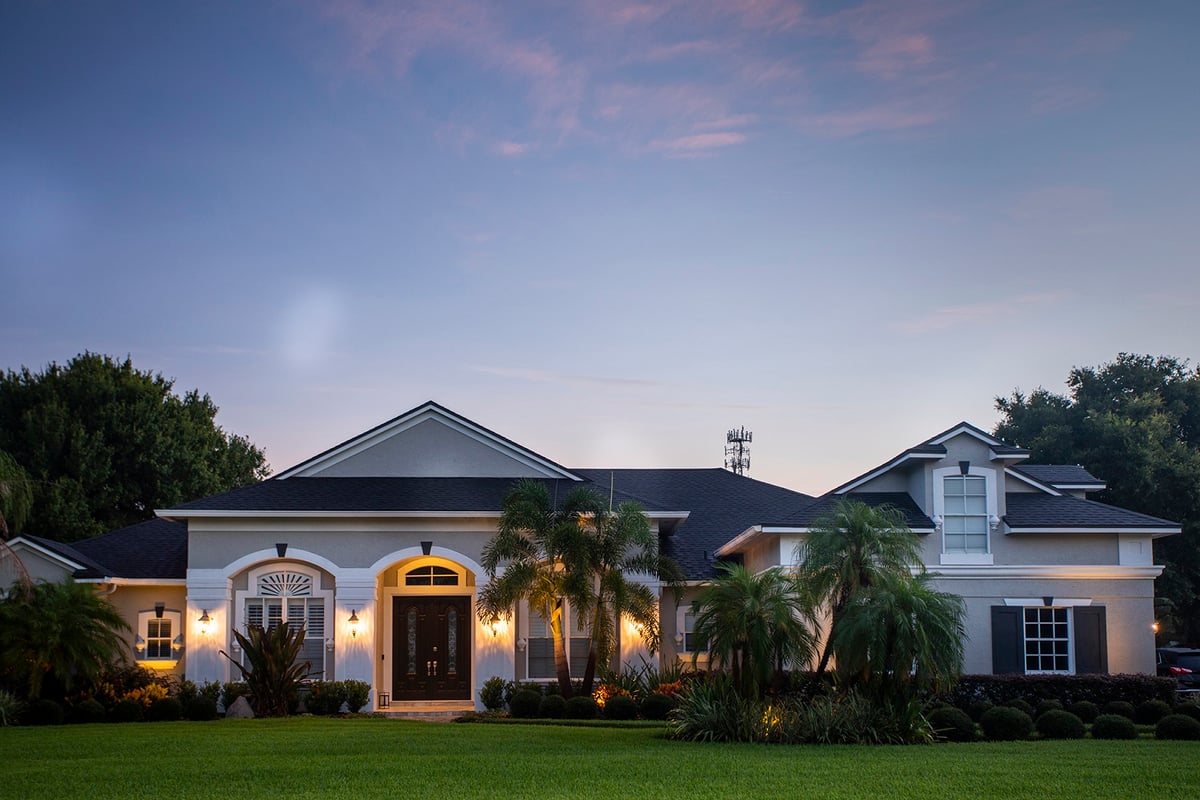 They work great planted as a grouping so they make a bigger canopy. Each tree might get about a 20-foot-wide spread. A row of these can be good to cast some shade along a pool or the side of a house, if there's room.
Landscaping with Palm Trees? Trust Ground Source
Palm trees are a staple of our Central Florida landscaping. You can't help but love them.

But they're just one element of a great landscaping plan. An expert, thoughtful design can integrate palms seamlessly into the landscape, along with other Central Florida landscape design favorites like Loropetalum, Crotons, Muhly grass, and Lily of the Nile.

Professional landscape designers know how to keep everything in perfect scale, and how to highlight your pretty palms with expert lighting, so they make a statement even after the sun goes down.

What palm trees will grow best in your Central Florida landscaping?

Let us help you figure it out.

We're landscape design experts, but our skills don't stop there. We're with you every step of the way as you plan your perfect outdoor space.

Sod, irrigation, landscape design: Let us transform your yard from an embarrassing eyesore to a place you spend every spare minute.

Are you ready to enjoy the vibrant, impressive yard you've always wanted? Request a quote today! We'll help you review your options and then transform your property.