Before you clear an area of your yard's old, tired grass, you have to get rid of the old stuff.
How does that work?
Lawn elves don't exactly scamper across your grass in the night and spirit away your old turf. Although that would be cool.
Here's a look at what really happens.
Removing Sod: A Walk Through the Steps
Here at Ground Source, most of our customers hire us to both remove their existing turf and then install a fresh new sod lawn.
If the sod removal isn't done right, a new lawn won't thrive.
Here are the steps to removing sod:
Spray the current turf to kill it. This is done a week or two ahead of time. This is a crucial step. If not done right, wild grass will grow up through your new sod.
Flag sprinkler heads and any shallow cable lines so they don't get cut during the process.
Break out the sod cutter. This is a walk-behind machine powered with a 5-horsepower gas engine. It has a sharp blade that slices through the old turf.
Another person follows behind with a pitchfork to tuck the cut sod to the side, so it doesn't get tangled with the next pass.
Once it's cut, use pitchforks, rakes, or shovels to toss the sections of turf into a dumpster.
Level the yard to prepare for new sod.
Why Hire a Sod Removal Company in Orlando?
So many reasons.
Removing Sod is a Hassle
If you're renting a sod cutter, it's a hassle to get it to your house. It weighs 350 pounds. If you don't return it in 24 hours, you'll pay extra.
Sod Removal Involves Tricky Decisions
What height should you set the blade? The more thatch, the deeper the blade should be, to ensure you're cutting through all the roots. Otherwise, you might just skim the top and miss most of the roots. Then, you'll have to do it all over again. (Insert swear words here.)
Removing Sod Is Hard Work
It's physically demanding to maneuver the heavy, unwieldy sod cutter. It really vibrates. You have to wrestle it through the lawn. Have your favorite pain reliever handy.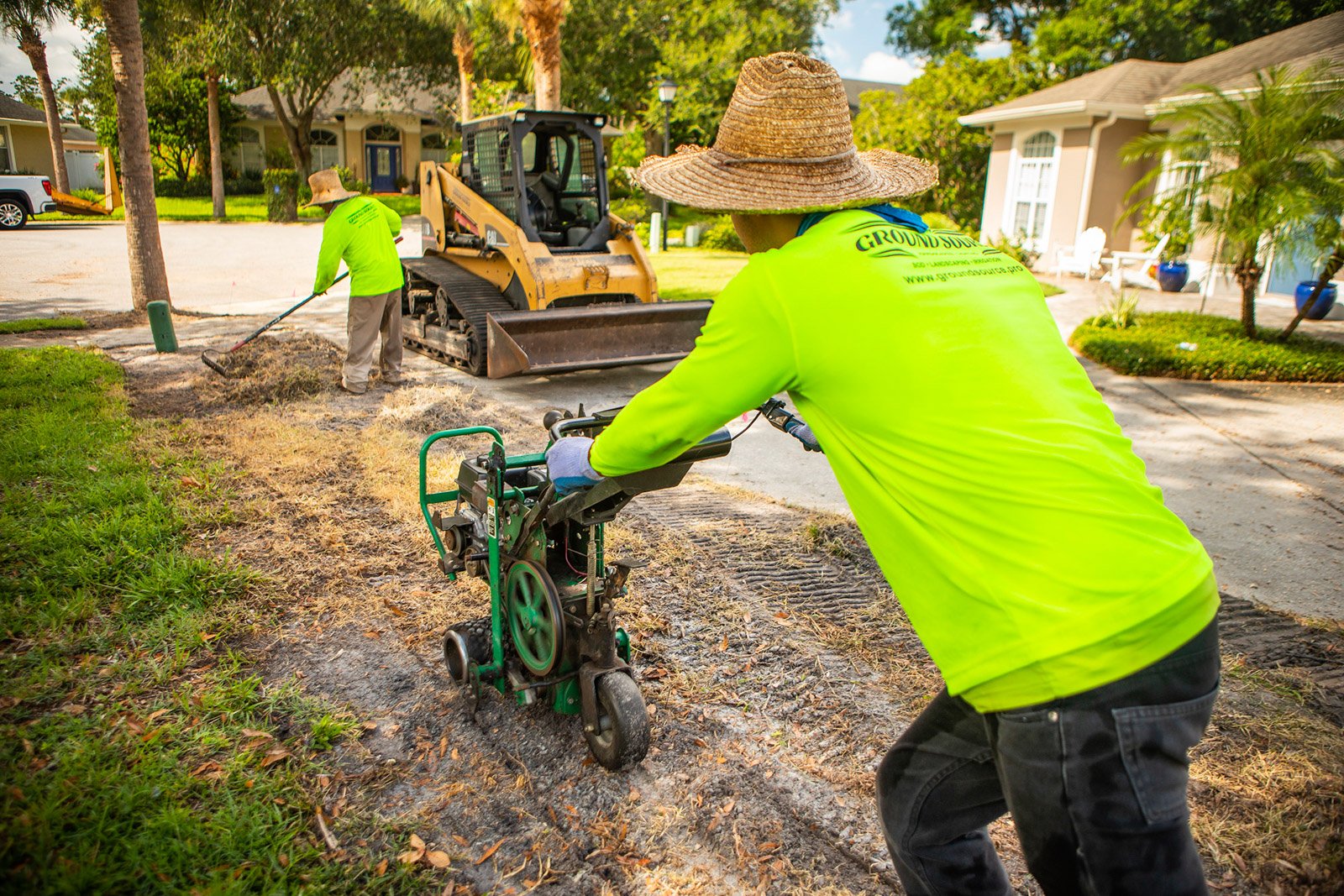 If you watch a YouTube video on this, it shows the machine slice through old lawn like butter. Anybody from Florida who has tried this here will watch this demonstration and say, "Ha!"
It's not that easy.
St. Augustine grass has running roots that are often tough to slice through. Tree roots are a nightmare. Crabgrass gets tangled up in the blades.
Tired? You're Not Done Yet
After all that, you still have to hoist the heavy sections of old turf into a wheelbarrow to haul them to your vehicle and wrestle them into trash bags to take to the landfill.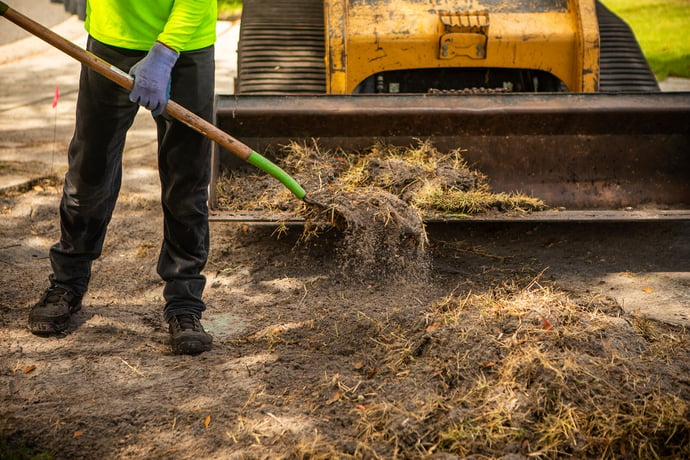 The pros have bobcats and a dumpster. You'll really wish you had a mini escavator and a dumpster.
Professionals Do This Every Day
Nobody expects you to do an expert job the first time you tackle sod removal.
But sod removal company crews do this work every day. We're as proficient at this as you are at your job.
Sod Removal Cost
Most of our customers have their old sod removed as part of their new sod installation, and removal is included in the total cost.
But if you just need sod removal, plan on spending 32 cents per square foot and up, depending on the size of job, location, and the number of sidewalks and fences that are in the way and slow down the work.
Trust Your Sod Removal to Ground Source
Some of our customers tell us they tried doing sod removal themselves. It was a huge pain. Then, they called us.
Do yourself a favor and skip that first part.
We're sod removal experts, but our skills don't stop there. We're with you every step of the way as you plan your perfect outdoor space.
Sod, irrigation, landscape design: Let us transform your yard from an embarrassing eyesore to a place you spend every spare minute.
Are you ready to enjoy the vibrant, impressive yard you've always wanted? Request a quote today! We'll help you review your options and then transform your property.