At Ground Source, we feel we do more than just provide a service; we want to create a space around your home that you can be proud of. For a client in Clermont, we were able to provide a landscape design to revitalize the look of their home.
From the front, the home is obviously very nice, but the lawn definitely needed to go. It had lived a good life, but it was time to give some newly installed sod a chance to grow.
The old block wall around the tree needed to go too. It was just time for a new, fresh look, and while the stone does have a certain appeal, it wasn't going to fit with the new design.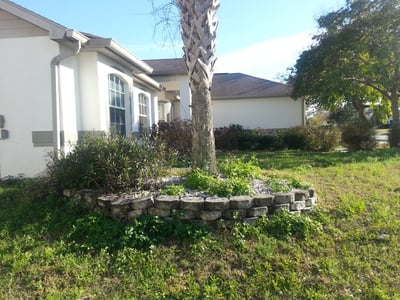 This backyard, with the pool right there, really needed a pick-me-up.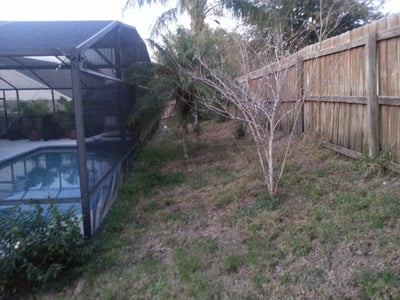 After taking some time to go over the plans with the homeowners, we put together a design that featured a complete sod installation, a new irrigation system, and several new plants.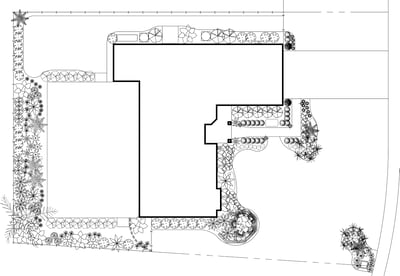 Some of the plants that were used include Washingtonia Palm, Roebelenii Palm, Indian Hawthorn, Monstera Deliciosa, Split-leaf Philodendron, Variegated Shell Ginger, Schefflera Arboricola, and Queen Emma Crinum Lily.
Now we have a finished project. The front yard stands out with new Empire Zoysia grass being planted, and the newly installed Rain Bird irrigation to keep the new grass and plants hydrated. We also staked the palm tree out front so the roots could properly set. We also removed an old tree and grinded down the stump.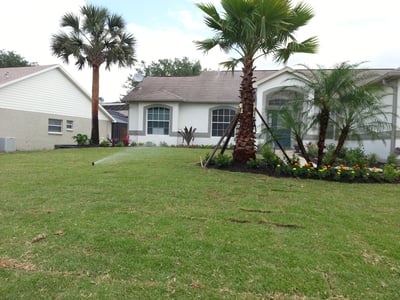 That block wall was removed as well as the old stone mulch. We replaced it with a retaining wall made from railroad ties and brown-colored cypress mulch.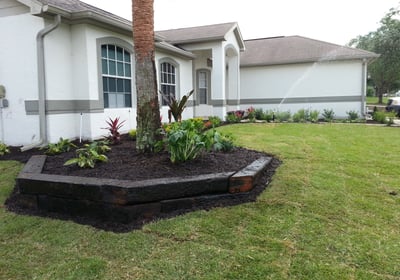 The backyard's transformation is probably the most stunning. The new sod, mulch, and plants give the yard some great color and gives the homeowners more to observe while sitting in their pool or on their back porch.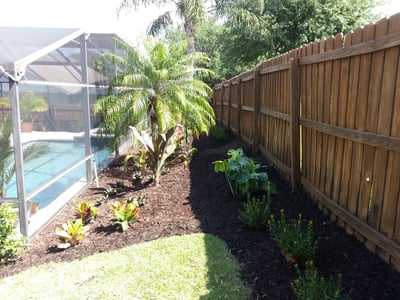 Now, with their new sod installation, irrigation installation, and landscape design, the homeowners at this Clermont home can truly feel like they are coming to their home.