Our client was working with an old and worn-down front yard and driveway that needed an update. Being an older home near the heart of downtown Orlando, everything outside was aging and needed a make-over.
An old timber wall was falling over and was way too close to the driveway, which made getting in and out of the car a bit of a task. Another issue we had to solve was working with the dramatic slope on the front yard going to the street and toward the driveway. As a solution, we came up with a new paver driveway with retaining wall that was set back a little more to allow for a wider parking area. The new steps were set back into the wall instead of extending out to allow for safer access to the front door and more space in front of the car to walk around. We also took the pavers a step farther and added a walkway with small steps going to the street. Since the driveway only allowed for one car to be parked there, many guest to his house would park in the street, and now they have a means to get to the front door.
As part of the project, we needed to produce engineered drawings for the permit to be submitted. After the design passed, we got to work. We also incorporated lighting into the retaining wall and both sets of steps, along with some path and up lights to help add some character to the new landscape at night. New plants, mulch and sod completed the transformation.
Before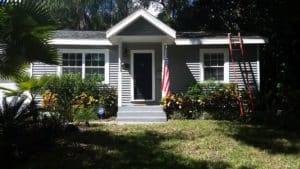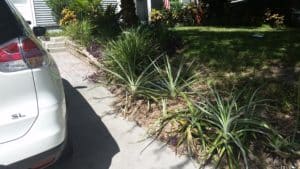 During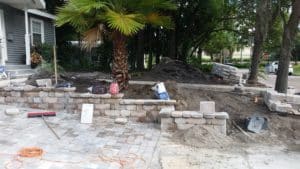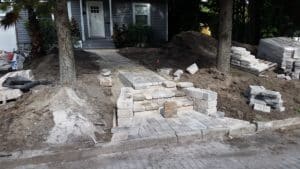 After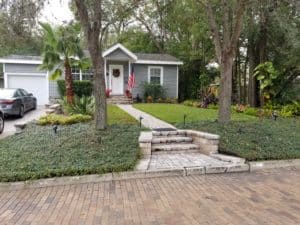 Since this project was finished, we also did an overhaul for the back yard, including removing an old deck and making a new patio. As a repeat client, this homeowner has been a joy to work with and we enjoyed working on this unique design.