There are few things as exciting for a young couple as getting their first home. For many young couples today, there is a certain appeal in buying a fixer-upper home that they can make their own over time. Recently, such a couple contacted us to do a new landscape design for their home near the JW Marriott. Of course we wanted to give them a yard they could be proud of.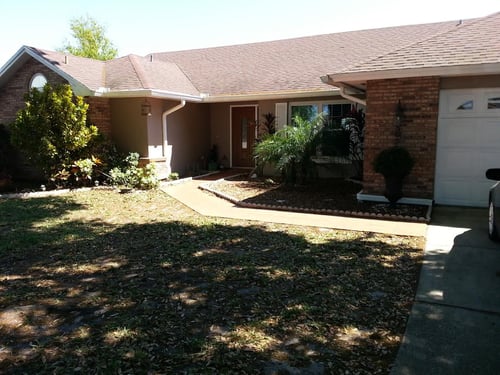 At first, the front patio lacked any sort of function other than a sidewalk. The couple wanted their patio to be a place where they could sit outside, enjoy the fresh air, and observe the neighborhood. With that in mind, we created a space for them to place some outdoor chairs and see what was happening outside of their home. First, we had to remove all of the old concrete from the existing sidewalk. From there, we selected the pavers we would use for their new patio.
They selected a Belgard paver called Bergerac, which has a tumbled edge and a textured surface to give the paver an aged look. We made a new walkway to their driveway as well as a patio with space to place a small table and chairs to enjoy the Florida sun or a quiet morning with a cup of coffee. We also removed all of the old mulch and small plants they weren't fond of.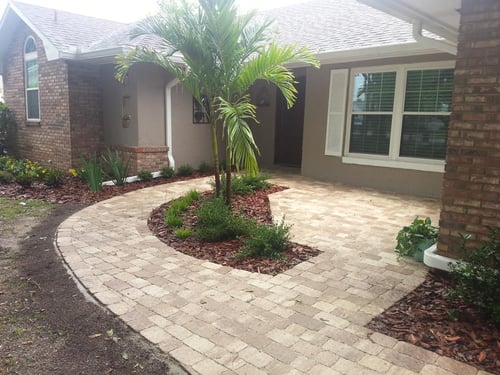 To create more visual appeal, we added some new plants, including a stately Christmas Palm that was placed in the island to separate the patio and the walkway. Other plants that we added include Dwarf Walter's Viburnum, Bulbine, and Apostles' Iris. Once the shrubs are mature, they?ll be able to form a formal hedge around their patio.
They really enjoy their new patio and front yard, as the landscape design definitely stands out in their Orlando neighborhood. They mentioned they want to get new sod installed in their yard in the future. When the times comes to replace the sod in their yard, we would gladly take on that project as well.