We recently got the call to replace a client's driveway with pavers. The Davenport homeowner decided to go with pavers after seeing his neighbor's driveway and began seeking out a local company to take on the job. Ultimately, they went with us because we gave them the best value for their investment.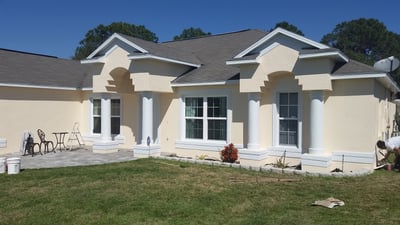 They chose us after we explained in detail everything they would be getting, from the correct amount of base material, the pavers, and the service to install everything for them, and they received details notes of our conversation. (This is also one of the reasons we have the trust of so many in the Orlando area. We tell you everything you need to know to make the right decision with your home.)
They already had a paver patio in front of their home, but they weren't the biggest fans of the colors. Plus they had recently repainted their home and the colors didn't go well. We helped them find colors for the new pavers that went with the color on their home. Plus, it gave us the ability to seamlessly combine the driveway and patio and create a flow between the two spaces. They also requested that the driveway be widened and add a garbage can pad for more walking space.
We also added some color and character along the driveway by adding a front planting bed. We also took out the old straight retaining wall blocks and replaced them with all new river rock in the beds. Two large queen palms were added as well to go with the palm they already had. As we were widening the driveway, we did some grading on the sides and replaced sod that had to be removed. Lastly, we did some irrigation adjustments and additions, including new drip bubblers to water the palms.
Overall, this Davenport homeowner was glad we got the right look for his home. The important thing to remember about this project (and every project) we do is that we make sure to tell the client everything they need to know about what they should expect. In the end, they knew what was coming, but we were still able to exceed their expectations with the final project.