Certain changes to the exterior of your house, such as having new sod installed or a bold landscape design, can really bring out a new look for your home. Along with these services that Ground Source offers, we also can install new pavers in Clermont for front steps and sidewalks around your house.
The owner of this Clermont home wanted to dress up their area right outside of their front door, so they needed a new look to help make their future patio really stand out.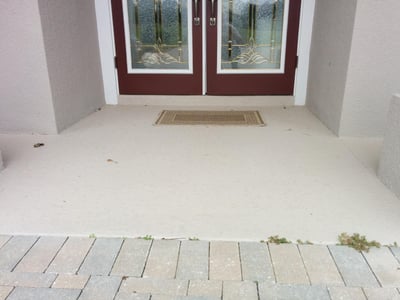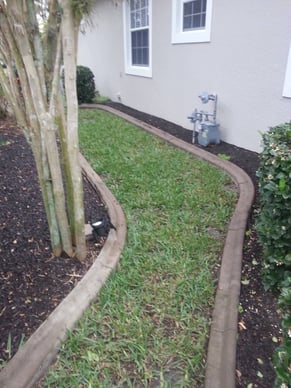 The pathway from the garage to the backyard and pool area is very picturesque, but the grass was pretty weak and the area often got full of water. The homeowner wanted a more permanent path instead.
To save some time, we kept the old slab and laid pavers on top to create a new step and raised entry to the front area. We laid the wall stone paver from Belgard along the edge and used a product called Holland Stone for the rest of the front. Since the homeowner wanted to decorate this area, we sloped the pavers from the front door to the driveway to allow for better drainage on rainy days.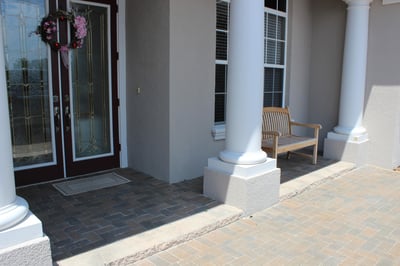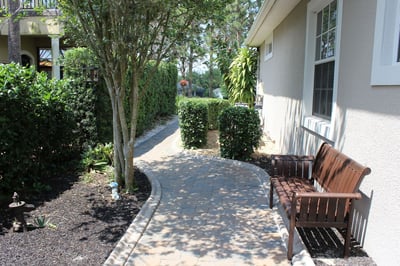 For the sidewalk to the backyard, we used another Belgard paver called Appian stone. This created a nice walkway to the pool, and should be a more permanent solution than the original grass pathway.
Our goal at Ground Source is to make your home the way you envision it. Whether it means installing pavers for a walkway or a full landscape design and sod installation, we can create something to make your home stand out. And don't forget, we also do irrigation installation so you'll have a well-watered lawn.