After receiving a referral call from a client that we built a patio and swing structure for, our latest hardscape project out in Winter Garden was another example of a project that was one-of-a-kind. The homeowner was looking to turn their unused lawn in back into a social and relaxing space to enjoy.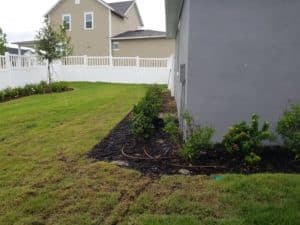 This included a unique gas fire pit, seat wall, step-up to a secondary patio for lounging, and expanded patio to have a grill and seating space. As with many new homes, most of the time the back yard is just an open lawn with nothing to look at or use. This provided us a blank canvas to work with.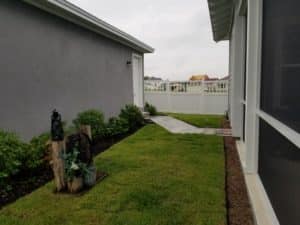 Due to a slope in the back yard that was running toward the house, we needed to address the design in order to make it work. The solution was to make an upper terrace that could be used for expanded seating or for catching some sun. In order to match the spaces together, we used columns as a way to frame the space.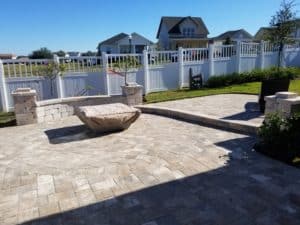 A rotated inlay pattern in the pavers created a unique look to the fire pit area and helped to break up the look of one large patio. We also had to work with a gas installer to make sure the rough-in for the gas pit was located properly in the patio and passed all inspections prior to us finishing the paver install. We also incorporated lighting into the columns and seat wall to help highlight the space at night. What we ended up with is a unique and beautiful space and a very happy client.