We know you like a great deal as much as anybody.
But when it comes to sod, cheapest isn't the best.
This sod will be the vibrant, green centerpiece of your yard. And you have high expectations for it.
A luxurious outdoor living space. A yard that stops the neighbors in their tracks. Picture-perfect family memories where the grass in those pictures is green, healthy and free of weeds.
You don't want the cheapest sod. You want the healthiest sod — ready to take root, thrive and make your property look fantastic.
So here are a few key questions you should ask your sod provider when you're looking at buying sod or sod installation prices in Orlando, Florida.
1. Where Does Your Sod Come From?
This is a big one. You want sod that's been well cared for and ready to make a great transition to your yard. You want to be sure it hasn't been sitting out on a pallet, drying out.
You'll know our sod is fresh. We picked it up from the farm ourselves.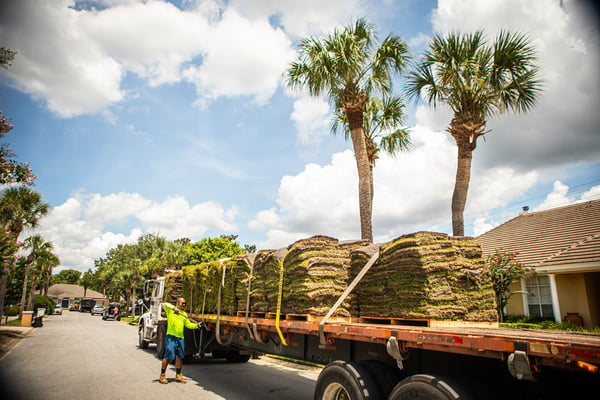 Our Orlando sod is cut fresh the day it's scheduled for delivery to you, not stashed on a pallet somewhere destined to dry out.
Here at Ground Source, we've used many sod farms over the years to find the very best.
We drive about an hour farther than we need to and pay about 12 percent more in order to get sod that's consistently high quality and holds up great, even during the more challenging installation months, beginning around June first and lasting through September 30th.
Our sod provider is the only one in the area that uses expensive webworm preventative materials, this helps keep the sod free of those damaging pests.
When you're looking at sod prices in Orlando, Florida, remember that a higher price can mean the grower and/ or installer has invested in quality that you'll appreciate in your healthy new lawn.
2. Do You Offer a Warranty?
Not every installer does, but we warranty sod the majority of the year for 30 days, which is the establishment period, as long as customers adhere to our post-care requirements, which include treatment with a starter fertilizer, an approved insecticide, and an approved fungicide, as well as following our watering instructions.
3. What Happens to the Sod Between the Farm and My Property?
Ideally, hardly anything.
We pick- up fresh-cut sod from the farm and bring it directly to your property.
But that's not always the case with other suppliers.
Some sod installers might store the sod overnight, or over the weekend, and water it to keep the top pieces green when temperatures are up this encourages the grass to become hot and become diseased.
Don't get too excited about cheap sod in Orlando — that unrealistically low price might reflect neglect along the way that can keep your lawn from thriving and costs you hundreds or thousands more to fix or treat the poor quality grass.
4. How Do You Perform Sod Installation?
There are several crucial steps that ensure your new sod lawn will thrive. If any are missing, consider that a red flag.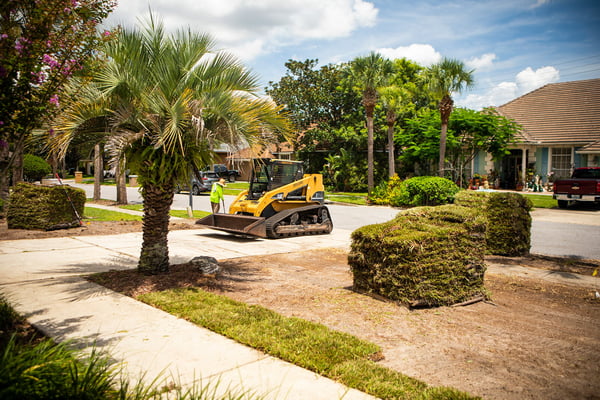 Once you accept our proposal, you trust us to deliver the highest quality sod. You have backyard barbecues to plan. Neighbors to impress. Barefoot weekends to enjoy.
Will your sod installer:
Apply materials to kill off all weeds and existing grass beforehand? If your installer skips this step, the old grass and weeds can creep back in and infiltrate your pristine new lawn. Wild Bermuda and Torpedo will grow back through the turf, there are currently no selective herbicides to kill off the wild grasses without killing your desirable grass.


Flag all irrigation heads, strip the area with sod cutters, and haul away all the old sod? These are important pre-installation steps.


Level out any imperfections on your lawn? Having a bumpy lawn after paying thousands is a waste, hire someone with the equipment to get the job done right.


Deliver and install farm-fresh sod and not count on a third- party to tell sell them fresh sod?


Check and adjust all irrigation heads, fix any damage to irrigation and plumbing they caused during removal, as well as set the timer accordingly? You shouldn't have any extra chores once your sod is installed.


Leave you with detailed care instructions, so you can enjoy your impressive and healthy new lawn?
At Ground Source, we know you expect us to check all those boxes.
5. Why Shouldn't I Choose the Cheapest Sod in Orlando?
We bet you've seen tempting deals on sod — for cheaper than we charge.
There's a good chance that sod has been sitting there in the sun for more than a day, drying out, roots shriveling.
Those stressed roots are less likely to thrive.
It's not likely bargain sod has been treated with expensive webworm preventative.
Maybe you're looking for the best sod prices in Orlando, Florida.
Don't you really want the best sod?
6. Should I Install My Own Sod?
We're happy to deliver our high-quality sod to you for your DIY lawn project.
Maybe you've researched sod installation prices in Orlando, Florida and figure you can save money by doing it yourself
But be prepared before those pallets of sod arrive. There's a lot more to laying sod than simply getting it down.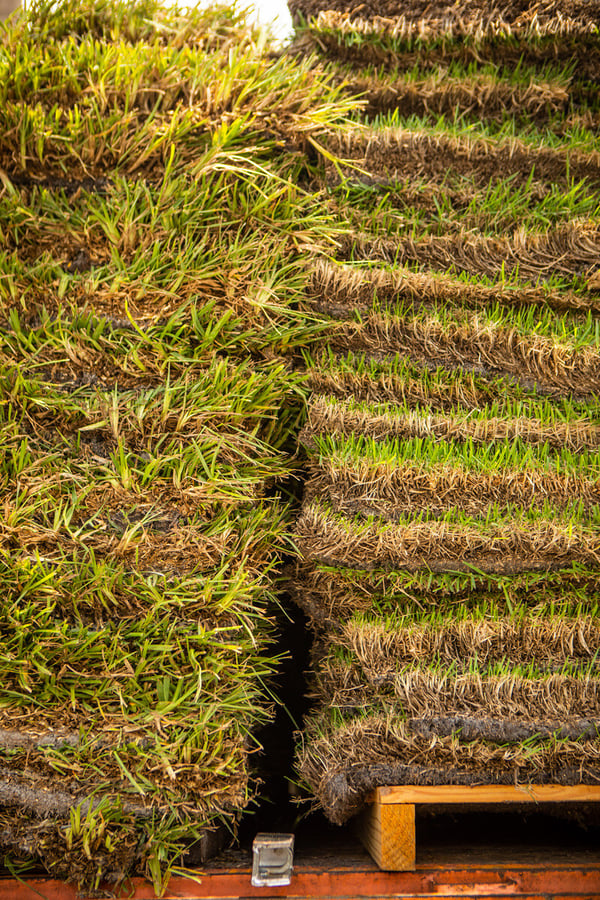 Is your lawn leveled correctly?
If you want your new lawn to thrive, install the sod as soon as you receive it.
Water it right away. Roots dry out quickly, and gaps can appear if the sod loses moisture after installation, causing the pieces to shrink.
Too much pressure? You'd rather go out for pizza and a movie and come home to a brand new lawn?
Let the pros at Ground Source handle the delivery and installation for you.
Trust Your Sod Lawn to Ground Source
We're sod experts, but our skills don't stop there. We're with you every step of the way as you plan your perfect outdoor space.
Sod, irrigation, landscape design: Let us transform your yard from an embarrassing eyesore to a place you spend every spare minute.
Are you ready to enjoy the vibrant, impressive yard you've always wanted? Request a quote today! We'll help you review your options and then transform your property.