Let's admit it — we all have artificial turf envy every time we watch a football game on TV.

So green! No mowing! No weeding!
But how can you use it in your Central Florida backyard?

Lots of cool ways. Need backyard artificial grass ideas? Here you go:
1. Artificial Grass Around Your Pool
Your pool area is a great place for artificial turf. Why? Grab your unicorn pool float and a frosty drink and ponder these reasons:

Artificial grass is perforated throughout to allow for water to flow through into the drainage base underneath. That means a tidier pool area, with no puddles, mud, or mess.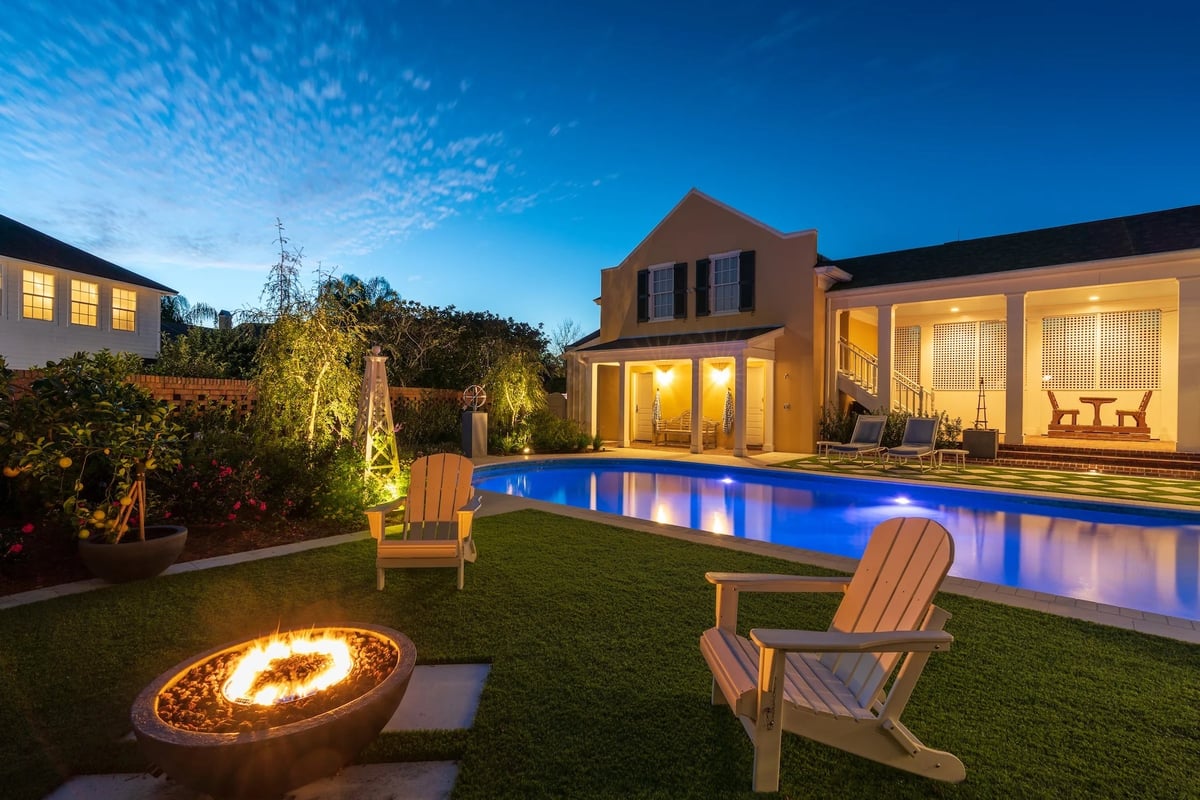 It's not slippery! While concrete can get slick and hazardous, artificial turf is a safe, non-slip surface, perfect for around a pool. And if you do happen to slip, you land on soft turf. It's still embarrassing, but no cracked skull.

It resists chemicals. While pool chemicals can kill natural grass, artificial turf around your pool doesn't care. And what about the chemicals you use on your natural grass? Fertilizer and weed control products can damage your pool filter and contaminate the water if they make their way into the pool. Install artificial turf and erase that worry.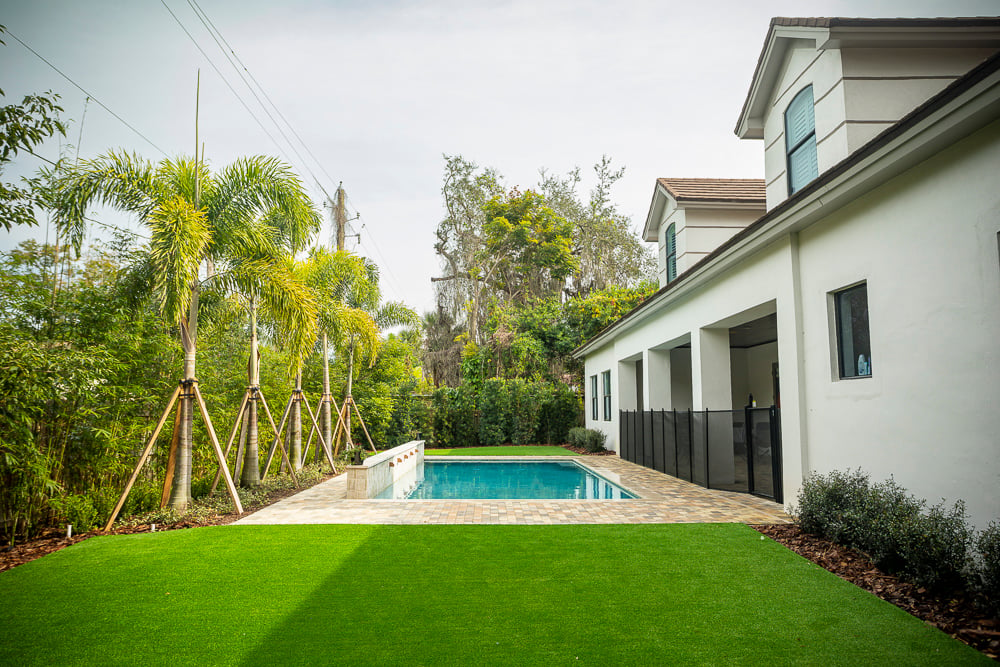 Artificial turf looks fresh and green all the time — one of the best reasons to add it to your list of backyard artificial turf ideas. The best artificial grass looks almost exactly like a natural lawn. It even comes in different blade lengths and widths, colors, and textures, like real grass, so you can choose the look you like.
2. Backyard Turf Ideas: Add Landscape Artwork
You can get creative with artificial turf, combining it with hardscape for underfoot artwork that makes your backyard landscaping intriguing and unique.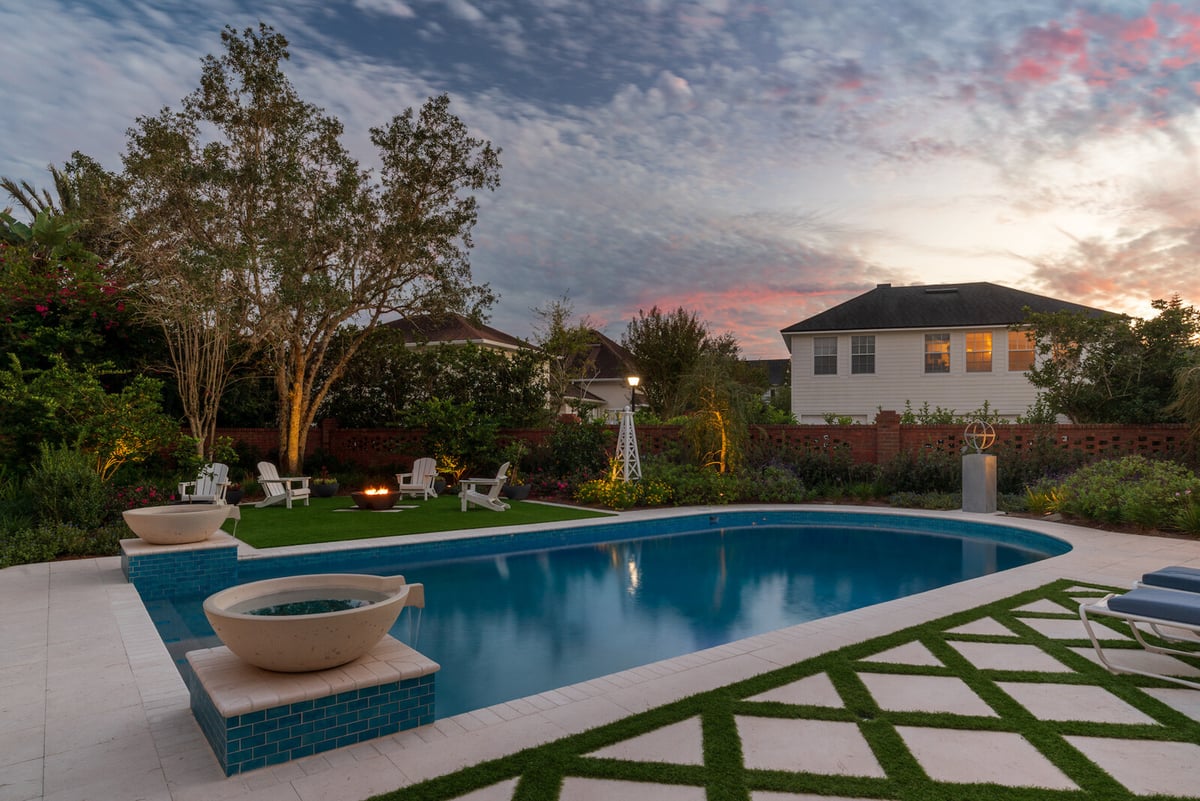 Our landscape designer created an artistic poolside patio for a client in a lattice pattern of sleek white travertine and fluffy emerald green artificial turf.

It adds a sense of pattern, a soft place for bare feet to land, and a piece of poolside art, built right in.
3. Backyard Artificial Turf is Perfect for The Pooch
Some artificial turf manufacturers carry turf designed specifically for dogs, with extra features like a flow-through backing for maximum drainage and antimicrobial technology built into the blades.

But even regular artificial turf products can work if you have a dog.

Why is this backyard artificial turf idea worth howling about?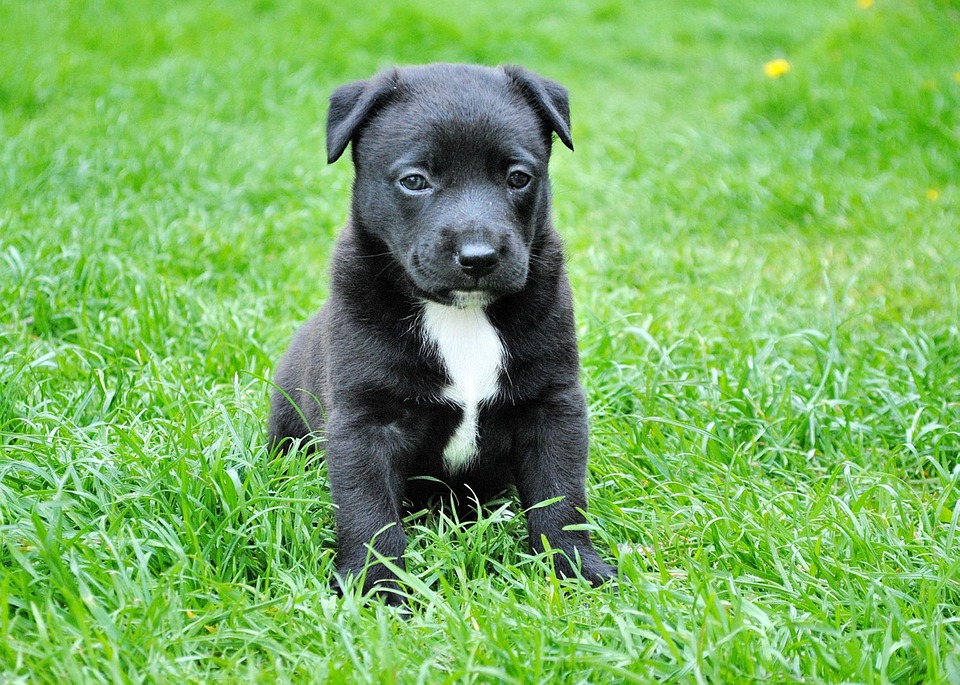 Natural grass turns yellow from dog urine and it's tough to green it up again. Artificial turf stays green.

Easy cleanup. Dog urine can be easily washed out of the turf to maintain a clean surface. Scoop the poop, then just spray that area with water. Any stains can be washed with mild soap and water.

Fewer fleas and bugs. Bugs aren't interested in artificial turf. That means fewer of them on your pooch.

No dirt or mud to get messy. That means fewer baths after outdoor play.
4. Backyard Artificial Turf Ideas: Safe Fun for the Kids
Add artificial turf for a kid-friendly backyard where you can safely install a playset and a trampoline without fear of knee scrapes and injury-causing tumbles. And no worries about your teen-ager grumbling about mowing the lawn. No mowing!
5. Fun for You! Create an Easy-Care Lounge Area
Artificial turf means no watering, mowing, fertilizing, or weeding. An occasional rinse with water will help keep it clean. You can easily remove any dirt and debris with a blower, brush, or sweeper.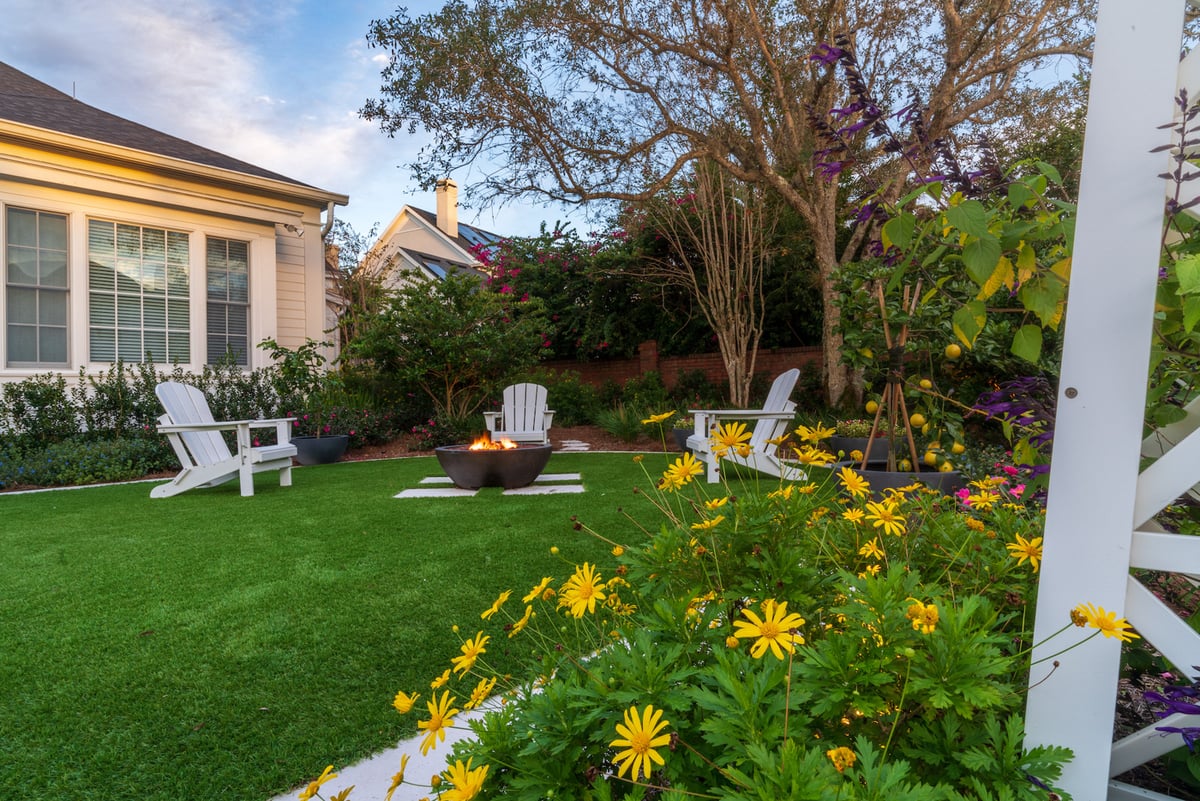 No more weekends spent working on your lawn! That means more time to lounge on your emerald green lawn reading a book, sipping a watermelon margarita, and munching that bag of Cheetos.
6. Grab Your Clubs! Install a Backyard Putting Green
Practice your short game right from the comfort of your own backyard.

Get the look and feel of a real golf green — but no mowing, fertilizing or watering.

In the mood to perfect your putting? Just stroll to the back yard. Heck, you can practice in your bathrobe!
Need Artificial Turf Ideas? Trust Ground Source in Central Florida
Suddenly your backyard seems pretty boring, right?

Add a couple of these backyard turf ideas and not only will your yard be more fun, the low maintenance means you'll have way more time to enjoy it.

Let us walk you through the pros and cons of artificial turf and show you samples to touch and see up close.

Questions? Happy to help you figure it out.

We're Central Florida turf experts, but our skills don't stop there. We're with you every step of the way as you plan your perfect outdoor space.

Sod, irrigation, landscape design (including artificial grass if you'd like): Let us transform your yard from an embarrassing eyesore to a place you spend every spare minute.

Are you ready to enjoy the vibrant, impressive yard in Central Florida you've always wanted? Request a quote today! We'll help you review your options and then transform your property.