Planning your big new Florida landscaping project? Man, there's a lot to think about, right?

How much will it cost? What do you really need? Your head must be spinning.

Maybe head outside and relax on the paver patio, or chill beneath your poolside pergola while you sort it all out.
Oh, wait a minute. You don't have any of that stuff yet.
Yikes, there's no time to waste.
Table of Contents
1. Define Your Landscape Wants and Needs
2. Ask Yourself These Landscape Design Questions
3. Find Landscape Design Inspiration
4. Landscape Design Ideas to Consider
5. Set a Landscape Design and Installation Budget
6. Find and Choose the Best Landscape Designer For Your Needs
7. Tips for Working with a Landscape Designer
Define Your Landscape Wants and Needs: How Do You Want to Use Your Landscape?
Before you get excited about patios and pergolas, palms and pentas, take some time to ponder this important question:

What do you want to happen out there?

Lively pool parties where you serve your famous grilled cilantro lime and chicken wings for 12?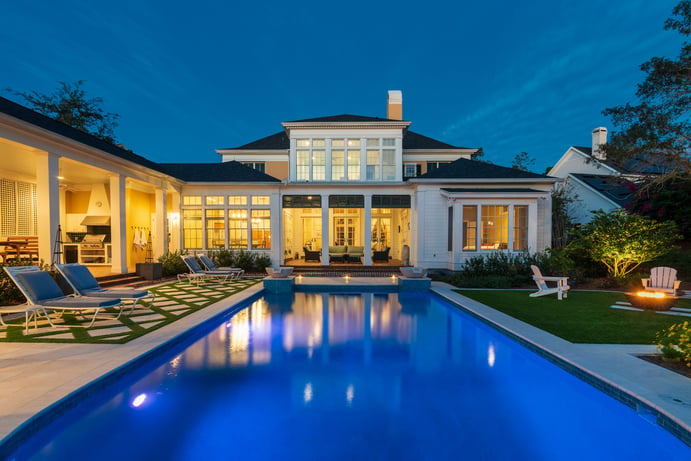 Quiet mornings on the patio watching birds and sipping salted caramel mocha lattes? (Note: latte machines are not typically included in a Florida landscape design contract.)

Want a garden to grow enough Serrano peppers to can 50 jars of salsa?

Craving a peaceful oasis with a couple cozy hammocks in a grove of palms?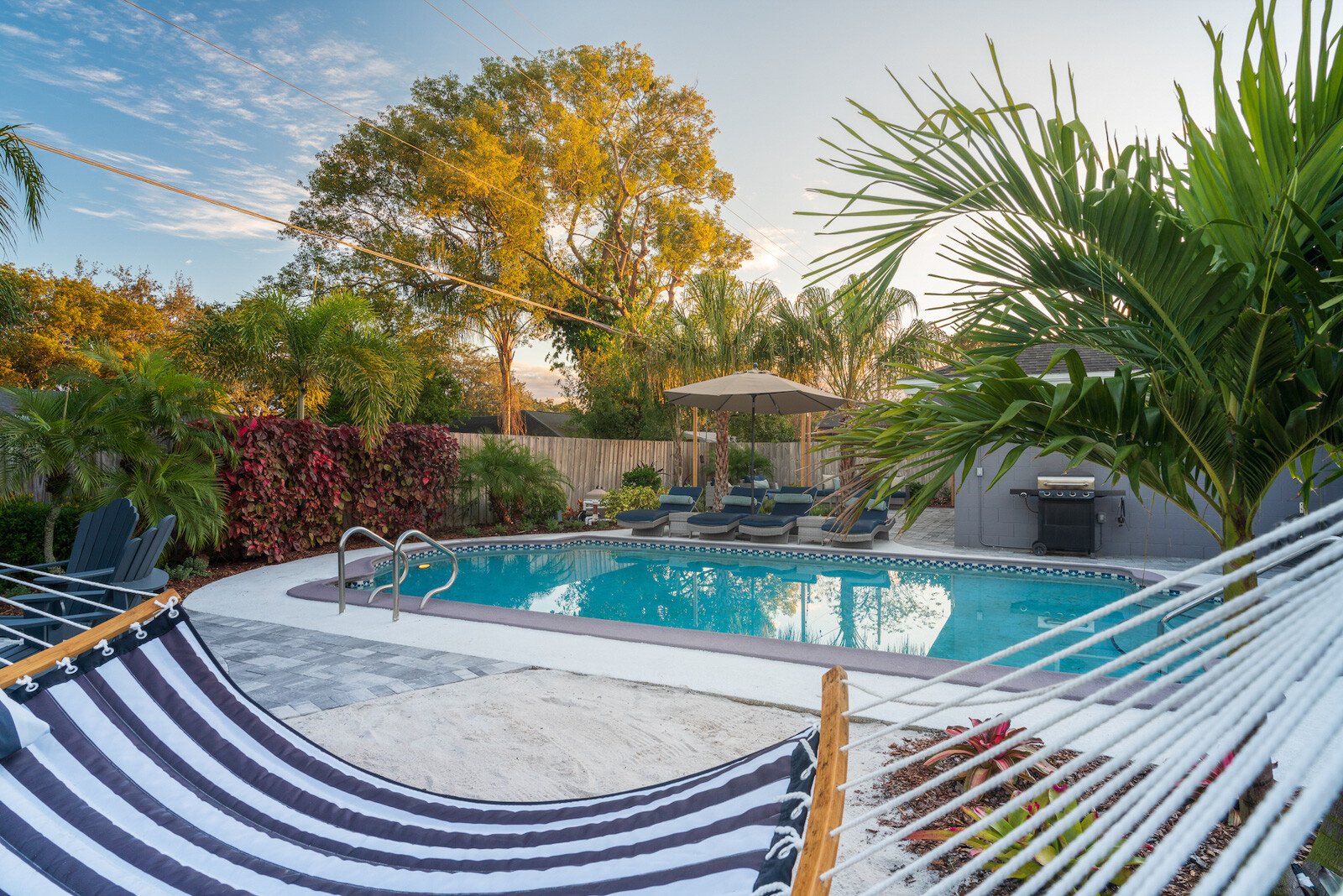 Do you own four dogs?

Are you writing all this down? Please do. We'll pause for a minute.

Be sure your list reflects how you really want to live out there — not just a pretty scene you saw on HGTV.
Ask Yourself These Landscape Design Questions
If you've already started answering our first question, you should be all warmed up for this next part. More questions to ask yourself:
How much maintenance do I want?


How much do I want to spend on my landscape? (a bit more on budgeting later)


How many people will be using the space?


Are there eyesores I want to camouflage or problems to solve?
Find Landscape Design Inspiration
Look around. Design inspiration is everywhere, from a low-tech neighborhood stroll to social media mania.
Dive into Pinterest
If you've never been on Pinterest, better set aside about 12 hours because this magical place has more rabbit holes than Bugs Bunny's family reunion.
Home and Garden Magazines
Remember magazines? They still exist and are packed with inspiration. Plus, you can just rip out pages and hand them to your landscape designer.
Home and Garden TV Shows
(Warning: your dream Florida landscaping makeover will take more than 30 minutes to achieve.)
Instagram
Hashtag anything from pool plants to patio design to deck lighting. Boom.
Drive Around
Head to the most luxurious neighborhoods in your area and take a stroll. When you see an idea you like, snap a photo.
Check Out the Case Studies on Our Website
Intriguing client properties will inspire you with lots of cool ideas like this:
A luxurious dream driveway that adds extra parking spots for company and boasts stunning inlay designs in circles and overlapping diamonds.


A backyard resort paradise with a pool; a mini sand beach with a hammock and fire pit; towering palm trees; and festive string lights.


A poolside patio in a lattice pattern created from sleek white travertine and fluffy emerald green artificial turf. It adds a sense of pattern, a soft place for bare feet to land, and a piece of poolside art, built right in.
Landscape Design Ideas to Consider
What do you want and need in your Central Florida landscape design? Here's a list of elements to consider.

Pick two or three. Or, what the heck, go big and do 'em all.
The Perfect Patio
If you didn't jot down "patio" on your list of landscape dreams, think again.

Chances are, you need one.

Patios are super versatile. Whether you love making 200 crab puffs and hosting all the family events, or quietly relaxing alone with a mango margarita and a second mango margarita, a patio sets the stage for fun.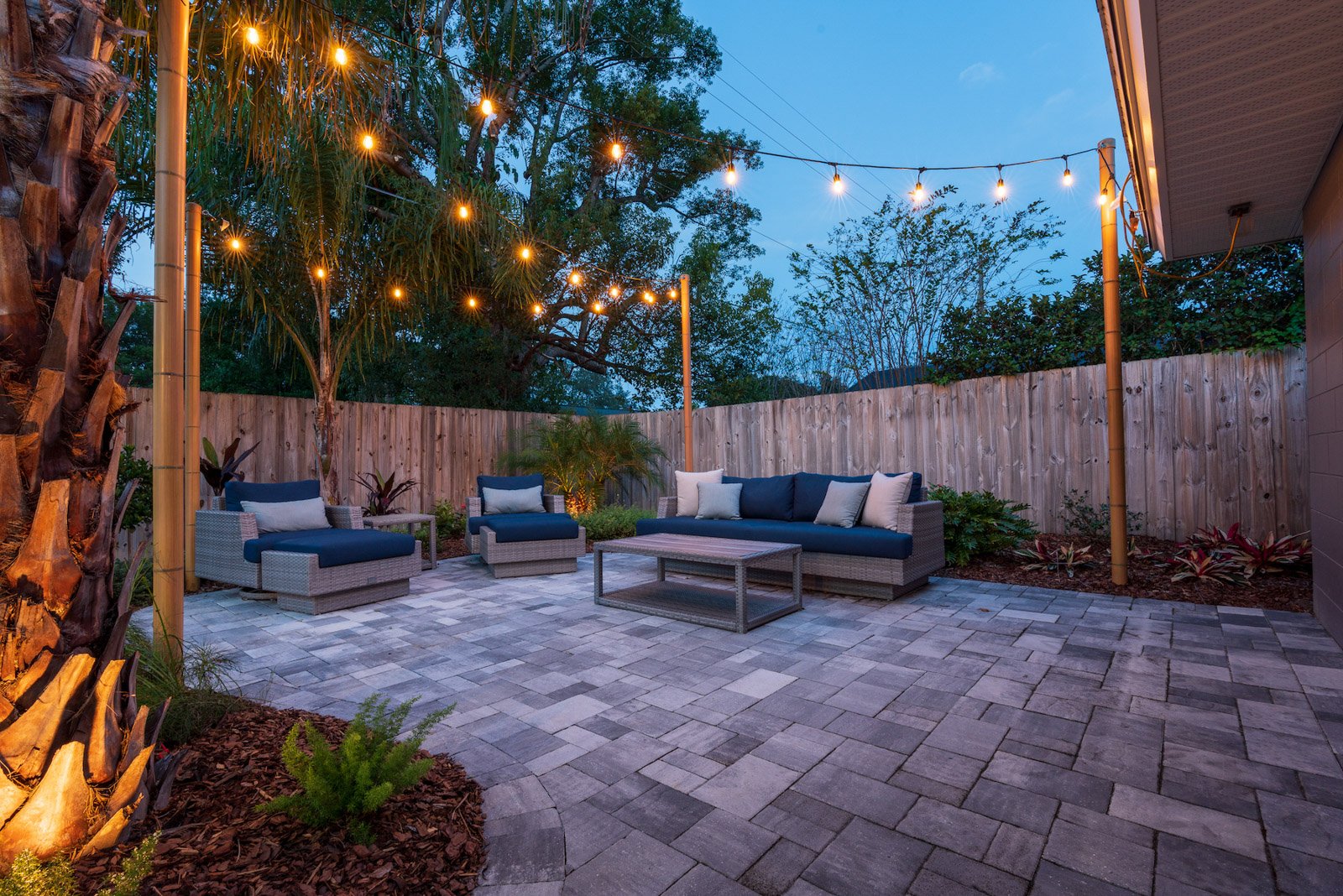 Actually, it sort of is the stage — and the artistic centerpiece of your backyard landscaping.

Imagine hosting guests on your curving paver patio with a pattern so intriguing, you catch people looking down at their feet all night. Your design options are staggering.

A nice big expanse for grilling, dining, and lounging is a good start, but it's fun to think a bit bigger.

How about steps, terraces, and seating walls? Even a couple separate outdoor "rooms" for different purposes.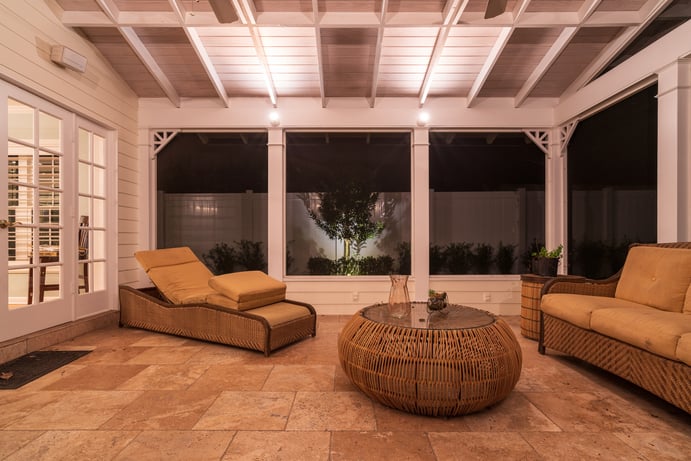 Too much? It's easy to scale back. A patio can also be a cozy, romantic nook for candlelit dinners or the perfect morning yoga spot.

Suddenly, your patio is an extension of your home — your great outdoor go-to space.

You'll spend more time outside than in.
A Sizzling Outdoor Kitchen
Why would you want an outdoor kitchen?

Reason number one: when something spills, you can just hose it off.

OK, there are better reasons.
Outdoor kitchens turn cooking into a party. Suddenly, you have the perfect entertaining haven, where guests can happily gather around the grill while you tend to your leg of lamb (or, let's be honest, hot dogs), grab their own drinks from the fridge, groove to the music and generally feel like they're in party paradise.


No more running back and forth from your grill back inside to your kitchen to grab the tongs you forgot or the barbecue sauce you forgot. It's all right there!


Sure, you could spend tens of thousands of dollars for a custom outdoor kitchen for your Florida landscaping with everything from an outdoor smoker to an ice machine to a pizza oven, but you can also have a lot of fun out there with a basic kitchen island. Your landscape designer can help you customize the perfect outdoor kitchen for you.
Fire Features
First things first: stock up on marshmallows, graham crackers, and chocolate bars.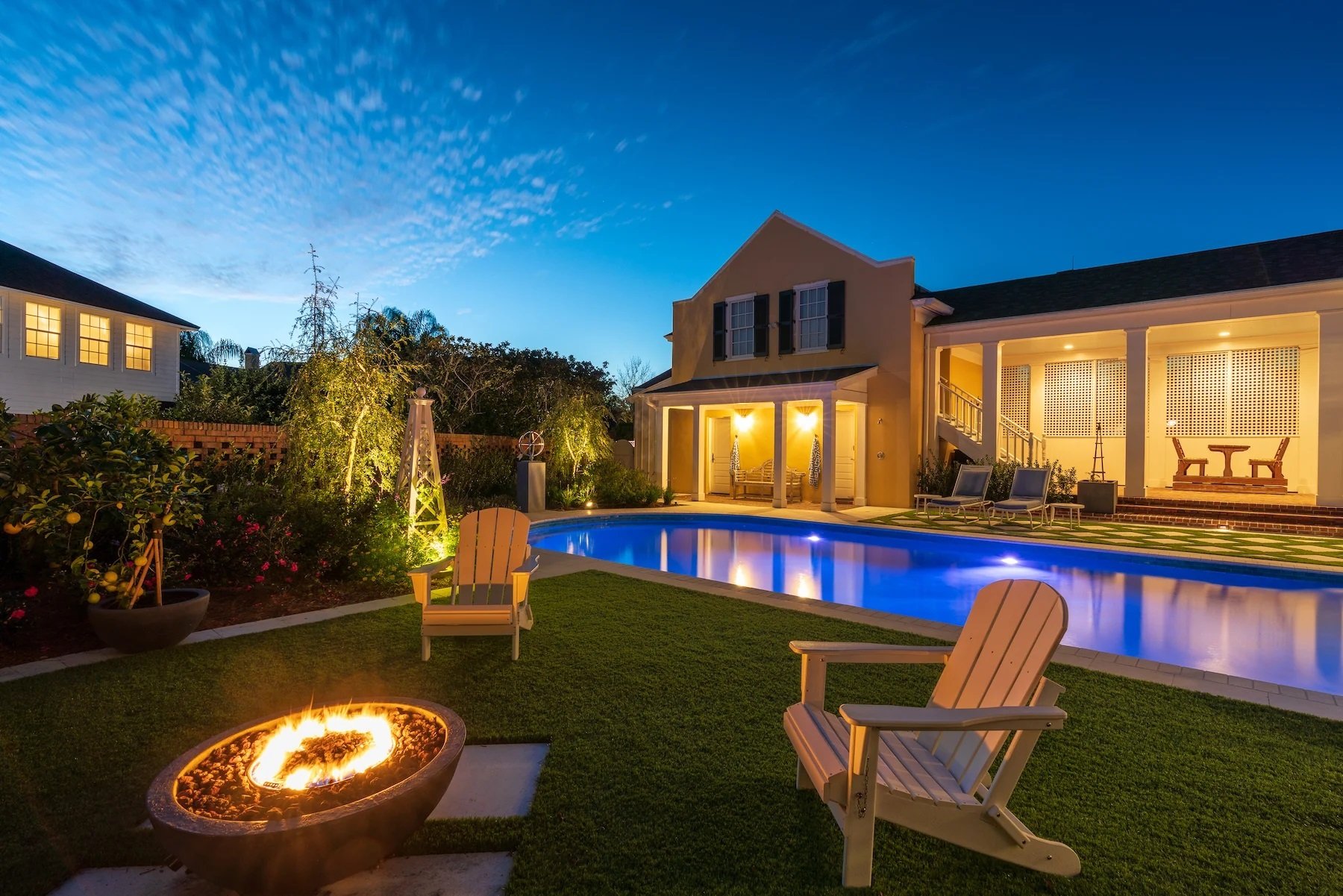 Now, you might as well install a fire pit, right? Why would you eat raw marshmallows?

Your first decision: wood or gas? Are you a toss some more logs on the fire kind of person? A wood burning pit is rustic fun.

Or is starting the flames with a click of your smartphone more your speed? Fueled by natural gas or propane, gas fire pits burn clean without smoke.

A natural gas fire pit lights easily and quickly and doesn't produce smoke or sparks. But it isn't the best for cooking and doesn't provide as much heat as a wood-burning flame.

And the price to run a gas line with permitting can be expensive.

A wood-burning fire pit will indulge your inner cowboy with a campfire feel, put off a lot of heat, cook food, and is cheaper than running a gas line. But, it puts off smoke and sparks and can be tougher to control.

Either way, you're in for a lot of fun.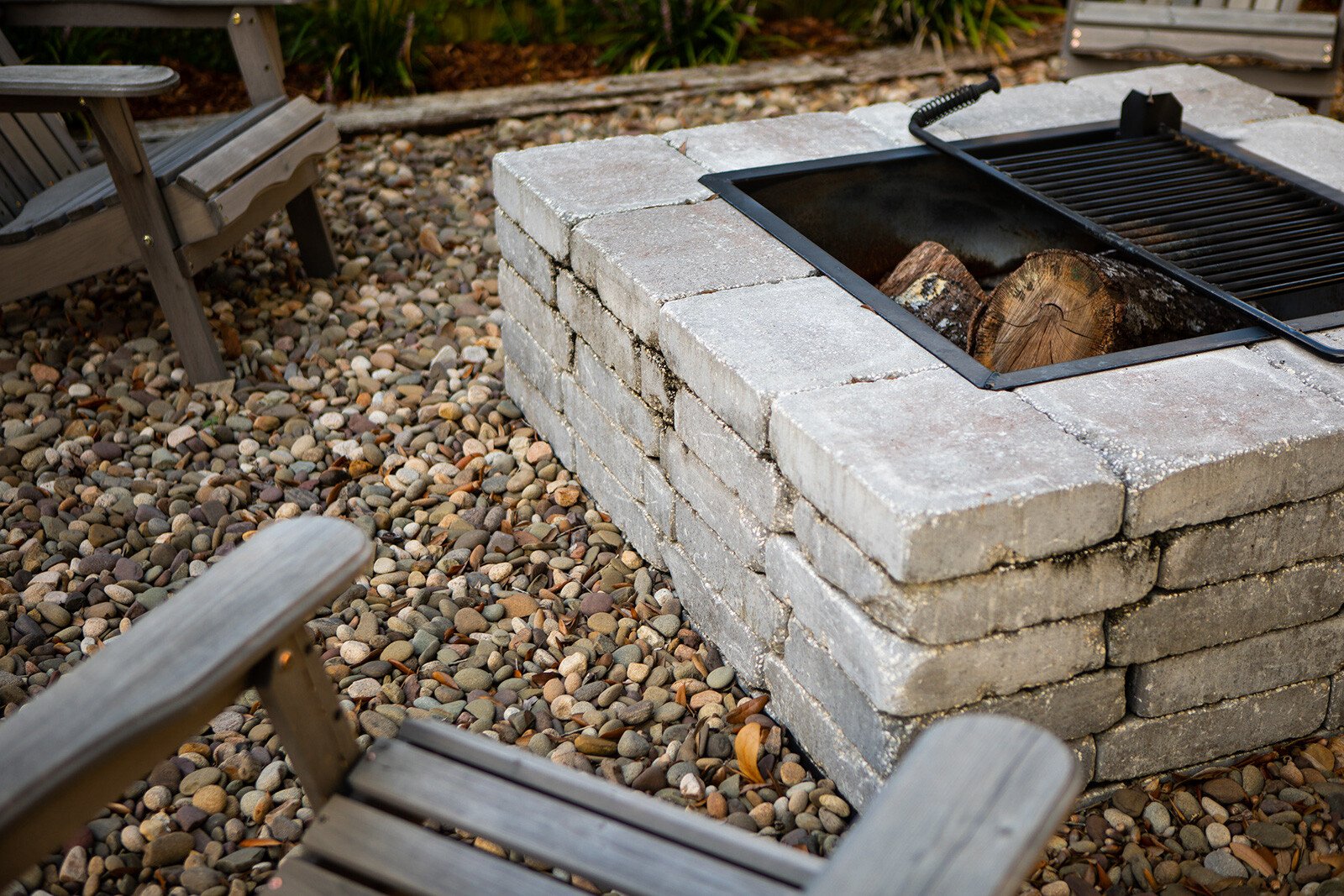 Install your fire pit right on your patio, a few convenient steps from your door, and there's no excuse not to use it. Who needs a special occasion? S'mores ARE a special occasion.

Add some comfy seating, a few potted plants, some festive string lights, a pile of napkins, and you've got a party. (S'mores are really sticky.)
Poolside Paradise
Two of the coolest words ever: Pool party.

Are you ready?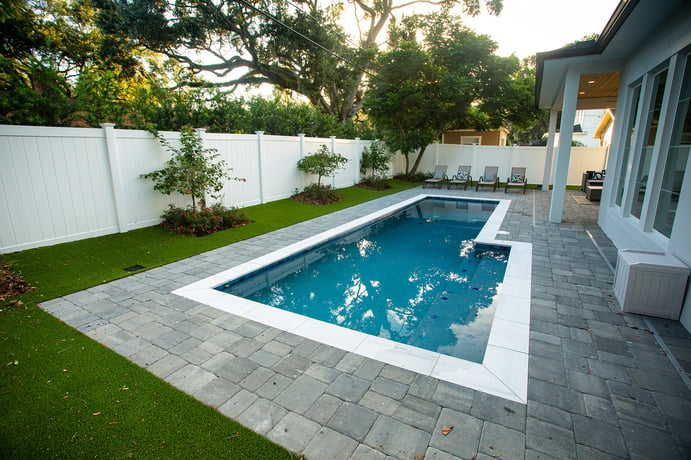 Or is your pool the sad kind, with a couple struggling plants who wish they were with their cousins lounging by that luxurious Hollywood pool?

Make a splash with a perfect pool plant plan, with Central Florida landscape design in mind. Here's a start:
Lanai Life
Have a covered lanai? Its cool shade is great for container gardening. Think lacy ferns, bright begonias, and cool caladiums for a tropical vibe.
Pondering Palms? Pause, Please
Yes, it's tempting to lounge, movie-star style, beneath an impressive palm, but they can outgrow the area in 5-10 years, pressing up against your pool screen and even damaging it.

Try a Roebelenii Palm. This dwarf date palm is petite enough to work even inside your pool screen, but they really look great leaning out over the pool to allow room for their spreading canopies.
Go Tropical
Surround your pool with plants that make you feel like you're on vacation every day. Here's your shopping list to mix and match:
Crotons
They boast spectacular color and no leaf drop, growing to an impressive six feet tall.
Bromeliads
You'll love the vibrant colors — bright pink, red, purple, yellow. Keep those sunglasses handy.
Xanadu Philodendron
It looks as exotic as it sounds, with huge shiny, leathery leaves.

Add plants. Start the party.
Pondering Pergolas and Pavilions
Yes, we're speaking English here. But these are two pretty weird words.

First, let's explain these two outdoor structures. Then, check out how they bring style and substance to your Central Florida landscape design.
First, What's a Pergola?
A pergola is an outdoor shade structure with a slatted or lattice-style roof supported by posts. They provide some sun protection but if you sit beneath one in the rain, you'll get wet.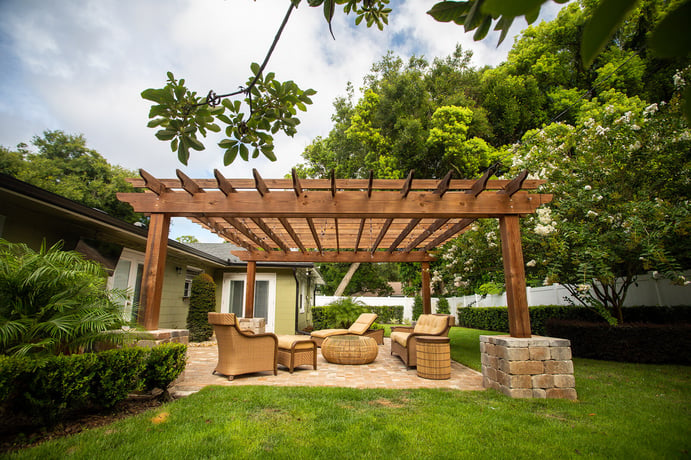 They're great for covering all or part of your patio, offering a bit of cover from the sun and defining your outdoor space.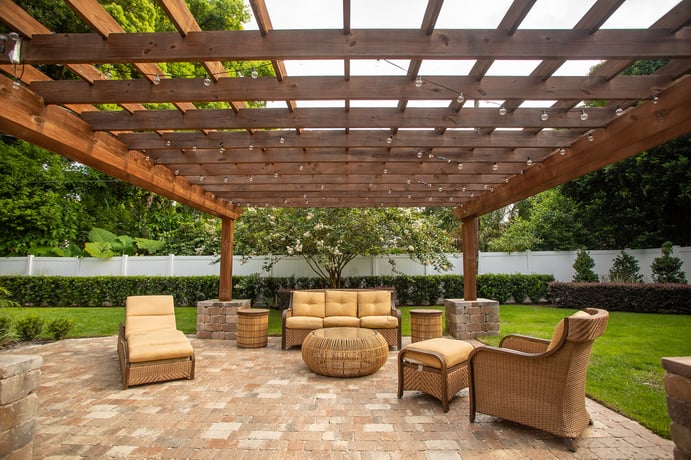 Bonus: you can grow vines up the posts, hang plants from the "roof," and cover the whole thing in twinkling white lights that make everybody say, "oooh, I want to sit there."
So, What's a Pavilion?
Unlike a pergola, a pavilion has a roof. It's open on all sides, but offers more cover overhead.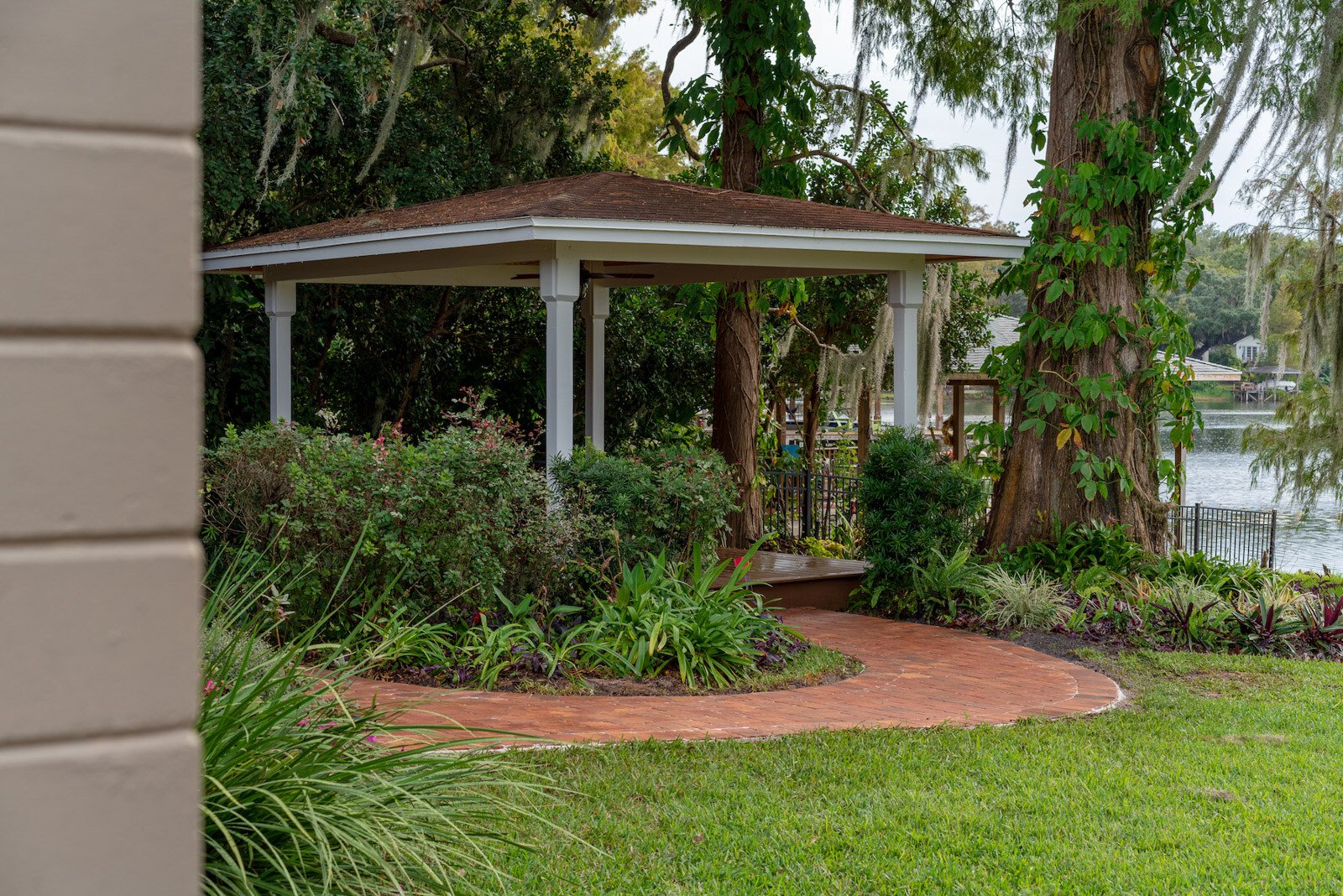 That means it's a great space for larger gatherings, like if you have 30 cousins who invite themselves over for Sunday cookouts.

Once you choose which one fits best in your Florida landscaping, there are lots of options, from size to materials. They've got you covered.
Plenty of Plants, Please
When your landscape designer asks you what plants you like, do you:

A: Shriek "Get me six of everything!" then camp out in the driveway excitedly waiting for them to arrive;

B. Shrug and say, "Whatever you think will work is fine."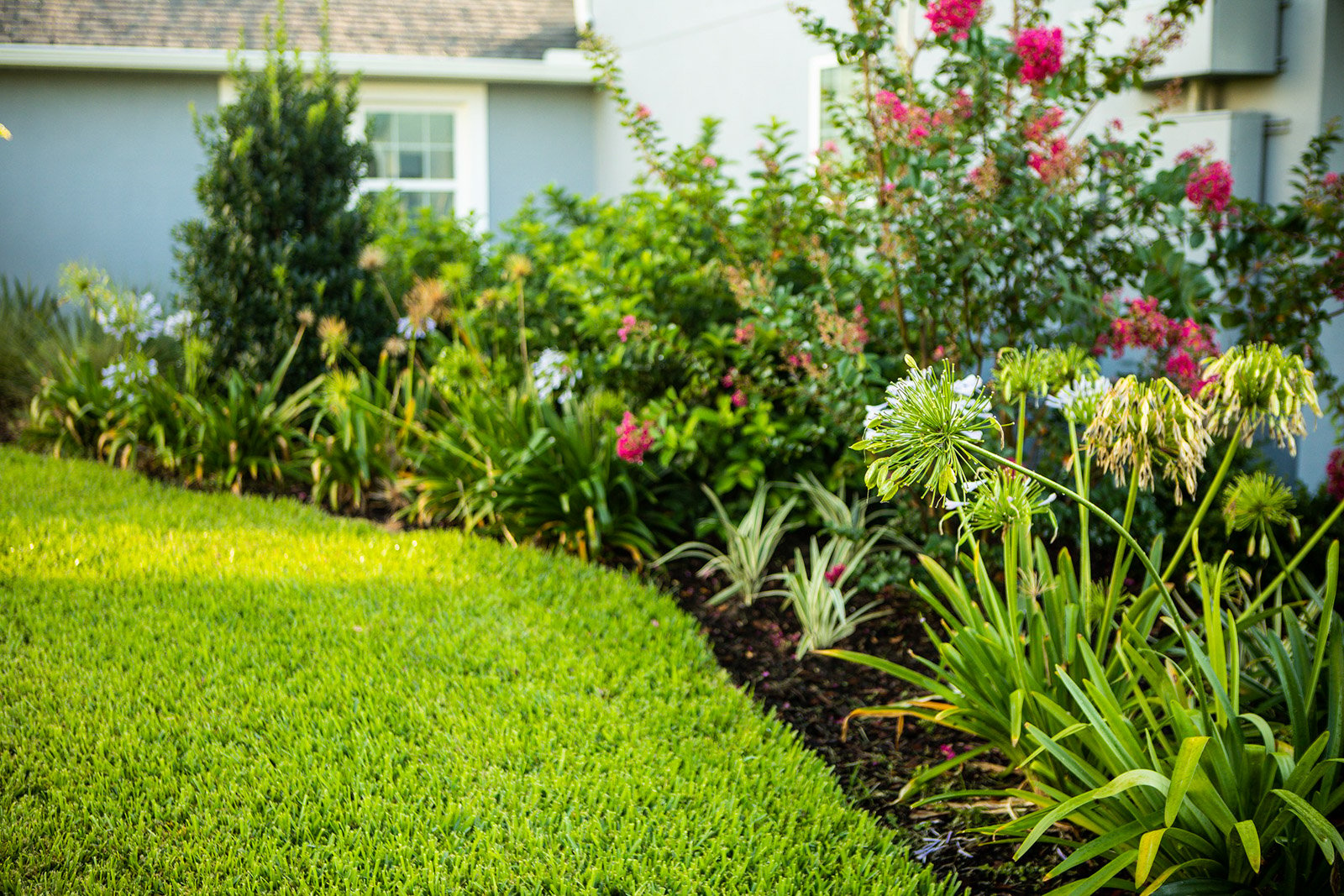 Either way, plants are a huge part of your Florida landscaping plan.

Ponder these tips:
Choose plants that will thrive in your yard. Not just in your daydreams. That means assessing your soil, your light conditions, and how much fuss you're willing to give them.


Plan for staggered bloom times, so your landscape will always look great, with plants blooming year round.


Think foliage, not just flowers. Check out foliage superstars Gold Mound Duranta and Chinese Fringe Flower.


Have fun out there. Mix it up with a variety of colors and textures for a vibrant, intriguing landscape: Vivid blue clusters of Lily of the Nile. Asiatic Jasmine so fragrant it makes you sigh. Stunning Copperleaf with its striking leaves of copper, green, pink, yellow, orange, and cream.
Light Up the Night
Landscape lighting keeps you from tripping over your kid's skateboard in the driveway. Or fumbling for your keys in the dark at the door while balancing three bags of groceries, the mail, and that skateboard.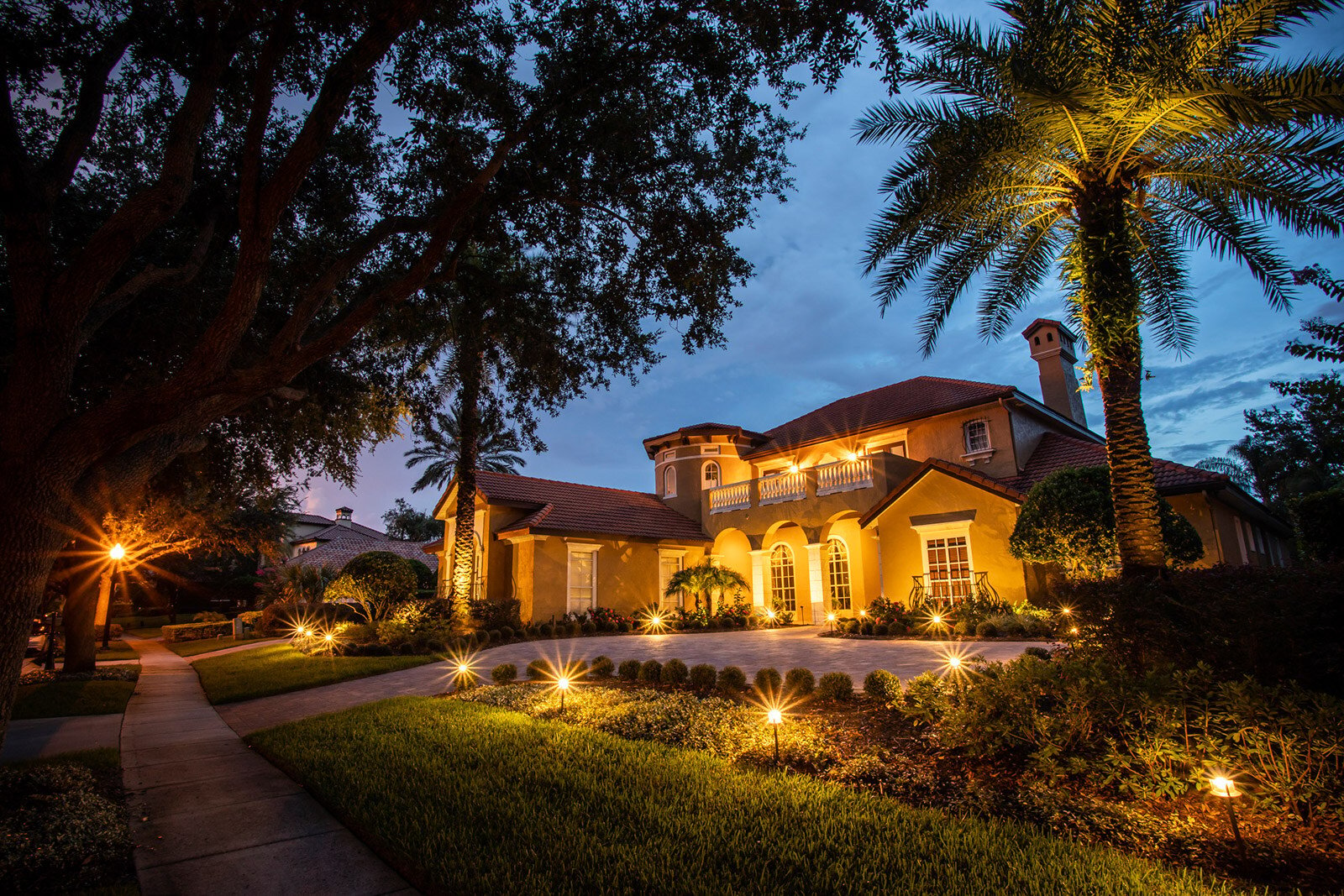 It also lights up your patio with twinkling strands of magic and transforms that lacy Japanese maple out front into stunning after-dark art.

How to start planning this life-changing landscape lighting?

Let's take a stroll around your yard. We'll start out front.

See those cool arches, the intricate brickwork, the stunning palms? Light those.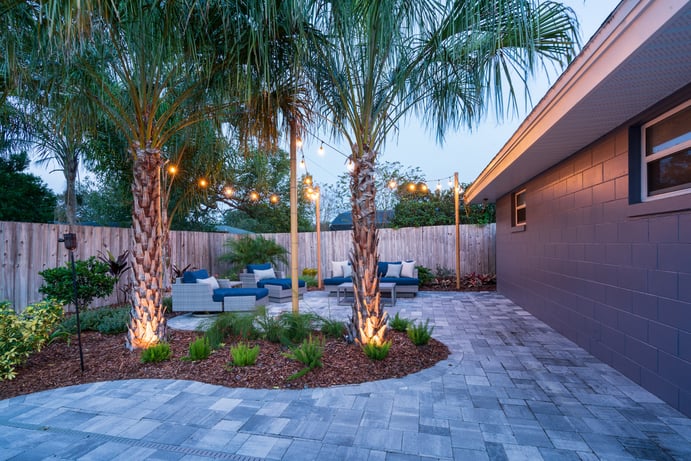 What's out back? A pergola, perhaps? Fire pit? Patio? Add lighting and double their use.

Landscape lighting is practical, making walkways, paths, steps and stairs safer.

But it's also great at adding a sense of luxury. A simple stand of foxtail palms, when tastefully lit, suddenly makes your house look like a million bucks. Or at least $450,000.
Set a Landscape Design and Installation Budget
Nothing ruins the exciting vibe of landscape planning like math. But this will just take a minute.

How much to spend on your Florida landscaping? The American Society of Landscape Architects suggests to start with 5 percent to 10 percent of your home's worth.

Some good math news: a good landscape design can add as much as 15 percent to the value of your home compared to other houses on your street.

Take a look at these budget tips for landscape design in Central Florida:
Prioritize
Focus on the areas and activities you'll use and enjoy the most. Or the areas that are driving you crazy and can't wait to improve.

Will you spend all your time on an outdoor patio? Or do you really want a stunning view you'll see from inside through your living room window?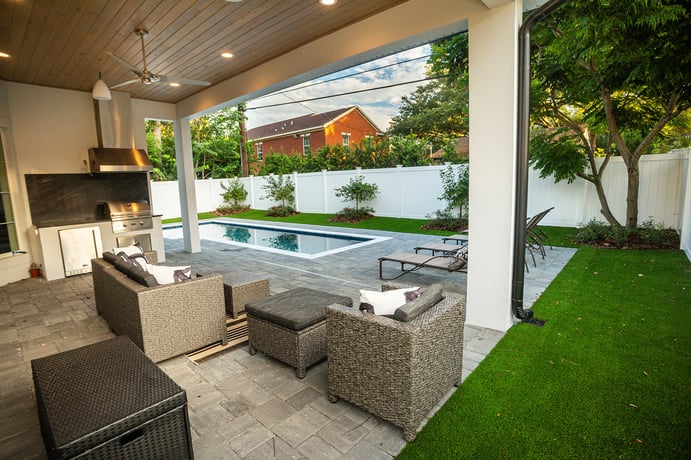 This list of priorities will help you steer money to your most-wanted elements.
Talk to Your Landscape Designer
They know how much all this stuff costs and can help you understand where the money goes — and sometimes it goes to places you can't even see, like important drainage issues or amending your soil so your plants will thrive.
Consider Phases Over Time
It might make financial sense to work with your landscape designer to complete the landscaping in sections, over time.

They'll know what order will work best to complete each section of the landscape.
Find and Choose the Best Landscape Designer For Your Needs
So, there's obviously a lot at stake here.

You want to work with a skilled, creative Florida landscape designer who knows their stuff, has plenty of experience, and who will basically take you by the hand through this whole process because, let's face it, it's kind of scary.
What to Expect From a Landscape Designer
You expect some designing from a designer — a patio here, three Queen palms there, maybe some tasteful lighting so your neighbors know you're fancy even after dark.

But what else should you expect?
Good Google Reviews
Yes, you should check this. How many stars out of five do they have? And just as important: how many reviews?

If a ton of people left reviews and the company also has close to five stars, they've made a lot of homeowners happy.
A Quality, Informative Website
Good Florida landscaping companies invest time and money in their websites to make it easier for potential customers to learn about them.
Look for testimonials from satisfied customers
Do they explain all their services and how they make it easy and comfortable to work with them?
Do they provide educational and informative blog articles?
Do they make it easy to sign up and contact them?
They Should Install More Than Plants
Maybe you're just thinking of a small, simple project. But what if your landscaping dreams get bigger?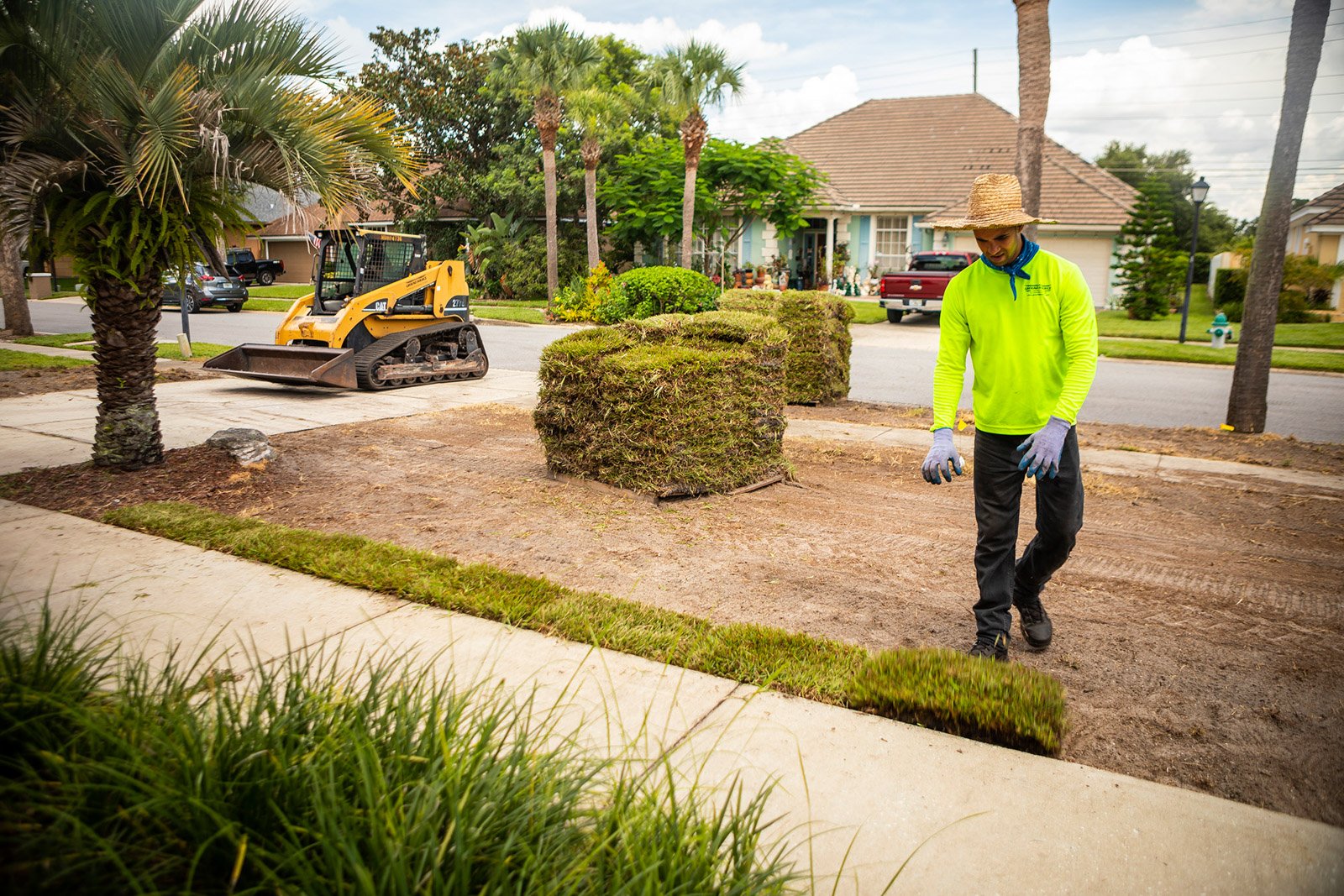 A landscape redo can include a fresh new sod lawn. An irrigation system to keep your growing things healthy. A cozy fire pit. A shady pergola. Maybe accent lighting to make it all glow after sunset and offer a sense of luxury.

Do you want to have to deal with a whole handful of different Florida landscaping companies to get your dream yard? Or can your landscape designer plan and oversee all this?

Not all landscaping companies are full-service landscaping experts. Look for a designer that can help you with the total package.
A Detailed Landscape Design Proposal
When it comes to contracts for your Central Florida landscape design, the more details, the better. You don't want any unpleasant surprises.

What exactly will your design look like? What plants, shrubs, and trees are included? Are you comfortable with all the terms?

You want a thorough, organized proposal that covers all the bases. If the proposal is sloppy and incomplete, their work might be, too.
They Should Make This Easy
The best landscape designers make the whole process go smoothly, from brainstorming ideas at your kitchen table to showing you samples of pavers and light fixtures to walking you through the project and keeping you informed.

They'll do all the work. You get started on the party invitations.
Questions to Ask a Landscape Designer
Of course, the question you really want to ask is "Can you please tell me about the fabulous magic you'll be creating out in my yard?"

But before any magic can happen, ask these questions:
What Landscaping Services Do You Offer?
Make sure your landscape designer is the right one for your project. Some designers offer design only, others specialize in design and build, which means they'll also oversee plant purchase and landscape installation.
Can I See Examples of Your Work?
Good designers are happy to show off their work.

Take a look. Does their style match your vision? If you have a certain look in mind, have they designed that style before?
Can You Give Me Some References?
The best landscapers are proud of their work and their reputation and are happy to put you in touch with satisfied customers.

If they balk, that's a red flag. What are they hiding?

And do they have plenty of great reviews on Google? If not, there may be a reason.
Do You Use #1 Plants?
Ask this question and your Florida landscape designer will realize you know your stuff.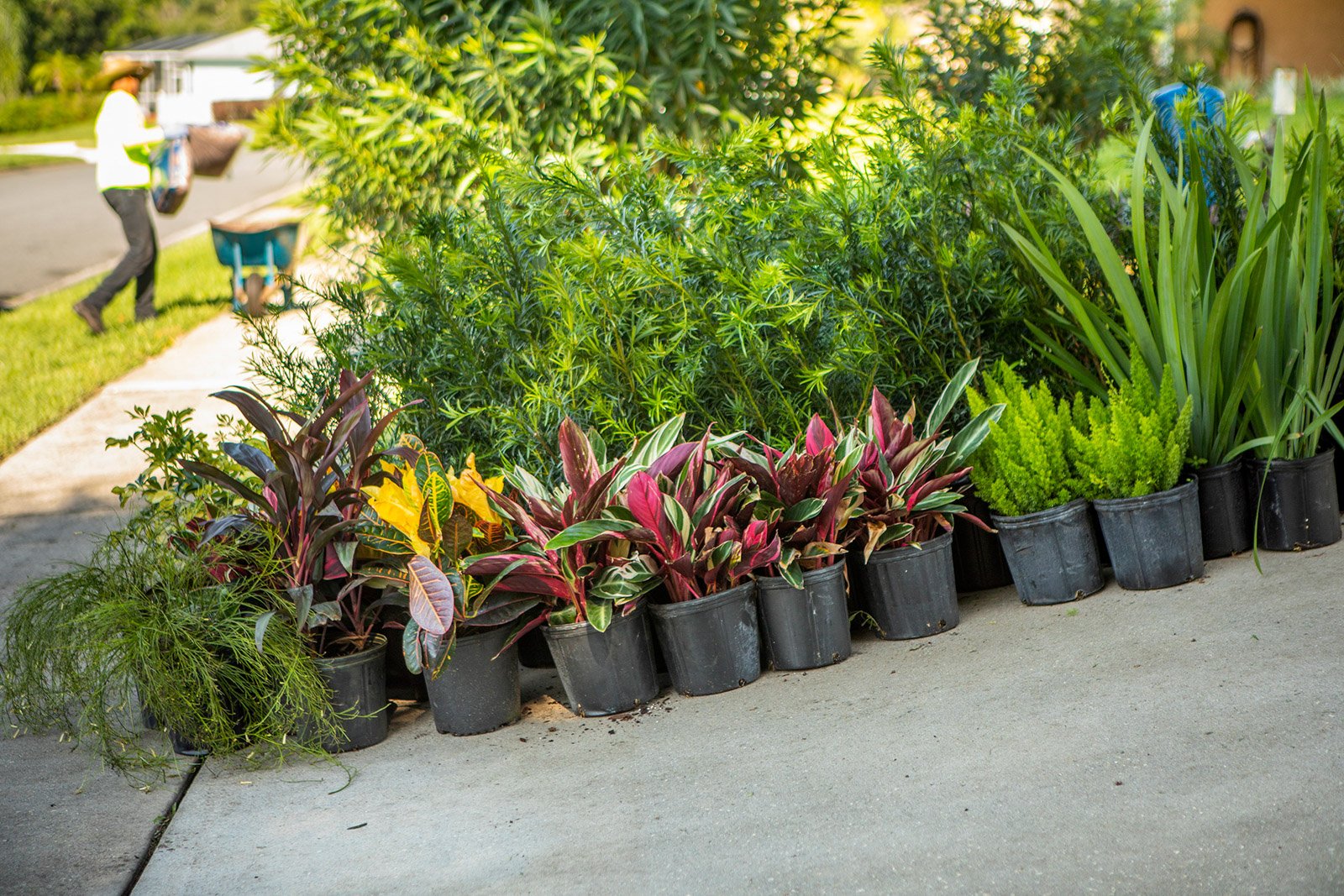 Florida Grades and Standards for Nursery Stock was designed to improve the quality of plant material reaching job sites by rating them based on quality.

Plants designated by them as #1 are automatically high quality. Don't settle for less.
Do You Offer a Warranty on Plants?
Of course, the plan is that your new plants will grow and thrive. But if they don't, what will your landscaper offer?

Look for a one-year warranty, but know there will be some stipulations. Most warranties exclude situations outside of the landscaper's control, including freeze, drought, over-watering, and wind damage, among others.
What Ideas Do You Have to Reduce Cost?
Central Florida landscape design can get expensive. But there are ways to reduce cost.

Hardscape costs more than planted areas. Material costs can vary widely. Some plant varieties are more pricey than others.

Ask your designer if they have ideas for reducing cost to stay within your budget.

A good designer will have ideas about where you can save money without compromising style, and what elements are worth a splurge.
Tips for Working with a Landscape Designer
Tip number one: don't start out by saying you have a budget of $250. That's just mean.

Here are more tips for a great partnership:
Know Your Landscaping Budget
This will save both you and your designer a lot of frustration as things progress. You don't want to be disappointed when your designer creates a fantastic plan — and you realize it's beyond what you can spend.
Do Your Homework
Gather your photos and all those inspiration ideas. Your designer will want a copy of your property plat, too, in order to start work on your design, especially if there are building permits involved.
Have Some Ideas
Have at least a general idea of the look you want. A formal garden with manicured shrubs or a casual cottage feel with graceful ornamental grasses?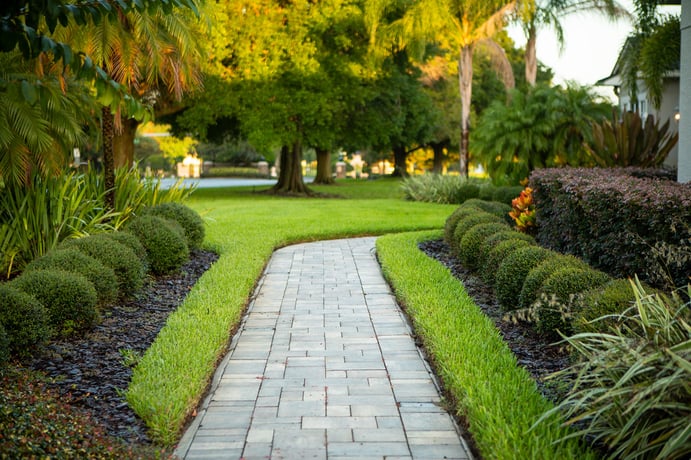 Paver paths? A pool? Structures like a pergola or pavilion? It helps to have a starting point.
Consider Landscape Maintenance
How much work do you want to do once your landscaping is installed?

Do you love starting each day puttering around the garden, or would you rather spend more time gazing at your dazzling Florida landscaping from your lounge chair?

That will help your designer choose the right plants for your level of ambition. Some landscape design plants are needier than others.

Speaking of maintenance….
Ask Your Designer for a Maintenance Plan
So, the landscaping crews packed up and drove away. Now it's up to you to keep things looking great. Gulp.

Be sure you know what to do.

Ask your designer for an outline of the landscaping tasks you'll need to do, and when and how often to do them.
Keep an Open Mind
You hired a professional designer for a reason. They know stuff. Be open to their feedback and suggestions.

They'll tell you that queen palms are real beauties, but their fruit pods can be messy. They know what shrubs are great as privacy screens, what pavers hold up best in driveways, which plants will soon outgrow their spot and waste your money.
Have Fun!
This is exciting! Look out at your yard. Squint a little. You can imagine the transformation, right?

Let's get started.

We're landscape design experts, but our skills don't stop there. We're with you every step of the way as you plan your perfect outdoor space.

Sod, irrigation, landscape design: Let us transform your landscape from an embarrassing eyesore to a place you spend every spare minute.

Are you ready to enjoy the vibrant, impressive landscape you've always wanted? Request a quote today! We'll help you review your options and then transform your property.