Too bad sod installation isn't as easy as throwing down your new living room rug — just roll it out and admire the beauty.
There's more to installing your instant green carpet of grass than that, and some steps along the way are especially critical to ensure your new lawn thrives.
Great sod installers follow certain procedures along the way.
Thinking of installing your own sod? These sod installation tips can guide you.
Or if you're considering saving yourself the hassle and hiring professional sod installers, these pro tips will still come in handy.
As you search for the best sod installers in Orlando, FL, ask them if they follow these procedures.
1. Choose the Right Sod for Your Site
That's right, there's more than one variety of grass available for your Orlando, FL property.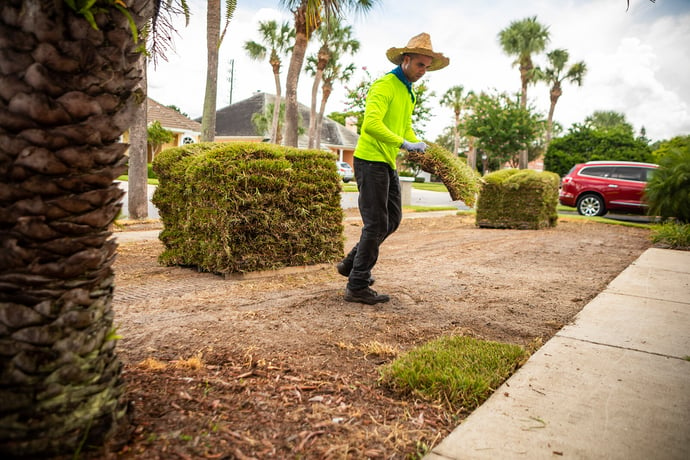 Is your property sunny or shady? Does it get a lot of foot traffic? Do you have an irrigation system?
Matching the right sod to your site's conditions is a crucial first step to sod installation success. Expert sod installers can help you hone in on the right type for you.
2. Source the Best Sod
If you don't use high-quality sod, none of these other steps really matter.
You don't want the cheapest sod. You want the healthiest sod — ready to take root, thrive, and make your property look fantastic.
You want sod that's been well cared for and ready to make a great transition to your yard. You want to be sure it hasn't been sitting out on a pallet, drying out.
Our sod is cut fresh the day it's scheduled for delivery to you, not stashed on a pallet somewhere destined to dry out.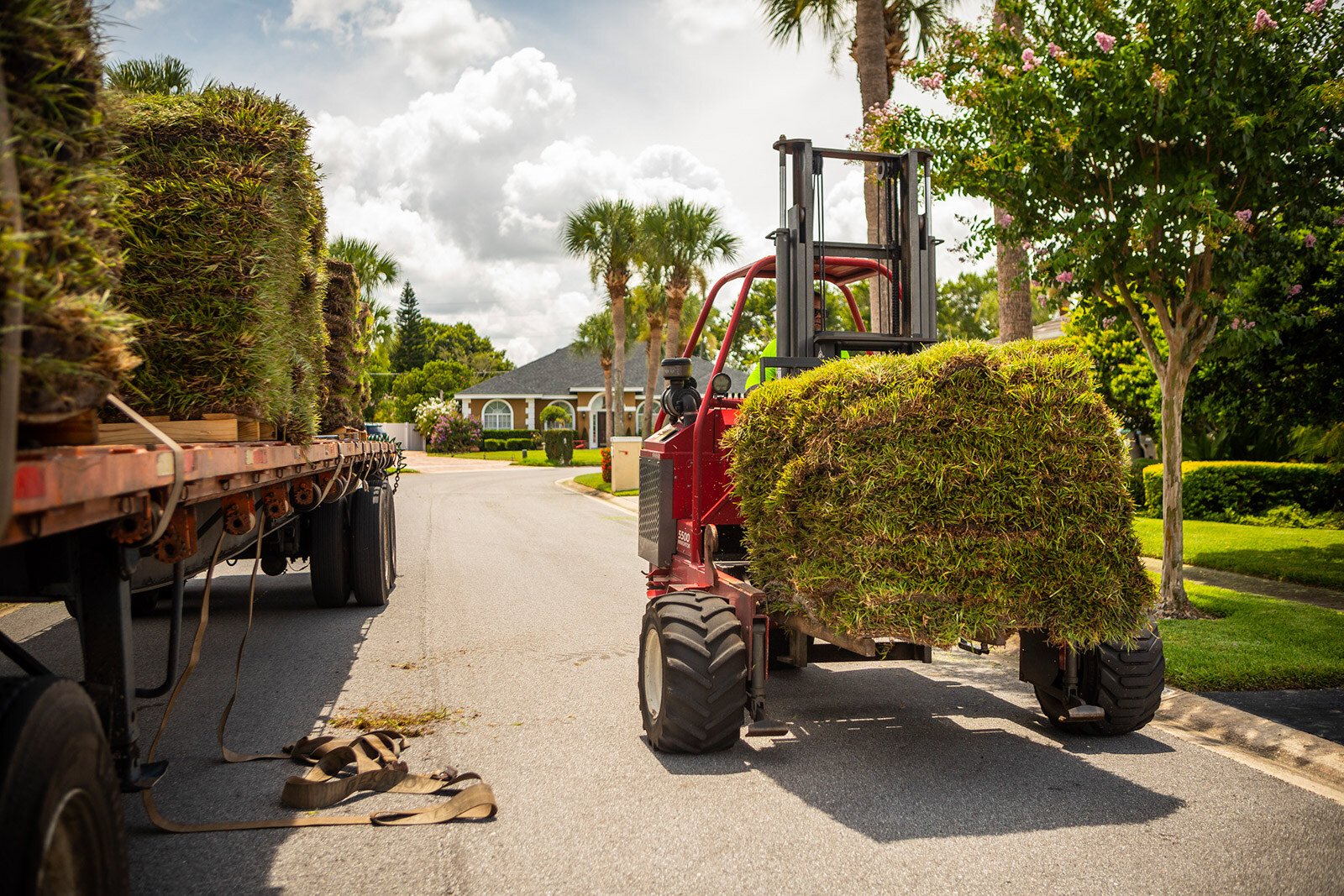 What steps does your installer take to ensure your sod is fresh and healthy?
We drive about an hour farther than we need to and pay about 12 percent more in order to get sod that's consistently high quality and holds up great, even in the more challenging installation months of June through September.
Our sod provider is the only one in the area that uses an expensive webworm preventative, to keep the sod free of those summer-time damaging pests.
Take the time to know exactly where your sod comes from, and how quickly it arrives after being cut on the farm.
3. Find Great Sod Installers
If you're hiring a pro, be sure they really are a pro.
How long have they been in business?
Do they have positive reviews?
Are they happy to share references you can drive-by?
Do they offer a warranty?
4. Kill Existing Weeds and Grass
If sod installers skip this step, the old grass and weeds will creep back in and infiltrate your pristine new lawn. Many of these weeds are not controllable by a selective herbicide, meaning glyphosate is the only control, which is non- selective, therefore killing the wild grasses/ weeds will kill the new lawn too.
Don't be in a hurry here. The process can take from one to three applications, depending on what type of weeds are lurking in your lawn. The amount of weeds can be a factor here, too.
5. Prep the Area for Sod Installation
Flag all irrigation heads, strip the area with sod cutters, and haul away all the old sod. These are important preliminary sod installation steps.
6. Make Everything Level
Level out any imperfections on your lawn. The last thing you want is to spend money on new sod installation and then realize later that there were low areas that weren't addressed or humps that you could stumble over. Some corrective grading before sod installation goes a long way.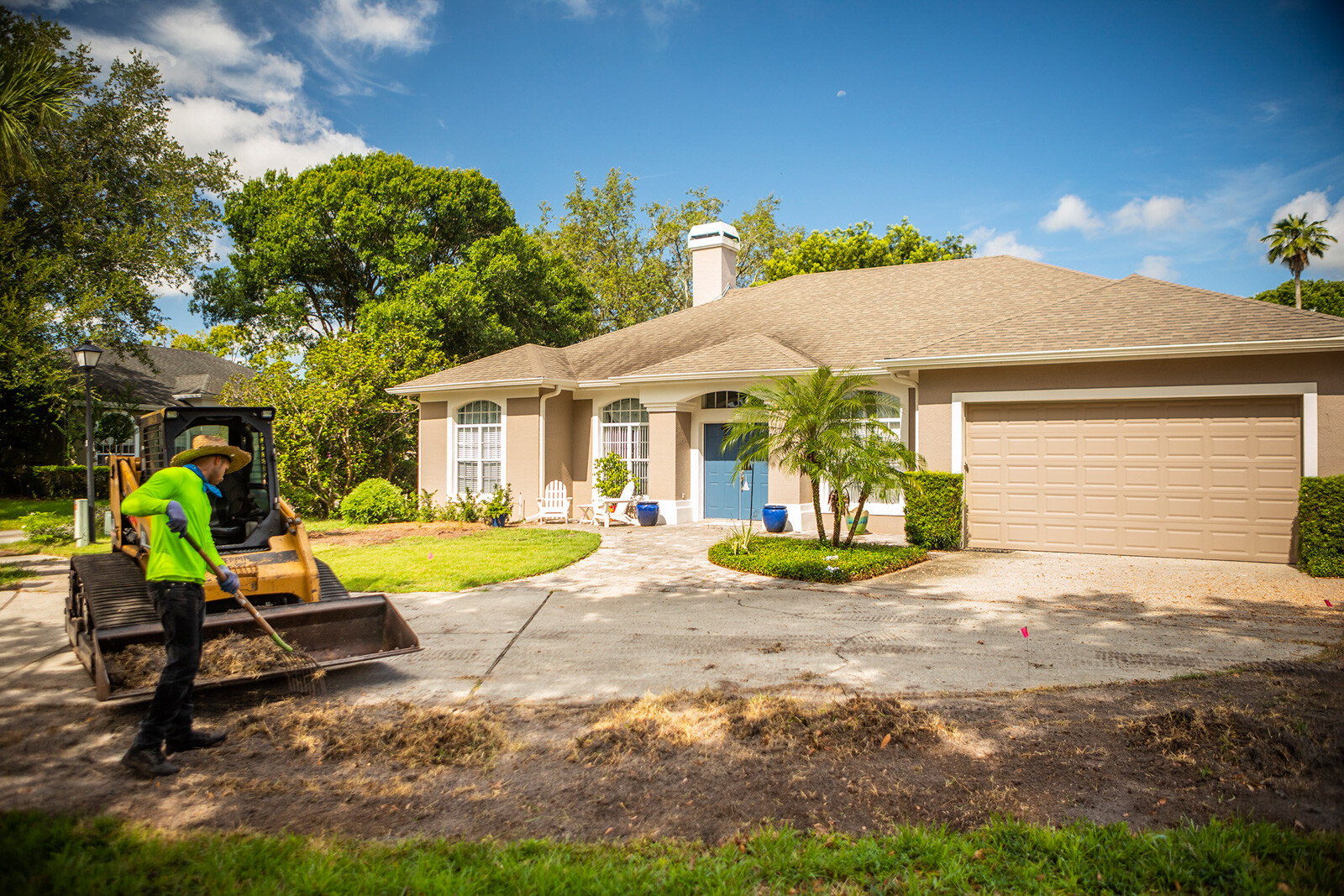 7. Don't Delay Your Sod Installation
The sooner your fresh sod goes from farm to your soil, the better, so it doesn't dry out. The same day is best.
Fit cut seams together as tightly as possible.
8. Check and Adjust Irrigation Heads
Now that your sod is installed, keeping it watered is crucial. Make sure all irrigation heads are up and running, and properly adjusted so all corners of your lawn get water. Set the timer accordingly.
9. Water, Water, Water
Water your new sod right away. Roots dry out quickly, and gaps can appear if the sod loses moisture after installation, causing the pieces to shrink.
10. Have Detailed Care Instructions
Don't let sod installers get away with a "Looks great, see ya later."
They should leave you with detailed care instructions, so you can get your new lawn off to a healthy new start, and keep it thriving.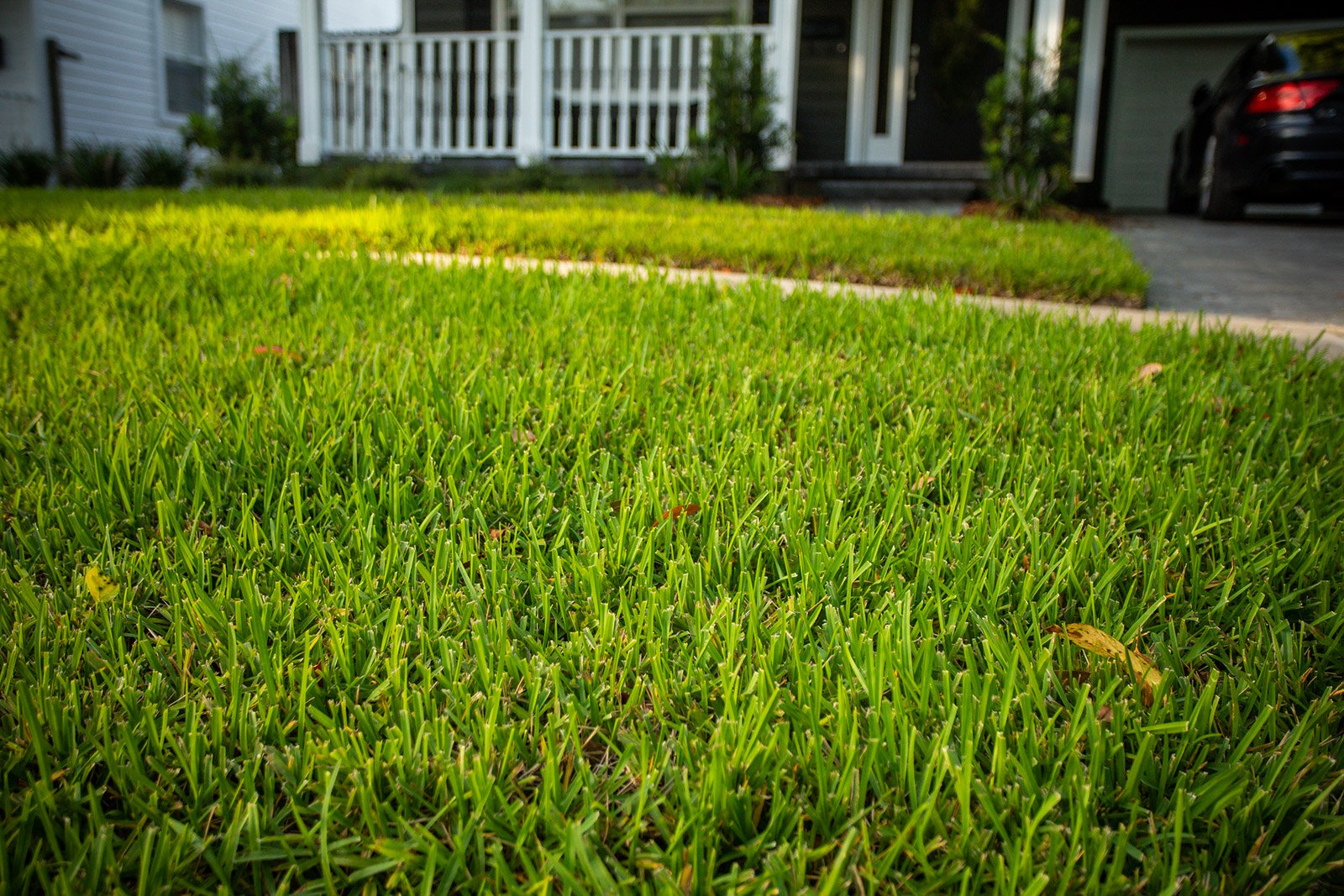 Our sod care instructions are more detailed than the notes most parents leave for new babysitters. We tell you what times, for how long, and even which of your irrigation heads to use for what amount of time.
The instructions vary, depending on what type of grass, what time of year your sod is installed, and if it's planted in sun or shade.
Here's a good example of the details we provide:
Days 1-7: Water two times daily at 7 a.m. and 1 p.m., 30 minutes with rotor-type sprinkler heads; 15 minutes with sprayer heads; and 45-60 minutes with MP Rotator nozzles, or equivalent. We like Hunter's MP Rotator nozzles that feature multi-trajectory rotating streams that deliver water at a steady rate.
Days 8-15: Eliminate the 1 p.m. watering schedule and only water at 7 a.m — 45 minutes with rotors; 20 minutes with sprayers; and 60-75 minutes with MP Rotators or equivalent.
Days 16-22: Reduce watering to four times per week and change the start time to 1 a.m. Run rotors at 50-60 minutes; sprayers for 25-30 minutes; MP Rotators or equivalent at 60-90 minutes.
Days 23 and on: Eliminate one day per calendar week until you eventually get to two days per week watering.
11. Know Your Warranty
One of the many benefits of hiring professional sod installers is that some offer a warranty on your sod.
Not every installer does, but we warranty sod for 30 days during certain times of the year, as long as customers adhere to our post-care requirements, which include treatment with a starter fertilizer, an approved insecticide, and an approved fungicide, as well as following our watering instructions. Some restrictions apply.
Trust Your Sod Installation to Ground Source
Need expert sod installation tips? We hope these help you out, whether you're tackling your sod installation yourself, or hiring professional sod installers.
If you decide the DIY dirt, labor, and stress are too much of a hassle, we hope you choose us to install your fresh, healthy, new sod lawn.
We're sod experts, but our skills don't stop there. We're with you every step of the way as you plan your perfect outdoor space.
Sod, irrigation, landscape design: Let us transform your yard from an embarrassing eyesore to a place you spend every spare minute.
Are you ready to enjoy the vibrant, impressive yard you've always wanted? Request a quote today! We'll help you review your options and then transform your property.