When little kids are coloring and it's time to do the grass, they don't grab the brown crayon.
Even preschoolers know grass is supposed to be green.
When you look out at your once-thriving lawn and see brown, it's time to grab your green crayons. (If only it were that easy, right?)
Dead grass? Here's how to fix it.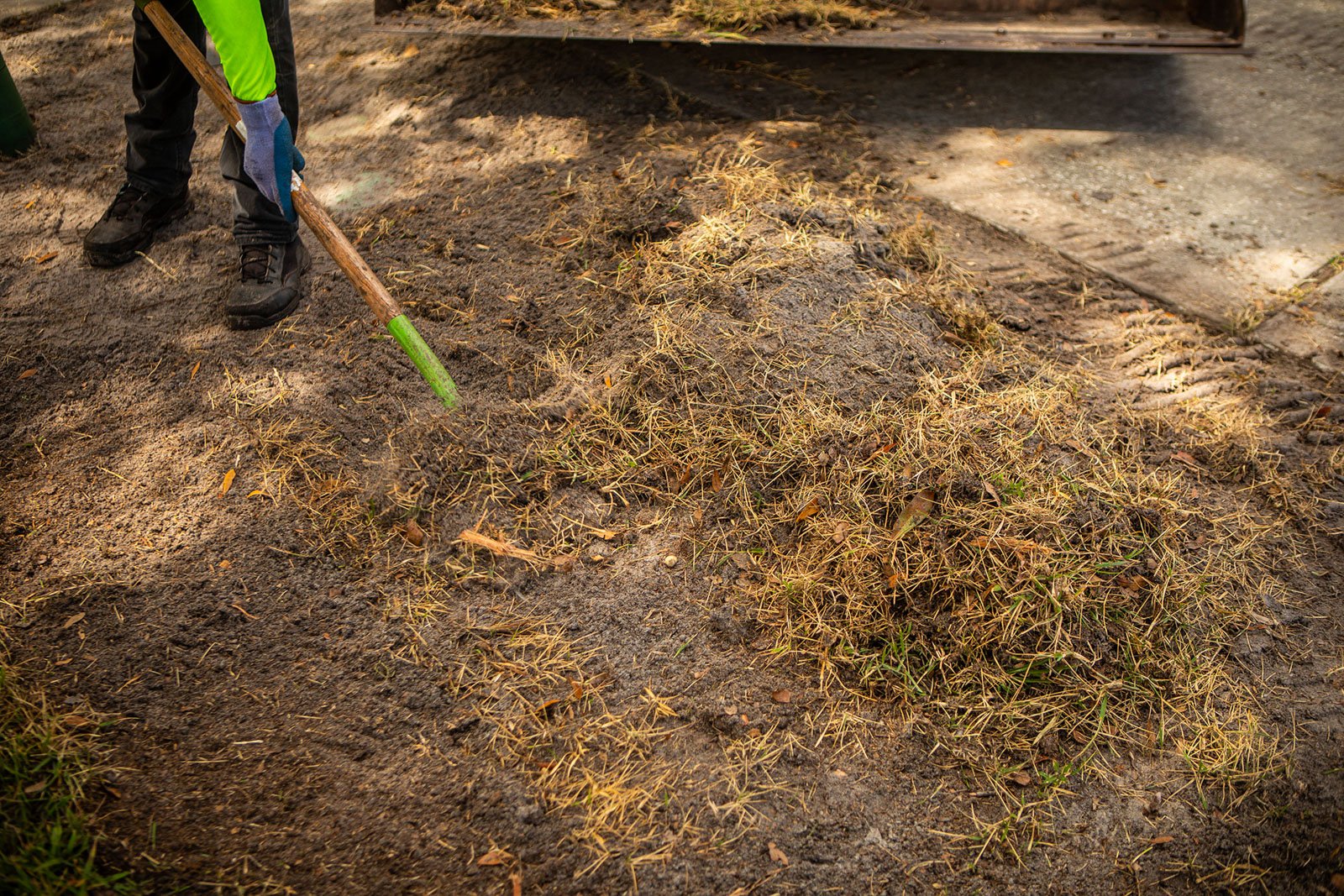 Fixing Dead Grass in a Small Area
Every homeowner faces a few bare spots once in a while. A proper seeding with quality grass seed can often do the trick.
Rake out any

dead grass.

Your grass seed will germinate and root best if It can snuggle up to bare soil, though very few grass types are able to be seeded, Bermuda and Bahia can be grown from seed, St Augustine is repaired using plugs, or sprigs of grass..
Dig and loosen the soil a bit to prepare it for the seed or plugs.
Scatter grass seed over the loosened soil. Scratch it in a bit and tamp it down so you know there's good contact.
Plugs will be dug into the ground, installed, then watered in.
Add some fertilizer designed for new grass to get it off to a good start.
Fixing Dead Grass in a Larger Area
If you have large areas of dead grass, or a whole yard to repair, you can go with plugs, seed, or replace it with sod.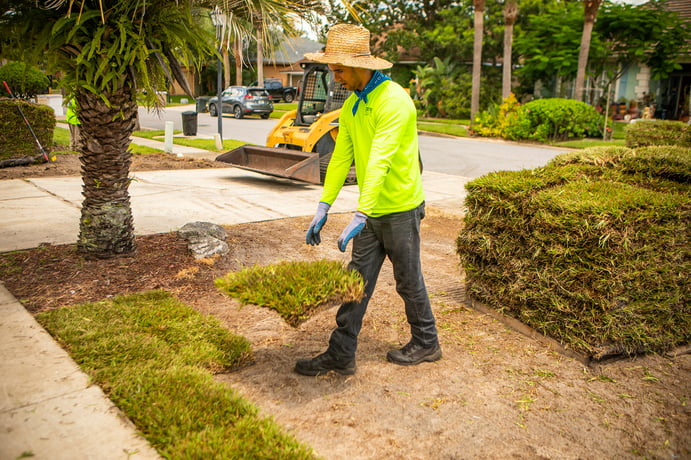 How to decide?
How patient are you?

Sod is faster — you get an instant lawn. With seed, you have to wait a long time for the results.
Do you want a sure thing? Seed can be picky. Too much rain? Not enough rain? Hungry birds? Wind? All of these can derail your best-laid seed plans.Sod is fully grown and ready to go.
What time of year is it? Sod can be installed most of the year, special care will be needed during the warm, rainy season. There's a smaller window for planting seed.The best time to seed warm-season grass in most parts of Florida is between April and July, so it has a full growing season before cold weather moves in.
Dead Grass Repair
with Sod
Larger areas of dead grass are good candidates for sod, especially if you have an entire front or back yard to repair.
You can tackle it yourself (cue your favorite pain reliever and swear words) or hire pro sod installers who are expert in fixing dead grass.
Sometimes, the best thing to do is start over, with a fresh sod lawn that turns that dead grass into instant green. Almost as fast as crayons.
Fixing Dead Grass: Don't Forget Irrigation
Repair your lawn all you want, but if your lawn doesn't get enough water, it'll keep dying.
If you have an irrigation system, is it working properly?
Maybe your grass died because your irrigation system valves are leaking. Or the nozzles are clogged. Or some spray heads are broken.
You get the idea. A lot can go wrong out there.
If you set up an irrigation maintenance program to stay ahead of repairs, you'll save yourself from constantly fixing dead grass.
Schedule regular irrigation inspections and technicians can often spot the little issues that can lead to bigger problems later, from cracked lines and leaky valves to clogged nozzles or broken spray heads.
It doesn't take long for a healthy green lawn or landscape to turn brown and die without enough water.
If you're fixing dead grass by replacing it with sod, be sure your irrigation system is running smoothly before that sod installation.
New sod needs lots of water over the first few weeks and months. You don't want to find out after your new sod is down that you have broken heads, a zone that doesn't work, or controller problems.
You want to know that now, so you can have any problems repaired before your sod delivery.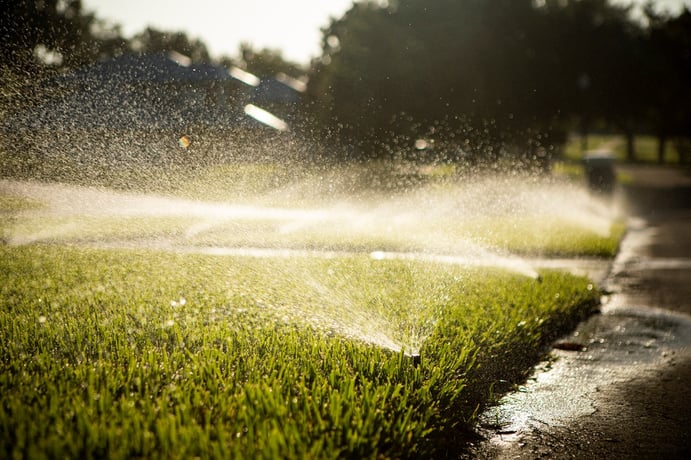 Fixing Dead Grass
: Trust it to Ground Source
Fixing dead grass can be time consuming and a hassle, especially if you have a whole yard to repair.
If you decide sod is the way to go, we'd love to install your new carpet of green.
Our sod is cut fresh the day it's scheduled for delivery to you, not stashed on a pallet somewhere baking in the sun. It's fresh and ready to make a great transition to your yard.
We're sod experts, but our skills don't stop there. We're with you every step of the way as you plan your perfect outdoor space.
Sod, irrigation, landscape design: Let us transform your yard from an embarrassing eyesore to a place you spend every spare minute.
Are you ready to enjoy the vibrant, impressive yard you've always wanted? Request a quote today! We'll help you review your options and then transform your property.