If you've been daydreaming about the perfect lawn, it should include an irrigation system.
The best lawns always do. Think targeted sprayers and water-saving nozzles hitting every inch of your landscaping, ensuring your lawn, plants, and trees all get proper irrigation.
Meanwhile, you say bye to parched brown grass, wilted flowers, and the embarrassment of unsightly, struggling landscaping.
Maybe you think you can't afford the cost of irrigation.
But maybe you can. Let's solve the mystery.
How much does a sprinkler system cost in Orlando, FL?
First, the Basics
The basic sprinkler system cost for a four-zone system is $3,000.
What does this include?
Permitting
A Rain Bird controller
A Hunter rain sensor
6-inch sprayers in turf
6-inch rotors in turf
12-inch sprayers in plant beds
A one-year guarantee on defects, workmanship, and materials.
Additional Irrigation Cost
A basic, four-zone irrigation system offers thorough, targeted watering for your entire yard.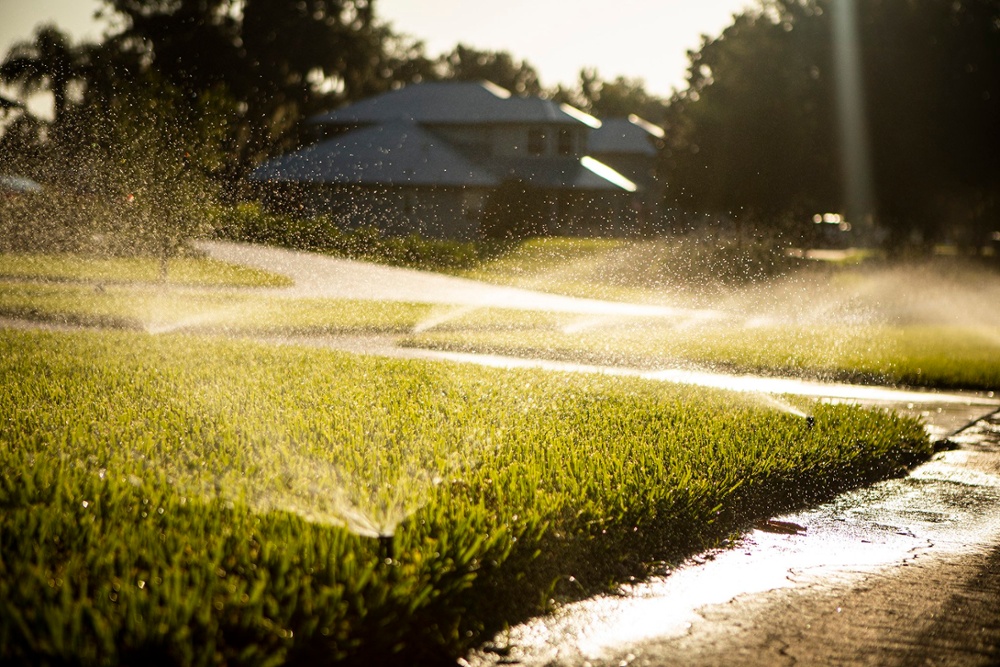 But, as with most anything, you can add extra features for an additional cost. Here are some examples.
Flow Control Sensor
A flow control sensor will alert you if your system has a break and you're wasting water. They actually learn how many gallons of water your sprinkler system typically uses. If you're suddenly using more — maybe a line is leaking — you'll get an alert on your smartphone.
Cost: $275-$600, depending on the distance from your irrigation timer to the street.
WiFi Irrigation Controllers
A WiFi controller allows you to control your irrigation system remotely, using your smartphone or laptop.
Cost: $155
Drip Irrigation for Landscaping
Drip irrigation lines underneath the mulch in your planting beds target your watering slowly and directly to plant roots, saving water and money. This essentially eliminates all water waste in the applicable area.
Cost: $500-$600
Challenges That Can Boost Sprinkler System Cost
There are factors that happen during installation that we will pick- up on during the initial consultation that can increase the irrigation cost above your basic $3,000.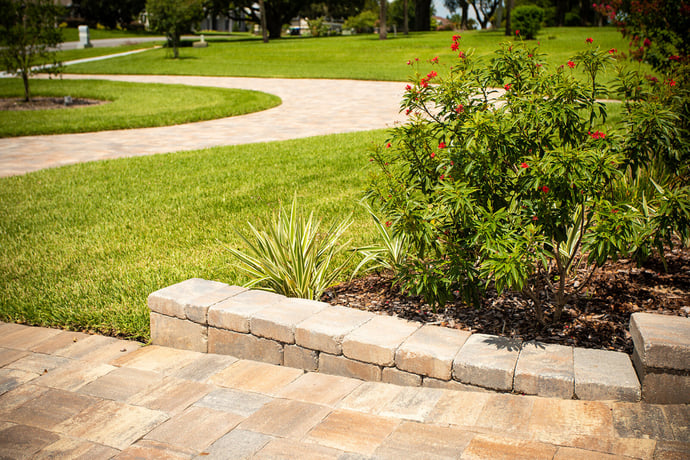 They include:
Paver driveways. If your paver driveway installer didn't install a PVC sleeve beneath your driveway to hold a sprinkler line, irrigation technicians may have to lift up and reinstall a 10"- 12" section of your driveway running the entire width. That will increase the cost.
Large, old tree roots. If these tough old roots are in the way, it takes considerable axe work to clear the way for irrigation lines. That extra labor adds to the sprinkler system cost.
What Should Be Included with Irrigation Cost?
At Ground Source, we include features and expectations you won't find everywhere else.
Including:
We won't install irrigation beneath future patio walkways, patios, and driveways without first installing a sleeve. This prevents unnecessary labor and costs when something breaks later on. If we are hired to install irrigation and pavers we ensure it is done right. In the rare event there is a situation where we can not install sleeves or re-route, we then end up using schedule 40 pipe for a stronger surface.
We use 6-inch irrigation heads, not every installer does. They pop up out of the ground 2.5 inches higher than standard heads, which means they clear your lawn and water more efficiently.
Our installation of underground sprinkler heads in turf areas includes 12-18 inches of flex pipe, greatly decreasing the odds of a broken pipe when a lawnmower or car hits the irrigation heads.
Expect irrigation system repairs in 24-48 hours. You need help right away with irrigation emergencies.
Expect your system installed within 10 days of our estimate and installation itself in one to two days. Why wait?
Once we install your new irrigation system, we're behind you throughout the one-year warranty period for any defects in materials and/or workmanship.
After the initial one year, we're here for any service needs you may have to keep the system in optimal working condition, providing repairs and maintenance to allow for adequate water for your landscape and turf while minimizing water waste.
Trust Your Irrigation to Ground Source
How much does irrigation cost?
Count on us to be upfront about the cost of our irrigation services.
We'll help you decide what features are best for your property and lifestyle, and tell you exactly what it will cost.
We've got you covered — and your landscaping expertly watered. All you have to do is relax on your front porch and admire the lawn
We're irrigation experts, but our skills don't stop there. We're with you every step of the way as you plan your perfect outdoor space.
Sod, irrigation, landscape design: Let us transform your yard from an embarrassing eyesore to a place you spend every spare minute.
Are you ready to enjoy the vibrant, impressive yard you've always wanted? Request a quote today! We'll help you review your options and then transform your property.