You might not give much thought to your old dependable driveway.
But it's more than just a landing spot for your car.
It's a great, big design element, a right-out-front complement to both your house and yard.
If yours needs a boost, what's the best material?
Here in Orlando, most homeowners choose either concrete or pavers for driveways, says Eric Frisch, landscape designer at Ground Source.
Is a paver driveway in Orlando, Florida a good idea?
Let's see what the design expert thinks.
First, a Look at Concrete
Concrete is typically a cheaper option, Frisch says. But if you have a small driveway, you might be surprised at how much it costs.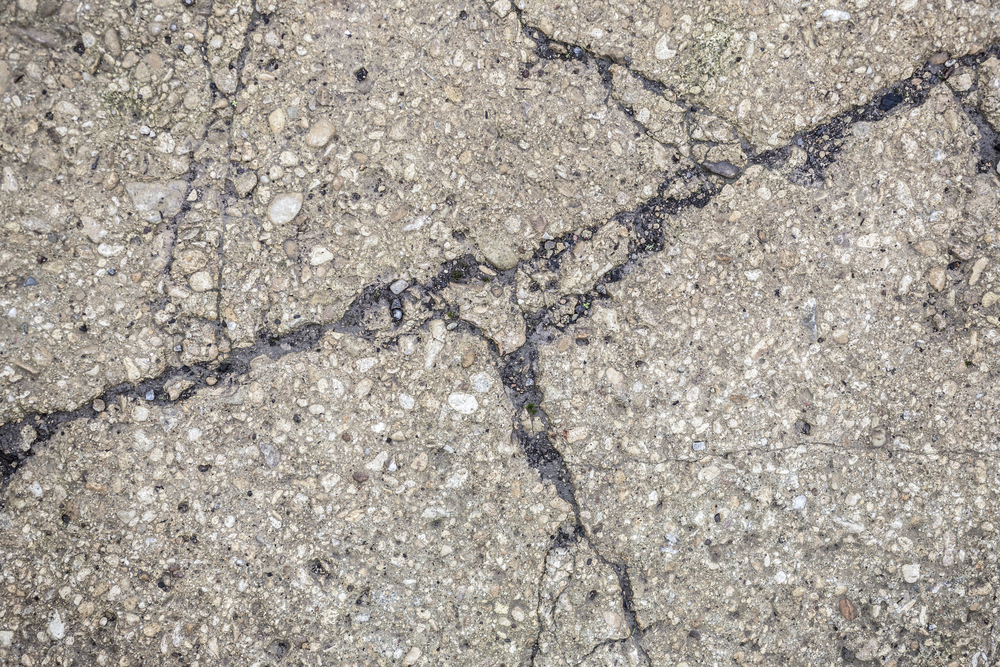 You'll likely have to pay for a whole truckload of concrete when you don't really need it, as most companies have a minimum charge.
"If it's going to cost almost the same amount, why not get pavers?" Frisch says.
A concrete driveway has drawbacks, he says:
It cracks. The sandy soil in our area causes a lot of settling and shifting, which causes concrete to crack.
Tree root troubles. When tree roots grow underneath concrete, they push and lift it up, crumbling it into pieces.
"There's really no way to patch it to look good," Frisch says.
The Power of Pavers
Is a paver driveway in Orlando a good idea?
You bet, Frisch says.
Here's why:
Unlike solid slabs of concrete, pavers flex and move as they shift, which means they don't crack.
Tree root troubles? Nope. "You can pick pavers up, take out the tree roots, and replace the pavers," Frisch says.
The color and style choices will wow you. "There are style options, texture options, color options," he says. "They don't all look alike."
Choose pavers that look like rustic slabs, quaint cobblestone, sleek slate.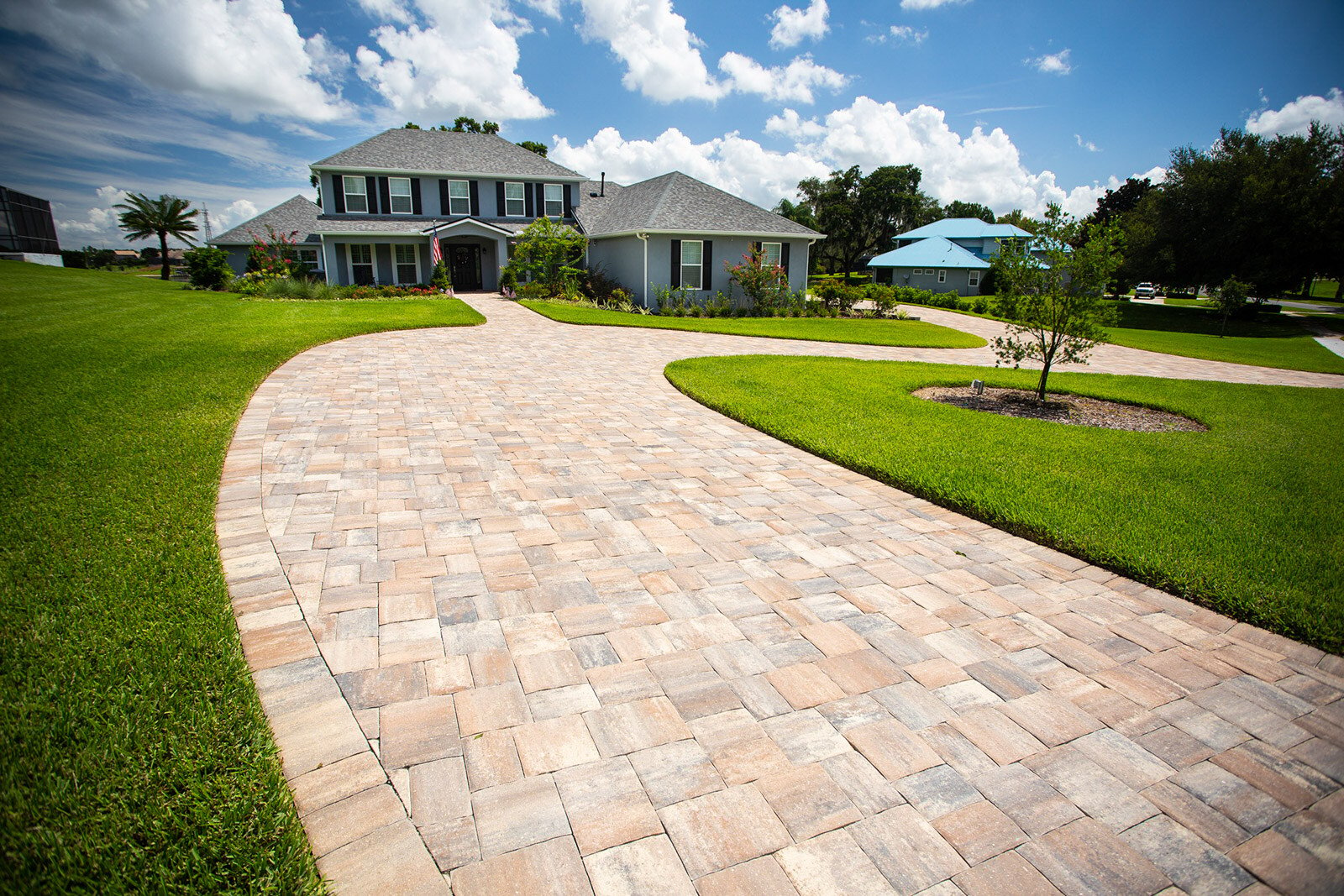 Colors? You can pretty much name it, from pale beige to black and every hue in between.
Pavers, Please: Now What?
Now, the fun part! You get to choose your paver style and design.
Hmmmmm…
"It can be overwhelming," Frisch says.
Not to worry. He makes it easy.
He brings samples you can compare to the color of your house, and catalogs packed with design ideas.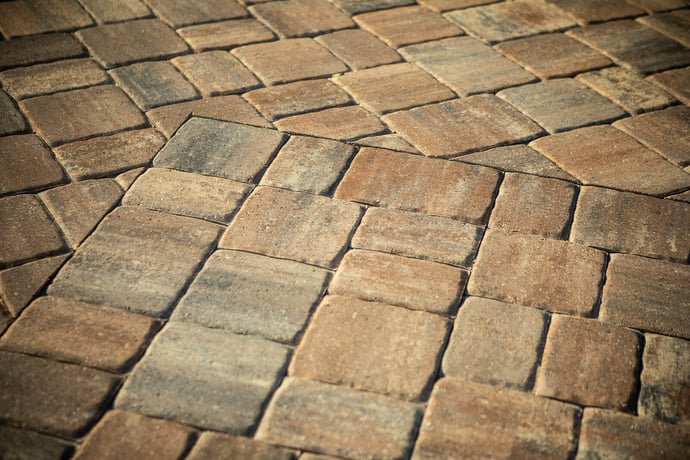 And he brings his cool designer skills to help you match the style of paver design to the style of your house.
This matters.
"If you have a 100-year-old house, you don't want a real modern-looking driveway," Frisch says.
But concrete pavers that look like clay bricks would be perfect.
"You want the driveway to complement the house, not stand out."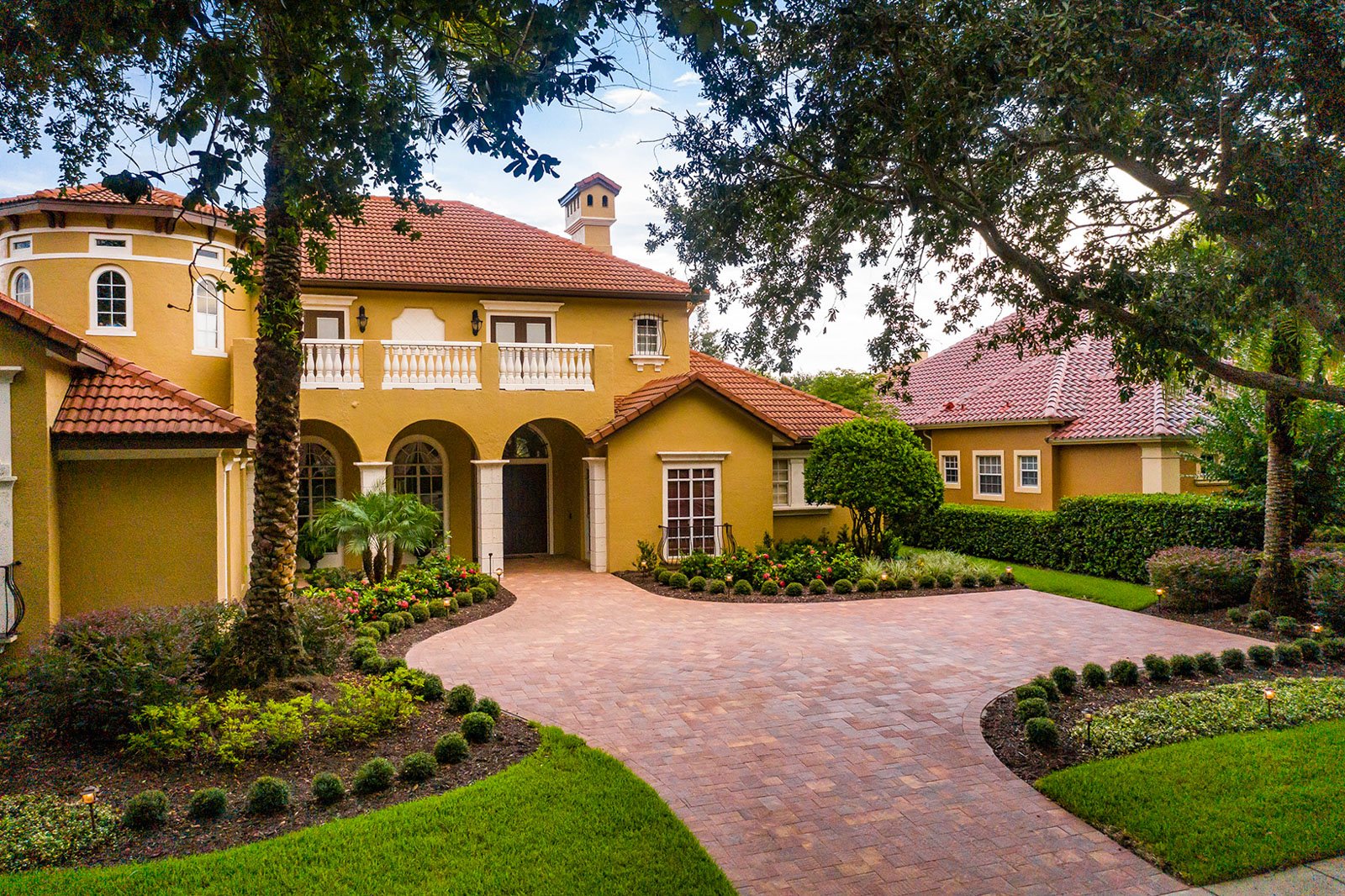 Frisch will show you why a slight texture in your pavers looks great, and how a small bevel on the paver edges traps less dirt.
He'll walk you through it all.
Maintenance Matters
If you're used to a concrete driveway, you probably haven't given much thought to driveway maintenance.
But a paver driveway in Orlando, FL needs sealer. It's not a big deal. Your installers will seal it right away, and it will need a new coat every three to four years, Frisch says.
Don't skip the sealer. Here's why:
It prevents fading. Without sealer, the sun's harsh rays will fade your paver driveway's great color.
It protects from weathering. You don't want pounding rain to weather the surface of your driveway.
It locks in the sand between each paver for a tight fit, keeping your pavers in place.
It keeps dirt out. If dirt settles into those cracks between the pavers, unsightly weeds sprout.
It deters pesky ants. They love building mounds in those spaces between pavers.
One More Paver Maintenance Note
Go easy on the power washing, Frisch says. Aggressive washing can weather your driveway's surface.
What's the Cost of a Paver Driveway in Orlando, FL?
Naturally, cost can vary widely, based on several factors. (More on this in a bit.)
The typical paver driveway costs about $7.50 a square foot, Frisch says. That's for an average driveway of standard pavers without complications.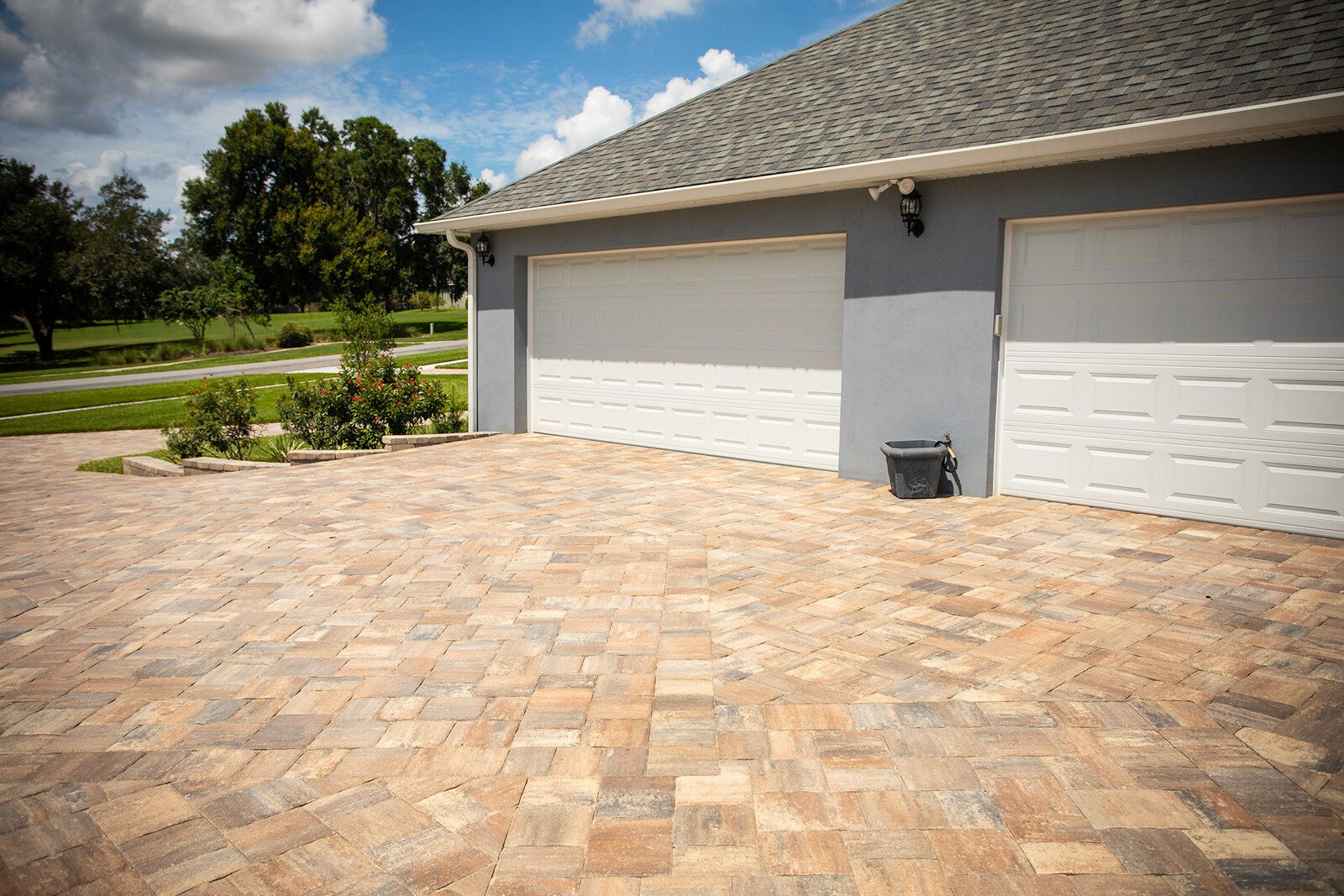 That includes the Ground Source thick, six to seven-inch base underneath, he says, which is twice as thick as most paver companies in Orlando use.
Less base is less expensive, but don't be fooled.
The sand base is a crucial element of quality paver installation. You can drive by one of our paver jobs years later and see that there's no sagging, sinking or heaving, thanks to our quality base.
We also install PVC sleeves under the paver driveway to make adding irrigation or landscape lighting easier later. That way, we won't have to tear up the whole driveway to do work underneath it.
Factors That Affect the Cost
Access. We need to get our heavy equipment in there. Driveways are typically right up front and easily accessible. But any complications will boost the cost.
Irrigation system issues. If we have to relocate any irrigation components that are in the way, that adds to the cost.
Fancy patterns. Inlay patterns in a paver driveway look stunning, but the more intricate the pattern, the more laborious cutting is needed. That boosts the cost.
A different color border. We'll likely need to order an entire pallet of the pavers for that border, even if we only need half of them so that increases the cost.
Style upgrade. Tumbled pavers, thicker pavers or a unique stamping pattern all cost more, sometimes a dollar or two more per square foot.
Curves. That means more cutting, which costs more.
How Long Will it Take?
Manufacturers don't typically keep many pavers in stock, Frisch says, so expect to wait six or seven weeks for delivery.
After that, it goes pretty fast, he says — two or three days for prep and installation and the fourth day for sealer.
Ready for a Paver Driveway in Orlando, Florida?
We're paver experts, but our skills don't stop there. We're with you every step of the way as you plan your perfect outdoor space.
Sod, irrigation, landscape design: Let us transform your yard from an embarrassing eyesore to a place you can't wait to come home to.
Are you ready to enjoy the vibrant, impressive yard you've always wanted? Request a quote today! We'll help you review your options and then transform your property.