There are plenty of benefits to a small backyard:

1. Nobody asks you to host the family reunion. (Did you really want to grill 80 hot dogs?)

2. Tourists don't mistake your place for a state park.

3. You don't have to send a search party out to find the mail carrier who took a wrong turn and got lost.
Sure, big backyards get all the attention in the home and garden magazines, but your small yard deserves some landscaping luxury, too.
How to landscape a small backyard? So many ideas:
1. No Space for a Pergola? Sure, There Is
You might assume a small backyard doesn't have enough room for a pergola. You'd be wrong.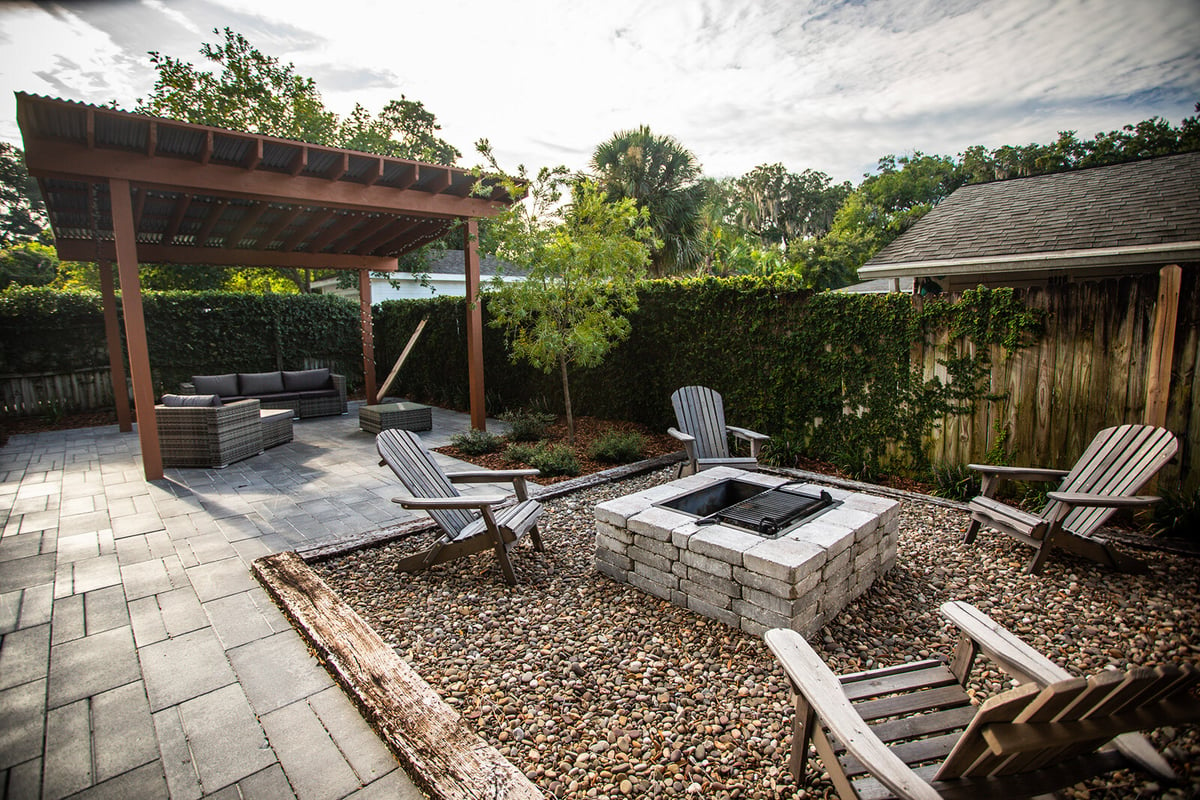 Pergolas don't have to be huge. And they work really hard out there in your valuable space, making it a great idea for landscaping a small backyard:
More hangout space is one of the huge benefits of a pergola. Add plants, lights, comfy furniture, an outdoor rug, and it's an outdoor hangout tucked in a small but high-use space.


More plant potential. Grow fragrant flowering vines up the posts and hanging plants overhead. Boom — more garden in your small backyard.


A pergola is a great spot for entertaining, making your small yard work even harder.
2. Go for High-Impact Plants
In a small yard, everything's closer. So don't waste space on ho-hum plants. How to landscape a small backyard? Be sure to include a couple stunners with color and texture for a vibrant, intriguing landscape:

Vivid blue clusters of Lily of the Nile.

Asiatic Jasmine so fragrant it makes you sigh.

Stunning Copperleaf with its striking leaves of copper, green, pink, yellow, orange, and cream.
3. Gotta Have a Palm?
You're in luck! They're not all huge. Landscaping designs for small backyards can include a palm if it's a Roebelenii date palm.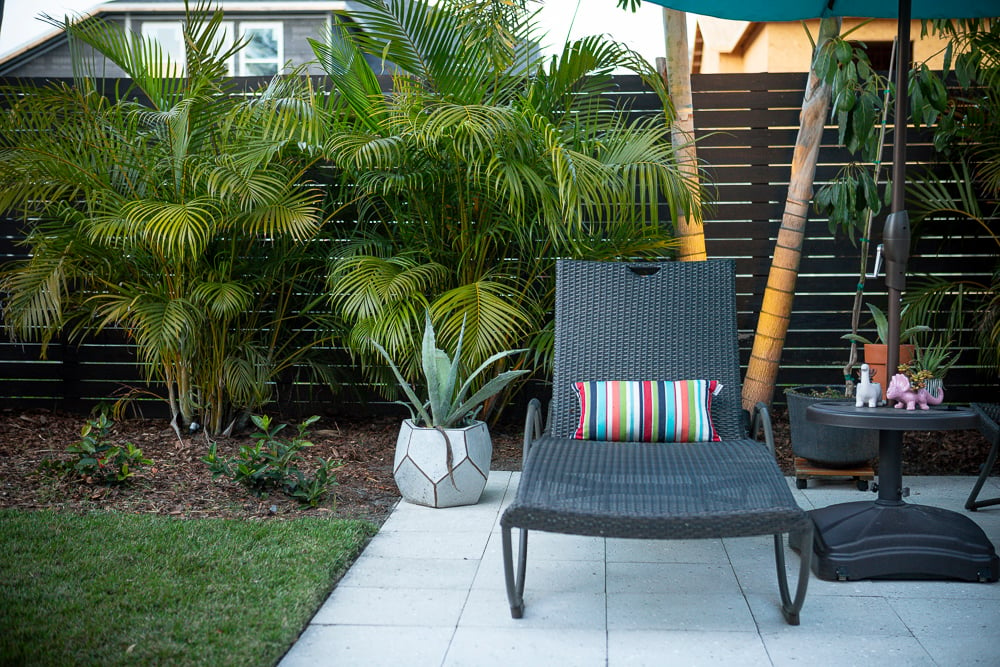 This petite multi-trunk palm is often used in small landscape beds. It's perfect for tight spots where you still want a tropical punch.

Its graceful, arching fronds with slim, delicate leaves grow to about 3 feet long.
4. Follow the One-third Rule
One-third of your yard should be planting beds and two-thirds should be lawn. When you have a smaller yard, this rule is especially handy to keep things in proportion.
5. Plan Ahead for Size
Landscaping ideas for small backyards includes planning ahead. As you ponder plants, consider the size of the tree or plant at maturity — not just when you plant it. Things grow fast here in Central Florida — it's a 12-month growing season, after all.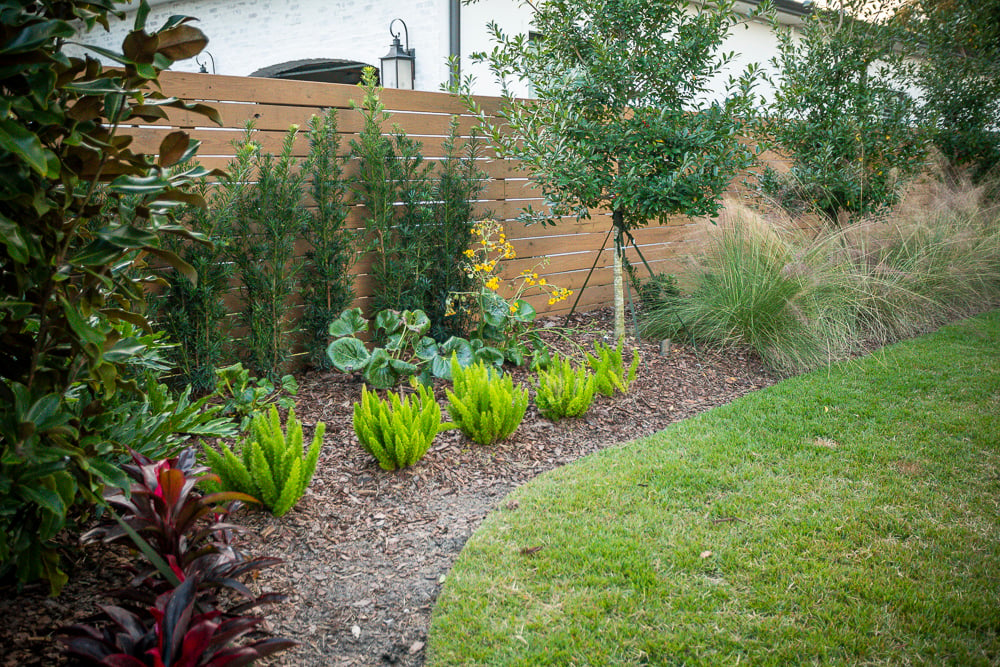 This is especially important when you have a small yard, with no space to spare.
6. Consider Artificial Turf
Love the idea of artificial grass, but worried about the cost? Good news: a small yard won't cost you as much.
7. Plan for Staggered Bloom Times
When you have a small yard, it's even more important that the whole place looks great all the time.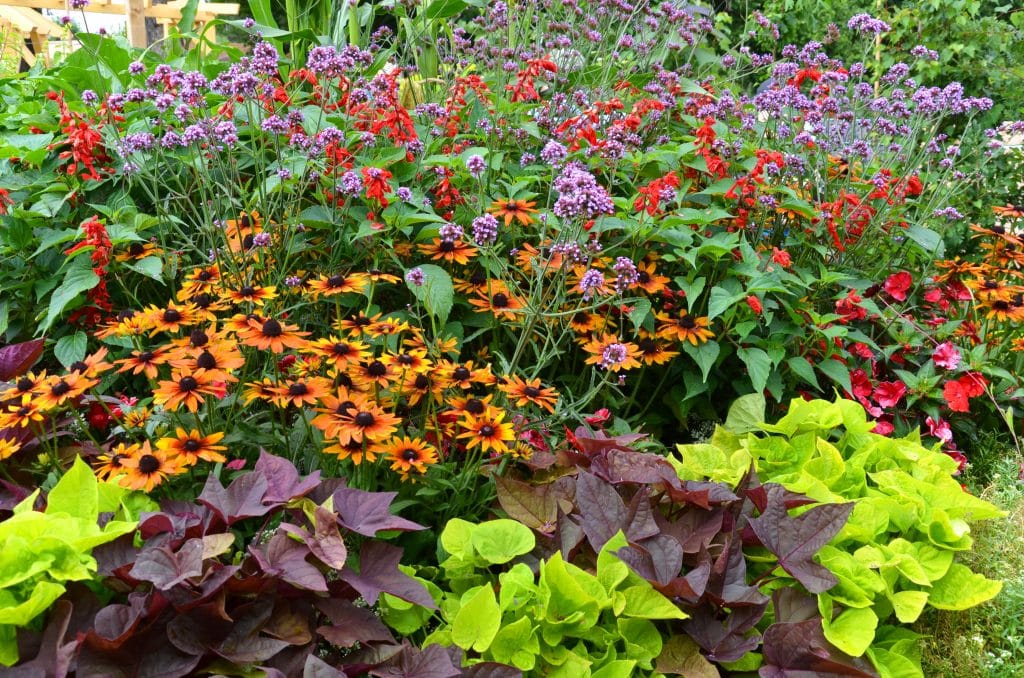 How to landscape a small backyard? Plan your Central Florida flowers and plants with staggered bloom times, so your landscape will always look great, with plants blooming year round.

Think foliage, not just flowers. Check out foliage superstars Gold Mound Duranta and Chinese Fringe Flower.
8. Patios Don't Have to Be Huge
Sure, we've all seen sprawling, multi-level patios that could host the Disney World staff Christmas party.

But don't rule out a patio just because you have a small yard.

Landscaping ideas for small backyards can include a patio as the artistic centerpiece.

It's easy to scale back. A patio can also be a cozy, romantic nook for candlelit dinners or the perfect morning yoga spot.

Make it your great outdoor go-to space and your small backyard will work even harder for you.
9. Don't Forget Lighting
When your yard is small, you can't afford to waste any of it — and that includes leaving it in the dark.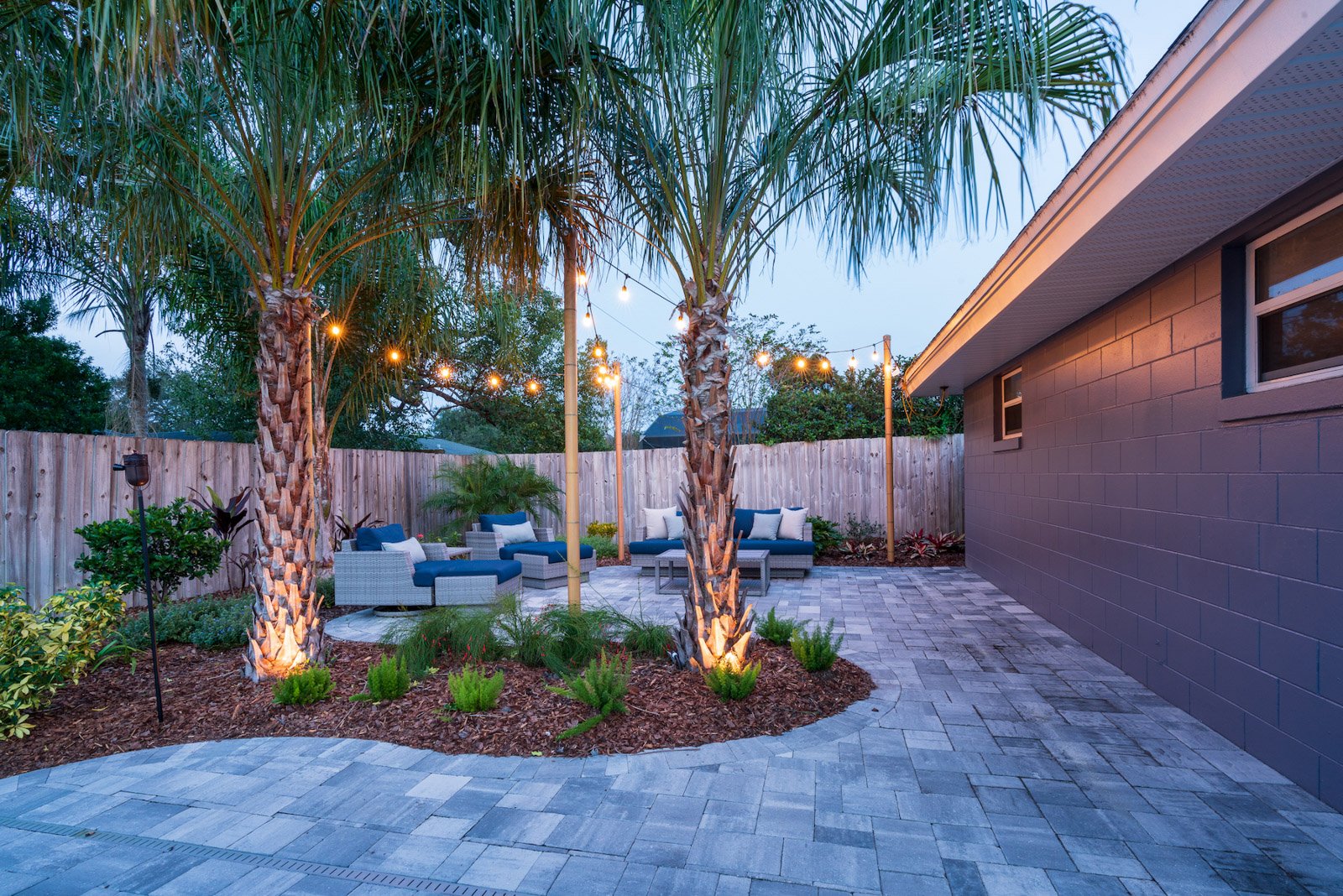 How to landscape a small backyard? Tree uplighting makes a huge difference in landscaping a small yard, directing light up at the trunk or canopy of a tree in your landscape to make it count — even after dark.
10. Use a Landscape Designer
When you have a small yard, every landscaping decision makes an impact. You don't want to mess it up. A skilled landscape designer can offer innovative ideas and keep you from making costly mistakes.
How to Landscape a Small Backyard in Central Florida? Trust Ground Source
Even a small backyard redo can include several elements: A fresh new sod lawn. An irrigation system to keep your growing things healthy. A cozy fire pit. A shady pergola. Maybe accent lighting to make it all glow after sunset and offer a sense of luxury.

Do you want to have to deal with a whole handful of different Central Florida landscaping companies to get your dream yard? That sounds like a hassle. How about one experienced company that can do it all?

Not all landscaping companies are full-service landscaping experts. Look for one with a landscape designer on board that can help you with the total package.

We're landscape experts, but our skills don't stop there. We're with you every step of the way as you plan your perfect outdoor space.

Sod, irrigation, landscape design: Let us transform your landscape from an embarrassing eyesore to a place you spend every spare minute.

Are you ready to enjoy the vibrant, impressive landscape you've always wanted? Request a quote today! We'll help you review your options and then transform your property.