What Exactly is Hardscaping?
Once you know what hardscaping is, the word makes perfect sense.
It's the hard elements in your landscaping — the paver patios and walkways, the fire pit, the structures like decks, pergolas, and pavilions.
Hardscaping is made of concrete pavers, bricks, wood, or stone. Once your hardscaping is in, it isn't going anywhere.
It's the opposite of softscaping — the green, growing elements of your landscaping.
Foxtail fern doesn't look quite right? Your Lily of the Nile isn't thriving where it's planted? No big deal to dig them up and scoot them around a bit.
Once your hardscape paver driveway is installed, there's no scooting it.
That's why you want to get your hardscape design and installation right the first time.
What can you add to your home from the world of hardscape design? So much.
An elegant paver driveway so pretty you'll just sit in your car and sigh happily.
A spiffy paver walkway to replace that crumbling concrete path.
Pondering a patio? Do it. It'll boost your outdoor life by 1,000 percent.
Add a fire pit and stock up on marshmallows.
A sturdy retaining wall can solve a bunch of landscaping problems while looking great.
Pick a P-word — a pergola or pavilion will set you up for elegant outdoor entertaining.
Admit it — cooking outside sounds way more fun than cooking inside. Whip up an outdoor kitchen to move your food fun into the fresh air.
Decks have come a long way since everybody nailed together with a basic platform out back. Design a multi-level entertaining area for everything from morning coffee-sipping to the next family reunion.
Don't let the word hardscape fool you. Planning a hardscaping project doesn't have to be hard.
Let's get started.
Table of Contents
1. How can Hardscaping Improve Your Property
2. What Are The Best Hardscaping Materials for Patios and Driveways?
3. Fun with Hardscape Design: Make Your Driveway and Walkway Special
4. Paver Patio Design and Installation Advice
5. How a Pergola or Pavillion Will Enhance Your Property
6. Should You Add a Fire Pit? Plus Tips to Success
7. Does Your Yard Slope? Consider a Retaining Wall
8. Should You Consider DIY Hardscaping?
9. Setting a Budget: How Much Will Your Hardscaping Project Cost?
10. How to Find and Choose Central Florida Hardscaping Services
How can Hardscaping Improve Your Property?
Some things you already know:
A great hardscaping project increases your property value.
If designed well and installed by experts, hardscaping looks great, really improving the appearance of your home.
But the real boost? It elevates how you live. Hardscaping creates a whole new way to enjoy life outdoors.
Need proof?
Just check in with a couple of our clients' innovative hardscaping transformations.
Creative hardscaping helped turn an overgrown backyard into a resort-style paradise at an Orlando home, with a pool, a mini beach with a hammock and fire pit, festive string lights, and plenty of comfy lounge chairs.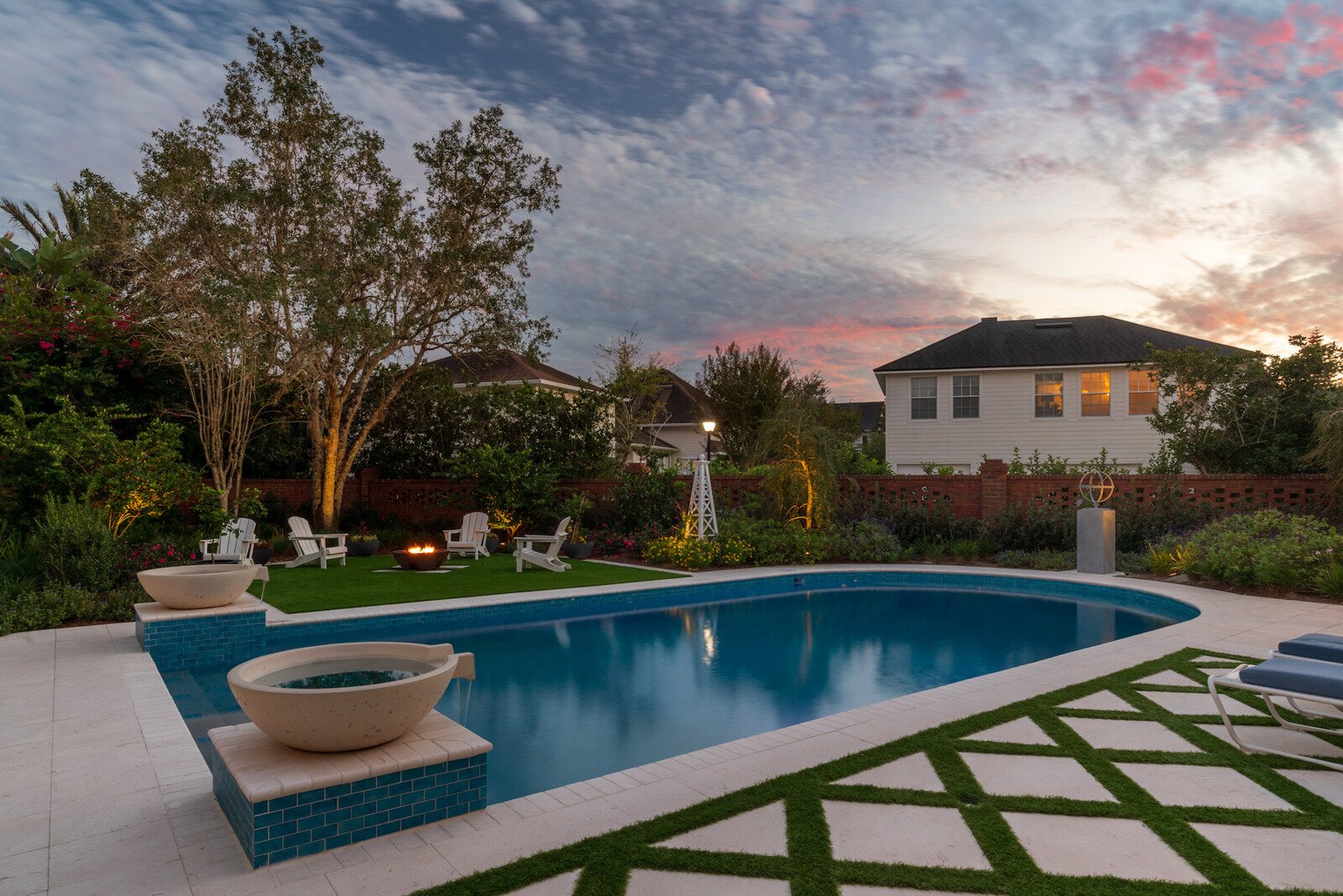 Innovative hardscape design set the stage for the transformation, replacing ho-hum lawn with a no-muss, no-fuss paver patio divided into separate sections for relaxing by the pool, hanging out in the hammock, or lounging under festive string lights.
Even a new hardscape driveway can be lifestyle-changing.
At a Spanish Colonial home in an Orlando gated community, a paver driveway made all the difference.
The homeowners of the striking high-end home entertain lots of friends, colleagues, and family. But getting to the front door was a real challenge, trudging up an 80-foot sidewalk from the street.
Hardscape design to the rescue.
Their re-do would involve an elegant second driveway, adding parking spots for company, and connecting to the front door entrance, with a courtyard sort of feel. It eliminates that long trudge up from the street.
No boring stretch of pavement, the paver driveway incorporates stunning inlay designs in circles and overlapping diamonds.
Hardscape projects solve problems, add luxury, and sometimes save the day.
What Are The Best Hardscaping Materials For Patios and Driveways?
Yes, those big concrete mixer trucks are kind of cool, but before you hire one to set up in front of your house, hold on, please.
Ponder pavers for your hardscape project.
Yes, concrete is cheaper than pavers, which is really its top-selling point. But it has drawbacks:
It cracks. The sandy soil in our area causes a lot of settling and shifting, which causes concrete to crack.
When tree roots grow underneath concrete, they push and lift it up, crumbling it into pieces. There's really no way to patch it to look good.
Your design options are limited. Yes, you can get concrete stamped or textured, but there's a limit to the creativity you have with concrete.
What's So Great About Pavers?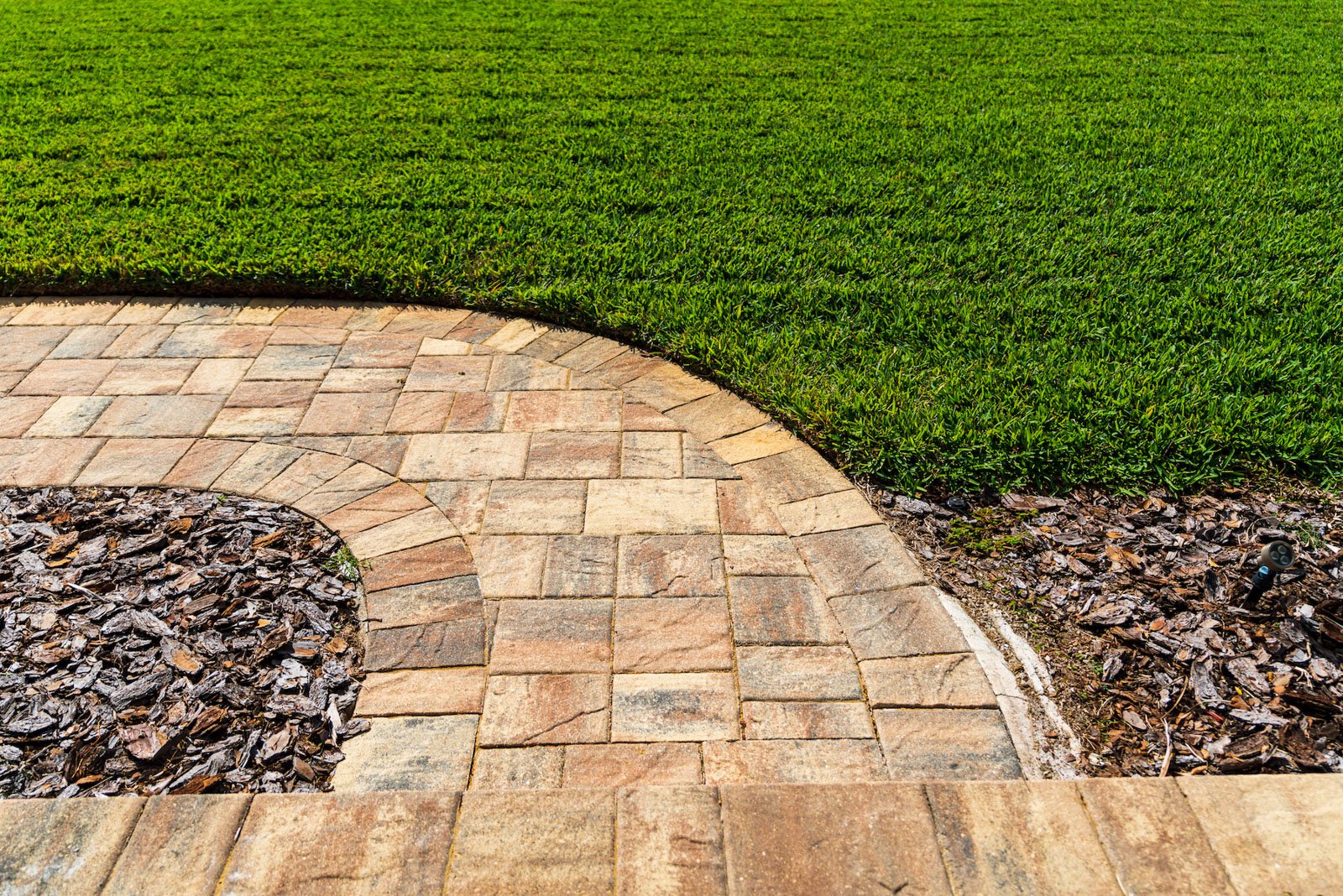 So many things:
Unlike solid slabs of concrete, pavers flex and move as they shift, which means they don't crack.
Tree root troubles? Nope. You can pick pavers up, take out the offending tree roots, and replace the pavers. No sweat. Maybe just a little sweat. This also comes in handy if you ever need to run a utility line underneath your patio. You can't do that with concrete.
You can't beat the color, texture, and style choices for your hardscape design. Even the paver names are fun: Belgian Cobble. Cotswold Mist. Ashbury Haze. Bourbon. Choose pavers that look like rustic slabs, quaint cobblestone, sleek slate. Or any combination. A paver patio or driveway is a great opportunity to have fun with shape, design, and color.
If a paver gets chipped or damaged, it can be replaced. Save a few from your original hardscape installation.
When it's done, it's done. No waiting, like you, have to do with concrete installation. Go ahead and test them out, jump up and down, admire how great they look. When it comes to your patio or driveway hardscape project, pavers win.
Fun with Hardscape Design: Make Your Driveway and Walkway Special
Wow, it's so great to be home, isn't it? Pulling into your gray concrete driveway and walking up the cracked concrete path leading up to your front….zzzzzzzz.
Sorry, we dozed off there for a minute.
How about adding some zip to your entry? After all, don't you deserve a wow-inspiring welcome every time you come home? (You do.)
Have some hardscape project design fun with a new paver walkway or driveway. (Better yet, both. It's best if they match.)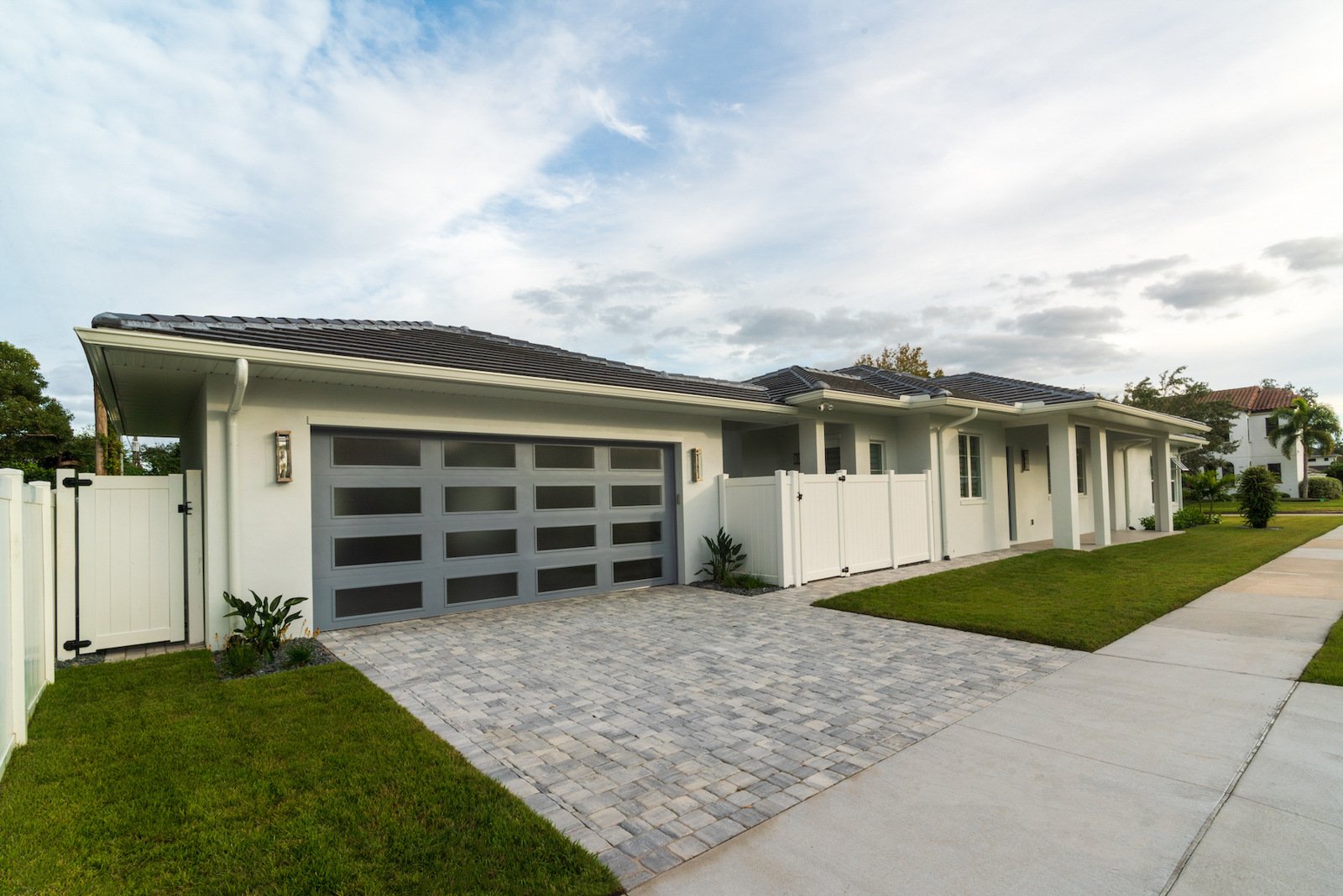 There's a lot to decide. Start with these tips:
Update Your Ho-Hum Walkway
No offense, builders, but your walkways are boring. And too narrow.
Make it wider. Add some curves. Flare it out to six feet where it meets the driveway, and four feet the rest of the way.
Paver Pattern Play
Here's where things get fun.
Like things simple? Stack Bond is a basic grid of squares.
Love the classic look? You might be a good match for Herringbone.
Want to show off your artistic side? Check out Stagger, an intriguing pattern of assorted sizes and shapes.
Told you this is fun. Get creative and set your walkway or driveway apart from everybody else's.
Do some inlays. Pick a fun color. Do a double border. It's called hardscape design for a reason.
Then, when you give directions to your house, you can say, "Look for the house with the super cool driveway."
Go Bold with Borders
Add some pizzazz to your paver walkway or driveway with a contrasting border. An accent paver as a frame looks great.
Don't Worry — There's Hardscape Design Help
Feeling overwhelmed with all the choices? Don't worry — a great hardscape design and installation company will walk you through it and offer plenty of pro advice.
They'll have samples you can compare to the color of your house, and catalogs packed with design ideas.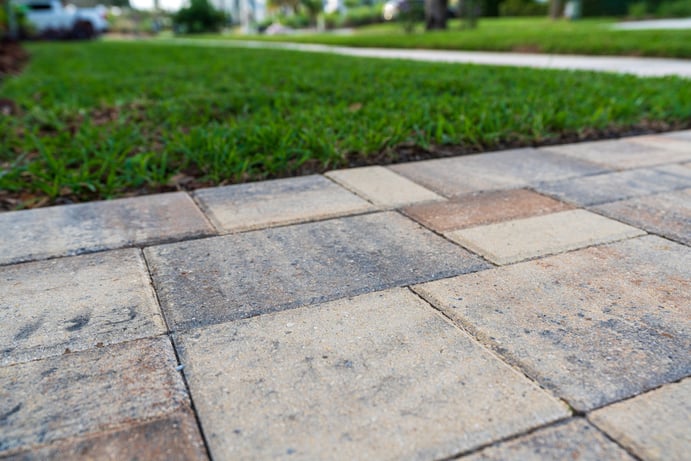 They'll help you match the style of paver pattern to the style of your house. A vintage English Tudor needs a different driveway look than a sleek contemporary ranch.
Luckily, there are paver patterns suited to any style.
Paver Patio Design and Installation Advice
Here's the best paver patio advice: you need one.
When it comes to hardscaping projects, nothing makes you happy, relaxed, and excited like the perfect patio. (There's a lot of emotions involved.)
Now, on to some other great advice that will make your hardscape design and installation company say, "Wow, they know their stuff."
First, Ponder What You Really Need
Make a list. What do you need out there?
Do you entertain big groups? Are you the go-to family member for holiday cookouts and birthday parties?
Or do you need a more intimate space, for a couple of morning coffee sippers and the chatty neighborhood squirrels?
You don't want a massive hardscape project with way more space than you really need.
Will you really use a fire pit? Do you need built-in seating, or are you the plush lounge chair type?
Plan first, design later.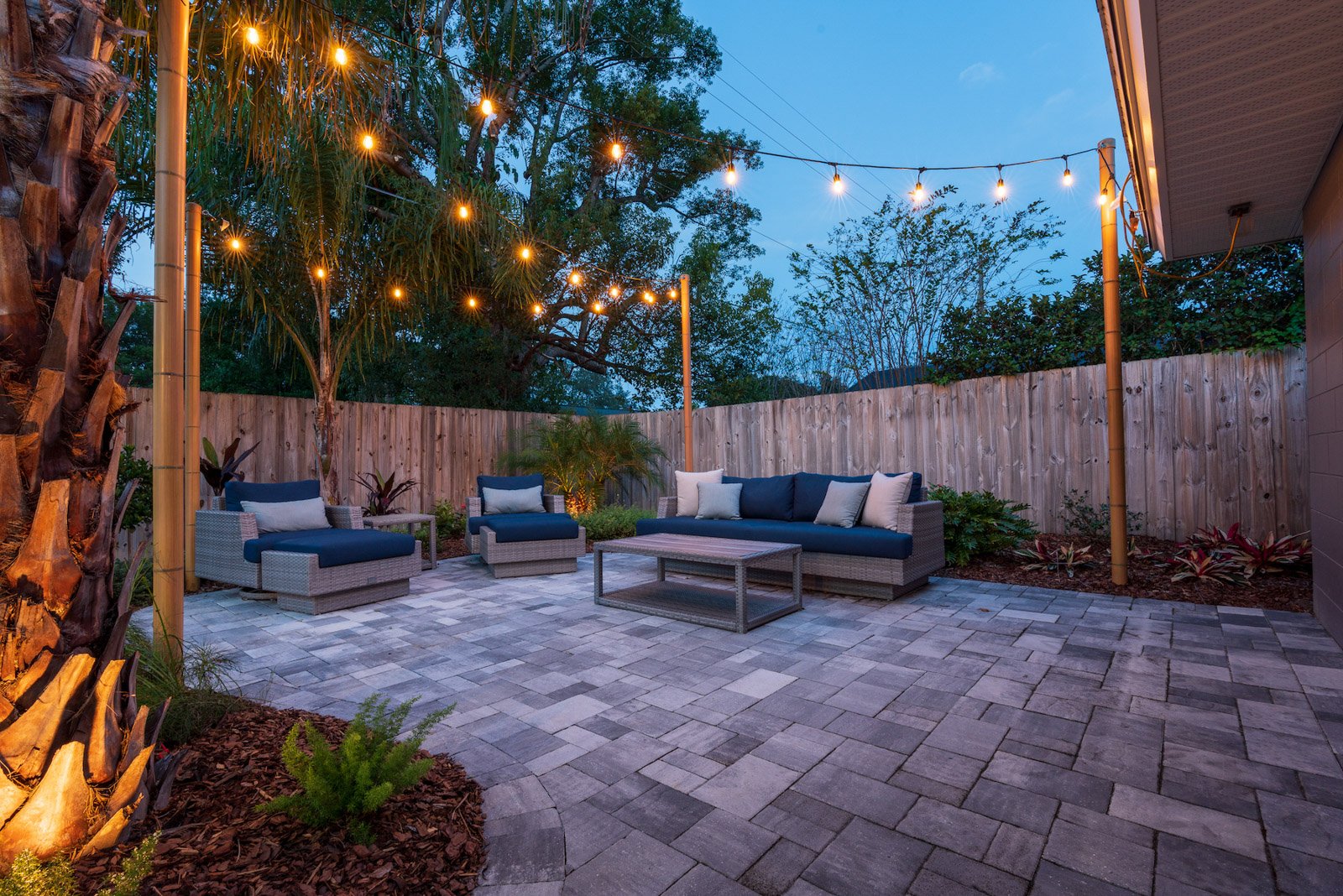 Go Ahead, Be Bold
Think beyond flat. One fun thing about designing a patio is incorporating steps, terraces, and seating walls.
They create great detail, layers, and flexibility.
Consider your patio an extension of your home — a great outdoor social space. Think about a patio that creates different outdoor "rooms" for different purposes.
Think Ahead When Planning Your Patio
Don't be afraid to think big, even if you just need a patio for now.
Is there a pool in your future? A pergola? A garden? As you plan your hardscape design and installation, consider future plans that might affect your patio design.
And just in case you want to install an irrigation system or landscape lighting later, be sure your landscaping company installs PVC sleeves under your hardscape projects to make adding irrigation or landscape lighting easier later.
That way, they won't have to tear up the whole patio to do work underneath it.
Ask About the Warranty
At Ground Source, we offer a two-year warranty on all paver installation, which covers defects in material and workmanship. (Remember, pavers naturally have variations in color, texture, and wear. That's not a "defect.")
The warranty specifically covers cracking, settling, and shifting.
How a Pergola or Pavilion Will Enhance Your Property
Imagine it's 96 degrees and sunny. (This is Central Florida, so you don't have to imagine too hard.)
You're hot and sweating. You daydream about living in a cool state like Michigan or Minnesota where people need mittens.
Then, you see it, rising majestically above the baking hot ground — your new pergola. Shade! A place to sip ice-cold lemonade, or, let's be honest, a frozen margarita.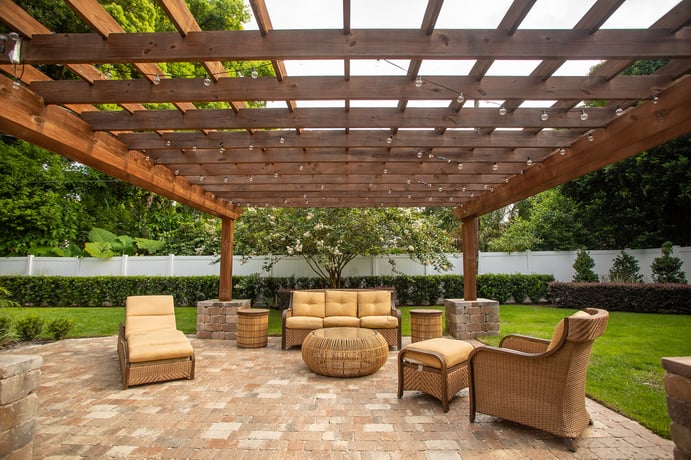 Wait, is that a raindrop? Rats, your pergola isn't totally covered. Darn this slatted, lattice-style roof! You're gonna get soaked!
Better make it a pavilion. It's open on all sides but offers more cover overhead.
Pergolas and pavilions are versatile hardscape projects that offer cover while looking fancy and adding instant class to your landscape.
Get dressed up and host a party and pass around trays of hors d'oeuvres with names like sweet pea pesto crostini and artichoke phyllo cups.
Or lounge under your pergola in your swimsuit and flip flops and eat cheese puffs right out of the bag.
Either way, dress up your great new hardscape addition by growing pretty fragrant vines up the posts, hanging plants from the "roof," and covering the whole thing in twinkling white lights that make it instantly absolutely magical.
Should You Add a Fire Pit? Plus Tips to Success
Here's who shouldn't add a fire pit:
Scarecrows.
Snowmen.
That's about it. Everybody else, fire pits add a glow to your backyard life that makes everybody want to linger.
Better get to it:
1. Decide on a Wood or Gas Fire Pit
They both produce mesmerizing flickering flames. But how hard do you want to work for them?
Love the idea of a rustic stack of firewood? Or is starting the flames with a click of your smartphone more your speed? Fueled by natural gas or propane, gas fire pits light easily and quickly.
But they can cost considerably more if you need to run a gas line. (More about this later.)
2. What Size Fire Pit Do You Need?
Is this a party pit for big gatherings of s'mores munchers?
Or a cozy romantic spot for two?
Smaller, more intimate built-in fire pits are about two to three feet wide, while larger fire pits for entertaining groups can be up to four to six feet wide.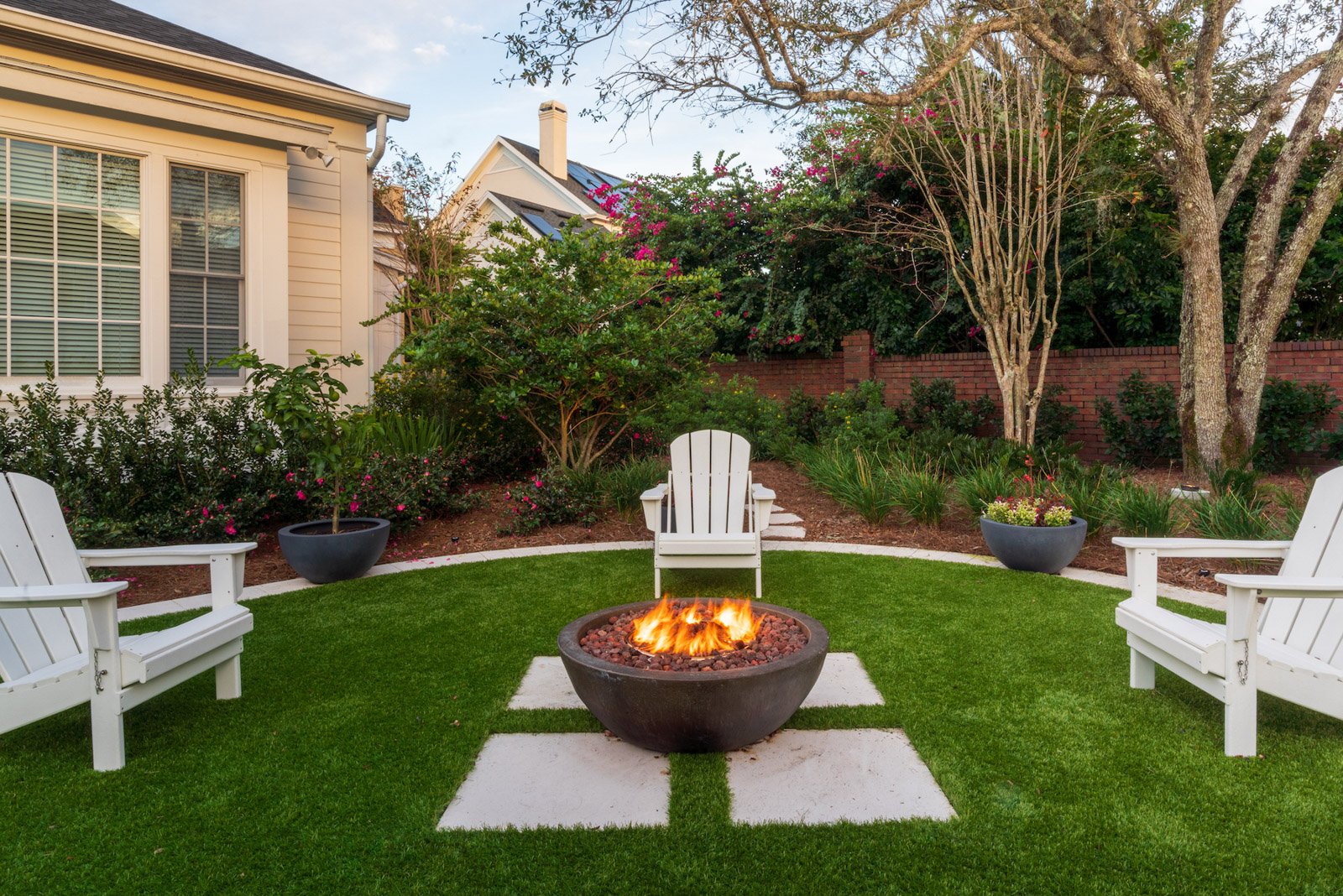 If you plan to use the edge of the pit as a sitting wall, plan on about 20 inches tall to best enjoy the flicker and the warmth.
3. Add the Frills
Comfy seating. Strings of festive lights. Pretty potted plants.
Then, fire up the fun.
Does Your Yard Slope? Consider a Retaining Wall
OK, so retaining walls aren't exactly the life of the landscaping party.
When's the last time you shouted, "Pull over! I gotta get a closer look at that retaining wall!"
But if your yard slopes, it's a pretty handy hardscaping project. Made of concrete blocks, rocks, or other materials, they hold back the soil behind them.
Here's why that's a great thing:
Retaining Walls Prevent Erosion
Erosion washes away fertilizer and nutrients your soil needs, destroys plants, damages building foundations, and can cause dangerous sinkholes.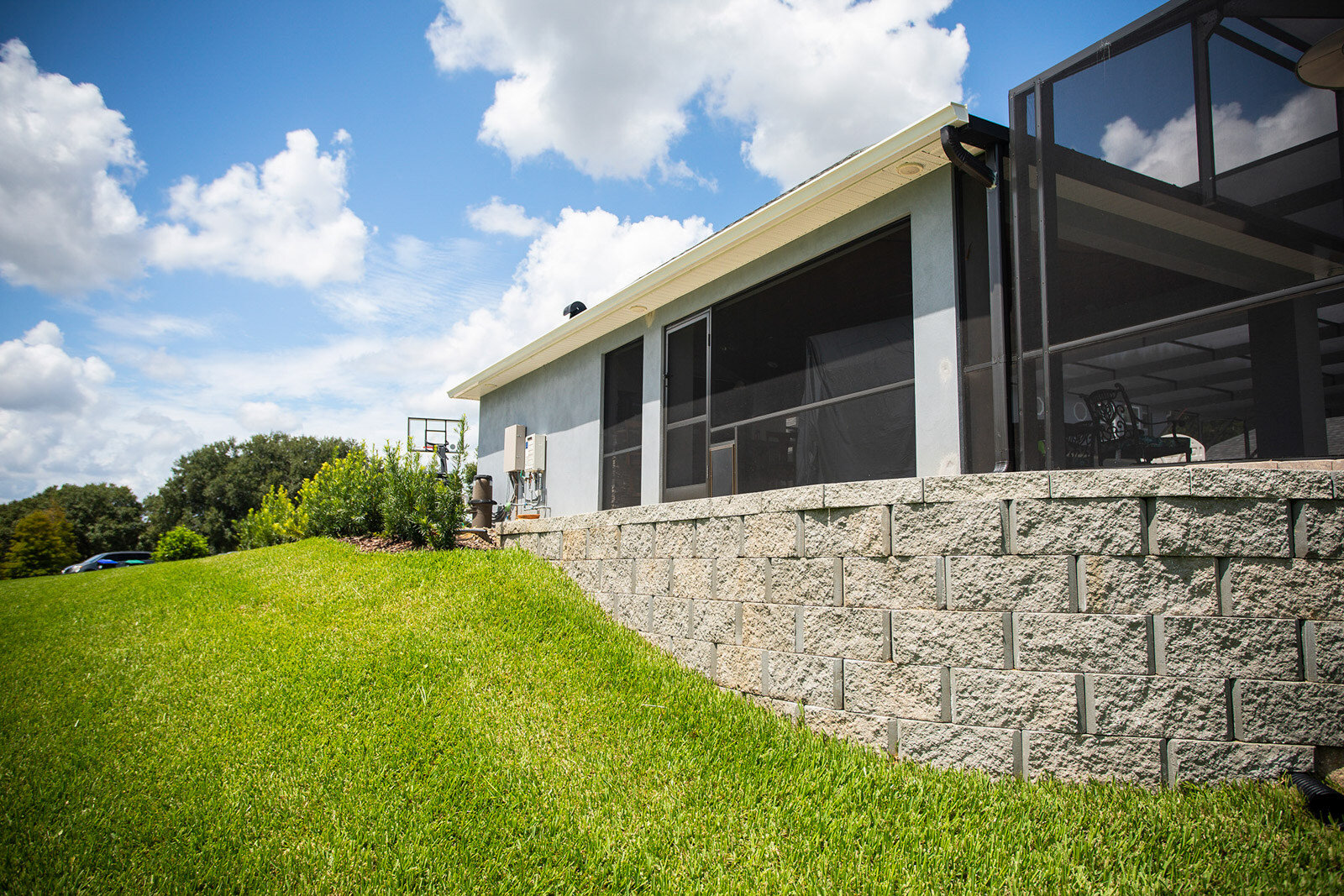 Retaining Walls Prevent Flooding
Retaining walls deter excess water from accumulating on your property. That means less chance of runoff damage and flooding.
Bonus: Extra Seating!
If your retaining wall is in a handy spot in your yard where people gather, you have bonus seating. Walls are often the perfect height to plop down for a chat or to help you balance that overflowing plate of straight-from-the-grill ribs, potato salad, and chips.
Should You Consider DIY Hardscaping?
So installing your own outdoor kitchen seems pretty overwhelming. But maybe you're pondering dusting off your toolbox and putting in a new paver walkway.
It feels good to boast a bit to the neighbors, right?
Watch any YouTube video or check in on a helpful how-to website and they'll walk you through the DIY walkway or patio installation steps, or show you how to build a pergola.
But even a small hardscaping project like a front walkway involves quite a bit of work, from digging and measuring to tamping and leveling.
Wondering if you should tackle hardscaping DIY style, or hire a professional?
Some of the most important parts of your hardscape project are behind the scenes, to ensure your pavers don't sink, the color doesn't fade, weeds don't sprout, and people don't trip.
If you're tackling it yourself, stay on top of these details:
The Right Edging
Proper edging helps keep the pavers snugly in place and keeps them from shifting.
Here in Florida, it's important to use concrete molded edging, not plastic edging with spikes. The soil is too sandy and soft here for that. You'll end up with paver edging problems.
Downspout Placement
What's that have to do with hardscape?
You might not even think of this, but a lot of times there'll be a downspout on the corner of your roof that pours down onto your pavers.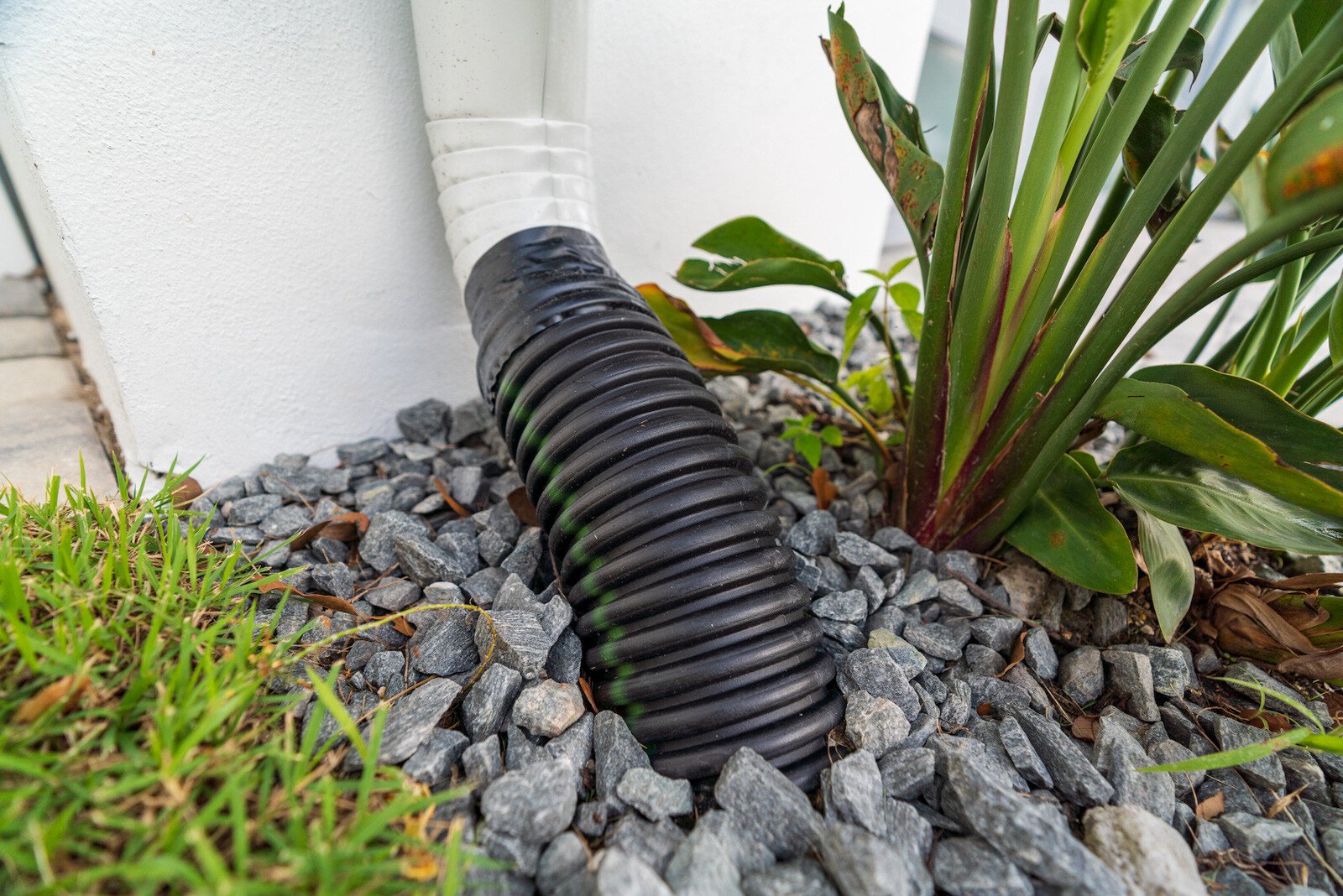 Over time that water flow can loosen the sand between pavers, causing them to shift.
Good hardscape design includes moving downspouts so they don't empty onto your pavers.
Good Drainage
Prevent drainage problems with an expertly installed sand base, the right pitch, and slope.
Your paver patio should pitch to the side a bit, so water can drain, and slope away from your house.
Without proper slope, you end up with erosion, foundation damage, or a wet basement.
A Landscape Designer Will Bring the Wow
Sure, you can figure out how to line up pavers in a straight row. But if you really want your hardscape project to wow, hire a landscape designer.
They know a paver walkway stands out if it has curves and flares out where it meets the driveway. They can steer you to the perfect contrasting border for your driveway or patio.
A Central Florida hardscape designer will bring wow-worthy ideas that hadn't occurred to you.
Setting a Budget: How Much Will Your Hardscaping Project Cost?
Now comes the really fun part — math.
What's the cost for hardscape design and installation?
To be honest, there's a huge range in hardscape projects. Prices vary widely, based on everything from size and materials to obstacles on your property that affect installation.
Your Central Florida hardscaping services company can give you a good cost estimate on your exact hardscape project.
But here's a quick look to get you started:
Driveway Dreaming
The typical paver driveway in Central Florida costs about $7.50 a square foot. That's for an average driveway of standard pavers without complications.
Patio Pondering
The typical paver patio cost is between $7 and $10 per square foot.
Fire Pit Figuring
The cost typically ranges from about $900 for a wood-burning pit of concrete blocks to as much as several thousand dollars for a gas-fueled fire pit, depending on how fancy you get.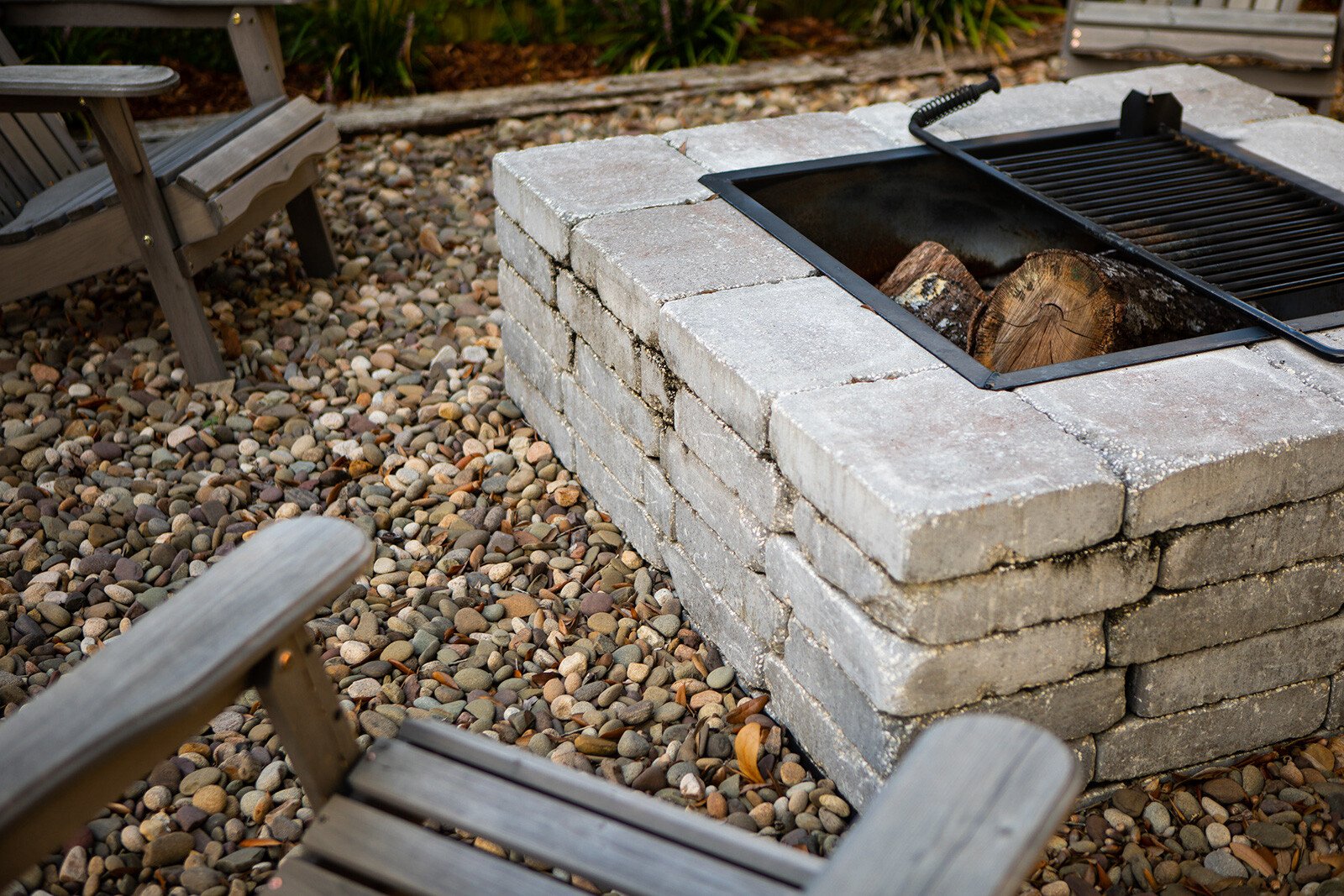 Be aware there's an extra cost to run a new gas line if you already have gas service, and it can be pricey — another $2,000-$2,500 with permits from a gas company. But most homes in Florida don't have gas service.
So you'll need to purchase your own tank and either set it on blocks or bury it in the ground, then run a line from that.
Or keep it simple and go with a wood-burning fire pit.
Outdoor Kitchen Cost
There's a huge range here. A basic outdoor cooking area with a patio, grill, and countertop can run a few thousand dollars, while a luxury design with top-of-the-line appliances will cost many times that amount.
Hardscape Project Budget Tips
The Fancier You Get, the More It Will Cost
Inlay patterns look stunning in driveways and patios, but the more intricate the pattern, the more laborious cutting is needed. That boosts the cost.
Tumbled pavers, thicker pavers, or a unique stamping pattern all cost more, sometimes a dollar or two more per square foot.
Curves require more cutting, which costs more.
Prioritize, Then Plan for Later
You don't have to do everything at once. A good designer can help you prioritize the parts of your hardscape project you'll enjoy most, and set the stage to add more features later.
How To Find and Choose Central Florida Hardscaping Services
Now that your head is swimming with great hardscape ideas, who should do the work?
Choose wisely. Hardscape projects are big investments.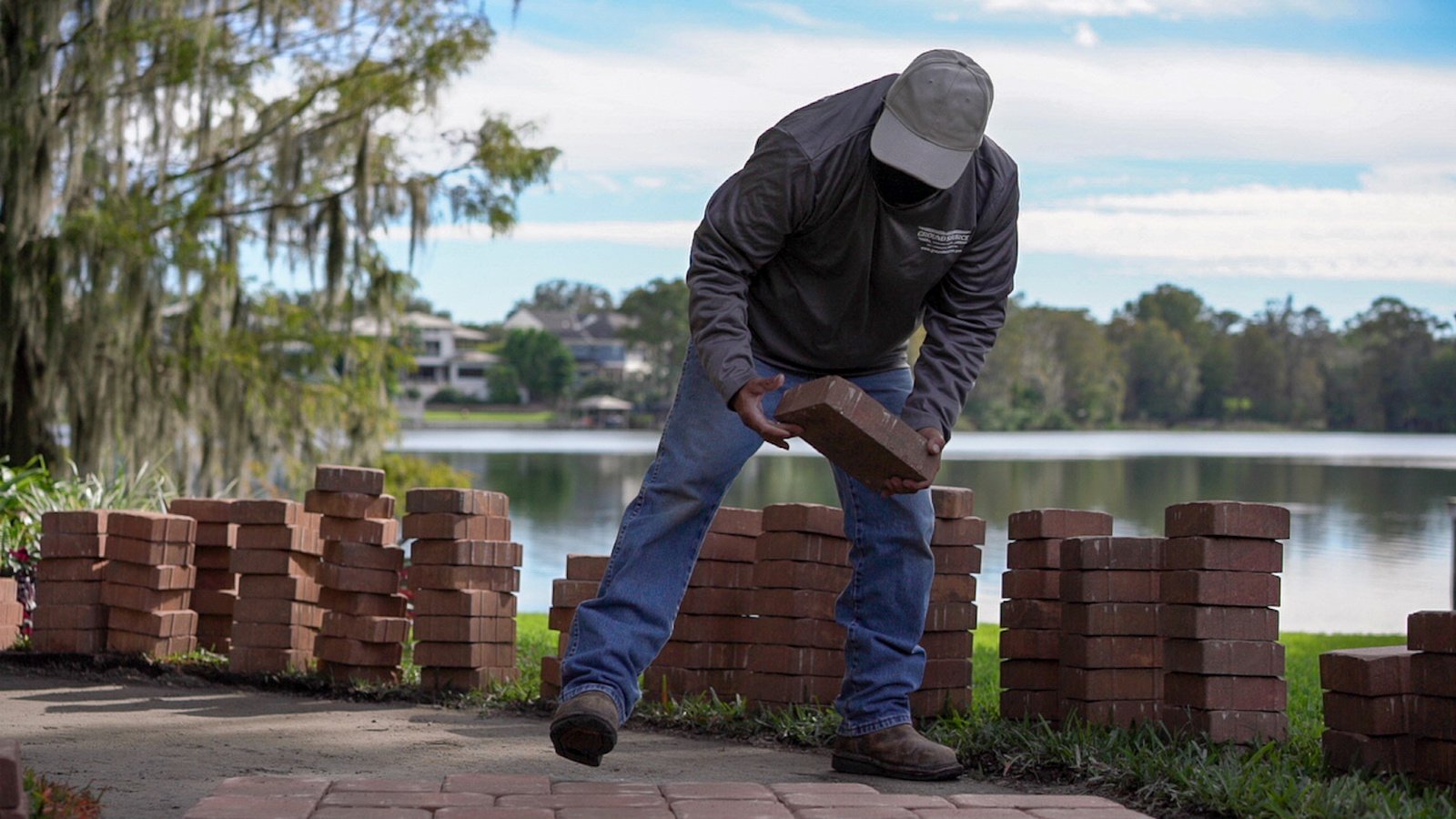 Don't trust it to just anybody. Ask these questions:
How long has the Central Florida company been in business? Are you confident they'll be around if you have problems or questions?
Will they happily give you references to check out?
Do they do a lot of hardscape projects, or is this just a thing they do on the side?
What do their customers say? Have you checked out their Google Reviews? If a ton of people left reviews and the company also has close to five stars, they've made a lot of homeowners happy.
Do they have a designer on staff? You'll soon discover the choices you have for your paver patio, driveway, or walkways are really overwhelming. It really helps to have a skilled, licensed landscape designer to help walk you through it all. Not all Central Florida hardscape companies have one on staff.
Do they have a quality, informative website? Good Central Florida hardscaping companies invest time and money in their websites to make it easier for potential customers to learn about them. Look for testimonials from satisfied customers. Do they explain all their services and how they make it easy and comfortable to work with them? Do they provide educational and informative blog articles?
They Should Make This Easy
The best hardscape companies make the whole process go smoothly, from brainstorming ideas at your kitchen table to showing you samples of pavers to walking you through the project and keeping you informed.
They'll do all the work. You get started on the party invitations.
Let's get started.
We're hardscape experts, but our skills don't stop there. We're with you every step of the way as you plan your perfect outdoor space.
Sod, irrigation, landscape design: Let us transform your landscape from an embarrassing eyesore to a place you spend every spare minute.
Are you ready to enjoy the vibrant, impressive landscape you've always wanted? Request a quote today! We'll help you review your options and then transform your property.