When you get a first look at an impressive new landscaping project, it's often the pretty green stuff you gawk at first.

Majestic palm trees, maybe, or striking tropical croton.

But what makes a project really work is the skill and labor behind the scenes.

Expert drainage work. Precision hardscape. Attention to detail that comes from the landscape designer camped out on site with his laptop computer day after day, supervising every detail.

That's what happened at this Celebration, FL landscaping redo, where every little detail was a big deal.

Let's take a look.
A Place For Peace
The new backyard is an elegant, serene space with a curving oval pool, and a simple green square of artificial turf to the side featuring a clean-lined fire bowl and two crisp white Adirondack chairs for fire gazing.

Covered patios with seating surround the pool, offering lots of space for entertaining.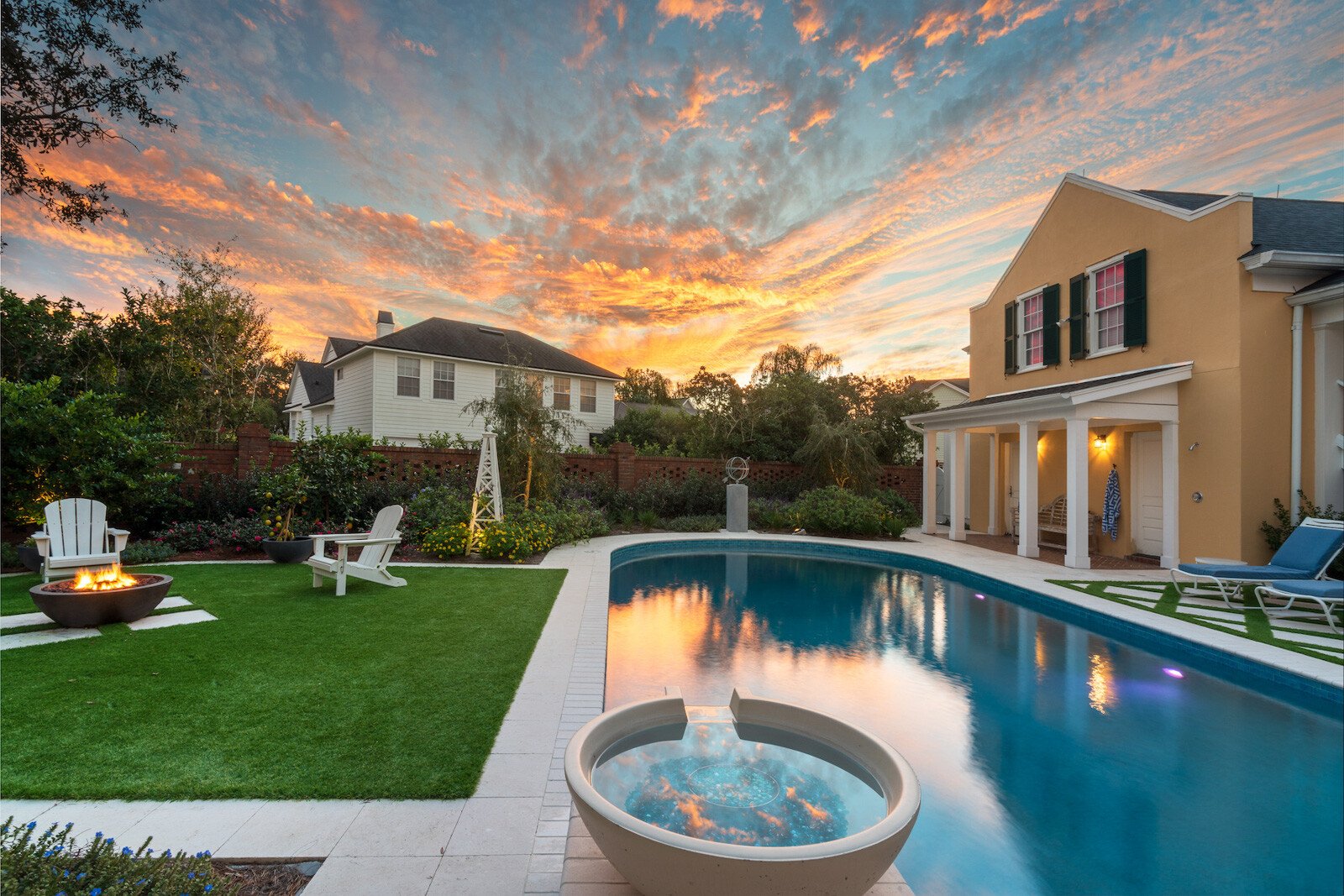 An artistic highlight? A poolside patio in a lattice pattern created from white travertine and emerald green artificial turf.

It adds a sense of pattern, a soft place for bare feet to land, and a piece of poolside art, built right in.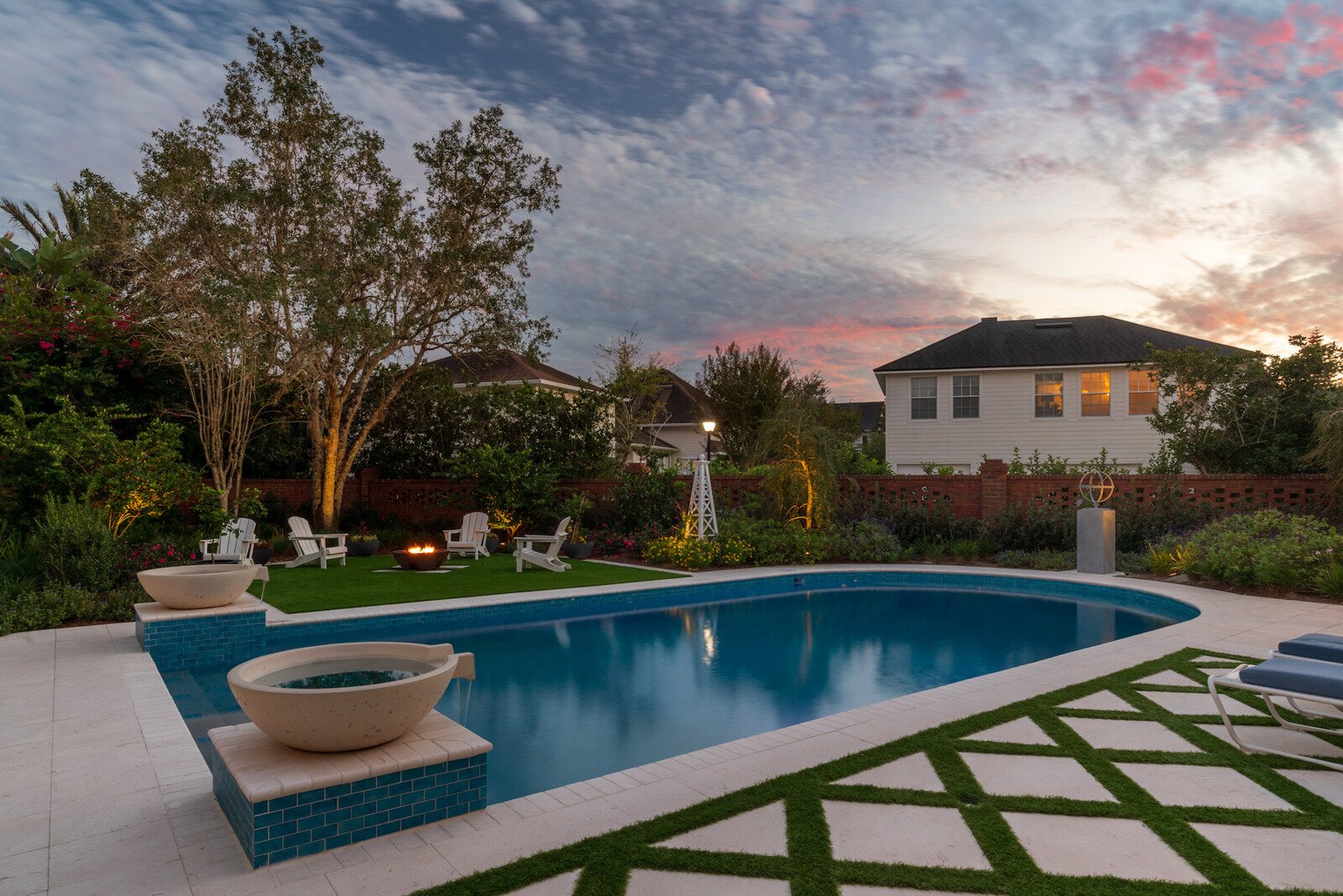 At dusk, when the sky turns a Florida cerulean blue and the fire pit glows, this backyard retreat is magical.
It's All About the Details
The homeowner on this backyard renovation is a detail-oriented architect whose engineering friend drew up the plans for Celebration FL landscapers to follow.

"There are a lot of challenges in having an architect as a client who has an eye for everything," says Eric Frisch, the landscape designer at Ground Source in charge of the project. "Everything has to be exactly on point.

"There were lots of meetings and follow-up meetings and last-minute changes," Frisch says. "And a lot of bouncing ideas back and forth.

"Luckily, I'm a perfectionist, too, so we got along well," he says. "After a week of me coming to him about the littlest details, his comfort level grew and he trusted me."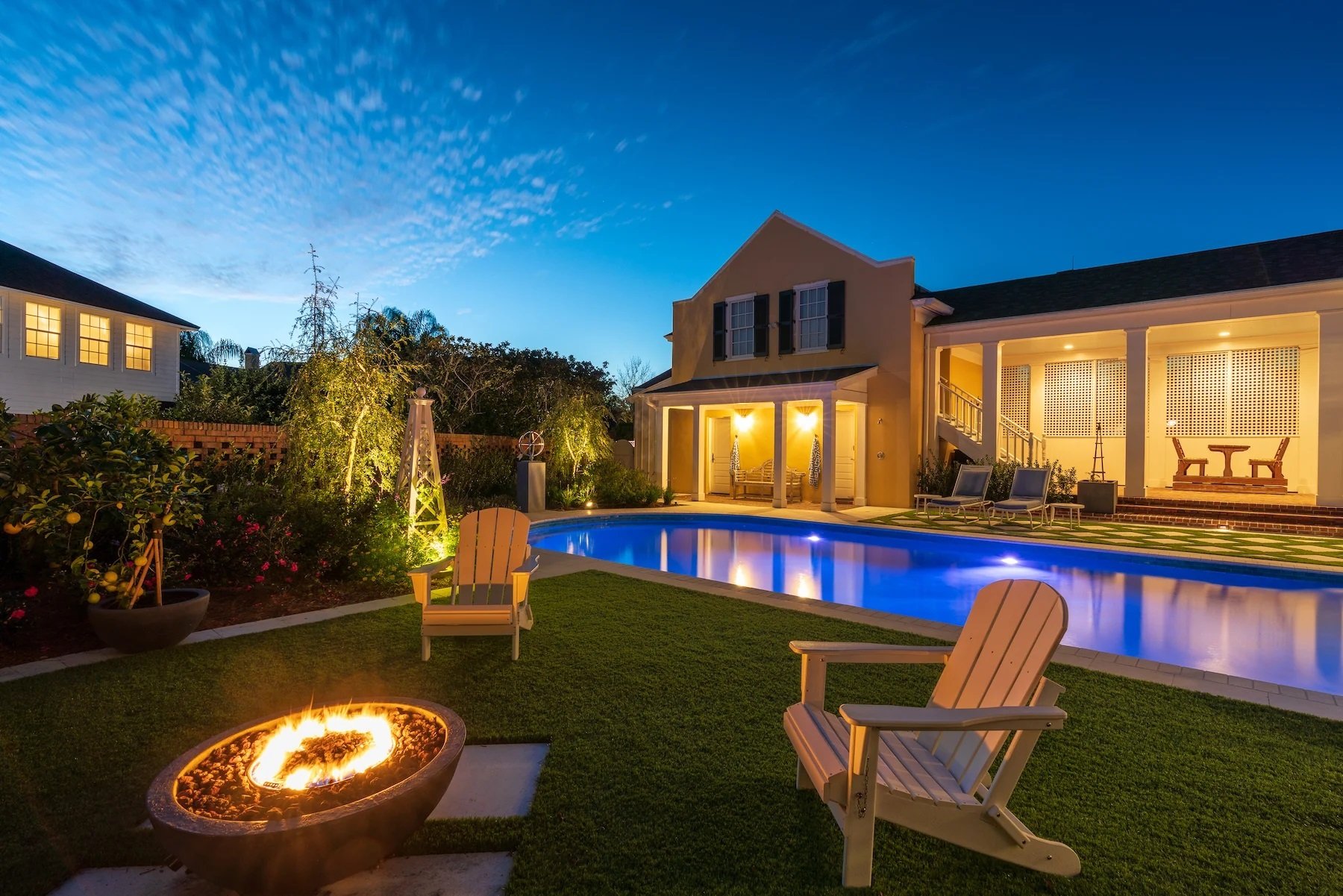 Dealing with Drainage
Drainage is one of those landscaping basics that makes a huge difference.

"Most people don't do much with drainage at first because it's expensive," Frisch says. "They wait until there's a problem."

There were a few here.

The pool deck was holding water. The outdoor shower had no drain. Water flooded the patio. And the landscaping plan called for artificial turf, which isn't known for draining well.

"To make sure the drainage all pitched correctly, we had to run the drainage out to the back alley, which means we had to punch a hole through a brick wall to run the drainage," Frisch says. "You don't want downspouts flooding the travertine and the pool deck."

Another challenge for Celebration FL landscape contractors: the architect homeowner requested all PVC pipe for the drainage project.

It wasn't necessary — most landscape drainage jobs are easily handled with solid 4-inch black corrugated drain pipe. It's cheaper and more flexible.

But the next-level request meant extra cutting and fittings to accommodate angles, which adds time and money to the job.
Find Frisch on the Porch
All these details required Frisch to be on site supervising even more than usual.

Frisch was on site three days a week, set up on the back porch with his computer.

The travertine and turf patio was an especially precise project, Frisch says, as it was crucial that the geometric lines matched up perfectly with the pool.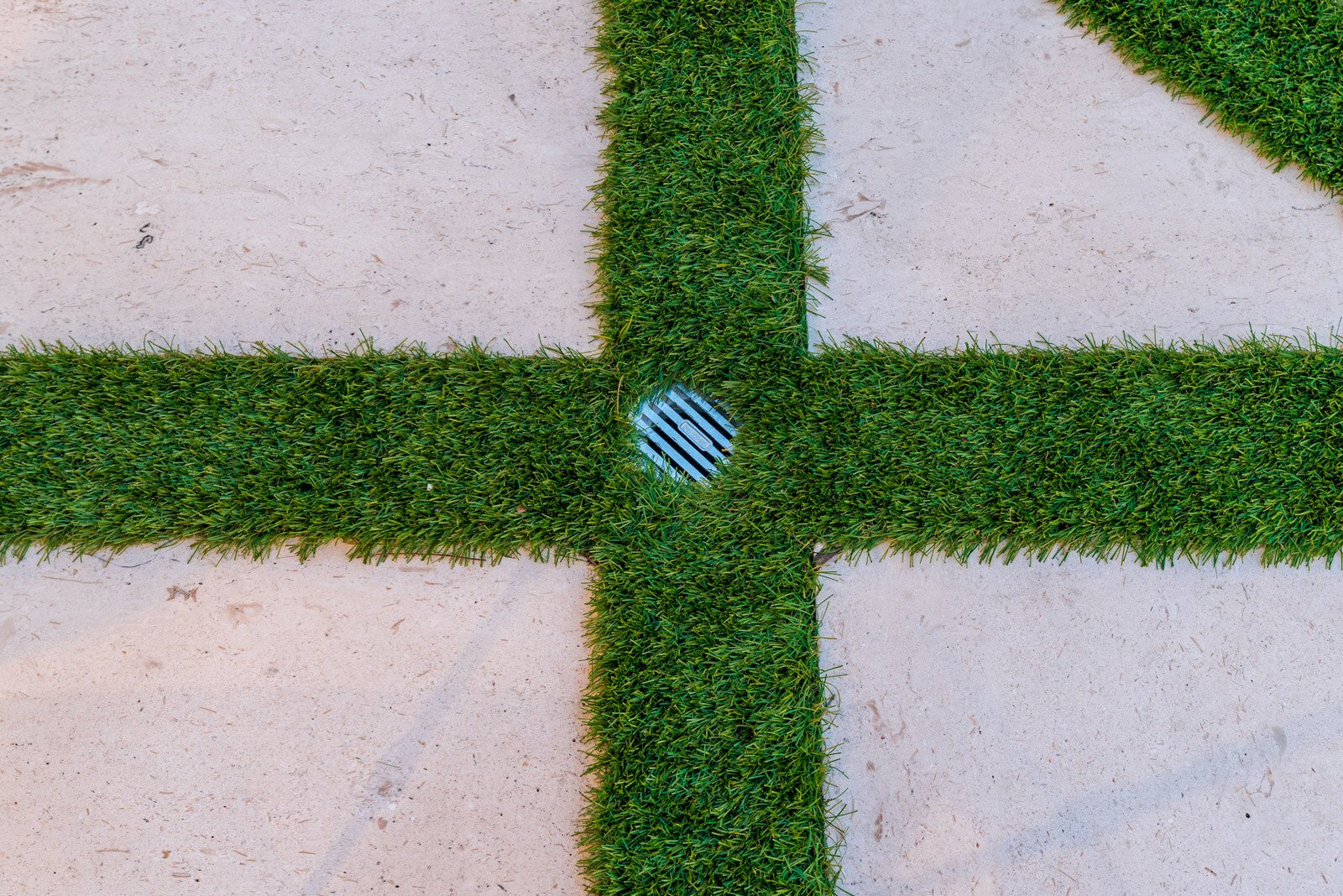 "What took the most time was that the drainage had to be lined up perfectly in the corners of the turf," Frisch said. "So we had to lay the patio once, run a string line and mark the drain locations, then lift the patio, trench the drainage in, and set the drain inlets with the string markings." Then crews put the patio back down and installed the turf strips. It was a time-consuming, exacting job, times two.
Prettying Up the Pool
"The old pool deck was not inviting," Frisch says. "It was old-fashioned and outdated, just concrete squares with bricks around it. And there wasn't enough room to hang out."

Hanging out by the pool is half the reason to have one, right?

"So we eliminated planting beds to make room for lounge chairs and room to socialize," Frisch says.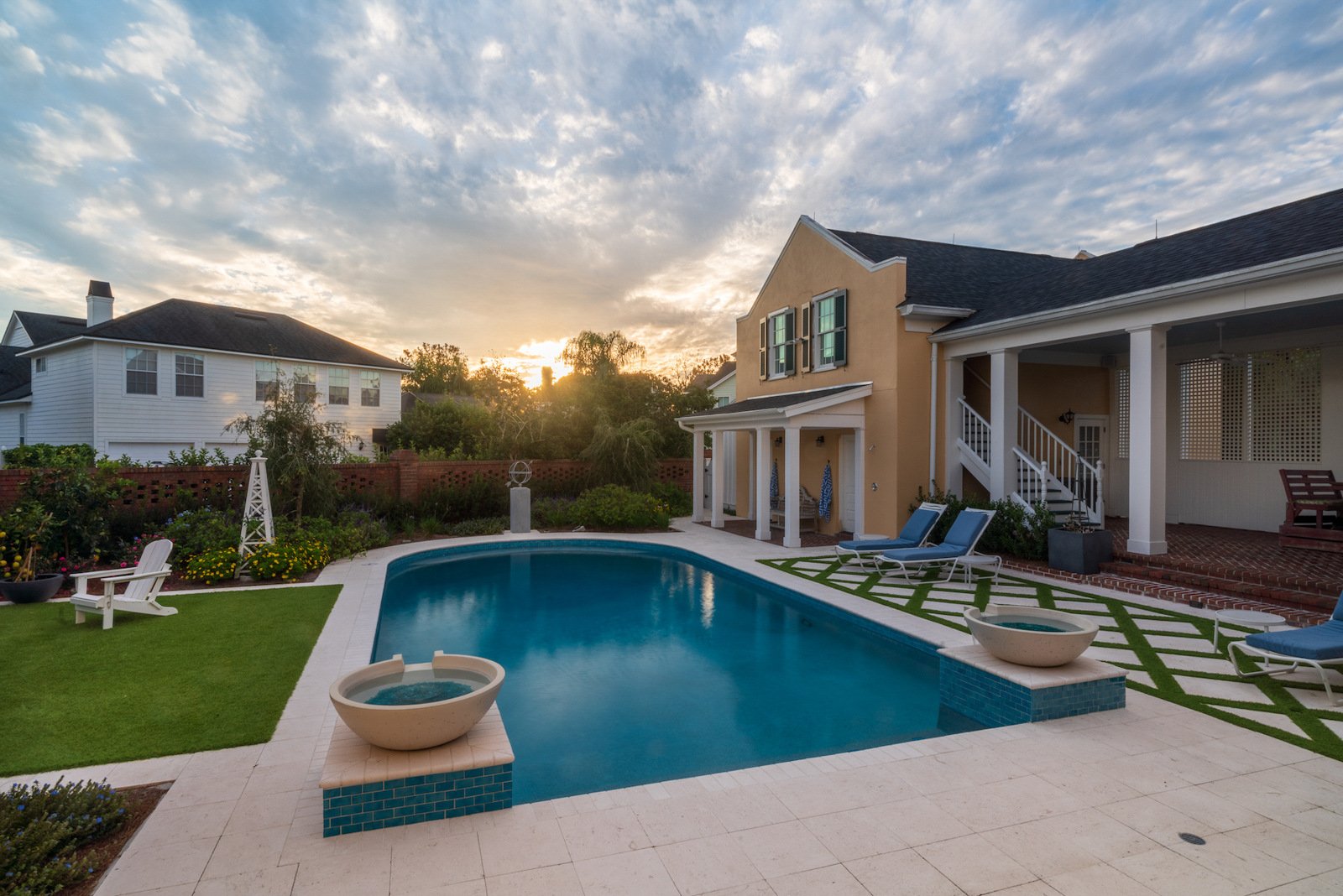 Frisch supervised all the Celebration FL landscaping project's travertine work, including the pool coping, patio, turf inlay, plus the tops of the water features that spill into the pool.

An area right off the pool required the most work — a turf strip inlay with 24-inch travertine squares that had to be cut.

"It had to be right on point, down to the centimeter," Frisch said.
Artificial Turf
"The homeowner wanted the yard as low-maintenance as possible in back," Frisch says. "He doesn't want to mow."

Artificial turf to the rescue.

No mowing, no watering, no weeding, no problem.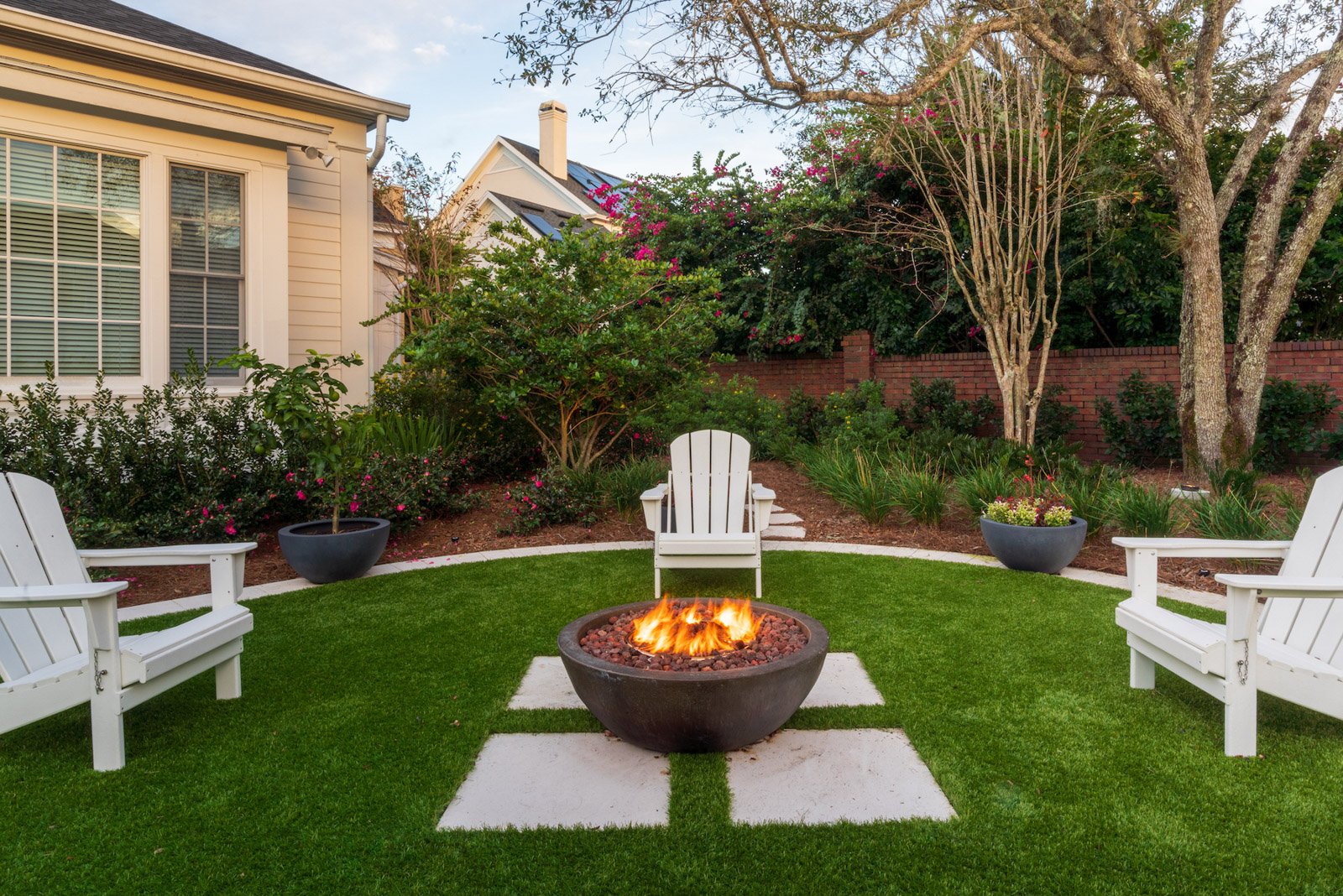 And it comes in handy for projects like this lattice-pattern patio, a mix of sleek white travertine and fluffy green turf.

"You can't do real grass between pavers in Florida because most of the grass types here have runners," Frisch says. "He wanted a clean, easy to maintain surface that was still soft."
Dogged About Details
It might be the big things that impress — an artistic patio, intricate pool decking, an expanse of green that never needs mowing — but it's the little behind- the-scenes jobs that help this new Celebration FL landscaping function.
Running the gas line to the fire pit so the homeowner can kick back by a fire at the end of a long day.
Strategically lighting brick steps with lighting that's safe, subtle, and attractive.
Creativity counts, too. Crews built platforms to hold water feature bowls that spill water into the pool and recirculate it. Those bowls used to be planters.
Kick Back and Relax
"It's a warm and inviting place now," Frisch says. "Before, big oaks were dropping leaves in the pool. Those were taken out and ground up."

Now, it's a low-maintenance backyard haven, perfect for relaxing solo or entertaining a happy crowd.

Clean lines, sleek spaces, no fuss.

"It's a modern look," Frisch says, "but not so modern that it doesn't blend with the house.

"He made it his own."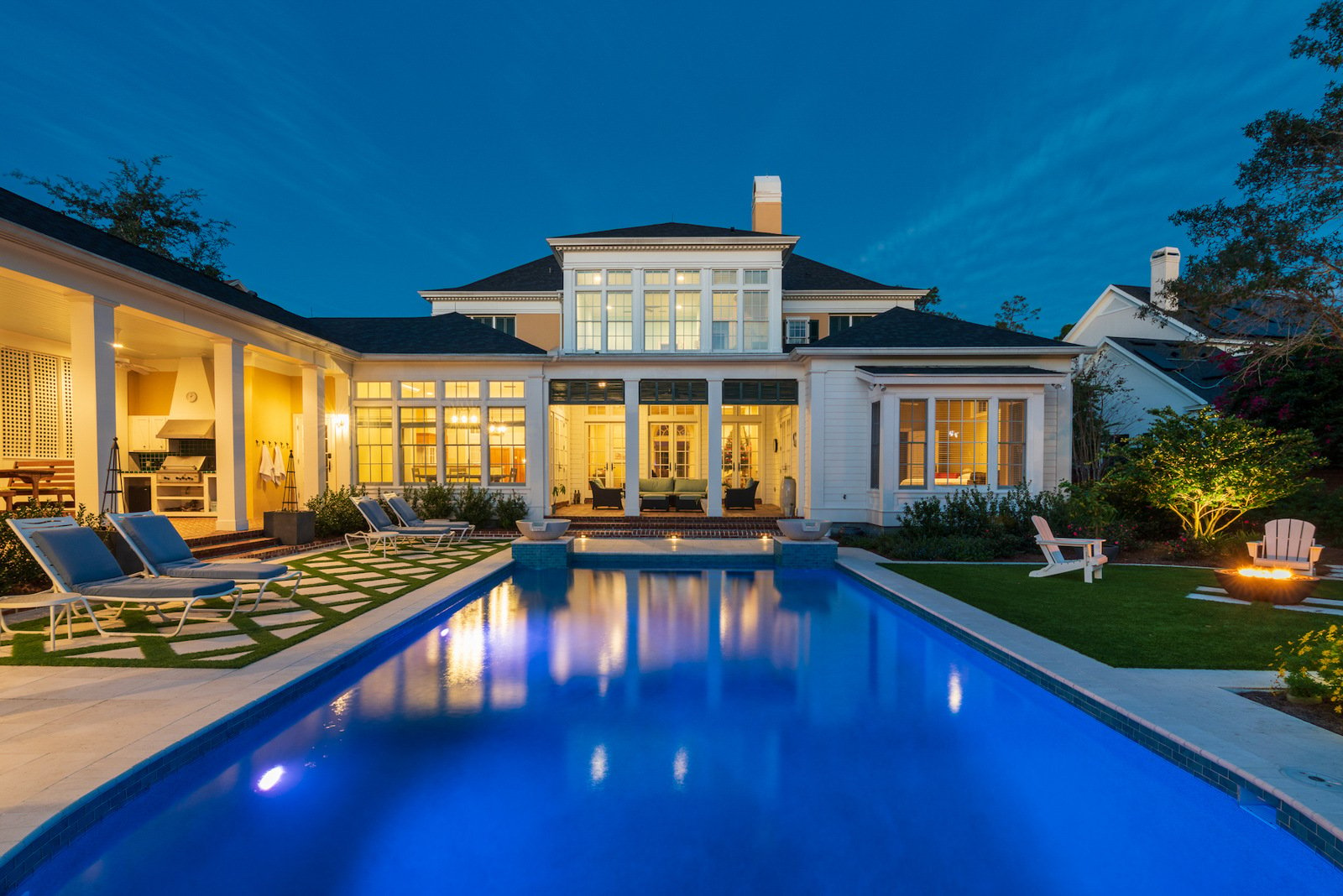 Need Detailed Celebration FL Landscape Design? Trust Ground Source
You don't have to be a discriminating architect to want your landscaping project done exactly right.

Drastic drainage? Tricky tile? Daunting details?

We've got you covered.

At Ground Source, we do it all. Start to finish. Not all landscape contractors near Celebration FL do.

We're landscaping experts, but our skills don't stop there. We're with you every step of the way as you plan your perfect outdoor space.

Sod, irrigation, landscape design: Let us transform your yard from an embarrassing eyesore to a place you spend every spare minute.

Are you ready to enjoy the vibrant, impressive yard you've always wanted? Request a quote today! We'll help you review your options and then transform your property.