Everybody loves pergolas, those pretty, airy, covered spaces that add instant class to your landscape.

It's the perfect place to be fancy and host a party, or grab that last cherry popsicle and hide out from your kids.
Building one doesn't look too hard, right? It doesn't even have walls! A few posts, some cross beams, some nice open lattice. No biggie.

Sure, a pergola can be a DIY project, if you're handy.

But they require construction skills, a pretty good tool collection, lots of measuring, and precision placement. And maybe wiring, if you want to light it.

That's why a lot of people hire a pro to install their pergola, then go to brunch.

How to choose between DIY vs. professional pergola installation?

Here's a look.
First, a Bunch of Big Decisions
There are lots of things to decide here. Better jot some notes.

What size pergola do you need? Will it be attached to your house, or freestanding?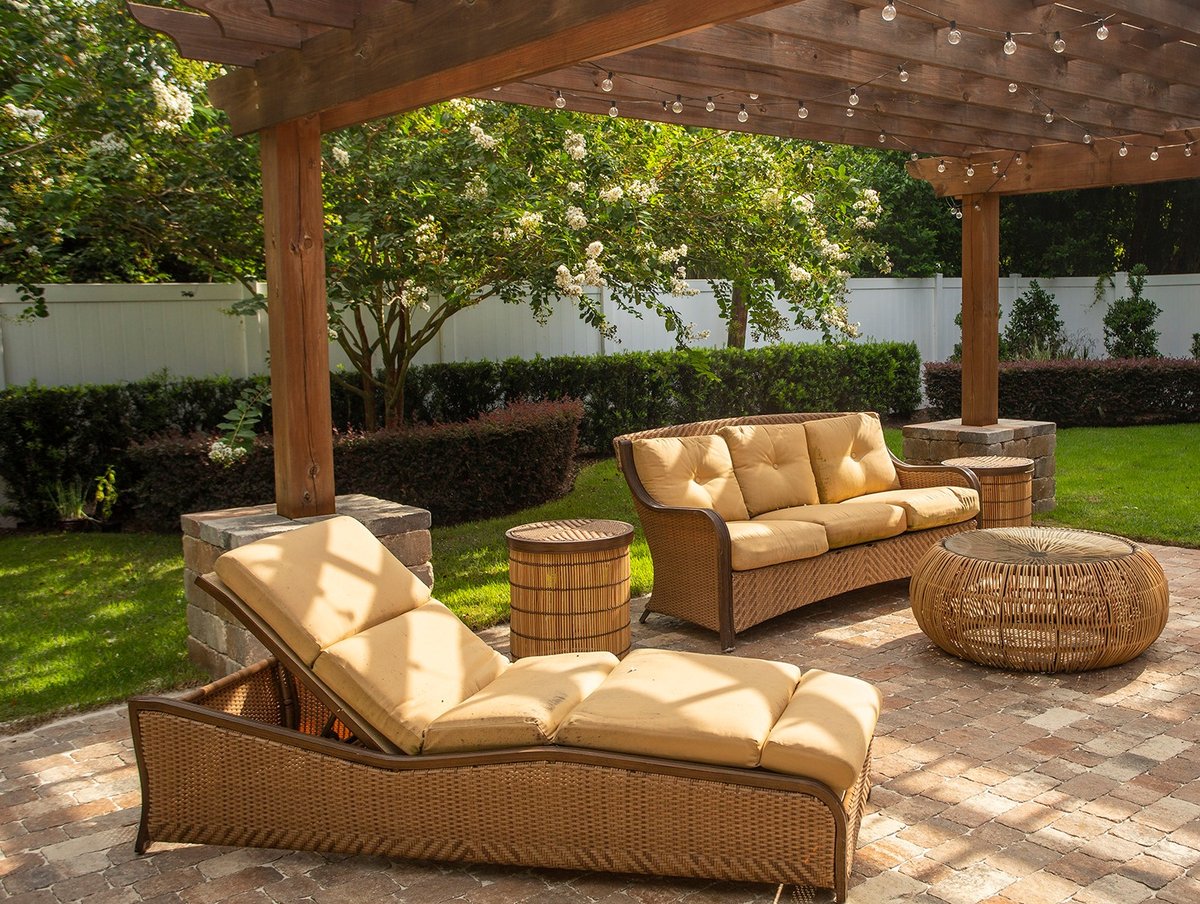 If you belong to a homeowners' association, are there pergola installation regulations you need to know that could affect the size or placement?
How will you use it? Close to your kitchen for entertaining? Shading your patio or deck? As a garden getaway elsewhere on your property, away from the hustle and bustle of your house? Maybe out by the pool to add to your poolside entertaining?

What material should you use for your pergola? Vinyl? Fiberglas? Wood?

Will you buy a kit, or build it from scratch?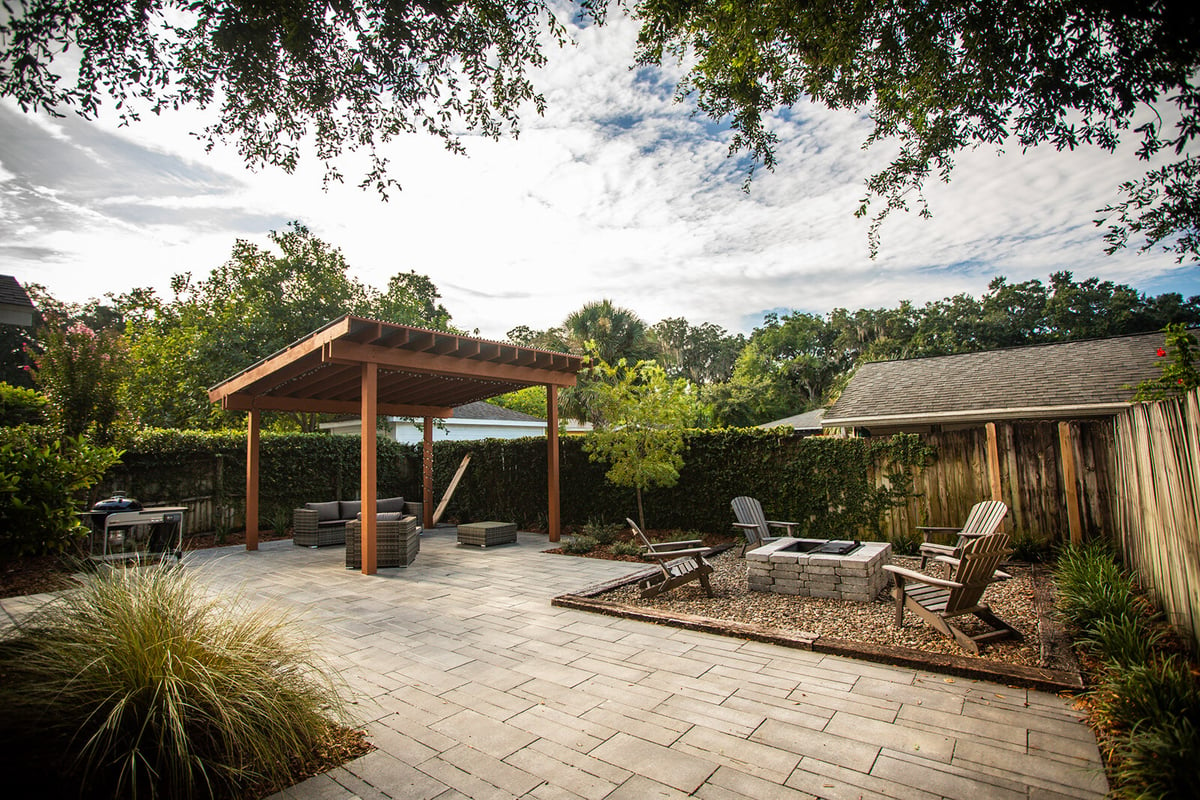 Not sure? Can't decide? If you hire an Orlando landscaping company with a designer on staff, they can walk you through these important up-front decisions.
DIY vs. Professional Pergola Installation: Got Tools?
You'll need a pretty big pile of tools for pergola installation and the skills to use them safely. This goes way beyond rummaging for a screwdriver in the junk drawer.

You'll need basic things like a measuring tape, hammer, level, shovel, and drill.

You'll also need a post hole digger or power auger, a reciprocating saw, a circular saw, a saber saw and a wheelbarrow.
Take a Shortcut with a Pergola Kit
If you buy a pergola kit, you'll have a much easier job than starting from scratch. Most of what you need should be included, but make sure you read the materials list and instructions before you get started, just to be sure.
Pergola Installation Prep Work
There's a lot to do before you dig the first hole, including:
Level the ground.
Call your utility company to come check your building site for any underground lines or hazards.
Do you need any permits?
How to Install a Pergola
Here's just a quick look at some of the labor involved:
Precise measuring, with stakes and a string
Digging post holes
Setting posts, making absolutely sure they're level
Preparing plenty of concrete, 4-6 bags for each hole
Preparing and installing beams and rafters perfectly even and level
Treating your pergola with paint, stain, or sealer
Why Not Leave Pergola Installation to the Pros?
Before you spend half a Saturday in the garage rummaging for your reciprocating saw, then remembering you don't own a reciprocating saw, why not turn to professional pergola installation services?

Our designers will sit down with you to create a custom pergola design and installation plan perfect for your Central Florida lifestyle.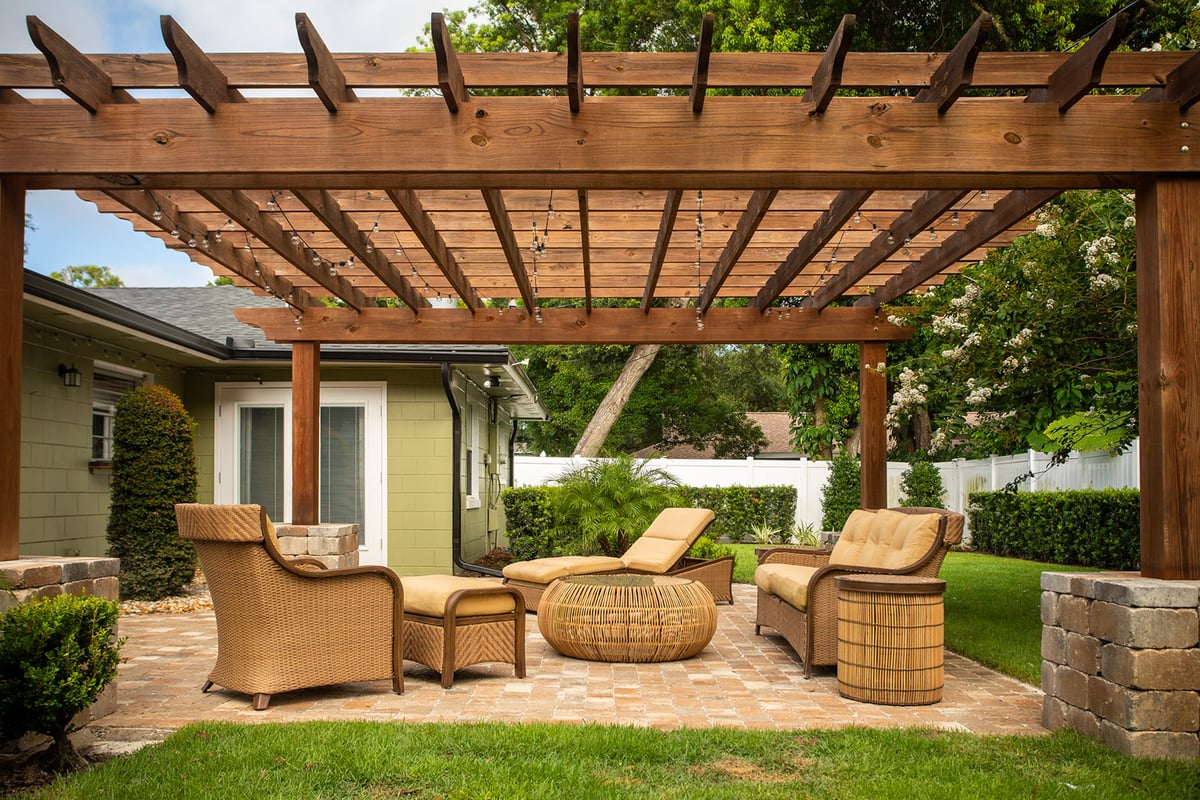 They love this stuff.

Put your feet up. We make pergola installation easy, start to finish:
We offer clear-cut proposals. There's no guessing about what we include for the price — it's all laid out for you.
We don't require down payments. You read that right.
All the "paperwork" is done electronically. Easy.
We do all the permitting. You don't have time to wait in line. Let us do all that.
Perplexing HOA documents? We'll help you fill them out, so you can get approval for your project. No fretting about "What should I write here?" Just ask us. We'll help you gather the info the board needs.
We'll do all the hard work, from demolition to clean-up and everything in-between.
Once you're happy, we'll bill you. Simple as that.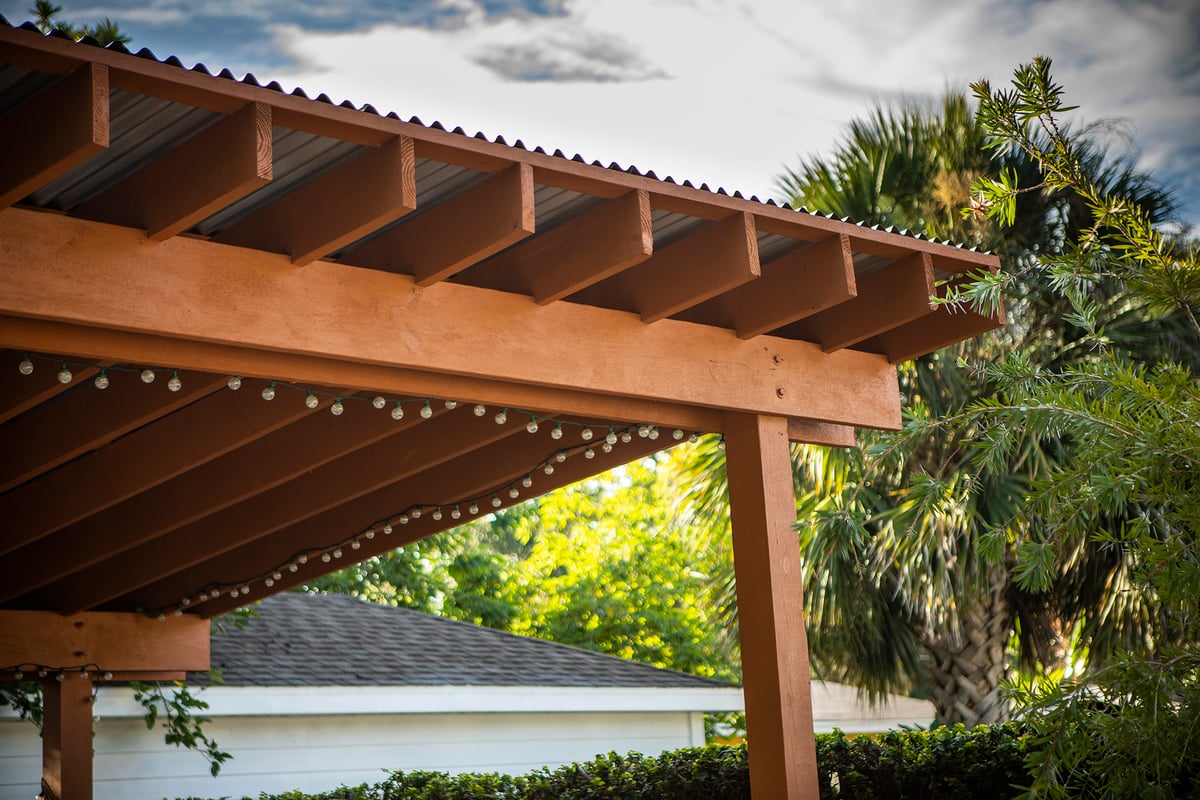 Once your pergola installation is done, we'll help you take it to the next level. Grow pretty fragrant vines up the posts, hang plants from the "roof," and cover the whole thing in twinkling white lights that make it instantly absolutely magical.
Need Expert Orlando Pergola Installation? Trust Ground Source
Let us help you figure it all out.

We're hardscape experts, but our skills don't stop there. We're with you every step of the way as you plan your perfect outdoor space.

Sod, irrigation, landscape design: Let us transform your landscape from an embarrassing eyesore to a place you spend every spare minute.

Are you ready to enjoy the vibrant, impressive landscape you've always wanted? Request a quote today! We'll help you review your options and then transform your property.