It's easy to get used to your home and all its quirks when you live there every day.

Maybe you look past the struggling lawn, the cracked concrete driveway, the boring landscaping, that monster that lives under your hedge.

But new buyers don't look past that stuff.

Check out these landscaping ideas to increase your home value:
Plant Trees, Please
Everybody loves trees. They add elegance, shade, and structure to your yard — and value to your home.

What trees? Ponder these great Central Florida trees:
Queen Palms
Also called Feather Palms, these trees add instant elegance, with their graceful, glossy fronds. Bonus: Watch for clusters of small, orange dates.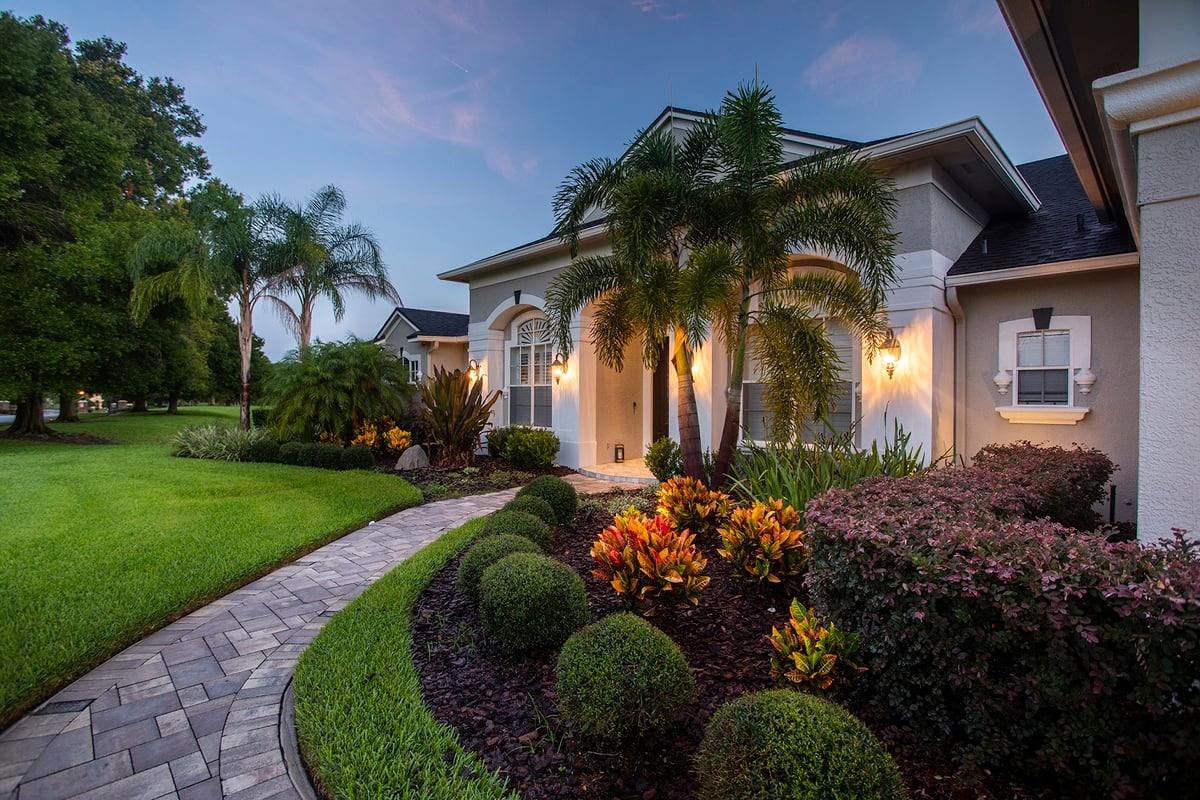 With a wide canopy and no thorns, this is the most common palm used in new construction in Central Florida but works great for a landscaping refresh to boost property value, too.
Roebelenii Date Palm
This petite multi-trunk palm is often used in small landscape beds or even inside pool screens. It's perfect for tight spots where you still want a tropical punch.
Foxtail Palm
Another impressive palm, the foxtail boasts a double trunk. And, it looks like it sounds, with its big fluffy fronds that look like the bushy tail of a fox.
Live Oak
This beauty is the most common Florida shade tree for a reason. It's native, very hardy, and offers a wide shady canopy. Make room, though -- this massive evergreen tree often grows to a height of 50 feet.
D.D. Blanchard Southern Magnolia
A mature magnolia makes everybody gasp. Glossy green leaves with coppery undersides. Gorgeous cup-shaped flowers with an intoxicating scent. Adding one of these stunning trees is a great landscaping idea to increase your home value.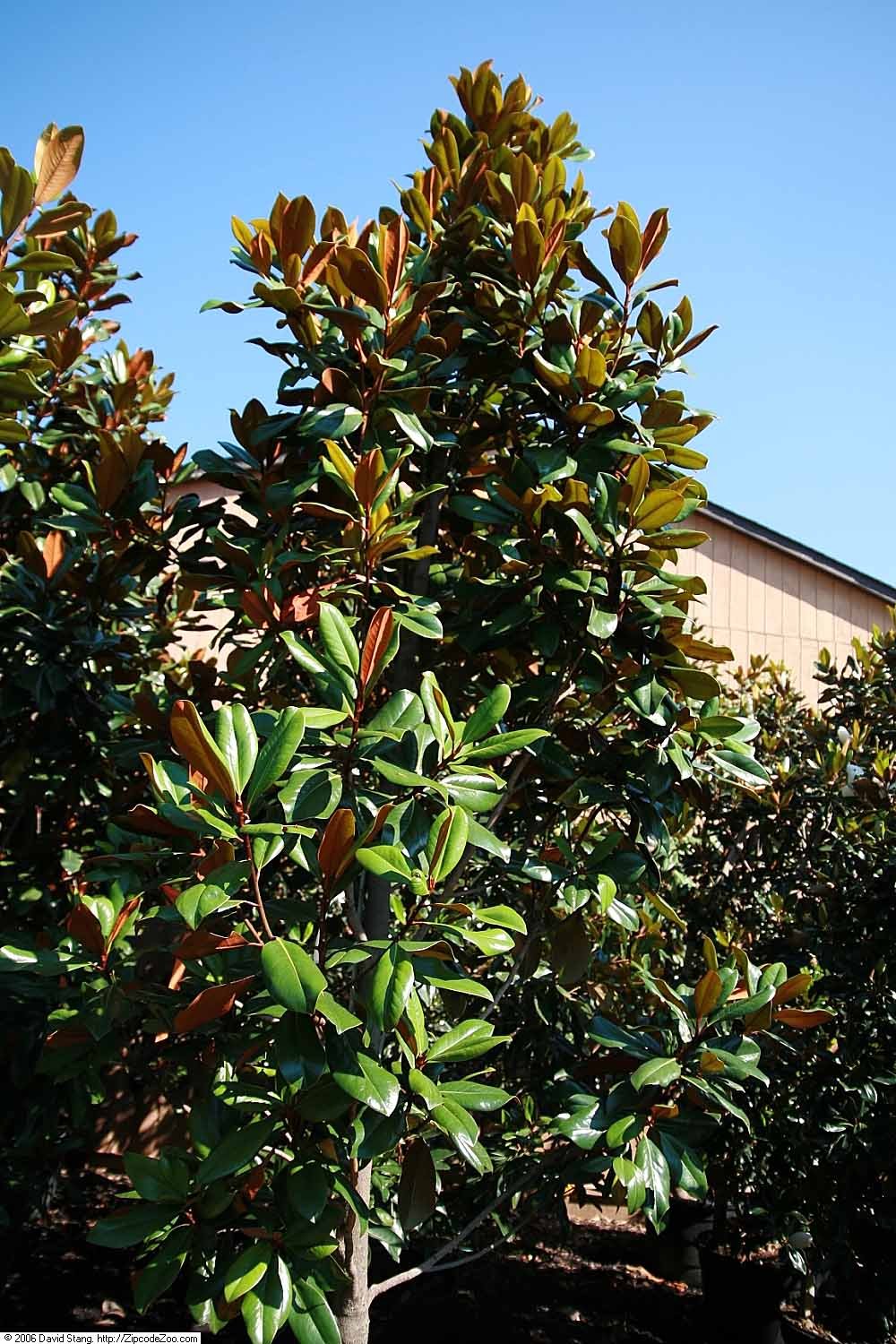 Add a Paver Driveway and Walkway
Does landscaping add value to a home? When it's a plan to replace your cracked concrete driveway, it absolutely does.

Pick pavers for an instant, high-end upgrade that adds value to your home.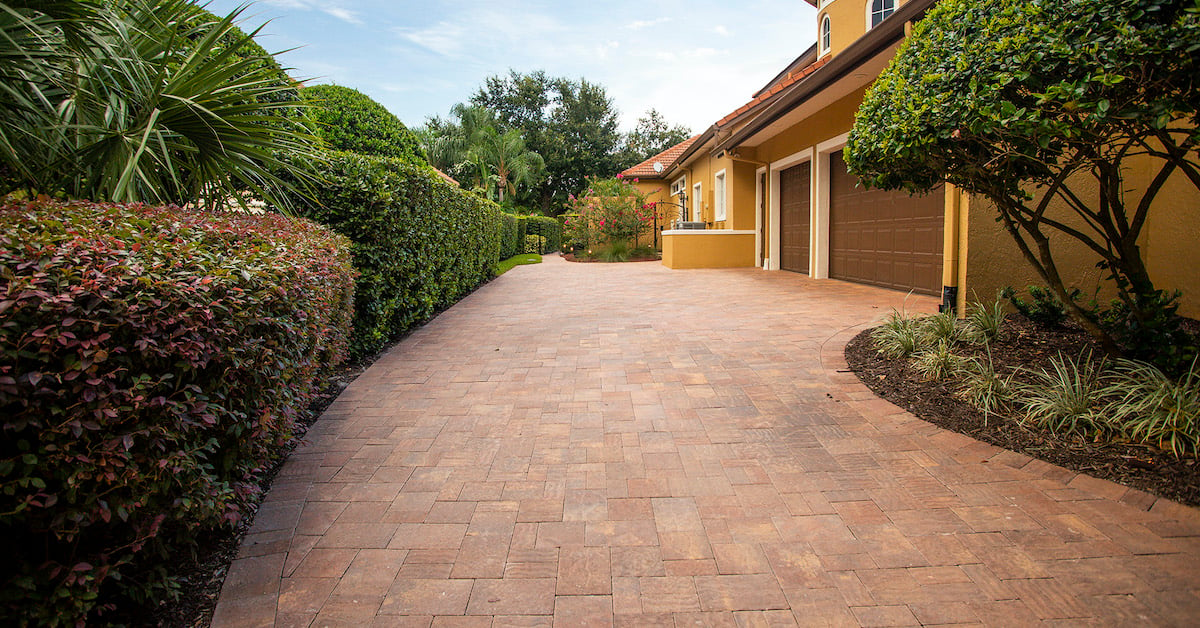 A paver driveway can be really impressive, incorporating stunning inlay designs in circles and overlapping diamonds. It's almost a shame to hide it under your car.

While you're at it, use the same materials to add some wow to your boring walkway. (No offense.) Using the same paver style unifies the look, making everything look put together, and adding automatic value to your property.
Landscaping Tips to Increase Home Value: Invest in a Sod Lawn
Nothing makes a house look luxurious and valuable like a healthy green carpet of lush lawn.

There are lots of reasons your current lawn might be dragging down your property value.

Maybe it's full of bare spots that don't go away, no matter how much you water, fertilize, swear, blanket them with seed, and swear some more.

Maybe weeds have completely taken over.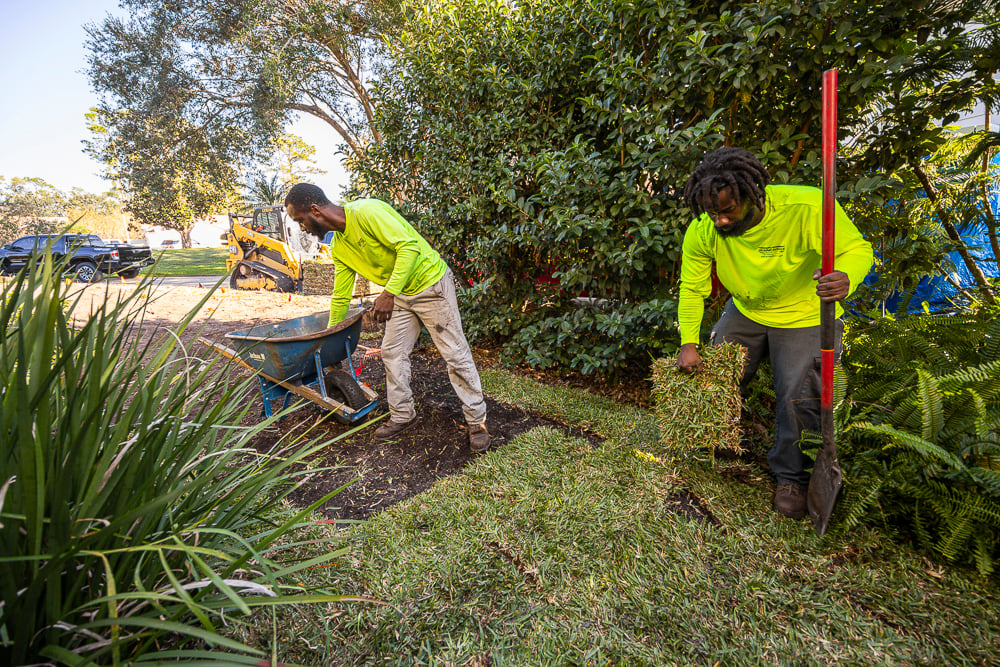 Maybe you have the wrong type of grass for your property's conditions, and nothing you do seems to improve it.

Maybe every mole in Central Florida has gathered on your lawn for a big mole family reunion.

Whatever the reason, get that ugly grass out of there and boost your property value with a thriving sod lawn.
Add Landscape Lighting
One of the best landscaping ideas to increase property value is skilled professional landscape lighting. It shows off your architecture, plants, and entertaining areas after dark, making your property impressive day and night.

You know all those cool features you love about your house during the day? The columns or arches, your awesome stand of palms. Why let them hide in the dark? Show them off.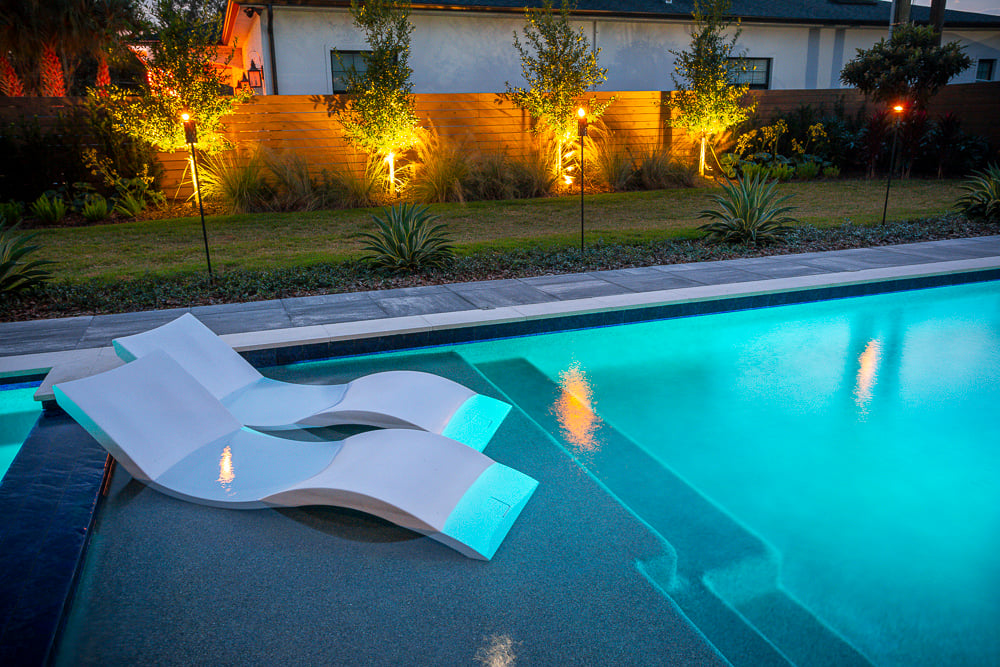 Do you have an impressive hedge out front? Consider backlighting it to highlight both the hedge and your home's architecture. Double duty, double impressive.

Does landscaping add value to a home? When it's professional landscape lighting, yes.

Remember, a well-lit house adds safety, not just beauty, and that type of landscaping adds value to your home.
Install an Irrigation System
There are lots of reasons why an irrigation system boosts the value of your property:
It protects the big investment you've made in your landscaping, from that expansive lawn of lush sod to the Canary Island Date Palms to the impressive hedges of Chinese Fringe Flower. Regular, targeted watering means all those plants will live longer and grow bigger and healthier, adding to the value of your home.
Nobody wants to drag hoses and sprinklers all over their yard. Who has time for that? Nobody. That's why everybody realizes that an irrigation system adds to property value.

Whether you plan to sell your home one day, or you love it so much you're never leaving, you want it to have impressive curb appeal. An irrigation system keeps everything thriving, which adds value to your property.
Install a smart irrigation system and add even more value. It puts just the right amount of water exactly where it needs to go, with no waste. It's one of the easiest landscaping ideas to increase your home value.
Pro Tip: Use a Landscape Designer
Make sure the landscaping elements you're planning will both boost your outdoor lifestyle now and add to the value of your property in case you decide to sell later.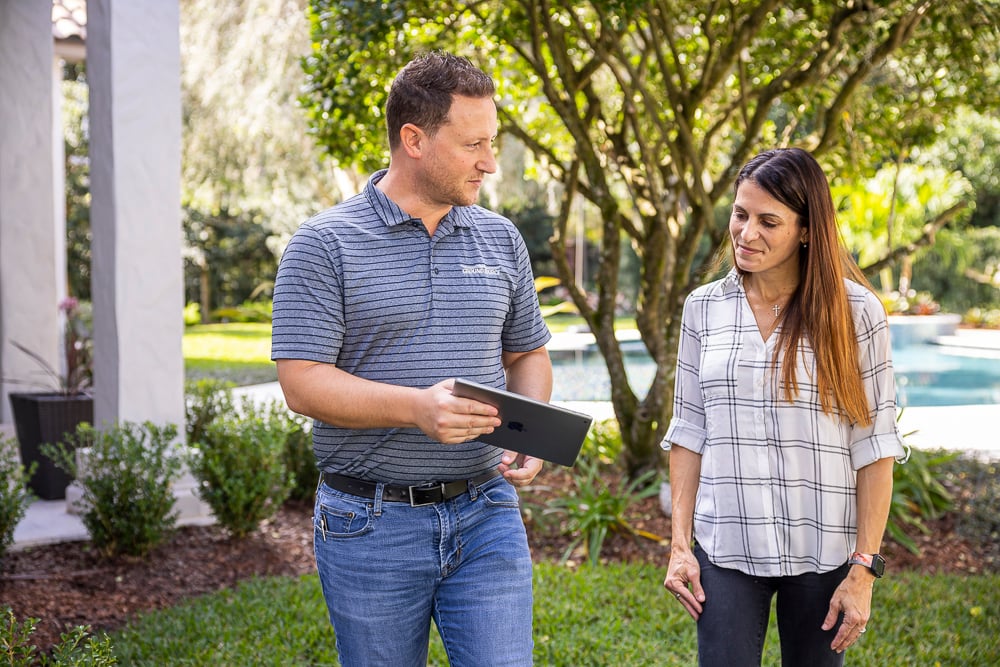 Every landscaping decision makes an impact. You don't want to mess it up. A skilled landscape designer can offer innovative ideas and keep you from making costly mistakes. And they bring great landscaping ideas to increase your home value.
Need Landscaping Ideas to Increase Property Value? Trust Ground Source
Does landscaping add value to a home? Absolutely.

But it can involve a lot of different elements: A fresh new sod lawn. An irrigation system to keep your growing things healthy. Landscape lighting for an automatic sense of both safety and luxury.

Make it easy on yourself and work with one skilled, full-service Central Florida landscaping company to boost your property value with landscaping.
Not all landscaping companies are full-service landscaping experts. Look for one with a landscape designer on board that can help you with the total package.

We're landscape experts, but our skills don't stop there. We're with you every step of the way as you plan your perfect outdoor space.

Sod, irrigation, landscape design: Let us transform your landscape from an embarrassing eyesore to a place you spend every spare minute.

Are you ready to enjoy the vibrant, impressive landscape you've always wanted? Request a quote today! We'll help you review your options and then transform your property.