Pondering pavers?

A new driveway, maybe, or an impressive new paver patio?

Welcome to the world of paver patterns.

It's a bigger world than you think.
Start browsing through a paver company brochure or scroll their website and you'll see what we mean.

How the heck are you supposed to choose?

Check out these tips.
Paver Patterns at Play
Sometimes, your eye goes straight to a pattern, and you love it.

Like things simple? Stack Bond is a basic grid of squares.

Love the classic look? You might be a good match for Herringbone.

Want to show off your artistic side? Check out Stagger, an intriguing pattern of assorted sizes and shapes.

Hey, this is kind of fun.

See a paver pattern you love, but it seems too big for your small patio? Good news — just about every pattern comes in different sizes, so you can choose that pattern in a smaller size.
Paver Patterns: Playing It Safe
A few paver patterns are tried and true. You really can't go wrong with them.
Running Bond
A running bond pattern uses pavers laid in rows running in the same direction. You can either go with a classic running bond, or you can get creative with color tones, borders, and pattern direction.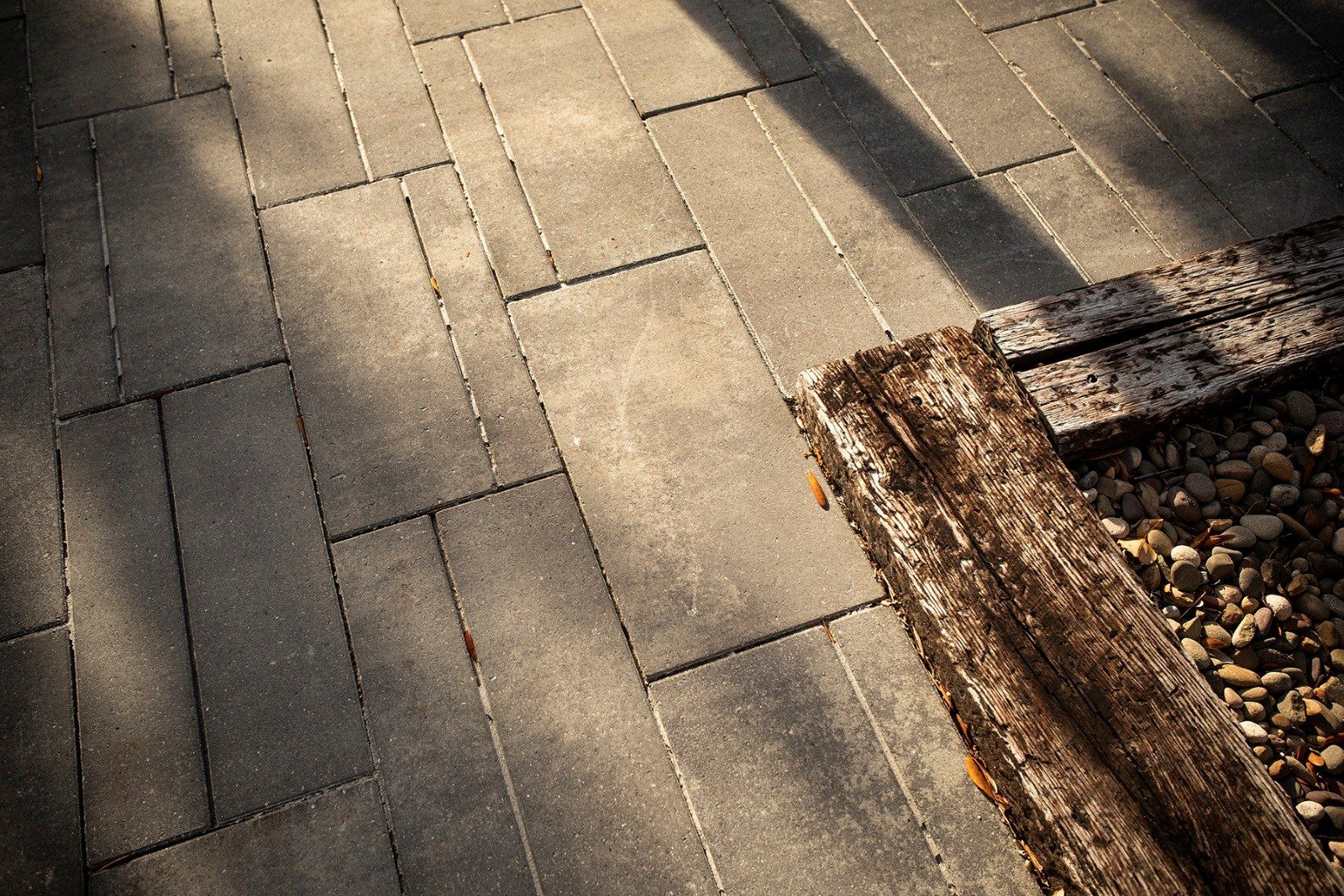 Herringbone
A herringbone pattern uses rectangular pavers in a zig-zag design. Want extra zing? Add a contrasting border.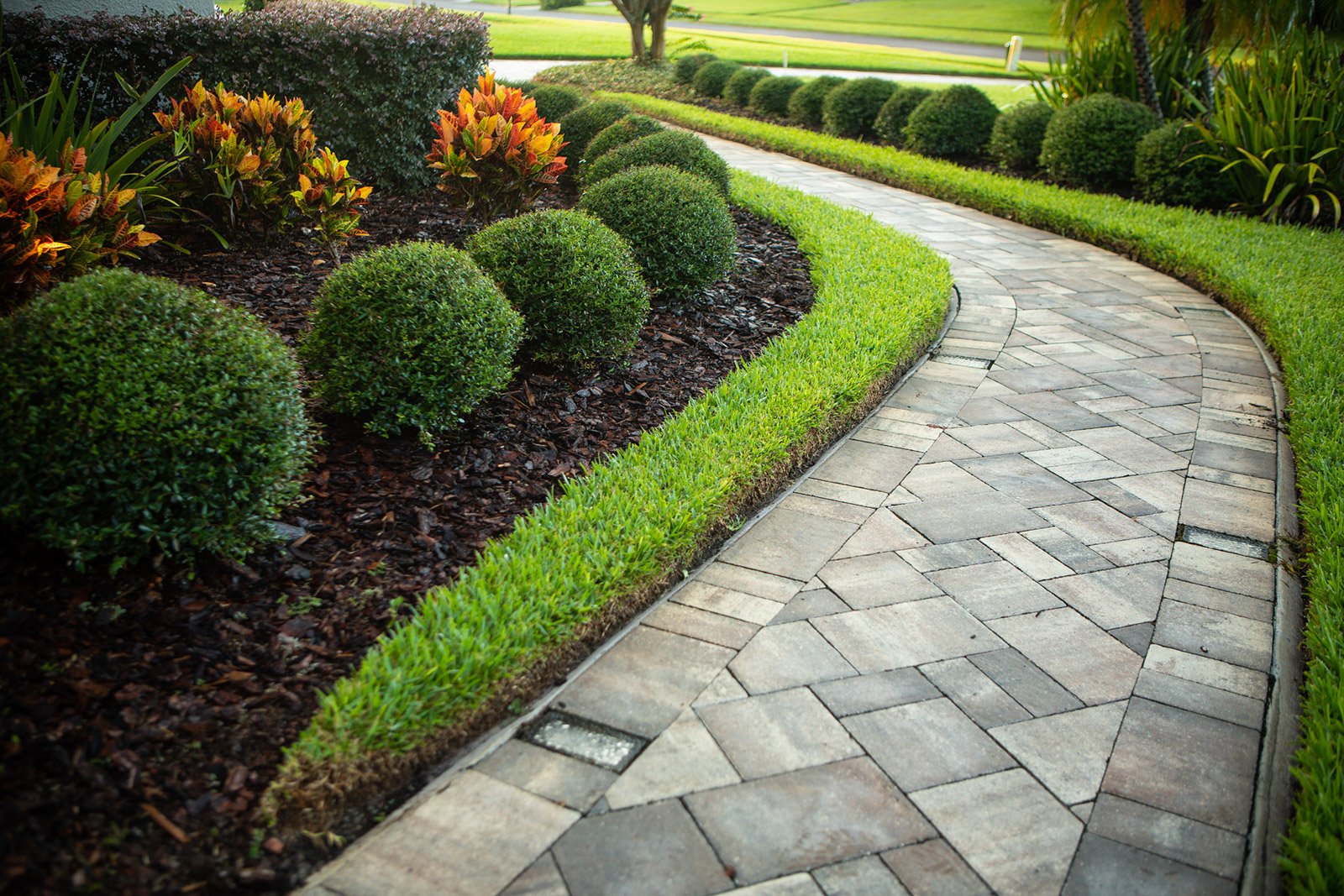 Basket Weave
Basket weave patterns use rectangular pavers to create block designs.
Or, Think Outside the Box
Planning a paver patio or driveway is a great opportunity to get creative, have fun, and set your patio or driveway apart from everybody else's, says Ground Source landscape designer Eric Frisch.

Don't blow it.

Sure, it's easy to pick the most standard pattern and color and call it good.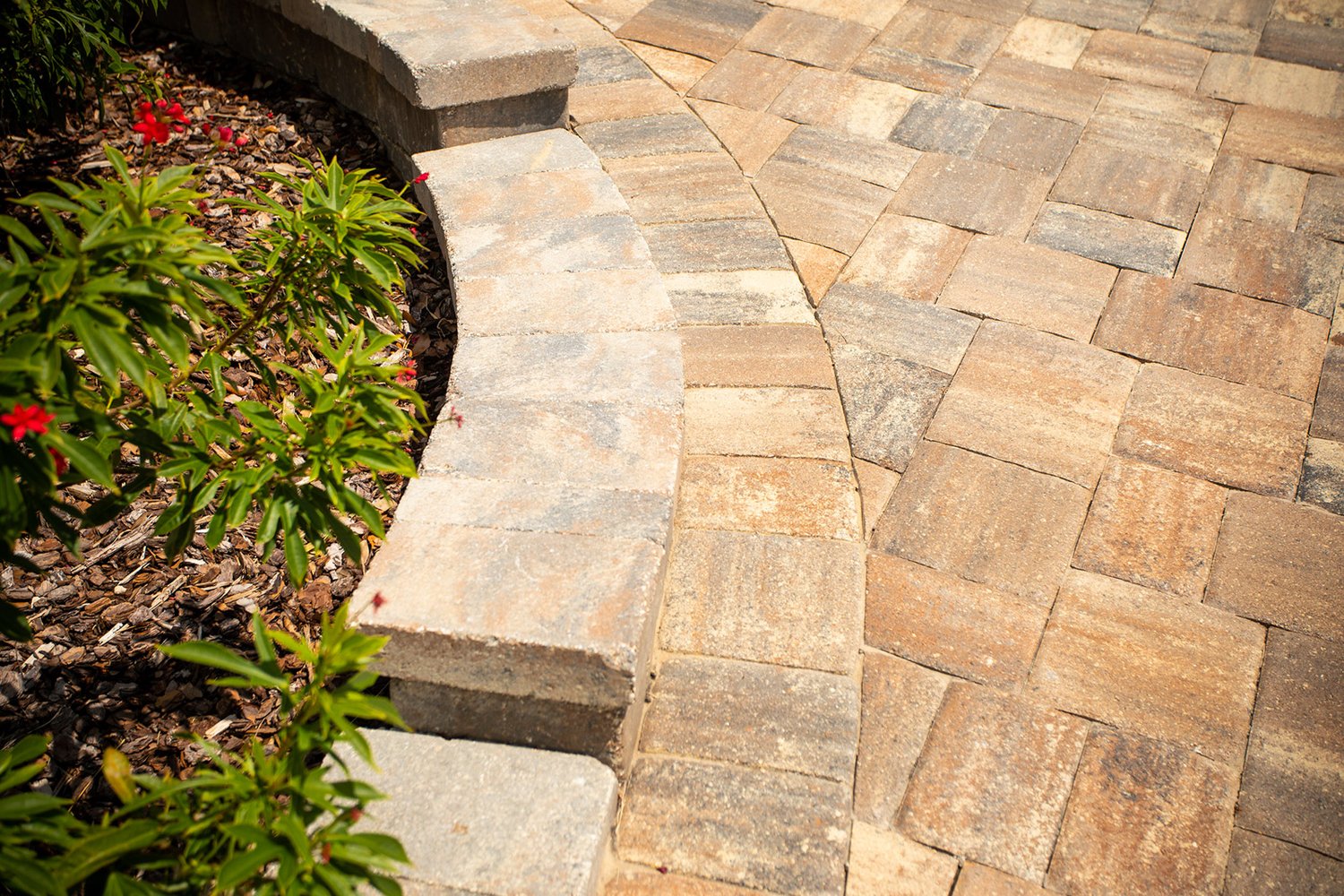 "But that uses no creativity, no design eye," Frisch says. "Anybody can put in a boring basic driveway. Add some curves. Do some inlays. Pick a different color. Do a double soldier course border." (More on borders in a minute.)

"Make it your own," he says. "You can even do a grid pattern of artificial turf in the pavers. Have some fun with it."
Next Up: Paver Borders
Got your paver pattern picked out? Phew, that's a relief.

But wait, there's more. You might want a paver border.

More choices!

The right border on your paver driveway or patio adds a nice finishing touch, a creative punch, or even a whole new dimension to the look.

There are lots of options.

Use the same paver, but at a different angle. Choose a contrasting color, shape, or style.

There are different styles when it comes to laying paver borders.

A couple popular options:
Soldier Course
This is probably the most-used paver border pattern. Rectangular pavers are laid in a row, side-by-side.

It's a Frisch favorite.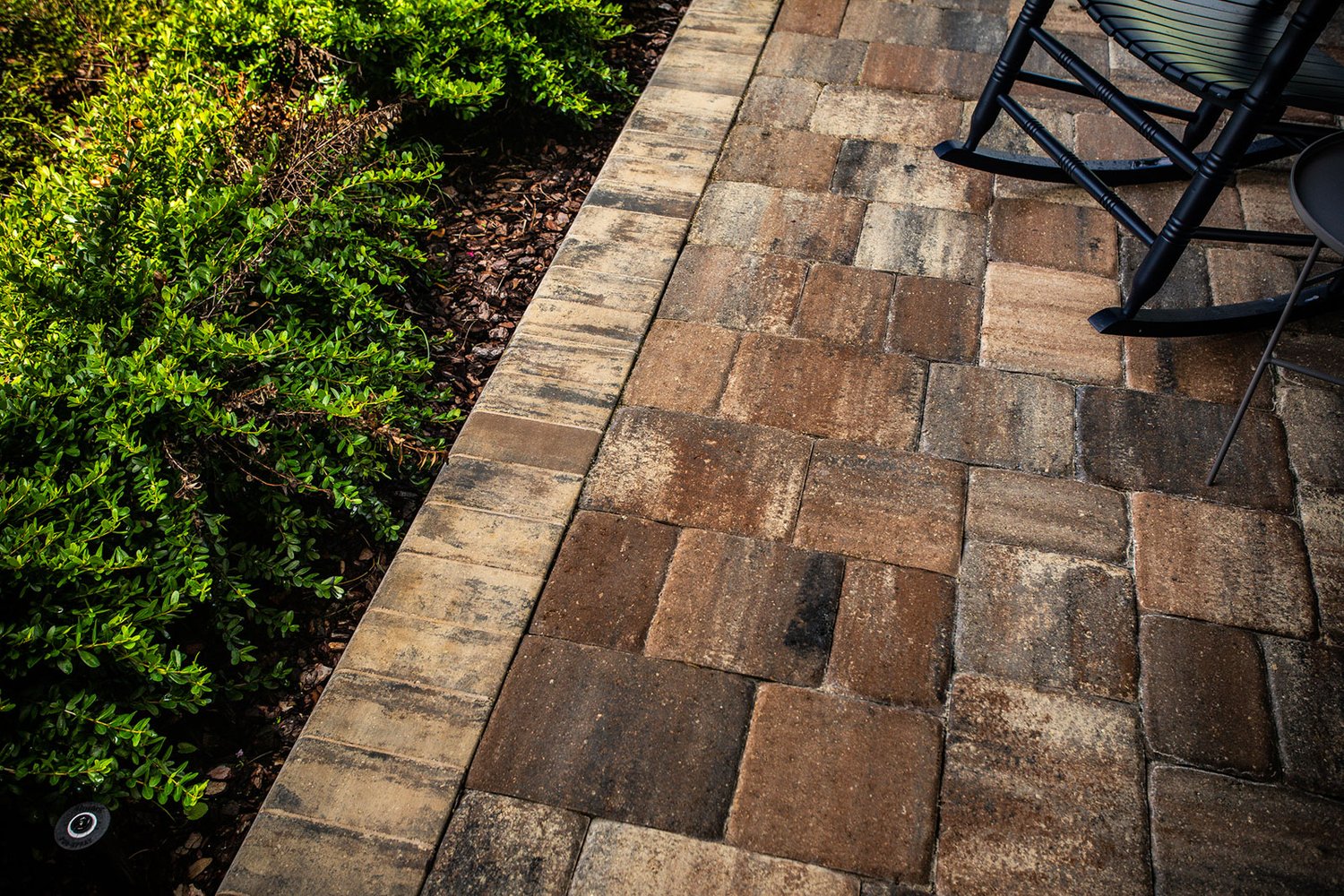 "It's a nice strong border that holds everything together," he says. "It's like a nice picture frame."

Go with a 4x8 inch brick for your border, he says, "and you can do whatever you want, design-wise. It makes nice curves without having to slice too much off."
Sailor Course
Another popular paver border, the sailor course lays rectangular pavers lengthwise in one or more rows. Add extra visual impact by creating a wide sailor course border using more than one type of paver.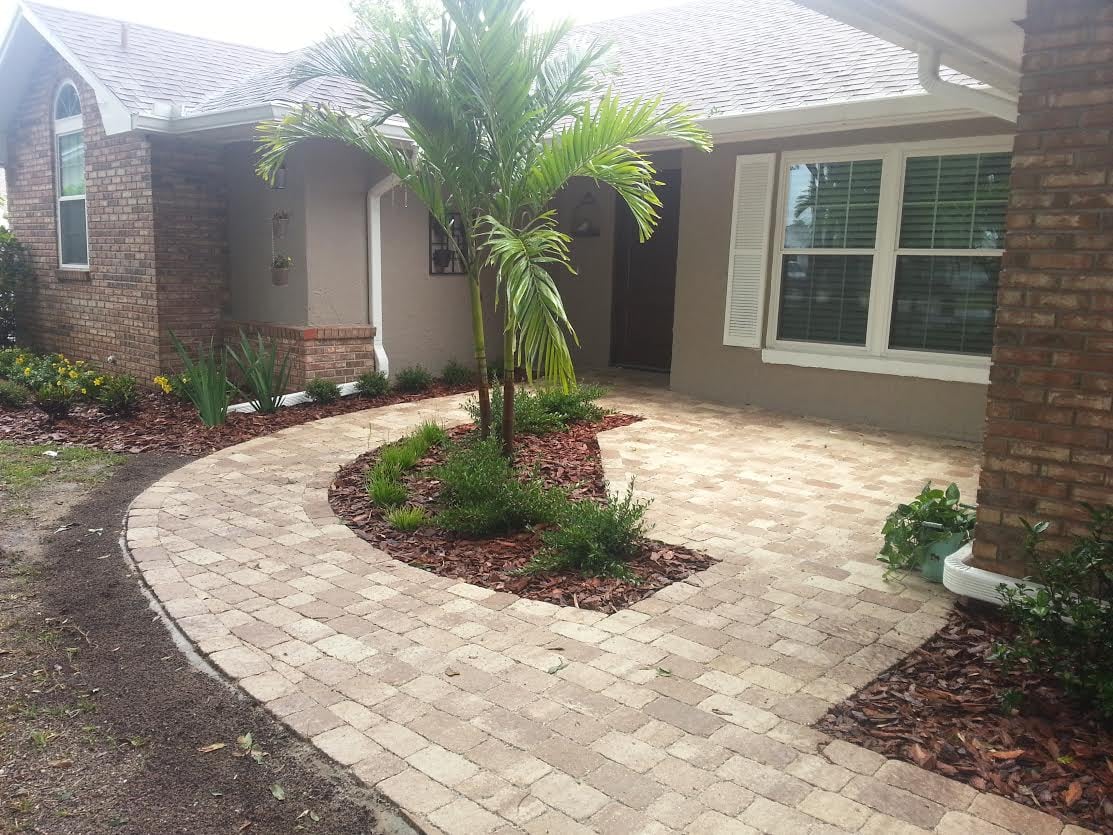 When in Doubt, Go with Gray
"I like a charcoal gray border," Frisch says. "It really frames a lot of different colors nicely."

Avoid using a border that's a lighter color than your pavers, he says. Darker borders tend to look better.
Paver Pattern Points to Ponder: Considering Cost
Be aware some paver pattern choices you make increase the cost.
Fancy patterns. Inlay patterns look stunning, but the more intricate the pattern, the more laborious cutting is needed. That boosts the cost.
A different color border. We'll likely need to order an entire pallet of the pavers for that border, even if we only need half of them, so that increases the cost. But if you really want that look, don't let an extra $150 or $200 deter you, Frisch says.
Style upgrade. Tumbled pavers, thicker pavers, or a unique stamping pattern all cost more, sometimes a dollar or two more per square foot.
Paver Driveways: Size Matters
As you consider paver patterns for your driveway, resist the urge to install big, 18-to 24-inch pavers, Frisch says. They're more prone to buckling and cracking than the smaller pavers.

They're not meant to hold the repeated weight of a two-ton vehicle, he says.

Keep pavers under 12 inches for driveways and save the big ones for the patio, pool deck, or walkways.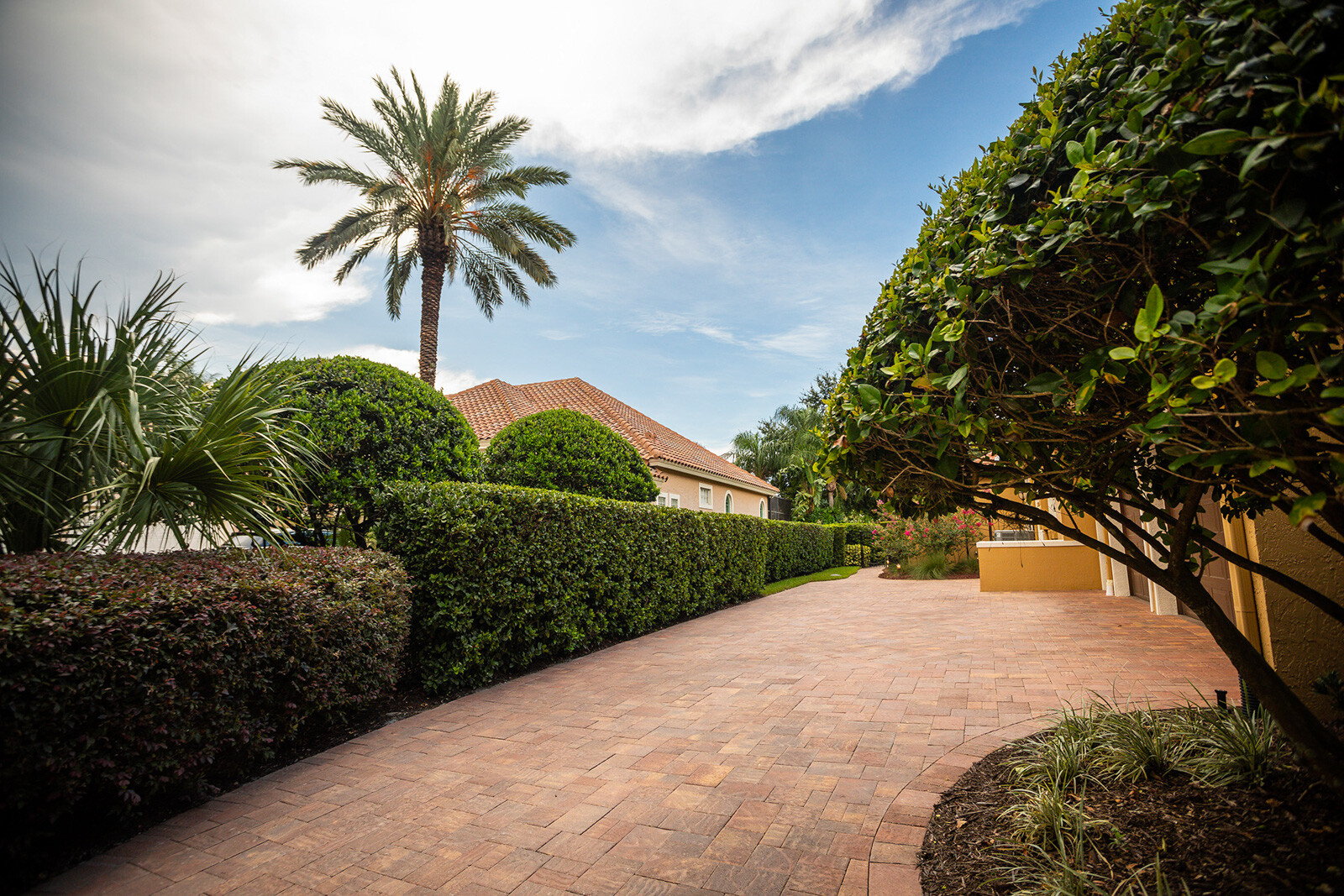 Need Paver Pattern Help? Just Holler
Feeling overwhelmed with all the choices? Don't worry — Frisch will walk you through it and offer plenty of pro advice.

He knows paver panic sometimes sets in. It can be overwhelming. He makes it easy.

He brings samples you can compare to the color of your house, and catalogs packed with design ideas.

He'll help you match the style of paver pattern to the style of your house. A vintage English Tudor needs a different patio look than a sleek contemporary ranch.

Luckily, there are paver patterns suited to any style.
Ready for PaverPalooza? Trust Ground Source
We're paver experts, but our skills don't stop there. We're with you every step of the way as you plan your perfect outdoor space.

Sod, irrigation, landscape design: Let us transform your yard from an embarrassing eyesore to a place you can't wait to come home to.

Are you ready to enjoy the vibrant, impressive yard you've always wanted? Request a quote today! We'll help you review your options and then transform your property.