Everybody has concrete, grass, or pavers around their swimming pool. Yawn.
You want to be different, right?
You could surround your pool with a giant ball pit and make every day as fun as a toddler's birthday party.
How about those bouncy mats gymnasts use? Nobody can swim unless they enter the pool with a double backflip triple twist. Of course, that'll only work if you want to swim alone.
How about artificial turf? It's green all the time. It hardly needs any maintenance. That means more pool time practicing your double backflip triple twist.
Why install artificial grass around your swimming pool?
Here's a look.
1. Artificial Grass Around the Pool Means Less Water Mess
Everybody knows all that pool water doesn't stay in the pool.
Cannonballs are fun. Splashing happens.
A lot of water ends up on your pool deck or lawn.
What happens next? Puddles. Mess. Mud.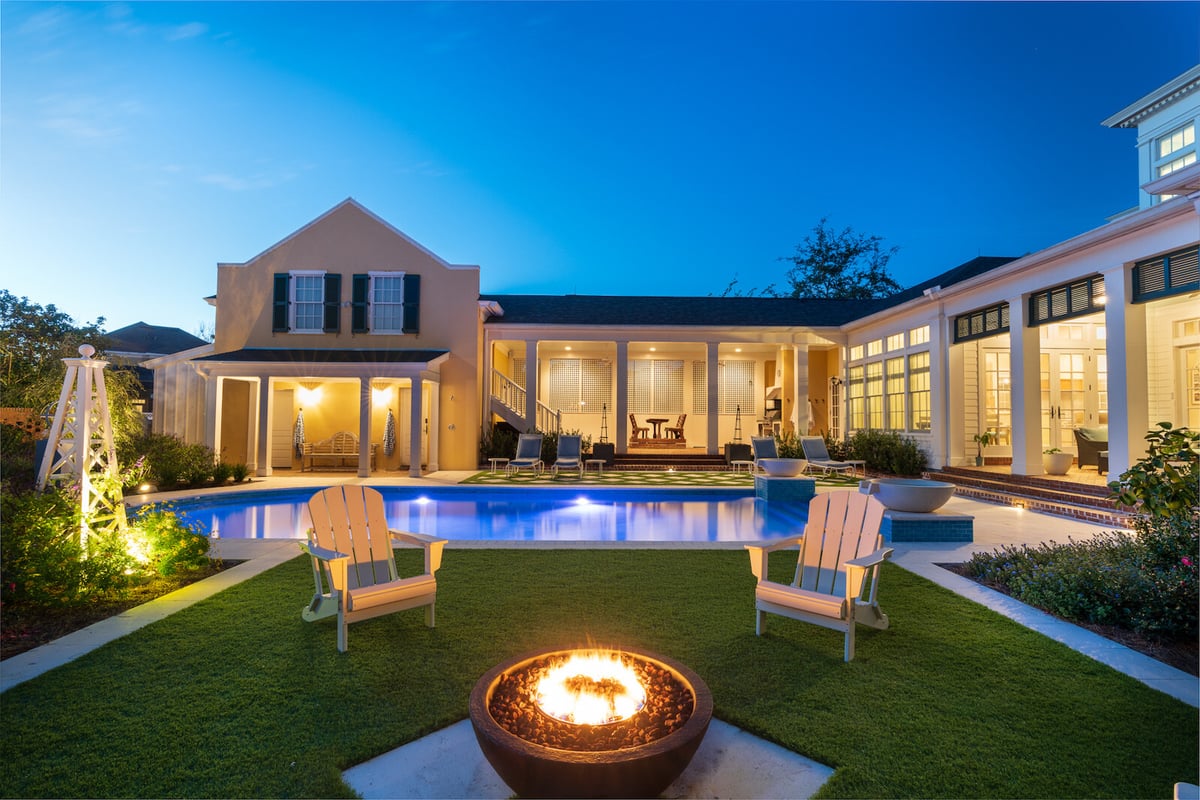 Artificial grass is perforated throughout to allow for water to flow through into the drainage base underneath. That means a tidier pool area.
2. Artificial Turf Isn't Slippery
Artificial turf is a safe, non-slip surface, perfect for around a pool.
Concrete can get slick and hazardous. Pool safety is a huge priority.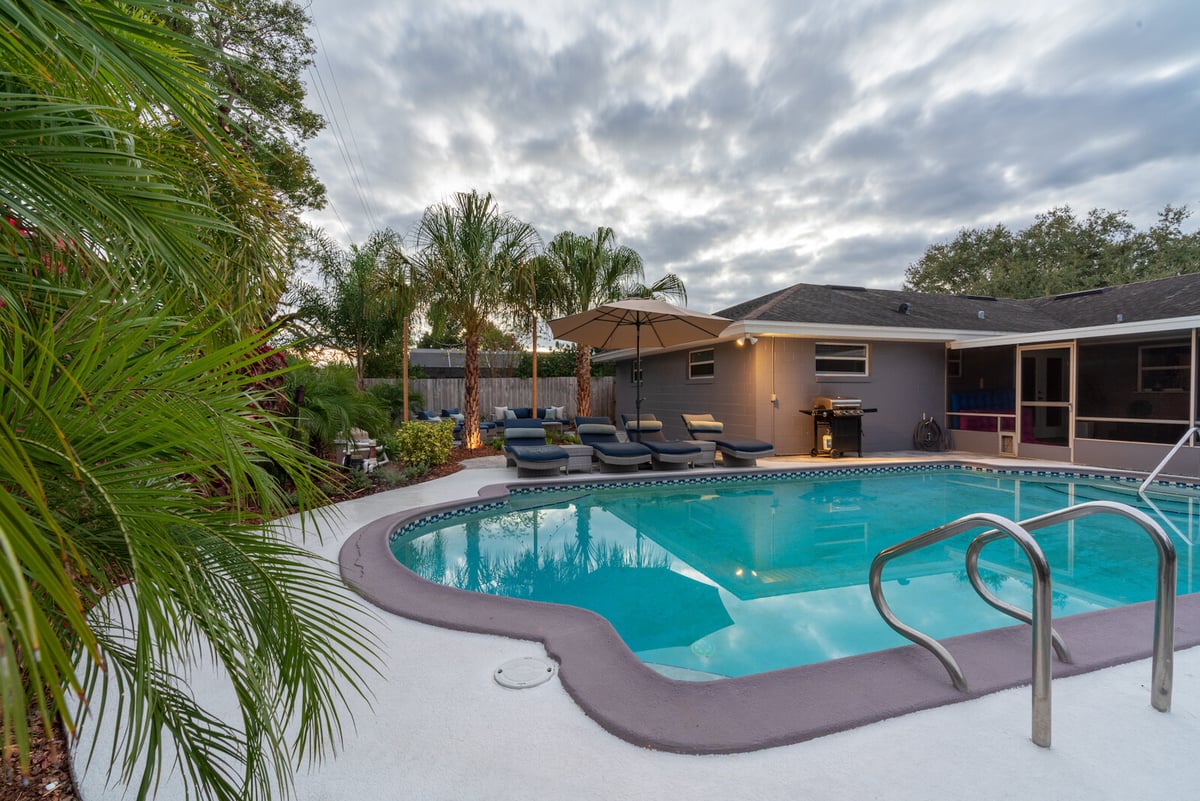 If you do happen to slip, would you rather tumble onto hard concrete or soft turf?
3. Install Artificial Turf Around the Swimming Pool for Easy Maintenance
Less maintenance means more splash time in the pool. No watering, mowing, fertilizing, or weeding. An occasional rinse with water will help keep it clean.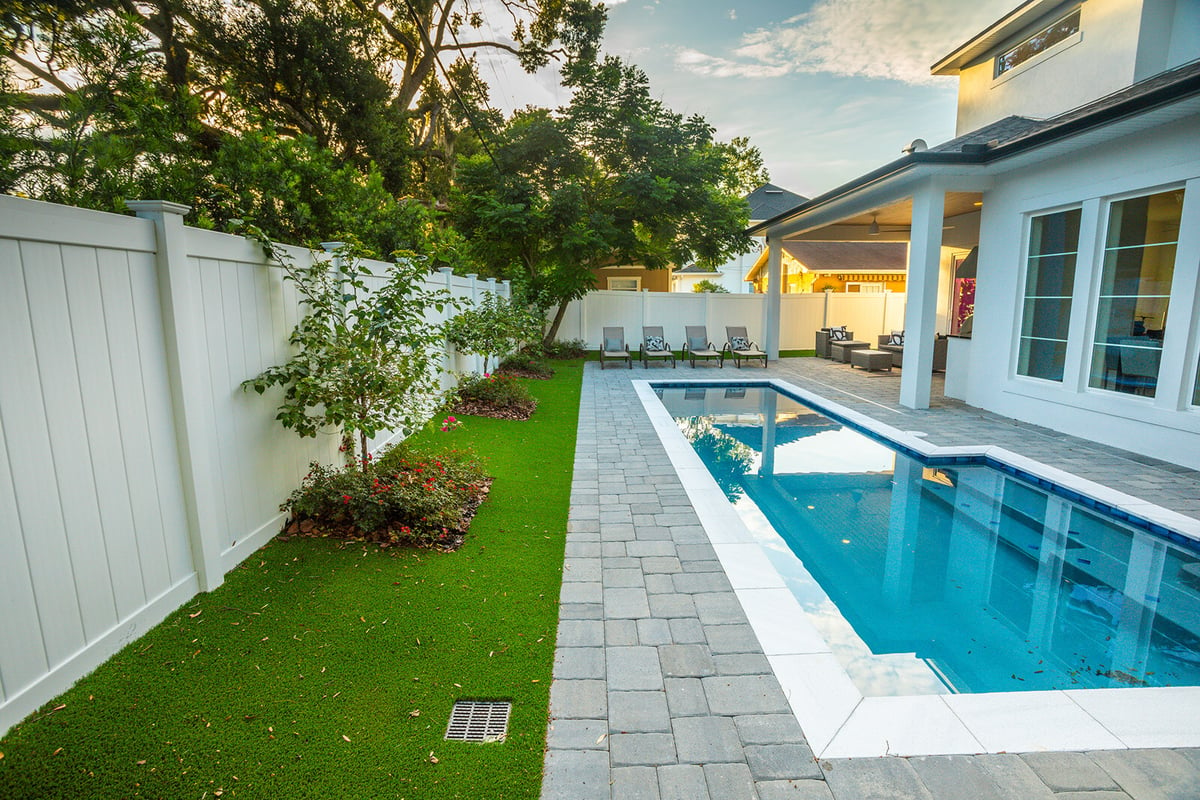 You can easily remove any dirt and debris with a blower, brush, or sweeper.
4. You Can Get Creative with It
A poolside patio is a great spot to have some creative landscaping fun.
Our landscape designer created an artistic poolside patio in a lattice pattern of white travertine and emerald green artificial turf.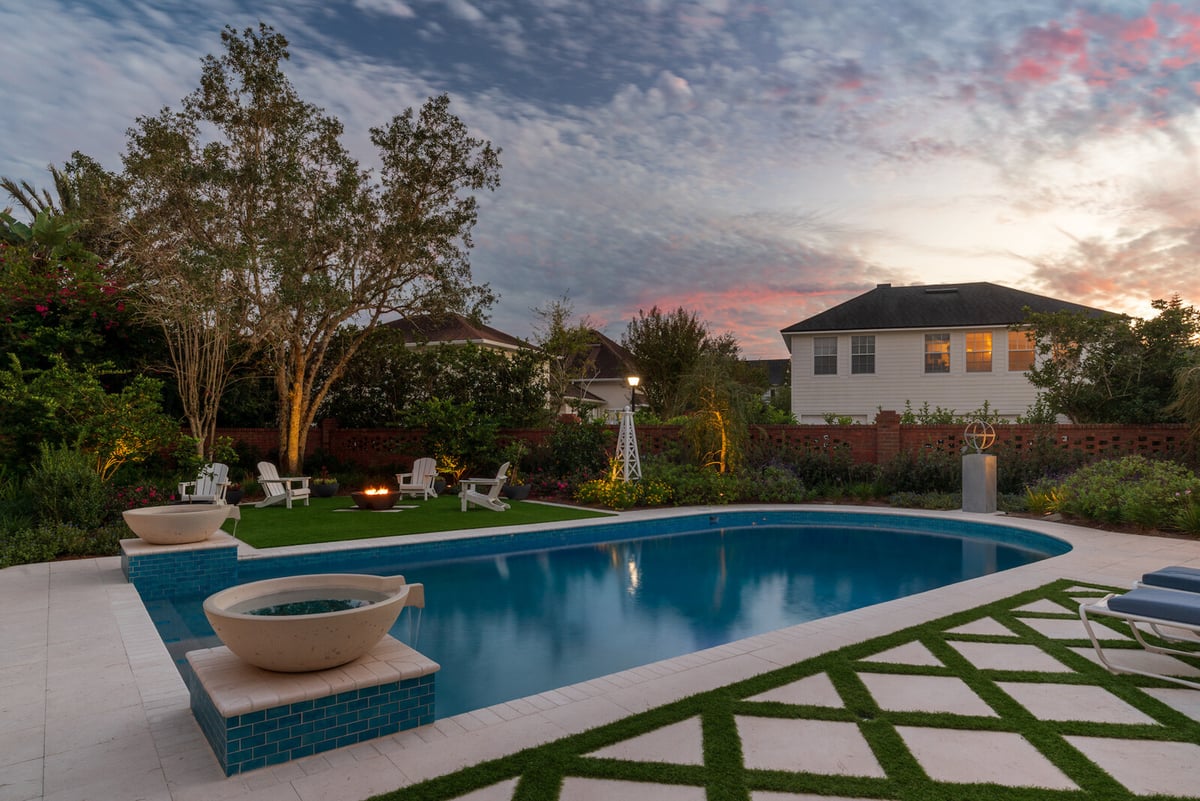 It adds a sense of pattern, a soft place for bare feet to land, and a piece of poolside art, built right in.
5. Artificial Grass Around the Pool Area Looks Great
Lush green artificial turf looks stunning against your blue pool water.
It always looks green, all the time.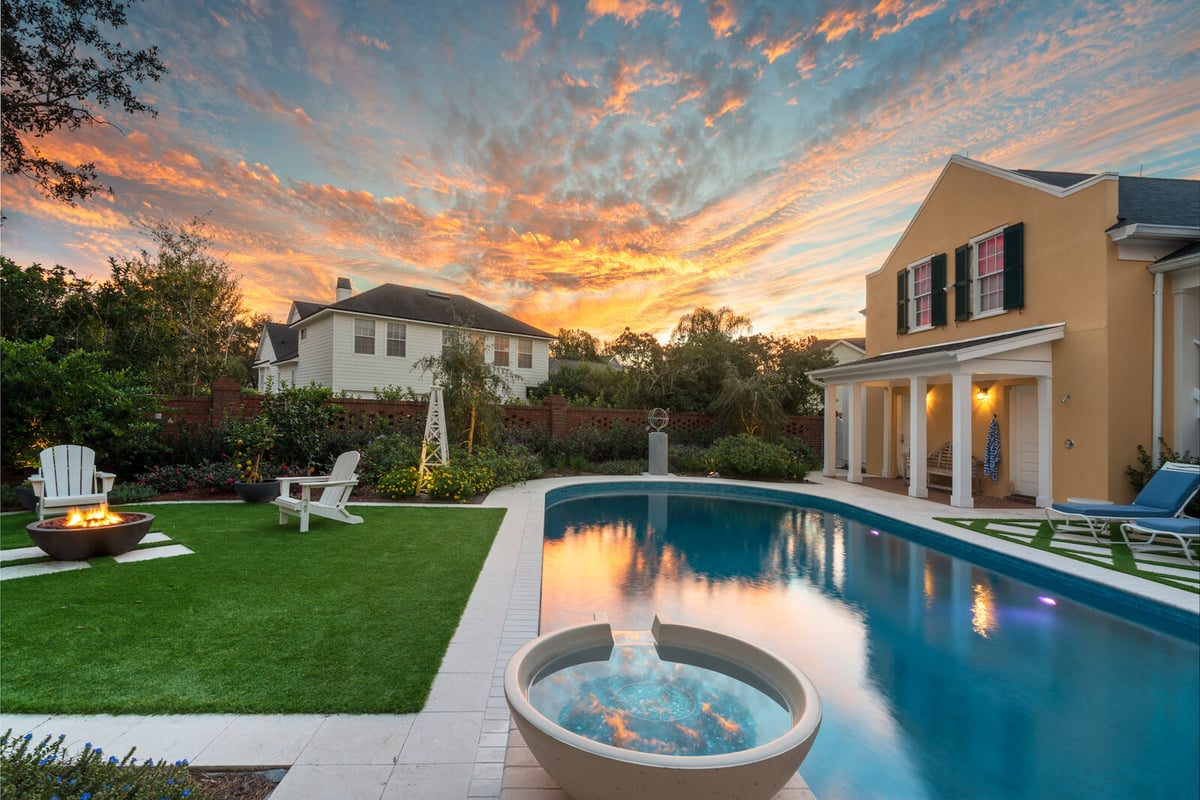 The best synthetic grass looks almost exactly like a natural lawn. It even comes in different blade lengths and widths, colors, and textures, like real grass, so you can choose the look you like.
6. It Resists Chemicals
While pool chemicals can kill natural grass, artificial turf around your pool doesn't care.
And what about the chemicals you use on your natural grass?
Fertilizer and weed control products can damage your pool filter and contaminate the water if they make their way into the pool.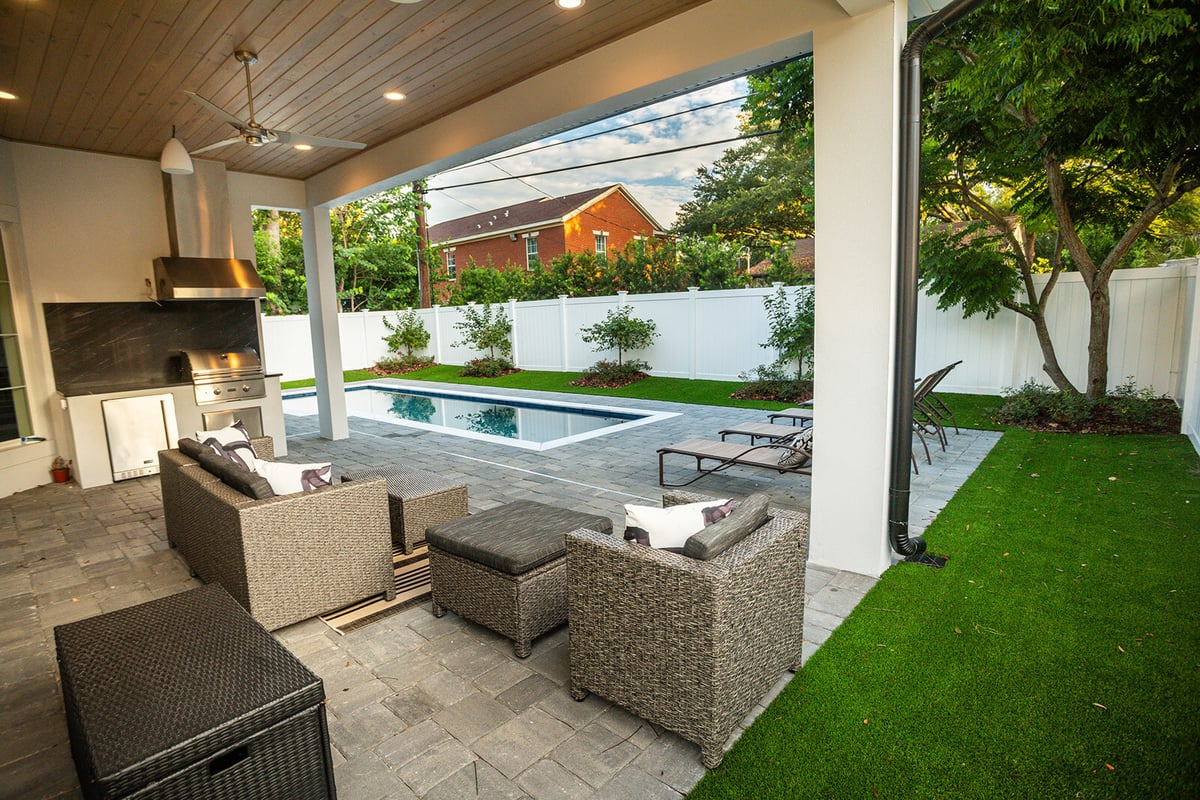 Install artificial turf in your pool area and erase that worry.
Need Artificial Turf Around Your Orlando Pool? Trust Ground Source
Skeptical about artificial grass around your pool area? We can show you samples of artificial turf for you to touch and see up close.
Still have questions? Let us help you figure it out.
We're turf experts, but our skills don't stop there. We're with you every step of the way as you plan your perfect outdoor space.
Sod, irrigation, landscape design (including artificial grass if you'd like): Let us transform your yard from an embarrassing eyesore to a place you spend every spare minute.
Are you ready to enjoy the vibrant, impressive yard you've always wanted? Request a quote today! We'll help you review your options and then transform your property.