Let's tackle the obvious question first: "Do I need landscape lighting?"
You absolutely do. (Even if you're not afraid of the dark.)
Consider these reasons:
Front yard landscape lighting makes your house look beautiful and high-end after dark.
Patio and walkway landscape lighting keeps your family and visitors safe.
Deck landscape lighting prevents you from falling face first into your parmesan crab dip during your late night star-gazing snack session.
More landscape lighting questions? Let's get to them.
1. Does Landscape Lighting Add Value?
A simple drive around the nicer neighborhoods in Orlando after dark will answer this question for you.
Are the high-end homes beautifully lit? Do they look welcoming? Safe? Secure?
You bet they do.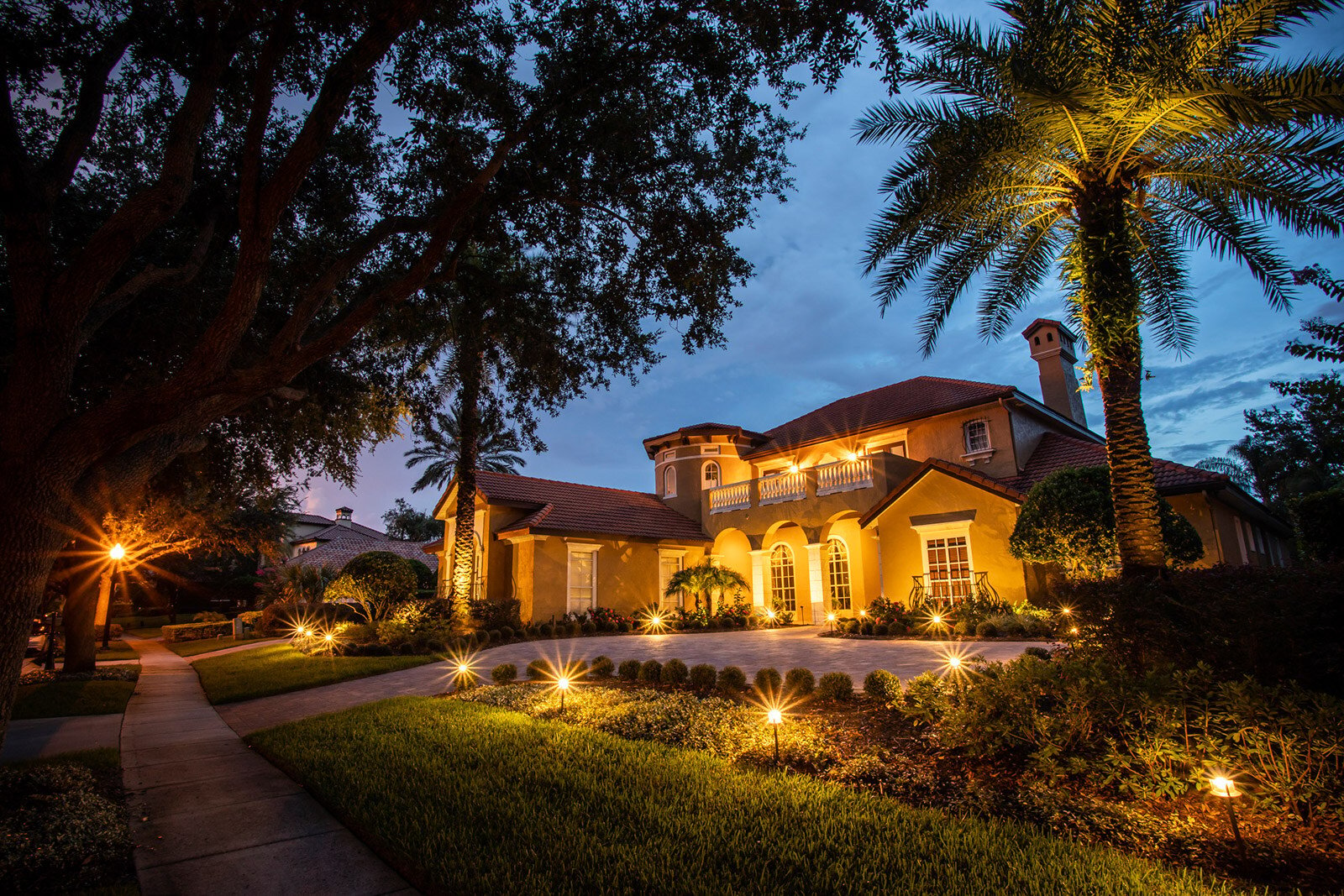 Sure, homes with expertly designed landscape lighting are worth more.
But the real value is for you, while you live there.
Lighting makes you feel safe when you walk around outside at night, welcomed when you pull in the driveway, happy when you entertain friends outside after sundown, proud when it highlights your home's most impressive features after dark.
2. How Does Low Voltage Landscape Lighting Work?
It all starts with the transformer, the power source. It plugs into a GFCI-protected outdoor electrical outlet and "steps down" your house current from 120 volts to 12 volts.
Next up: laying the cable. Low-voltage electrical cable is designed to be buried underground. It runs from the transformer to each light fixture in your system.
After the lights are connected, you're ready to go.
Most transformers are equipped with a 24-hour timer that allows you to decide when the lights go on and off automatically.
You can also have a smart landscape lighting system installed that lets you control the lights with your phone.
3. Does Solar Landscape Lighting Work?
We understand the temptation. These DIY landscape lighting kits are easy and cheap, but please, just say no to those flimsy solar light fixtures.
The solar panels don't last long, so you're just wasting your money. And it's wasteful to keep throwing your worn-out plastic fixtures into the landfill.
The environment will thank you for going with hard-wired lighting, and your home will look more luxurious, too.
4. How Much Does Landscape Lighting Cost?
Professional landscape lighting starts at $2,200 for a basic package that includes a transformer, five or six lights, LED bulbs, and 200 feet of wire — all high-quality components.
Of course, you can pay more. The sky's the limit, really.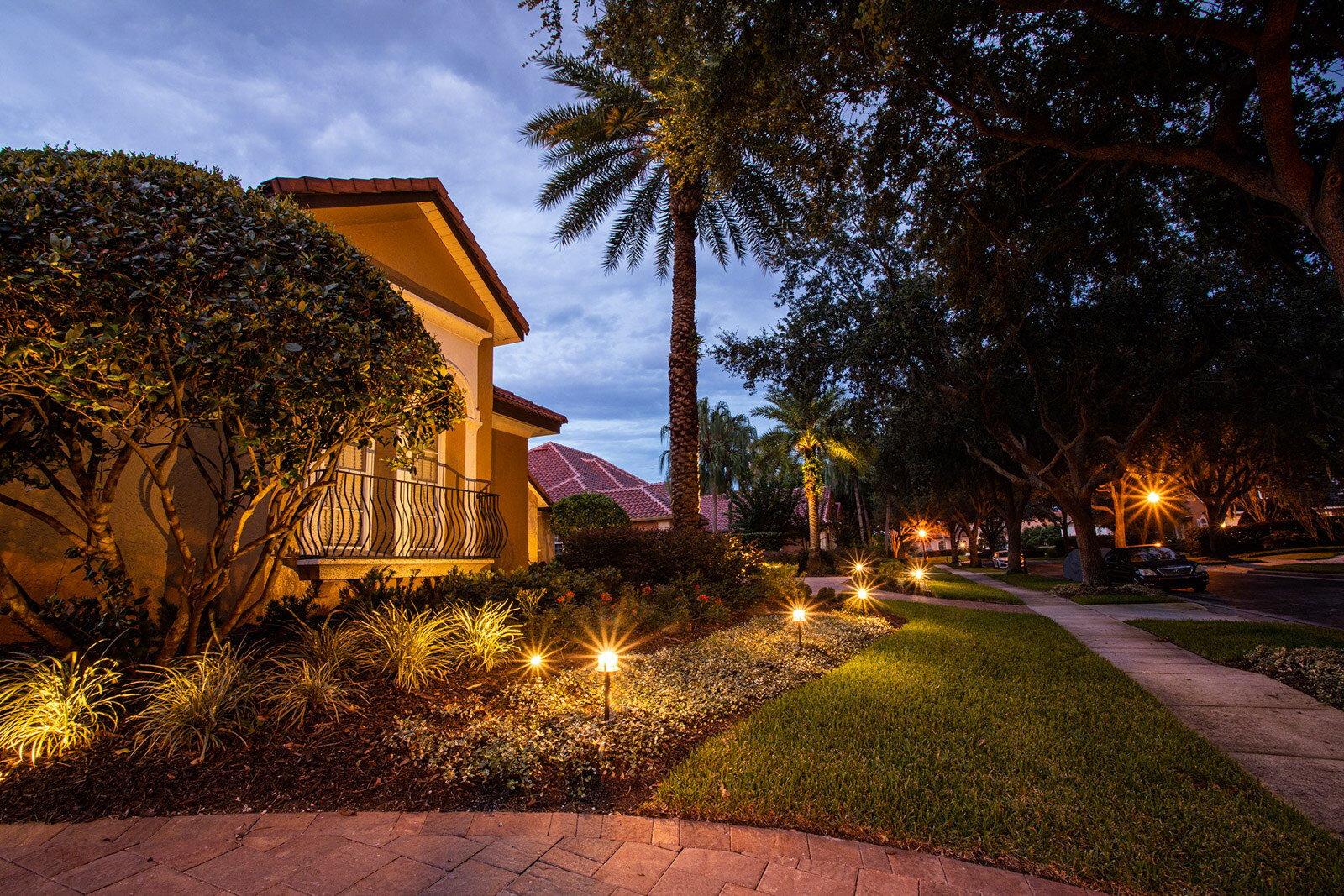 Landscape lighting companies can help you add color-changing lights to create a theme-park quality light show to dazzle the neighbors.
5. How to Design Landscape Lighting?
This is a big question, but we'll hit the main points.
First, consider a landscape lighting system with separate zones you can control.
That lets you put different areas of your yard on their own timers to stay on longer or turn off sooner.
Keep in mind you can install the transformer, wires, and minimum fixtures for now, and add in more fixtures over time.
Once your yard is wired, it's easy to add more fixtures.
What areas to light?
Show Off Your Plants
You'll be amazed how magical your favorite landscaping plants look when illuminated at night.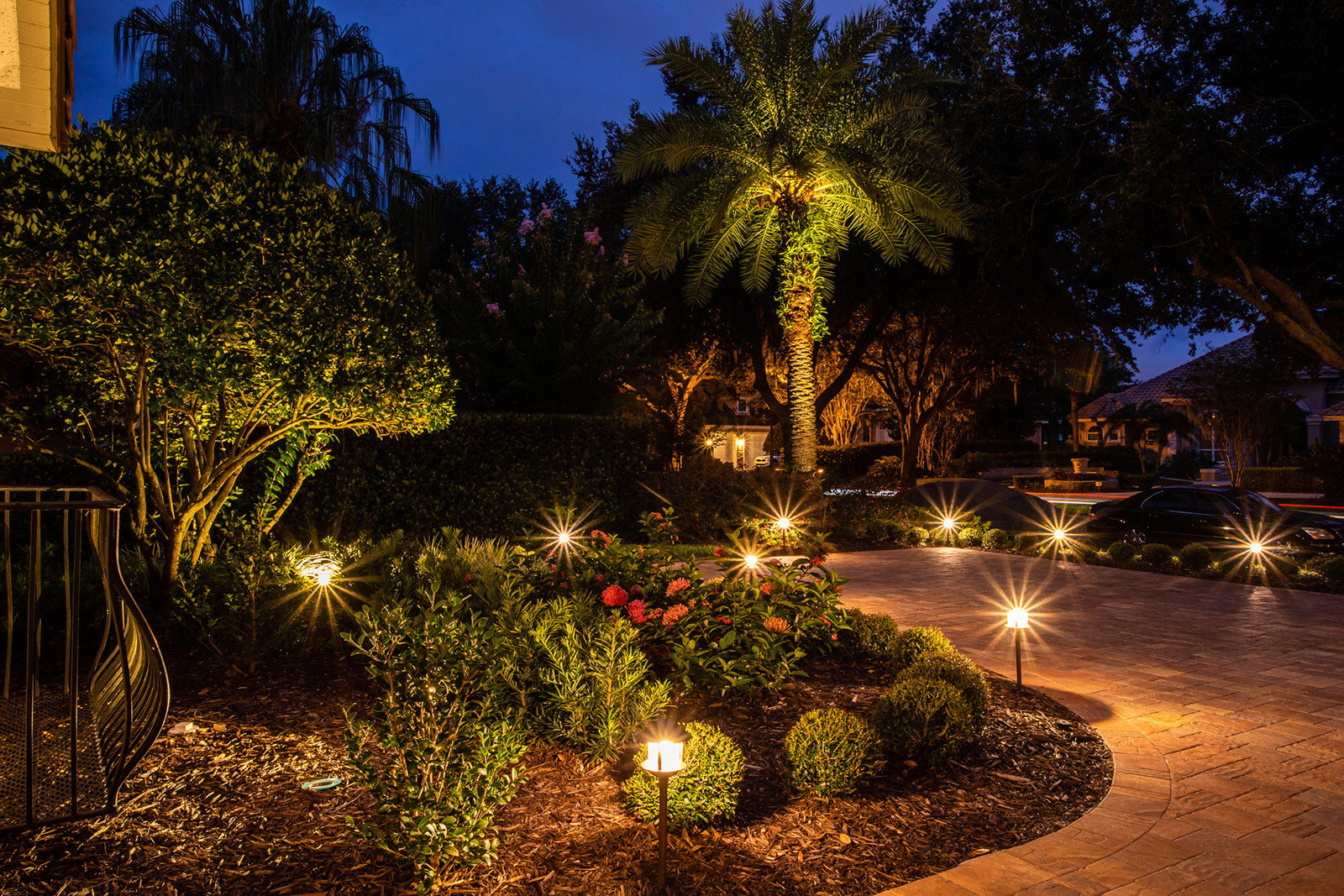 You spent a lot on that impressive Sylvester Date Palm with its distinctive diamond-cut trunk. It's a real landscape investment. Skilled landscape lighting shows it off after dark, making it an impressive part of your property day and night.
The lacy leaves of Japanese maples cast delicate, captivating shadows. That six-foot tall Croton adds stunning color to your yard during the day, but equally dramatic shadows at night.
Light Your Outdoor Entertaining Areas
Take a good look at the spots in your yard where you relax, entertain, and have fun.
Light them up.
Think pergolas, fire pits, patios, sitting walls, outdoor kitchens.
Lighting Paths, Steps, and Stairs
If you walk on it, you should light it.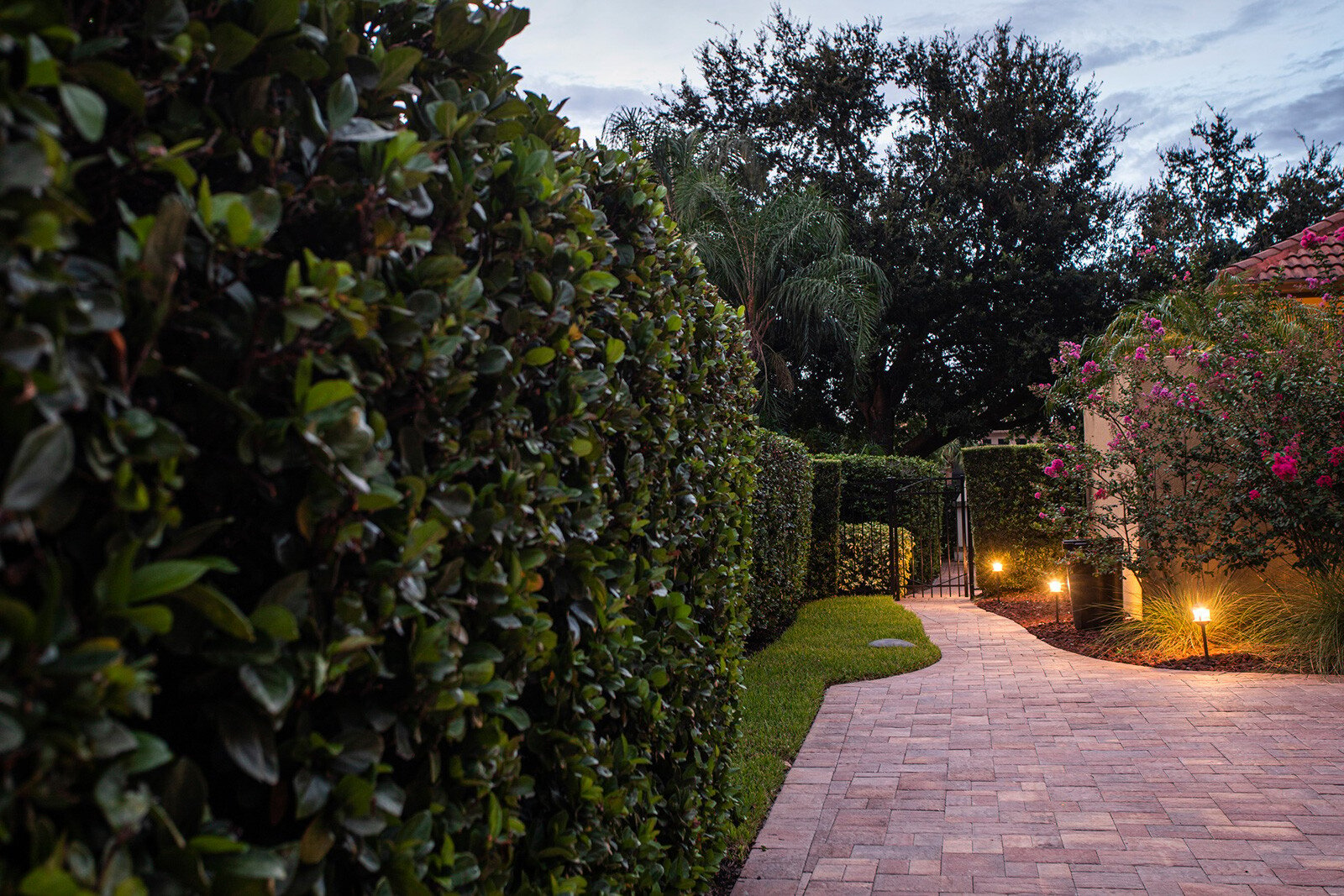 That means walkways, paths, steps, and stairs. You can't feel confident about your property's safety without lighting these crucial spots.
Landscape Lighting for Security
Expert landscape lighting will deter people from looking in your windows or lurking in the bushes. It makes it easy for neighbors to spot any would-be prowlers.
Lighting keeps your entries safe and welcoming for both you and your guests.
6. Will Landscape Lighting Help My Curb Appeal?
Lighting architectural features like stone veneer, arches and columns, trees, shrubs, and your front walkway will absolutely give your curb appeal an impressive boost.
Remember what we said earlier about highlighting your plants? Here in Florida we have some real landscape stunners. Lighting them at night to show off their dramatic shapes and casting intriguing shadows definitely adds curb appeal.
7. Do I Need Landscape Lighting for My Driveway?
If you haven't given much thought to your driveway lighting, you should.
You can't just depend on your car's headlights to illuminate the way.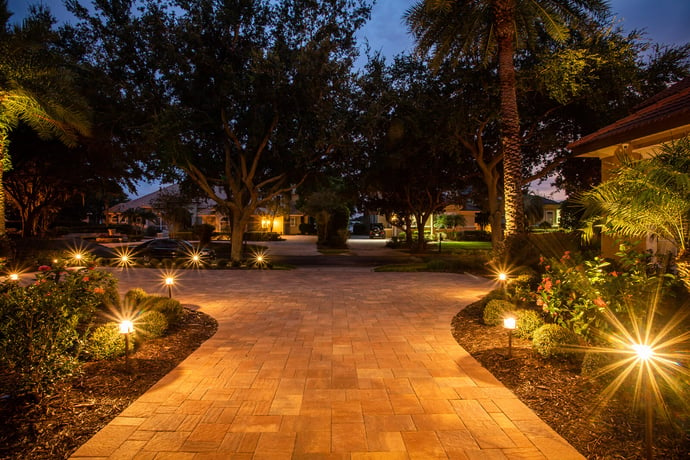 The right driveway lighting keeps you and your visitors safe, prevents accidents, deters intruders, and can boost your curb appeal.
Use lighting to define your driveway's borders, mark the end so people can easily see where to enter, and guide foot traffic from your driveway to your front or side door.
If trees line your driveway, use uplighting to highlight them. You'll accentuate your landscaping and help illuminate your driveway at the same time.
8. Who Installs Landscape Lighting?
Technically, anybody can put their name on a truck and install landscape lighting. That doesn't mean you should hire them.
Even landscaping companies vary in their level of lighting expertise. Not everybody does it well.
Look for a company that goes beyond basic wiring and fixtures. They should know how to plan the right color temperature and expert placement so your yard looks subtly stunning, not garish and overdone.
Landscape lighting is trickier than it looks.
If it isn't installed by experts, it can cast an uncomfortable and unattractive glare.
Is uplighting best for a certain spot? Or downlighting?
What style of fixtures will complement your home's architecture? How far away from the transformer can fixtures be?
You want a pro on the job.
Landscape Lighting Questions? Ask Ground Source
Nobody expects you to be a landscape lighting expert.
There's a lot involved, from color temperature to proper placement to electrical know-how.
Have more questions? Just ask.
We're happy to tell you more about how we can transform your yard with professional, expertly designed landscape lighting.
We're landscape lighting experts, but our skills don't stop there. We're with you every step of the way as you plan your perfect outdoor space.
Sod, irrigation, landscape design: Let us transform your yard from an embarrassing eyesore to a place you spend every spare minute.
Are you ready to enjoy the vibrant, impressive yard you've always wanted? Request a quote today! We'll help you review your options and then transform your property.