If your walkway could talk, it might be kind of grouchy.

"Why do patios get all the attention? Why so much fuss about driveway pavers? Why doesn't anybody pay attention to meeeee?!"

Step right up, walkway — it's finally your turn. It's Walkway Day!

If it's time to give your ho-hum walkway some love with a re-do that packs more of a punch, what types of pavers for a walkway are available?

Should you use concrete pavers or stone pavers?

What's the difference? Do they cost the same?

Cheer up your walkway and let's take a look.
Concrete Pavers vs Natural Stone: A Look at Stone
Natural stone is like nature's artwork for your walkway. It's been forming naturally underground over millions of years, developing a rich, unique look only nature can create.

Once it's dug from a quarry, natural stone is cut into pieces that can make a stunning walkway.
No two natural stone pieces are exactly alike, so you get a one-of-a-kind walkway, straight from nature.

A natural stone walkway can be made of slate, flagstone, travertine, or limestone. Natural stone varies in color and gives your walkway a rich, textured, earthy appearance.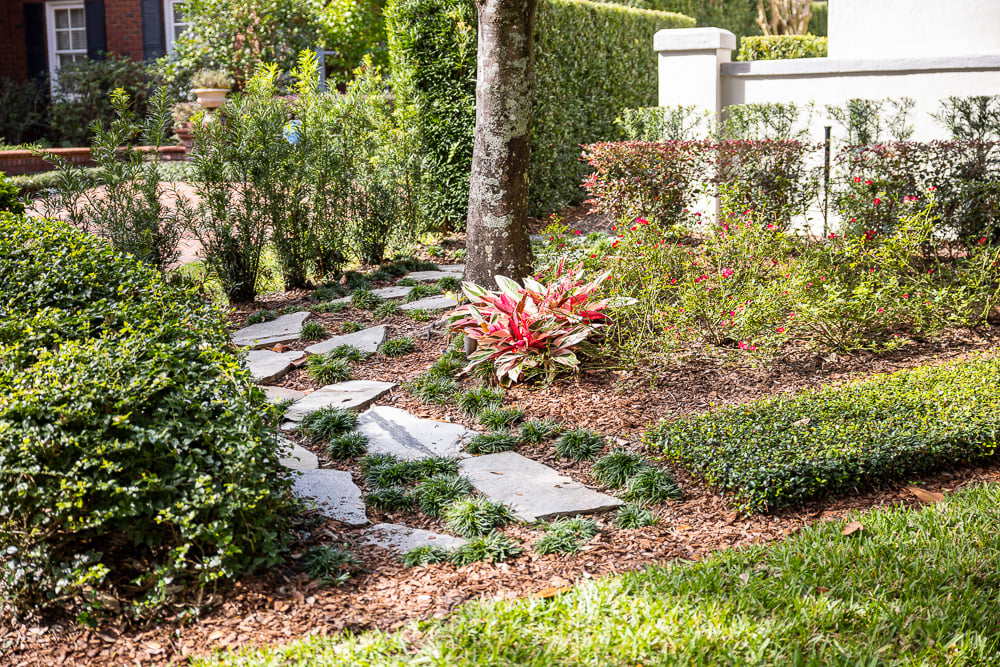 Natural stone can be cut in square or rectangular shapes, or if you want a more organic look, opt for more randomly placed pieces of all shapes and sizes held together by grout.
Natural Stone Pavers vs Concrete Pavers: Cost Considerations
Natural stone is excavated from a quarry, so it costs more than pavers. It also often requires more labor to install and level due to the uneven thickness and irregular shapes of the stones.
Concrete Pavers vs Natural Stone: a Look at Concrete Pavers
Landscape designers often recommend concrete pavers to clients because there are so many choices.

Unlike natural stone, concrete pavers are manufactured. So get ready for a whole bunch of choices, from pavers that look like classic brick to quaint cobblestone to sleek contemporary slate.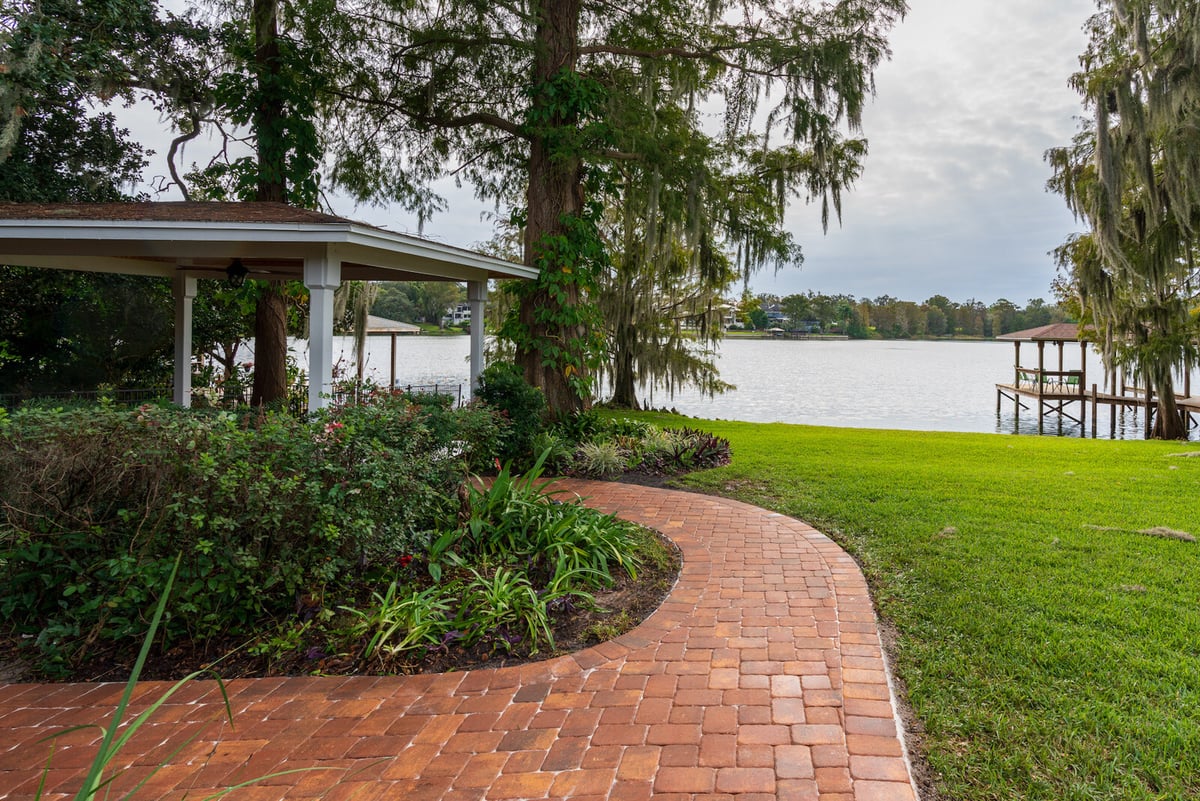 Pick a walkway pattern: How about herringbone? Or basket weave? Maybe a contrasting border?

What about color? Gray? Red? Tan? Too boring? How about Cotswold Mist or Harvest Blend?

If it's endless choices you want, concrete pavers deliver. Natural stone is more limited when it comes to creative design options.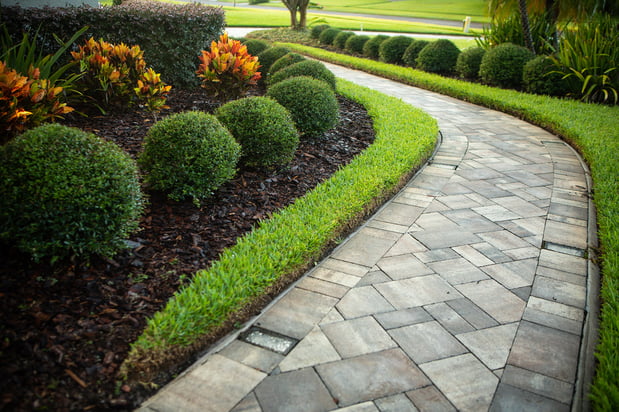 Concrete pavers are also great for a walkway because you can perfectly match the design to your paver driveway for a cohesive, high-end look.

Another benefit of pavers for walkways: stability. Concrete pavers easily interlock to create a very stable and sturdy surface. When correctly installed, there's little chance of them moving over time.
Concrete Pavers or Stone Pavers: Cost
Along with looking great and lasting nearly forever, interlocking pavers are cheaper than natural stone, so they're easier on your landscaping budget.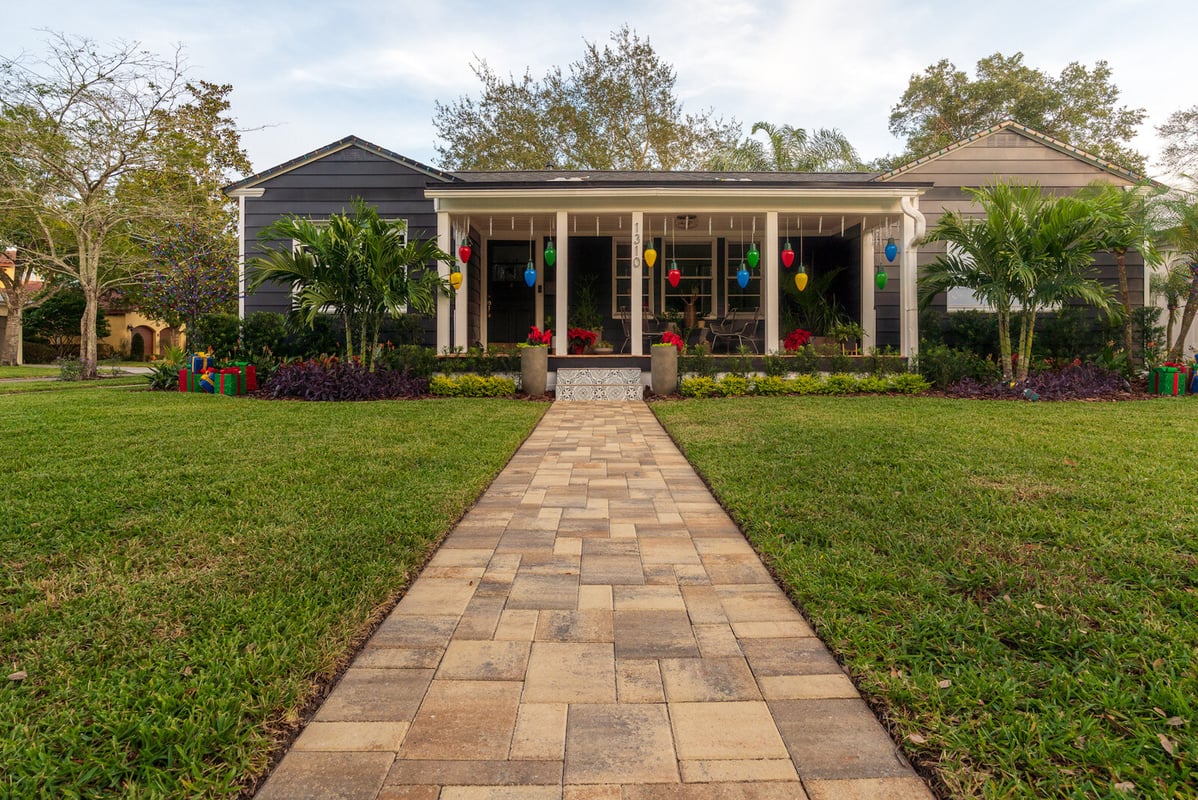 And concrete pavers can be specially mixed and molded to look much like natural stone, which gives you the natural look without busting your wallet.
Concrete Pavers vs Natural Stone: Maintenance
Part of paver walkway installation in Central Florida is sealing it. Sealing your new paver or stone walkway is an important step to keep it looking great.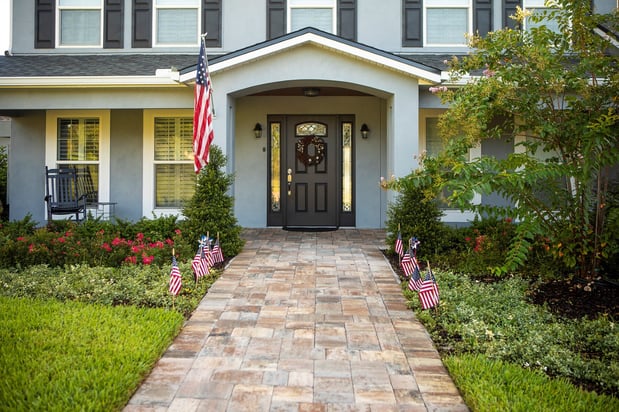 Why?
It prevents fading. Without sealer, the sun's harsh rays will fade your paver walkway's great color.


It protects from weathering. You don't want pounding rain to weather the surface.


Sealing locks in the sand between each paver or stone for a tight fit, keeping your walkway in place.


It keeps dirt out. If dirt settles into those cracks, unsightly weeds sprout.


It deters pesky ants. They love building mounds in those spaces between pavers and stones.
Go with professional walkway installation and they'll seal it right away, and it will need a new coat every three to four years.
Pondering Concrete Pavers vs Natural Stone? Trust Ground Source in Central Florida
Feeling overwhelmed about the types of pavers for a walkway? But tired of listening to your grouchy walkway complain?

Walk this way.

Our landscape designers will walk you through the process and offer plenty of pro advice, making your Central Florida paver walkway installation easy.

They'll have samples you can compare to the color of your house, and catalogs packed with design ideas.

Make sure it's done right.

We're stone and paver experts, but our skills don't stop there. We're with you every step of the way as you plan your perfect outdoor space.

Sod, irrigation, landscape design: Let us transform your landscape from an embarrassing eyesore to a place you spend every spare minute.

Are you ready to enjoy the vibrant, impressive landscape you've always wanted? Request a quote today! We'll help you review your options and then transform your property.