Everybody loves a patio. It's a relaxing space to lounge with a good book, host a dinner party, or watch the neighbor mow his lawn while you happily do nothing.

But what patio material to choose? Concrete? It's cheap, right? More money to buy steaks to grill.

Or pavers? Pavers look pretty fancy. They'd make the whole yard look better. And they make a really stunning driveway. But can you afford it?
Here is some helpful information to compare pavers and concrete.
Concrete vs Pavers: What's the Difference?
Yes, concrete is cheaper than pavers, which is really its top selling point. But it has drawbacks:
Concrete cracks. The sandy soil in Central Florida causes a lot of settling and shifting, which causes concrete to crack.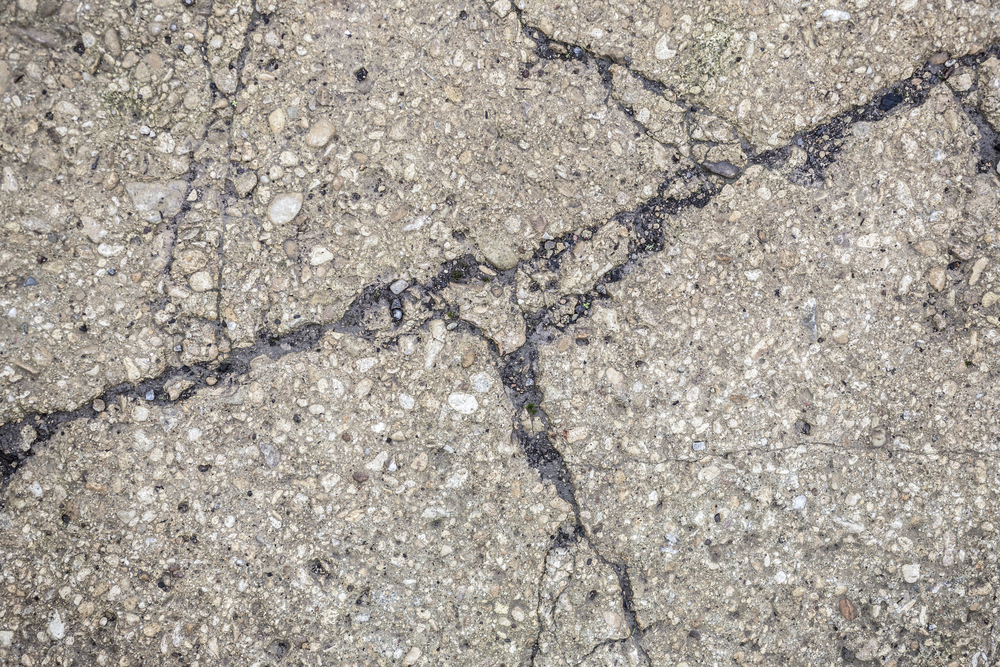 Tree root troubles. When tree roots grow underneath concrete, they push and lift it up, crumbling it into pieces. There's really no way to patch it to look good.
Your design options are limited. Yes, you can get concrete stamped or textured, but there's a limit to the creativity you have with concrete.
Concrete vs Pavers: a Look at Paver Patios
What's so great about pavers? Lots of things. Let's look at the benefits of a paver patio.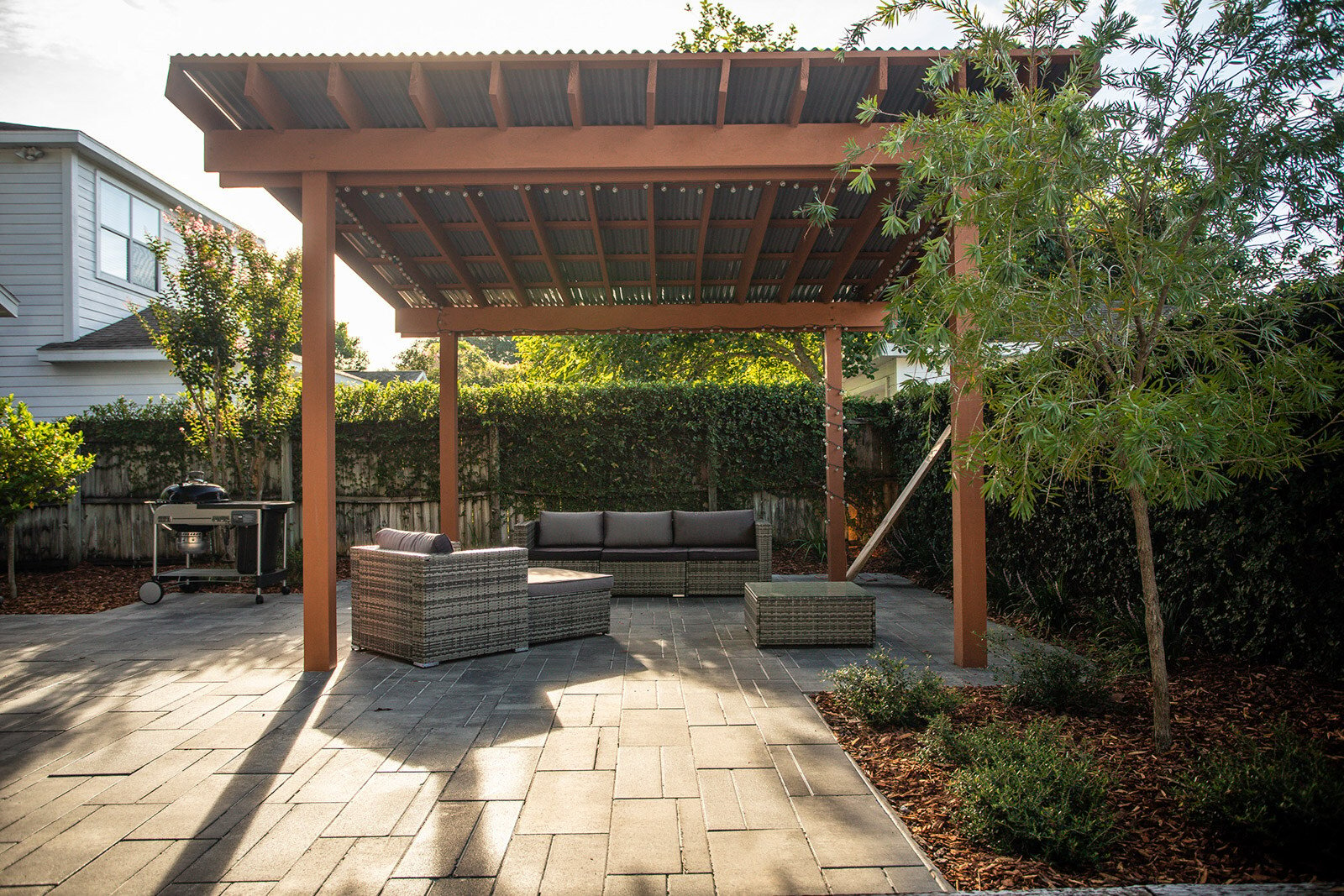 Unlike solid slabs of concrete, pavers flex and move as they shift, which means they don't crack.
Tree root troubles? Nope. You can pick pavers up, take out the offending tree roots, and replace the pavers. No sweat. Maybe just a little sweat. This also comes in handy if you ever need to run a utility line underneath your patio. You can't do that with concrete.
You can't beat the color, texture and style choices. Even the paver names are fun: Belgian Cobble. Cotswold Mist. Ashbury Haze. Bourbon. Choose pavers that look like rustic slabs, quaint cobblestone, sleek slate. Or any combination. A paver patio or driveway is a great opportunity to have fun with shape, design, and color.
If a paver gets chipped or damaged, it can be replaced. Save a few from your original installation.
When it's done, it's done. No waiting, like you have to do with concrete installation. Go ahead and test them out, jump up and down, admire how great they look.
Concrete vs. Pavers Cost
Naturally, cost can vary widely, based on size and the materials and designs you choose.

Concrete usually costs less than pavers, starting at about $4 per square foot.

The typical paver driveway or patio costs about $7.50 a square foot in Central Florida. That's for an average project of standard pavers without complications.

But there's a huge range when it comes to the cost of a paver patio or driveway, from size to shape to the type of pavers you choose. Some other factors that affect the cost:
Access. We need to get our heavy equipment in there. Some backyards are more easily accessible than others. Any complications will boost the cost.
Irrigation system issues. If we have to relocate any irrigation components that are in the way, that adds to the cost.
Fancy patterns. Inlay patterns look stunning, but the more intricate the pattern, the more laborious cutting is needed. That boosts the cost.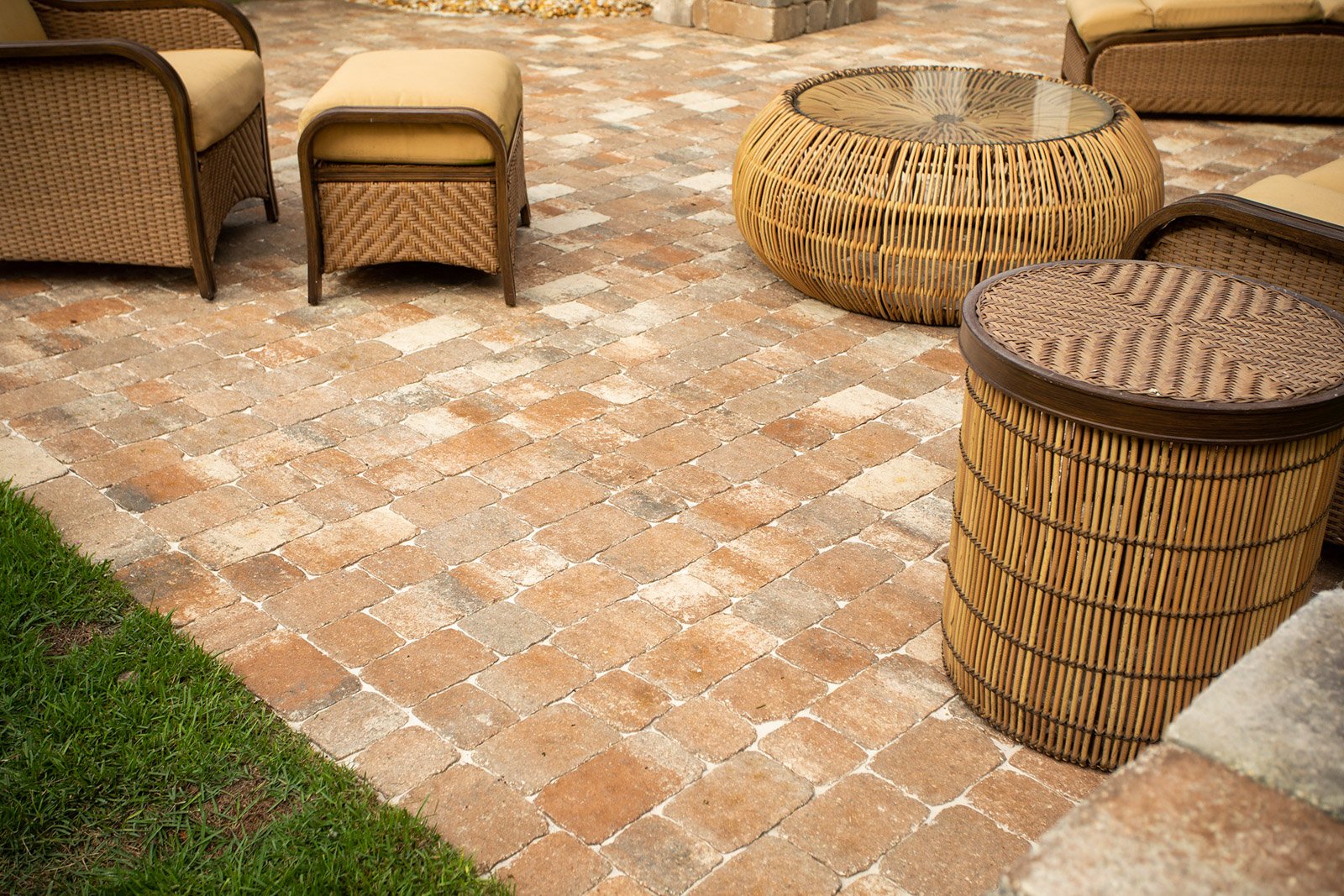 A different color border. We'll likely need to order an entire pallet of the pavers for that border, even if we only need half of them, so that increases the cost.
Style upgrade. Tumbled pavers, thicker pavers, or a unique stamping pattern all cost more, sometimes a dollar or two more per square foot.
Curves. That means more cutting, which costs more.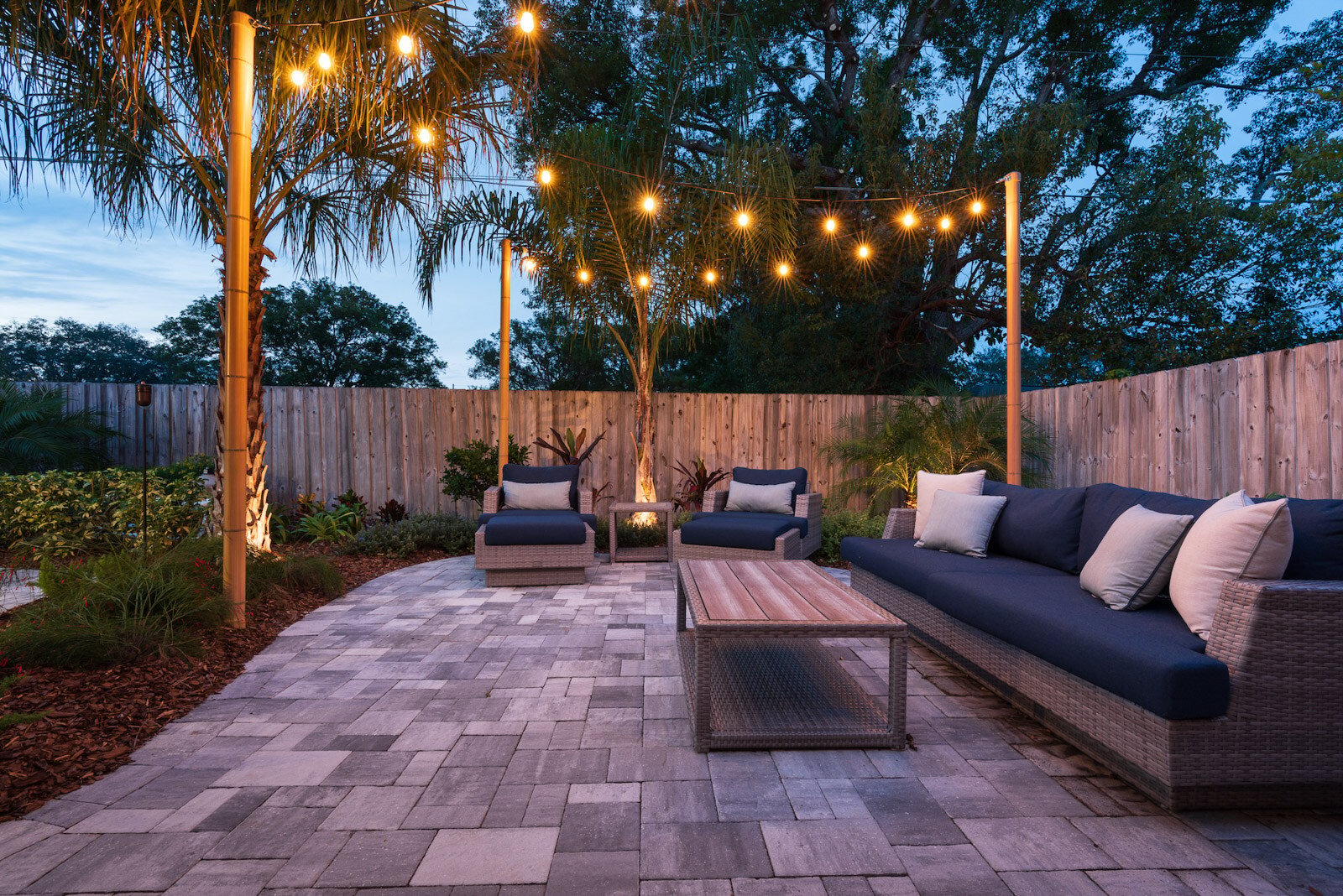 The project price includes the Ground Source thick, six to seven-inch base underneath, which is twice as thick as most patio builders in Central Florida use.

Less base is less expensive, but don't be fooled. The sand base is a crucial element of quality paver installation. You can look at one of our paver jobs years later and see that there's no sagging, sinking, or heaving, thanks to our quality base.
Questions About Concrete vs. Pavers? Ask Ground Source
We're partial to pavers, but we're happy to talk more about pavers vs. concrete patios and driveways.

Questions? Just ask!

We're paver experts, but our skills don't stop there. We're with you every step of the way as you plan your perfect outdoor space.

Sod, irrigation, landscape design: Let us transform your yard from an embarrassing eyesore to a place you can't wait to come home to.

Are you ready to enjoy the vibrant, impressive yard you've always wanted? Request a quote today! We'll help you review your options and then transform your property.