Outdoor lighting works pretty hard.

It makes you feel safe when you walk around outside at night, offers a cheerful greeting when you pull in the driveway, sets the mood when you entertain friends outside after sundown, and highlights your home's most impressive features after dark.

It keeps you from tripping over your kid's toys and tumbling into the pool in your clothes. That's worth a lot, right?

So how much does all this life-changing light cost?

Let's take a look.
How Much Does Landscape Lighting Installation Cost?
Professional landscape lighting in Central Florida starts at $2,200 for a basic package that includes a transformer, five or six lights, LED bulbs, and 200 feet of wire — all high-quality components.

Of course, you can pay more. The sky's the limit, really. Some homeowners want elaborate lighting with color-changing displays to dazzle the neighbors that can cost $20,000 or more.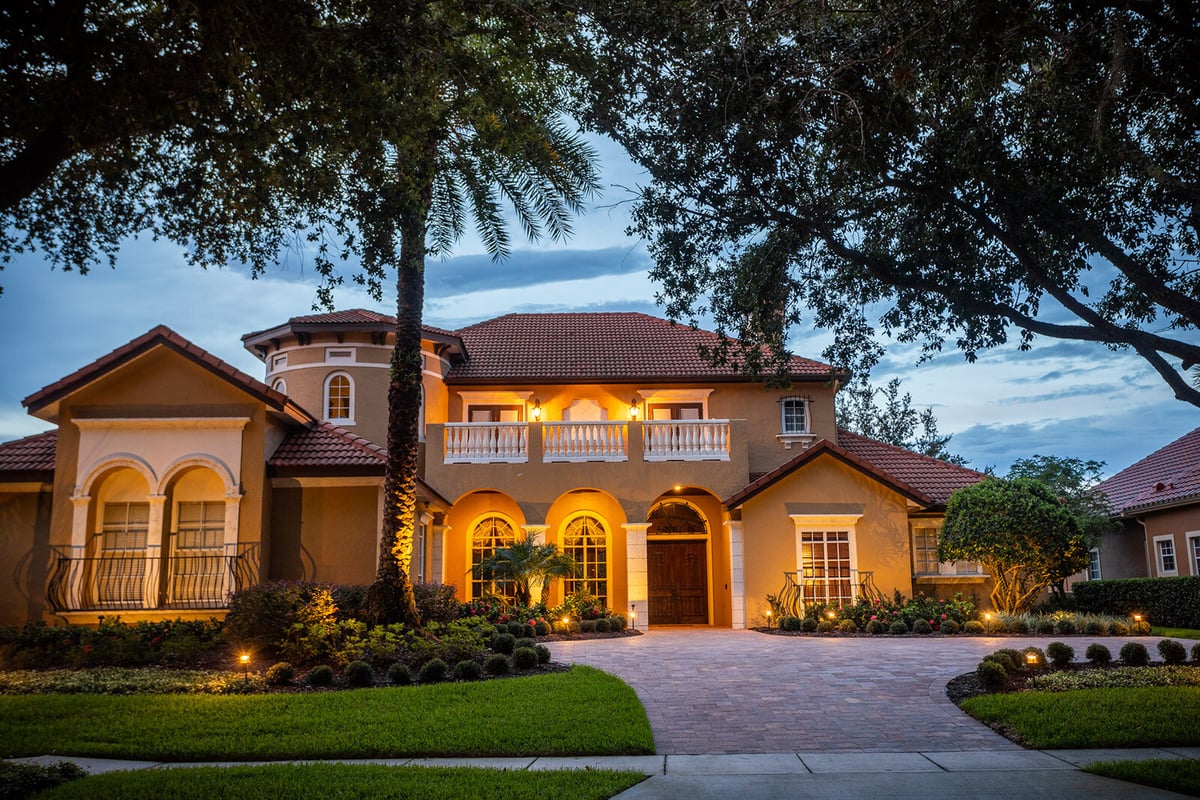 But the average cost for outdoor lighting is between $2,500 and $5,000.

Several factors determine the cost of landscape lighting installation:
The Number of Fixtures
This is a big factor when it comes to landscape lighting costs.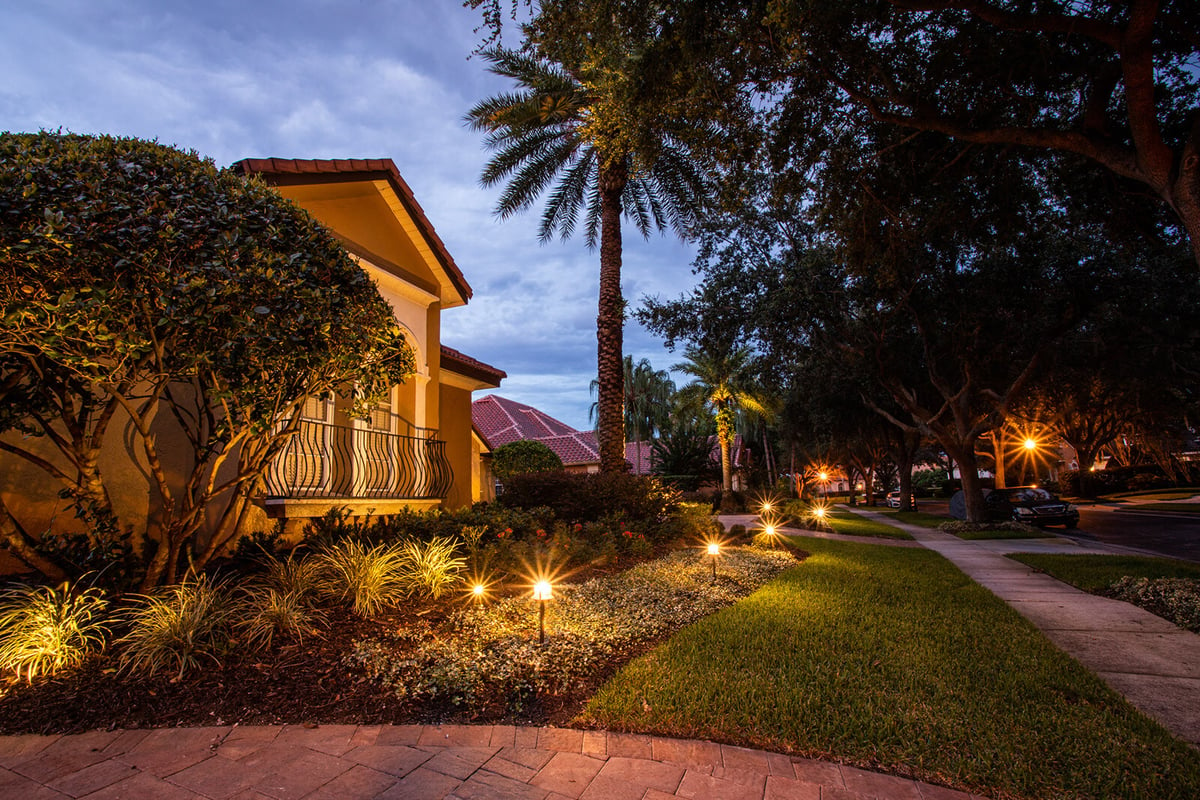 A lighting system with seven to ten lights typically costs $2,000 to $3,250, while a lighting system with twenty lights will likely cost around $4,000.
Transformer Size
The further you run the lights from the 110-120 volt to the transformer, the dimmer the lights will be. Adding a larger or additional transformer can fix that. A transformer typically costs $200 – $400.
Difficulty of Installation
Do pavers have to be removed to install wiring?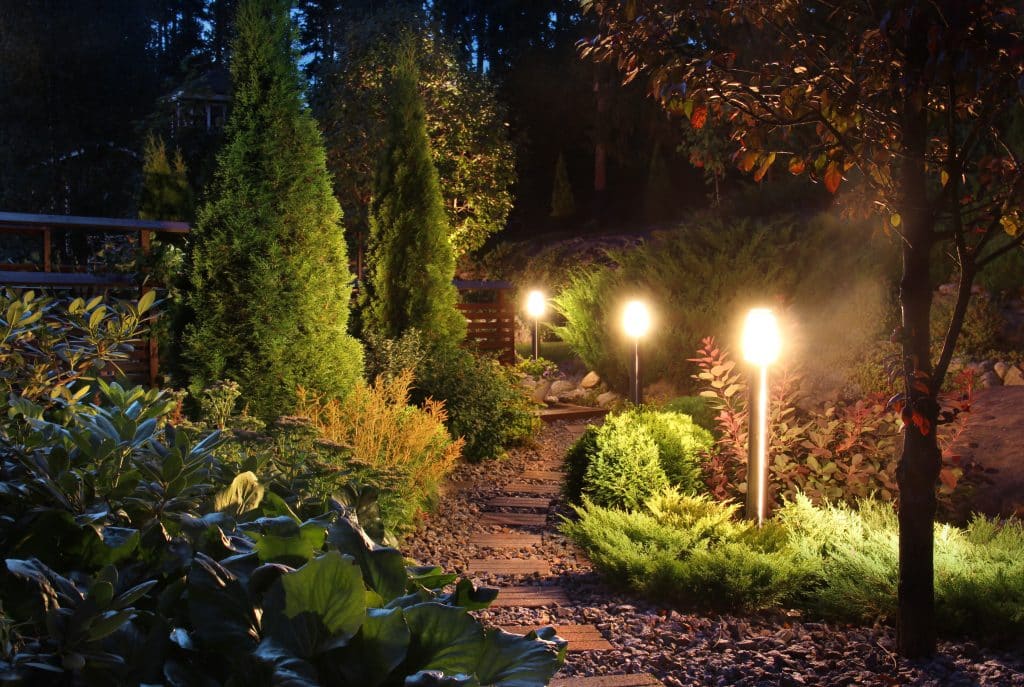 Are tree roots in the way? The more obstacles for installers, the higher the cost.
Want Wi-Fi?
Do you want wi-fi included so you can operate lighting with your smartphone? That adds to the cost of landscape lighting installation.
Is the Installation in New or Existing Landscaping?
Adding outdoor lighting during a new landscaping project typically costs less because the lights can go in without repairs to the landscaping. It also takes less time — installers don't have to dig around obstacles to bury the conduit.
Landscape Lighting Costs: Where to Spend?
As you ponder how much outdoor lighting you want to invest in, keep these tips in mind:
Light Your Home's Best Features
Light the stuff you want to show off: architectural features like stone veneer, arches, and columns.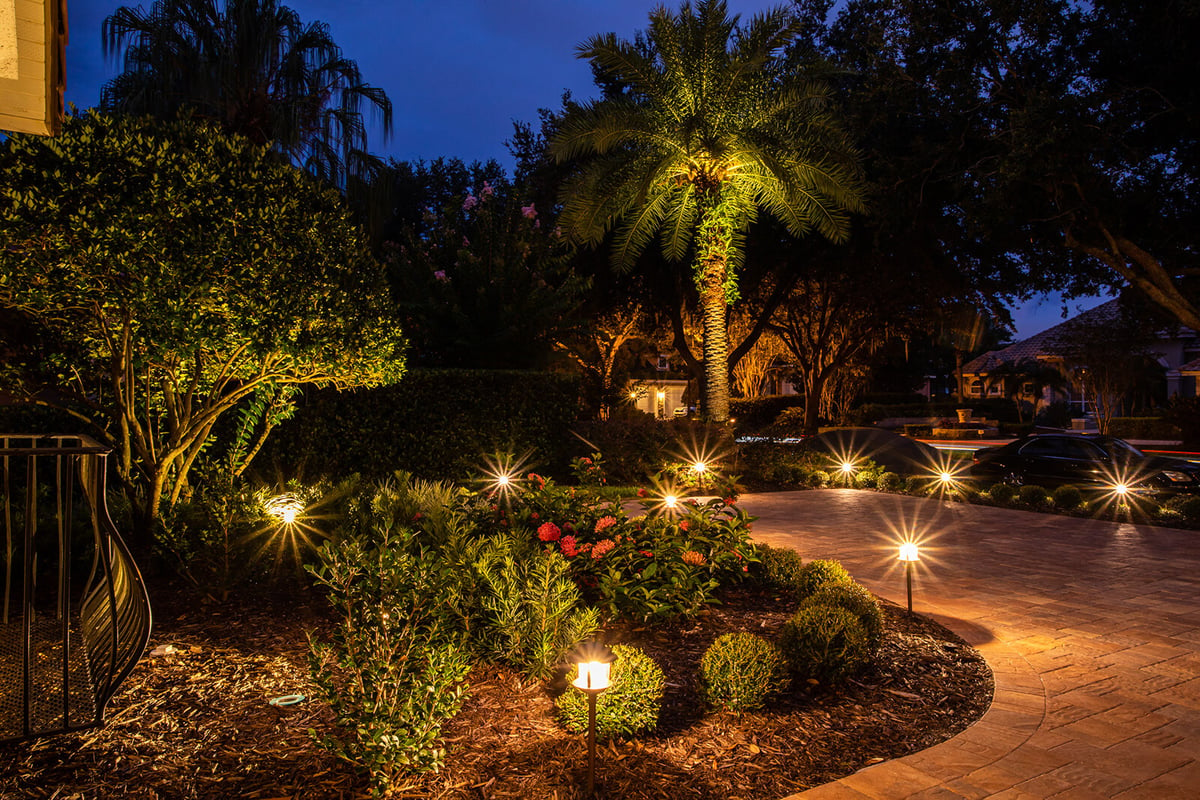 Love that Sylvester Date Palm? That was a real landscape investment, right? Light it from below to show off its impressive diamond-cut trunk.

Have a stunning flowering hedge of Ixora? Light it after dark with strategic lighting that highlights those cool tubular blooms.
Less Lighting is More
If a few lights are good, lots of lights are even better, right?

Nope.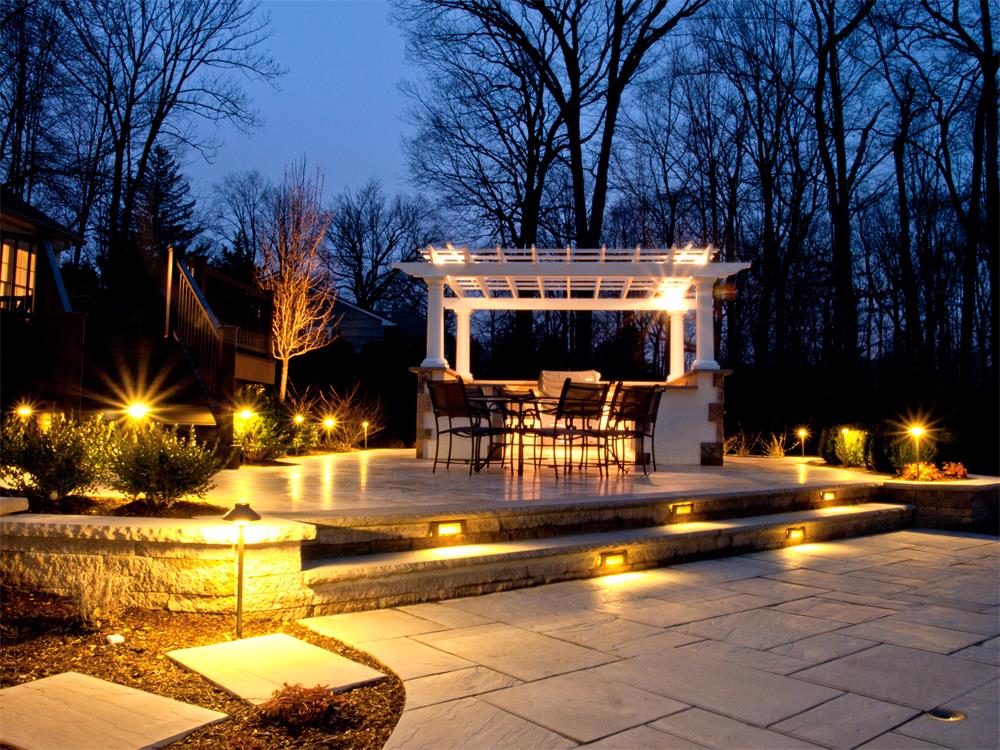 If you light your whole house and spotlight every tree, plant, and paver, nothing stands out as special. All that light will just wash out your yard.

Pay attention to homes in your neighborhood that you think have beautiful landscape lighting. See how only the best, most interesting features stand out?

They didn't light everything.
Don't Forget Function
Lighting the beautiful stuff is fun. But remember landscape lighting isn't just pretty, it's practical.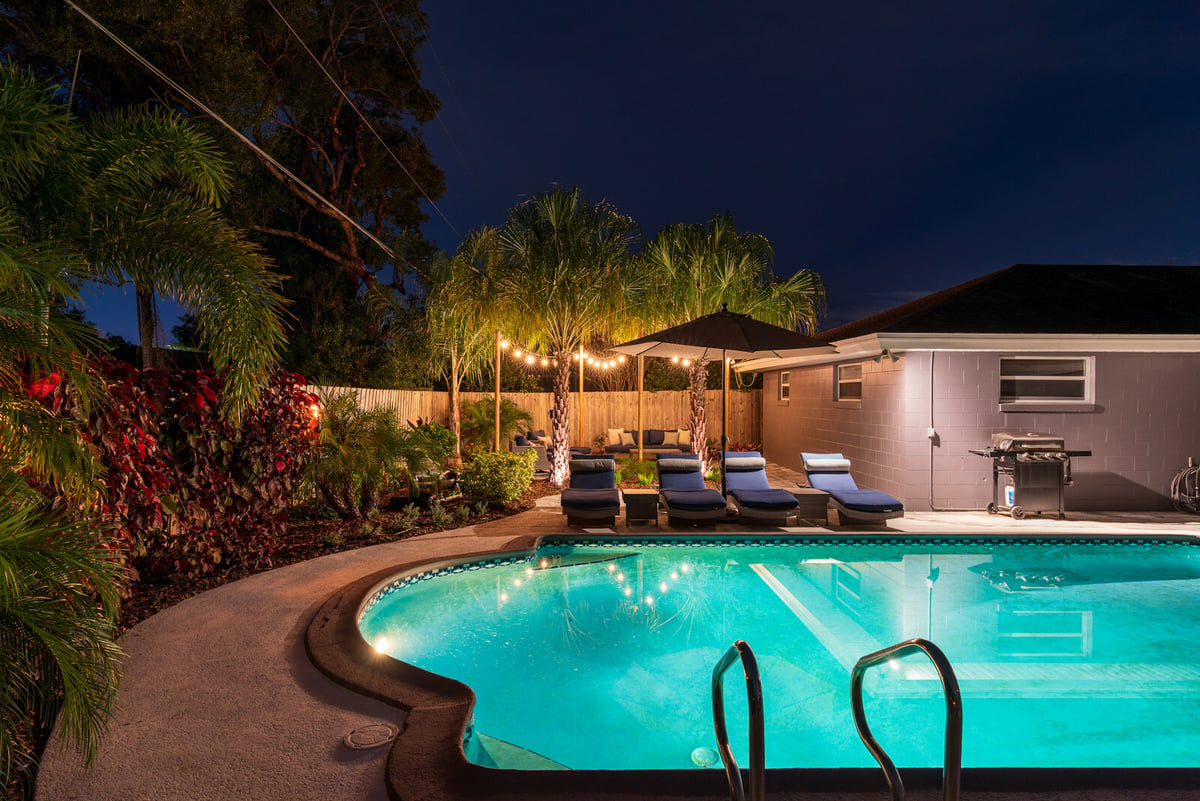 Can you see well enough to walk from your car to your front porch? From your deck to your fire pit? From your kitchen door to the recycling bin out back?

Focus on function, too.
Use Landscape Lighting Zones
Consider a landscape lighting system with separate zones you can control. That lets you put your front yard on its own timer, to stay on longer than your backyard, maybe, or turn off sooner.
Trust Your Outdoor Lighting to Ground Source
Need landscape lighting installation in Central Florida?

We're happy to tell you more about how we can transform your yard with professional, expert outdoor lighting.

We're landscape lighting experts, but our skills don't stop there. We're with you every step of the way as you plan your perfect outdoor space.

Sod, irrigation, landscape design: Let us transform your yard from an embarrassing eyesore to a place you spend every spare minute.

Are you ready to enjoy the vibrant, impressive yard you've always wanted? Request a quote today! We'll help you review your options and then transform your property.