A long, straight, narrow driveway is a big pain if you have more than one car. It means family members play a frustrating game of car switch roulette — a game where nobody's a winner.

So when the Fox family moved into their new home in Oviedo, FL, they instantly missed the handy circular driveway at their former home.

Circular paver driveways aren't just convenient, they're elegant — adding instant beauty and curb appeal.

The Fox family knew they needed one to add convenience and character — and make their new house feel like home.
Adding Oomph with a Central Florida Paver Driveway
"When we moved in, we felt that the outside was a little bare," homeowner Adam Fox says. "It was a bit too simple for our taste. It needed a little bit of oomph."
Luckily, they knew what they wanted — a circular driveway much like the one they left behind at their last home. They just needed the right Central Florida paver driveway company to install it.

"We started looking through different companies and we actually happened to pass a property down the street that was being done by Ground Source," Fox says. "And we liked what we saw. So we reached out."
Driveway Paver Installation in Oviedo: Creating the Perfect Plan
When Ground Source Landscaping owner Joe Mouad showed up, he recognized the potential right away.

"Before we started, it was just a lot of open green space in the front yard," Mouad says.

There was plenty of room for improvement.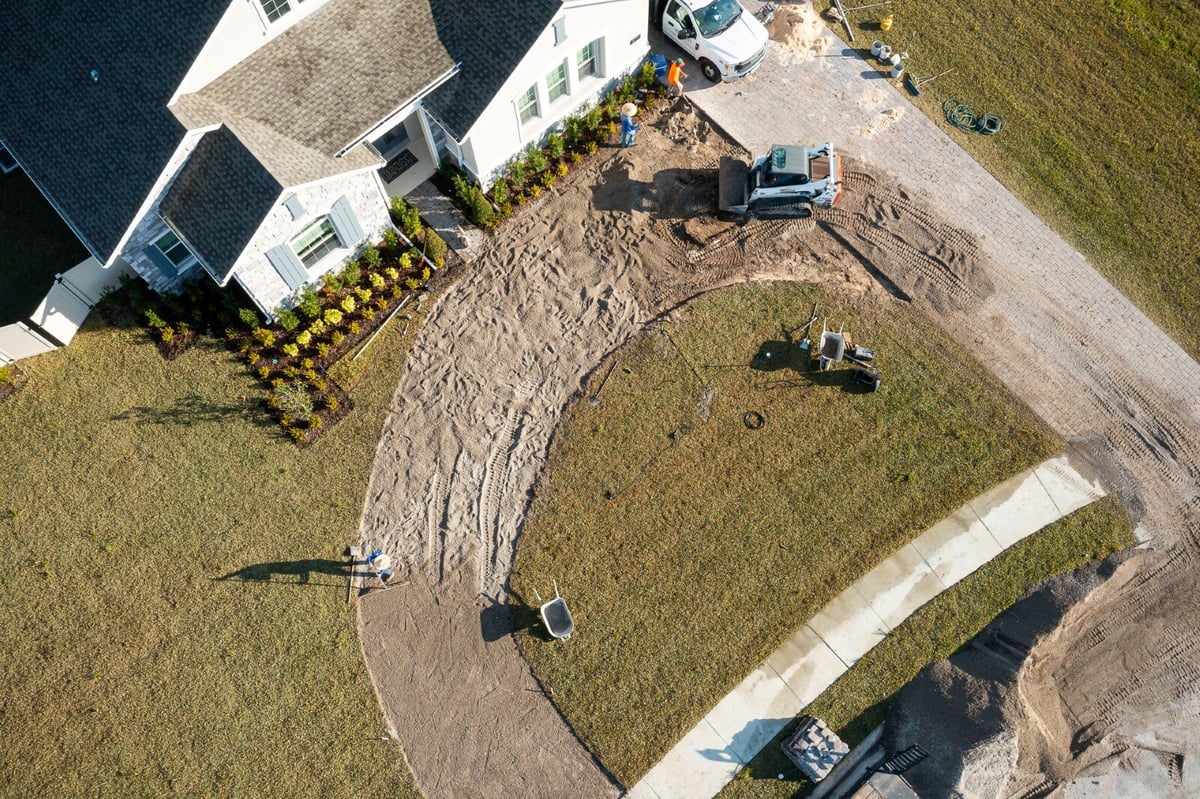 The plan: install a striking circular paver driveway along with some appealing landscaping to add the convenience the family needed and that "oomph" they craved.

Ground Source landscape designer Jon Wynn met with the homeowner to hash out the details, including the best way to make sure the new circle drive complements the existing paver driveway installed by the builder.

"We had to match the existing pavers, so we brought samples to the client and reviewed the choices against the previously existing portion of the driveway," Wynn explains.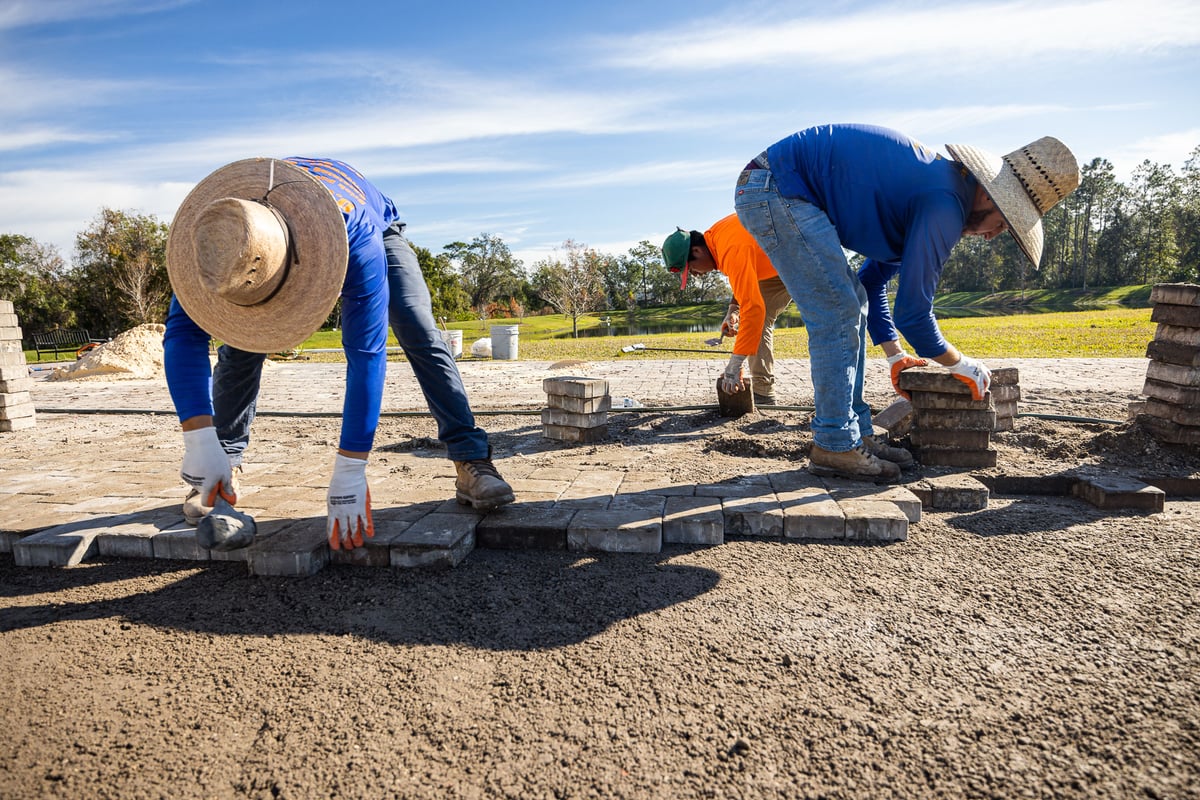 Together they decided on Appian Stone, a Belgard paver named for Europe's famous Appian Way. Its natural chiseled finish in a color called Knightsbridge nicely complements the existing driveway and the home's pretty stone facade.

Wynn suggested using a combination of two sizes — 6"x6" and 6"x9" bricks — for the main portion of the driveway and 6"x9" Appian Stone pavers for the border.
The Beauty of Expert Design
Driveway paver installation in Oviedo doesn't automatically include design services. But working with a landscaping company with an in-house designer on board makes the whole process go smoothly.

Skilled landscape designers brainstorm ideas, bring catalogs packed with design inspiration, and bring paver samples you can compare to the color of your house — and, in this case, to existing driveway pavers that had to be matched.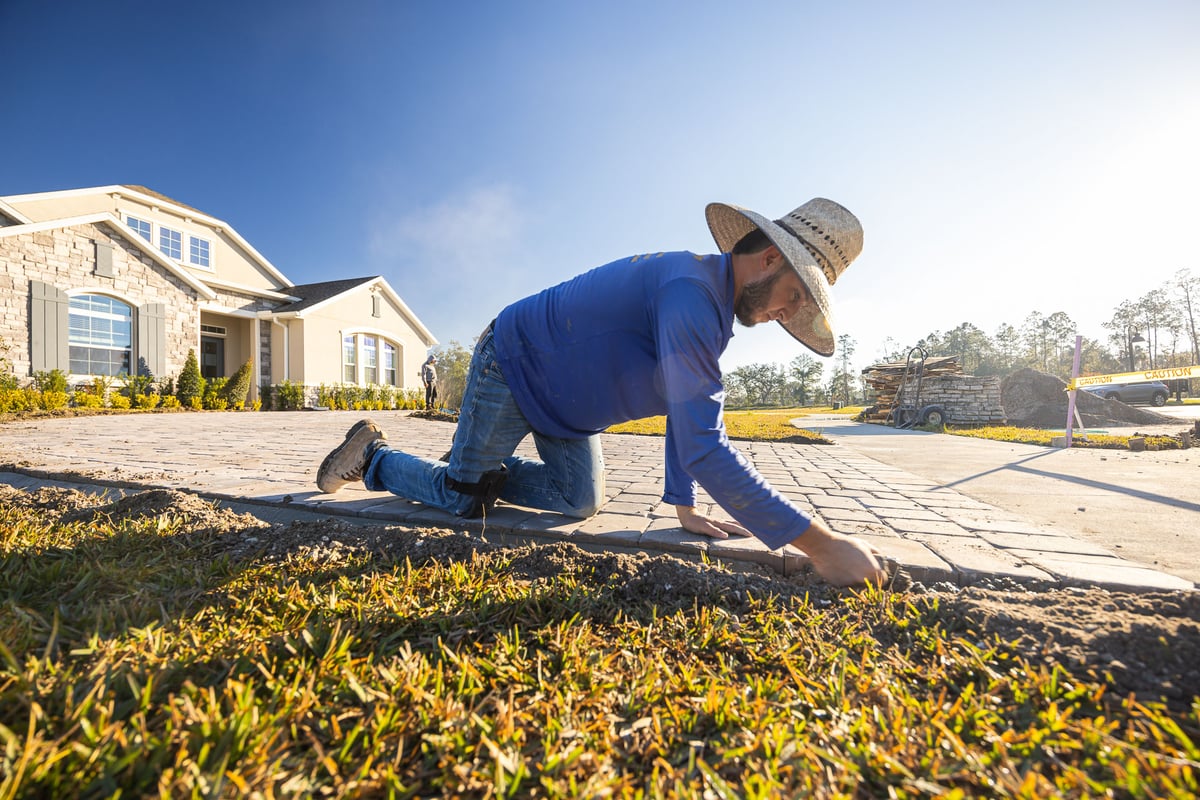 They help you match the style of paver pattern to the style of your house, too — an important part of the process.

It's also a big plus to work with a full-service landscaping company. While the paver driveway was the focus here, it also needed landscaping elements as well as some irrigation work to complete the project.

"We had to relocate and add significant irrigation heads and pipes in order to accommodate the new driveway,"
Mouad says. Crews made sure every part of the lawn and landscaping is watered, without spraying water on the driveway.
Landscaping Adds Extra Appeal
Lush green plant material softens the hard edges of this Central Florida paver driveway and adds front-yard appeal.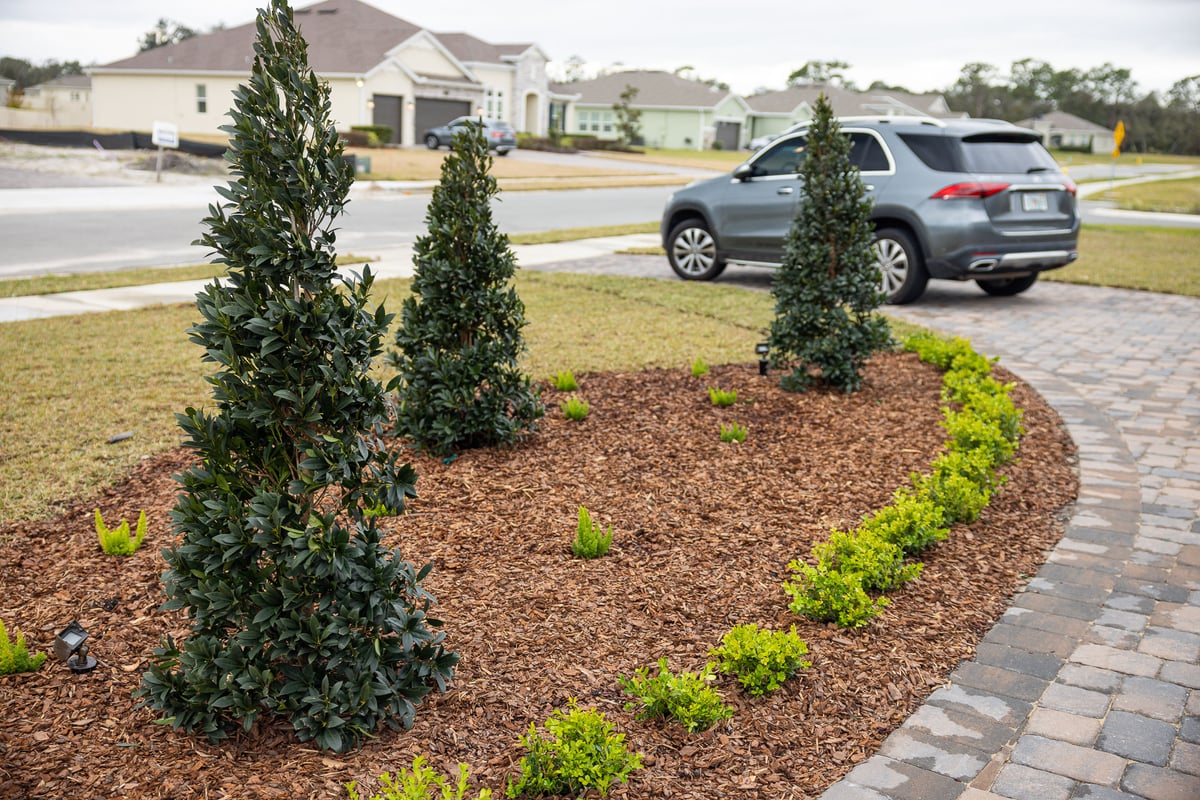 The hardworking plants here include:
Japanese Blueberry
A small tree with big impact, the Japanese blueberry combines tropical foliage with a classic Christmas tree look.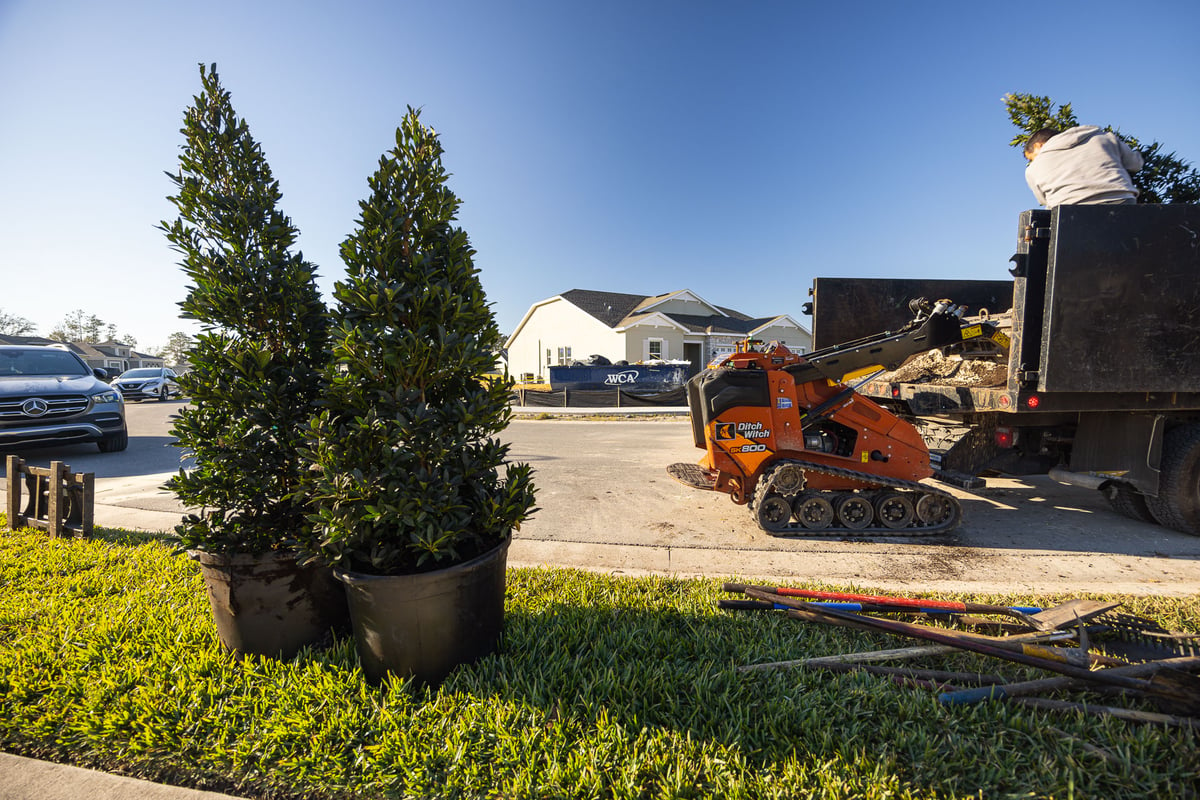 The tree produces small white flowers in spring followed by dark blue inedible berries in fall and winter. The dense foliage is a lush deep green with an occasional bright red leaf.

Bonus: Its fragrant foliage attracts pollinators like bees and butterflies.
Foxtail Fern
This pretty plant isn't technically a fern but boasts arching plumes of tightly packed, needle-like leaves that look soft and delicate.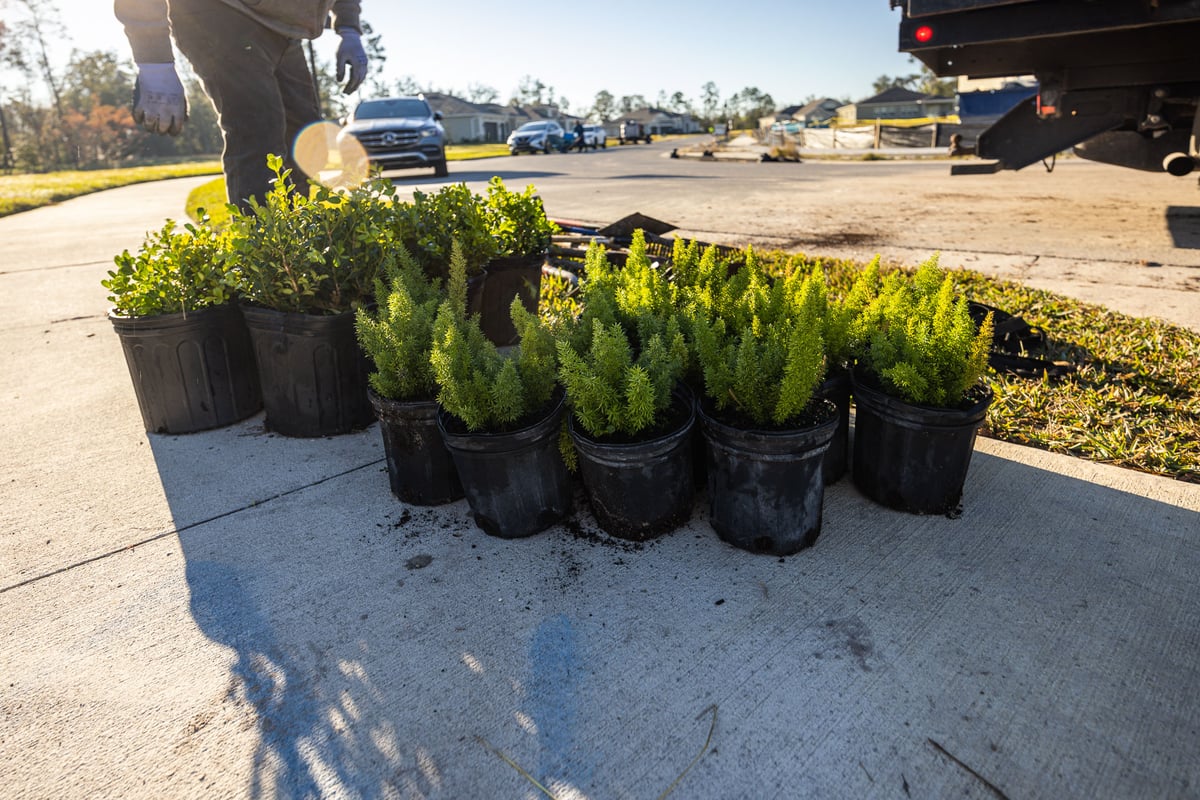 It's a lot tougher than it looks, though. Foxtail ferns are drought resistant and thrive with little care.

Both plants are nice additions to the podocarpus already thriving in the front yard landscaping.
An Extra Step That Makes a Difference
Many hardscaping services in Central Florida put down a two or three-inch base beneath the pavers.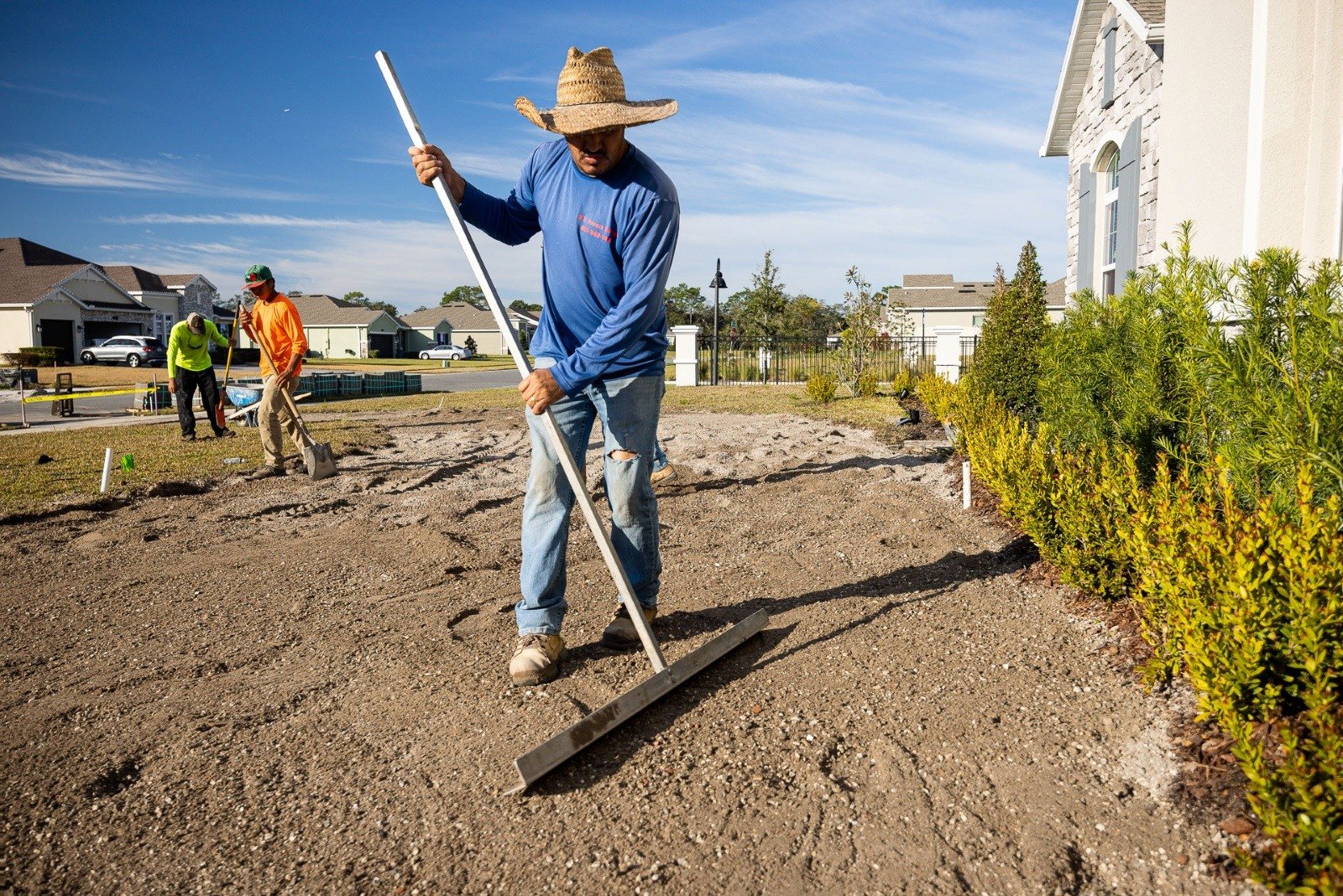 Ground Source crews lay down a six-inch base for surfaces traveled over by vehicles — much thicker and more stable than the average job.
"It's More Inviting to Come Home"
"The process was quick," Fox says. "The construction process was faster than we had thought — it was done in three days and one day to clean up. Everything was perfect by the end of the fourth day."

No clumps of loose sod or bits of excess paver stone left behind. Ground Source bids include all cleanup and repairs.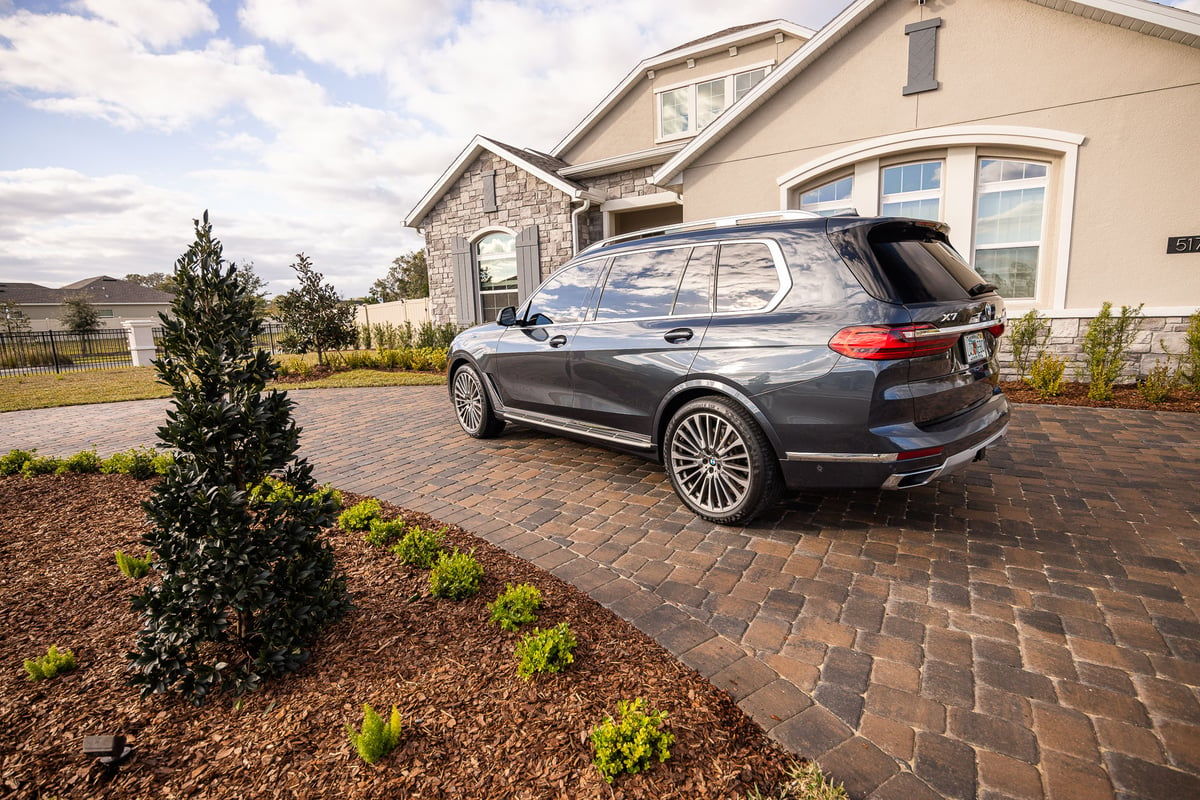 "We were happy to take on the project and provide them a more user-friendly driveway so they're able to navigate in and out of their driveway without having to rotate cars," Mouad says.

And, it looks great, Wynn adds.

"The new driveway and landscaping add curb appeal and an estate feel to the property," he says.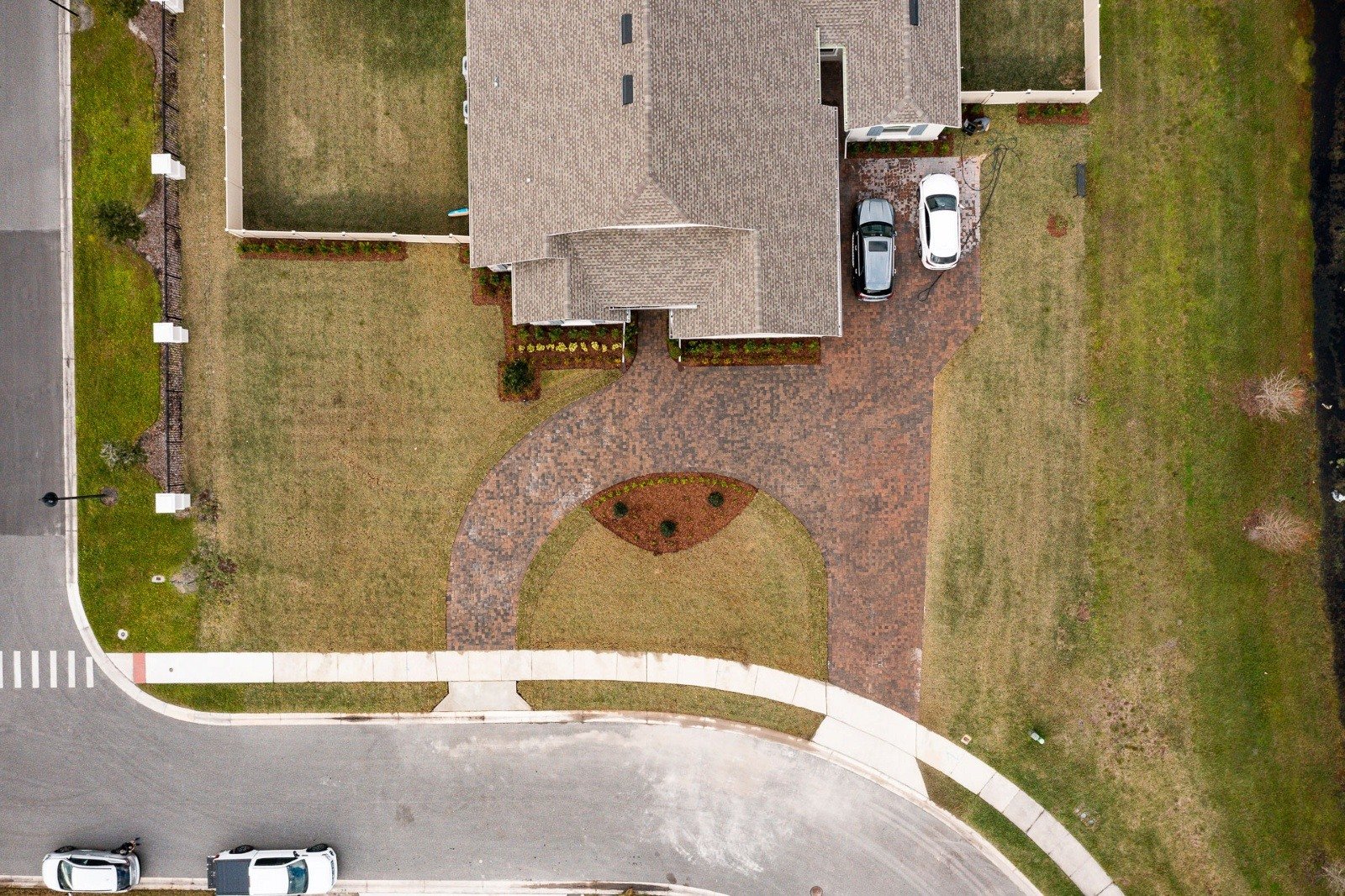 The homeowners are happy, too.

"Now that the project is finished, it's a little bit more pleasant to come home, it's more inviting to come home, it's easier to get around each other in the driveway," Fox says. "It's definitely a wise investment."
Need a Central Florida Paver Driveway? Trust Ground Source
The best hardscaping services in Central Florida make the whole process go smoothly, from brainstorming ideas at your kitchen table to showing you paver samples to walking you through the project of and keeping you informed.

Need driveway paver installation in Oviedo? Make sure it's done right.

We're paver experts, but our skills don't stop there. We're with you every step of the way as you plan your perfect outdoor space.

Sod, irrigation, landscape design: Let us transform your landscape from an embarrassing eyesore to a place you spend every spare minute.

Are you ready to enjoy the vibrant, impressive landscape you've always wanted? Request a quote today! We'll help you review your options and then transform your property.