Here's a question to kick things off: if you've been pondering interlocking driveway pavers, what are you waiting for?

An expertly designed paver driveway adds an instant sense of luxury to the front of your home.

Paver driveways are tough, beautiful, and make you feel fancy.

Interlocking driveway pavers that look like quaint cobblestone will make you feel like a European estate owner. Or maybe a sleek slate look is perfect for your contemporary home.

Questions about installing a paver driveway? We'll answer a few common ones to get you started.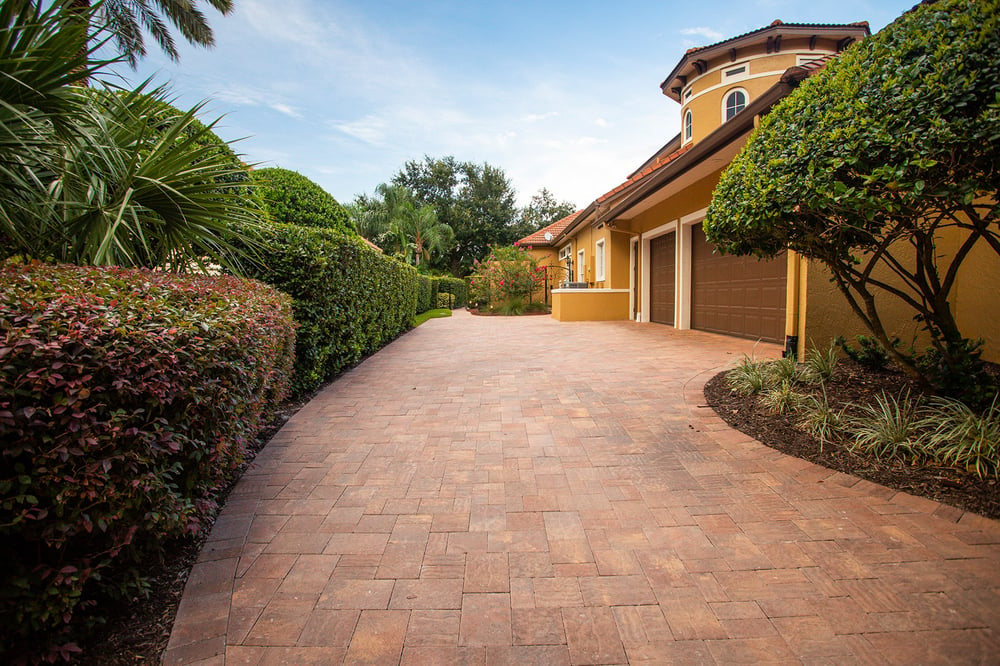 1. What Size Driveway Pavers Should I Use?
Part of the fun of pavers is using your creativity, but there are some good guidelines when it comes to size for driveway pavers.

Resist the urge to install big, 18-to 24-inch interlocking driveway pavers. They're more prone to buckling and cracking than the smaller pavers.

They're not meant to hold the repeated weight of a two-ton vehicle.

Keep pavers under 12 inches for driveways and save the big ones for the patio.
2. If a Paver Gets Chipped or Damaged, Can It Be Replaced?
Yes. Save a few from your original installation.

Scrape out the sand in the joints surrounding the paver to be removed. Use two screwdrivers to wiggle the paver out.

Insert the new paver, replace the joint sand, and settle the paver into place with a rubber mallet.
3. Do I Need Sealer for a Paver Driveway?
Absolutely — for several reasons:
It prevents fading. Without sealer, the sun's harsh rays will fade your paver driveway's great color.
It protects from weathering. You don't want pounding rain to weather the surface.
It locks in the sand between each paver for a tight fit, keeping your pavers in place.
It keeps dirt out. If dirt settles into those cracks between the pavers, unsightly weeds sprout.
It deters pesky ants. They love building mounds in those spaces between pavers.
Your paver driveway installers will seal it right away, and it will need a new coat every three to four years.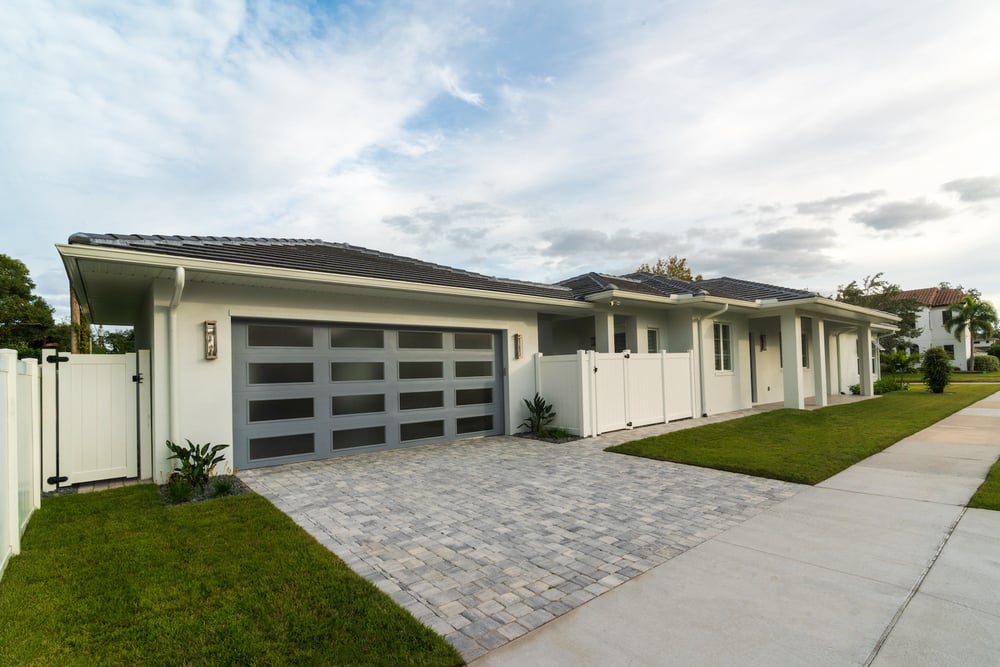 4. Do Interlocking Driveway Pavers Have to Be Level?
You would think so, but not exactly. Your paver driveway needs to pitch to the side a bit, so water can drain. The area should look and seem flat and level, but will be installed with just enough tilt for proper drainage.
5. How Long Do I Have to Wait to Drive or Walk on Pavers After They're Installed?
No waiting. Go ahead and test them out, jump up and down, admire how great they look.
6. Do Driveway Pavers Fade?
Yes, over time driveway pavers will fade. You'll notice darker colors fade faster. But you can prevent a lot of that fading by sealing them.
7. Can Pavers Be Placed Over Concrete?
Not on top of concrete driveways. They can't flex like they need to on a driveway and will crumble to pieces.

We can install pavers over concrete pool decks and on front porches.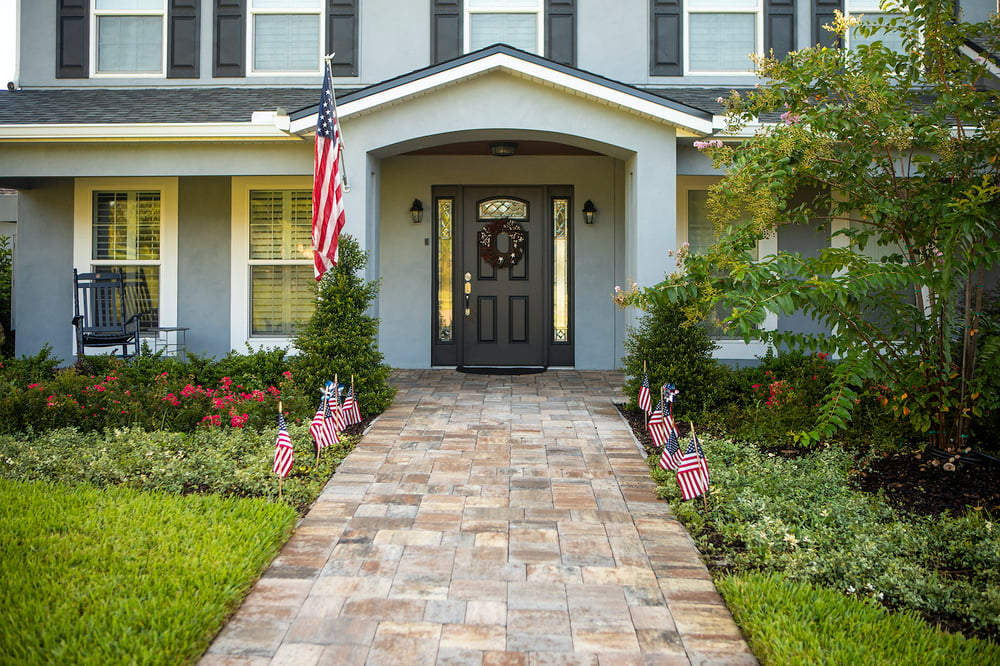 8. How Much Do Paver Driveways Cost in Florida?
Naturally, cost can vary widely, based on size and the materials and designs you choose.

The typical paver driveway in Orlando costs about $7.50 a square foot. That's for an average driveway of standard pavers without complications.

That includes the Ground Source thick, six to seven-inch base underneath, which is twice as thick as most patio builders in Orlando FL use.

Less base is less expensive, but don't be fooled. The sand base is a crucial element of quality paver installation. You can look at one of our paver jobs years later and see that there's no sagging, sinking, or heaving, thanks to our quality base.
9. What Can I Do to Reduce the Cost of a Paver Driveway?
A few things:
Don't get too fancy with the paver pattern. Inlay patterns look stunning, but the more intricate the pattern, the more laborious cutting is needed. That boosts the cost.
Stick with a border the same color as the rest of the driveway. To install a different color border, we'll likely need to order an entire pallet of the pavers for that border, even if we only need half of them, so that increases the cost. That will save you $150 or $200.
Stick to basic pavers. Style upgrades like tumbled pavers, thicker pavers, or a unique stamping pattern all cost more, sometimes a dollar or two more per square foot.
Go easy on the curves. Curves require more cutting, which costs more.
10. What If I Decide to Install an Irrigation System or Landscape Lighting Later — Will You Have to Tear Out My Driveway Pavers?
We install PVC sleeves under the paver driveway to make adding irrigation or landscape lighting easier later. That way, we won't have to tear up the whole driveway to do work underneath it.
11. What's Your Warranty for Interlocking Driveway Pavers?
At Ground Source, we offer a two-year warranty on all paver installation, which covers defects in material and workmanship. (Remember, pavers naturally have variations in color, texture, and wear. That's not a "defect.")

The warranty specifically covers cracking, settling, and shifting.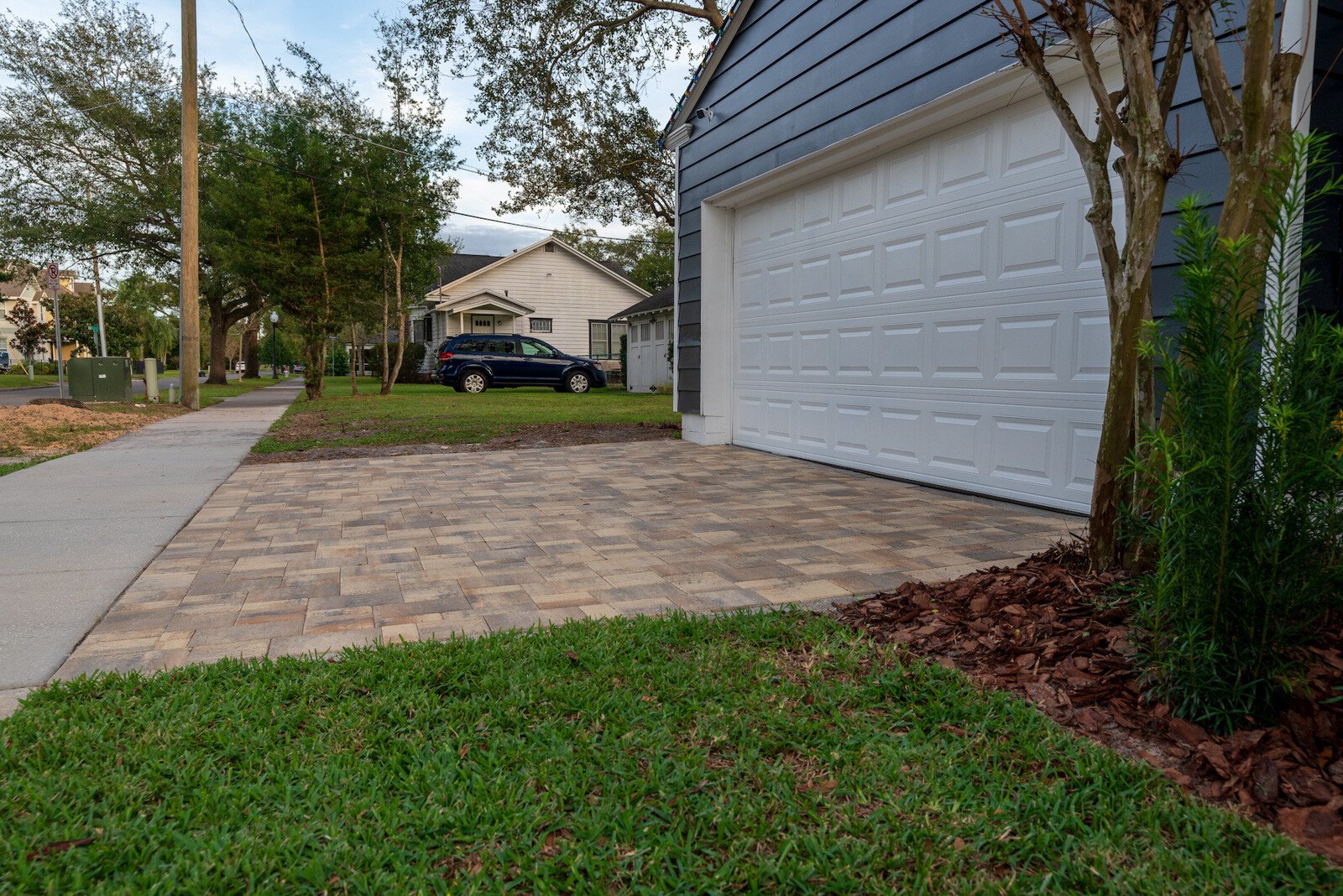 12. How Do I Decide What Type of Pavers, Pattern, and Border? It's Overwhelming
Don't stress — this is supposed to be fun!

Our landscape designer will walk you through it and offer plenty of pro advice.

He'll bring paver samples you can compare to the color of your house, and catalogs packed with design ideas.

He'll help you match the style of paver pattern to the style of your house. A vintage English Tudor needs a different patio look than a sleek contemporary ranch.

Luckily, there are paver patterns suited to any style.
More Questions About Paver Driveways? Ask Ground Source
There's a lot to love about driveway pavers — and a lot to know.

Questions? Just ask!

We're paver experts, but our skills don't stop there. We're with you every step of the way as you plan your perfect outdoor space.

Sod, irrigation, landscape design: Let us transform your yard from an embarrassing eyesore to a place you can't wait to come home to.

Are you ready to enjoy the vibrant, impressive yard you've always wanted? Request a quote today! We'll help you review your options and then transform your property.