Some pool mistakes are obvious, like walking too close to the edge in high heels carrying a tray of crab puffs.

Other mistakes are sneakier, like installing the wrong kind of plants or goofing up your ground cover.

Need pool landscaping ideas that won't make you say, "oops" before your first pool party?

Pull up your lounge chair and take a look.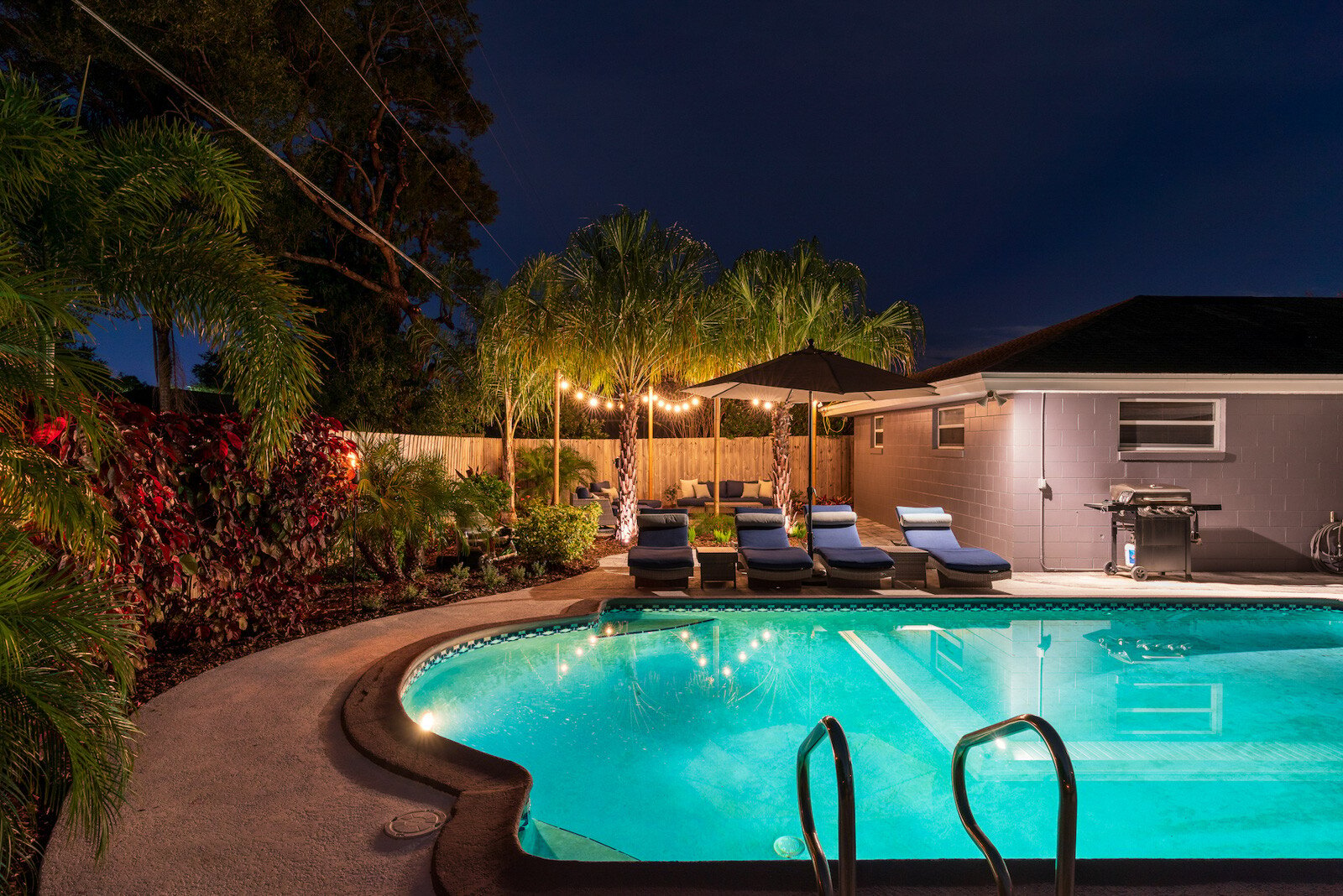 Mistake: Pool Landscaping Plants that Make a Mess
Not every plant is perfect for around the pool.

Beware of spines, dripping sap, and falling burrs, please.

Also avoid plants that drop a lot of leaves. Hawaiian Ti plants are tempting, with their striking colors and tropical look, but the leaves always end up in the pool.
Better Choice: Tidy Plants
Some great pool landscaping plants:
Crotons. This spectacular tropical plant has no leaf drop, so it's a poolside favorite. They thrive in the heat, add stunning tropical color, and grow an impressive six feet tall.
Bromeliads. Another great pool landscape plant that offers an exotic look, bromeliads thrive in bright, indirect sunlight or in areas with dappled shade. They also appreciate humidity, so they'll love hanging out around your pool as much as you do.
Xanadu Philodendron. This exotic foliage plant is great for texture in shady pool areas. Note they don't like full sun. It needs little or no trimming and is a great dark green background for tropical pool landscape plants like showy croton.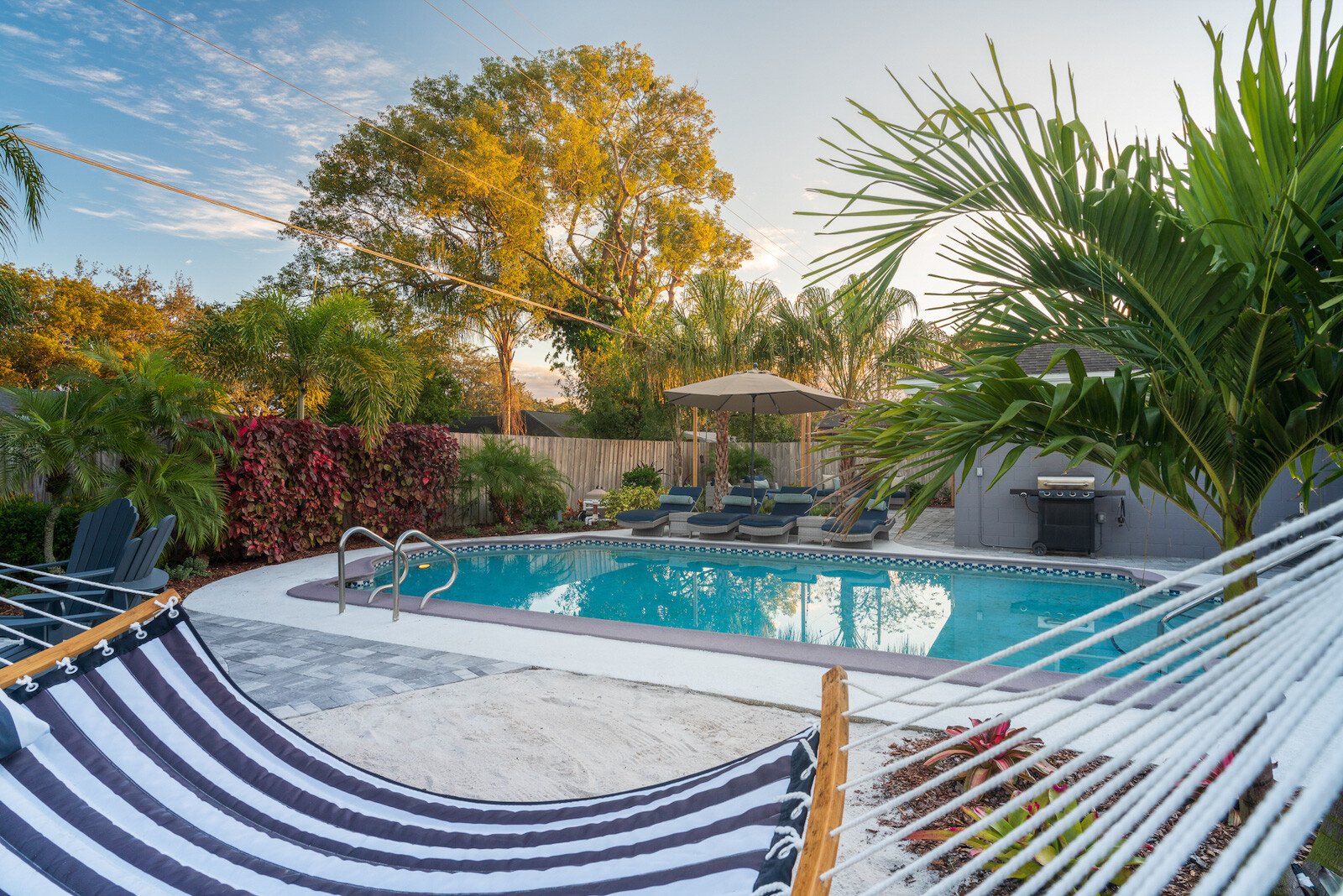 Mistake: Skipping the Screen
Many Florida pools are surrounded by a screen enclosure that keeps leaves and bugs from ending up in the pool. Some folks call them "bird cages."

Some Florida pool owners opt to go screen free, leaving their pool open to the sky.
Better Choice: Use the Screen
If you skip the screen you'll spend a lot of time scooping out debris.

The cage-like coverings are popular for a reason. They keep your pool clean, preventing messy debris from surrounding trees and plants from falling in.

They also keep you from getting bitten by bugs.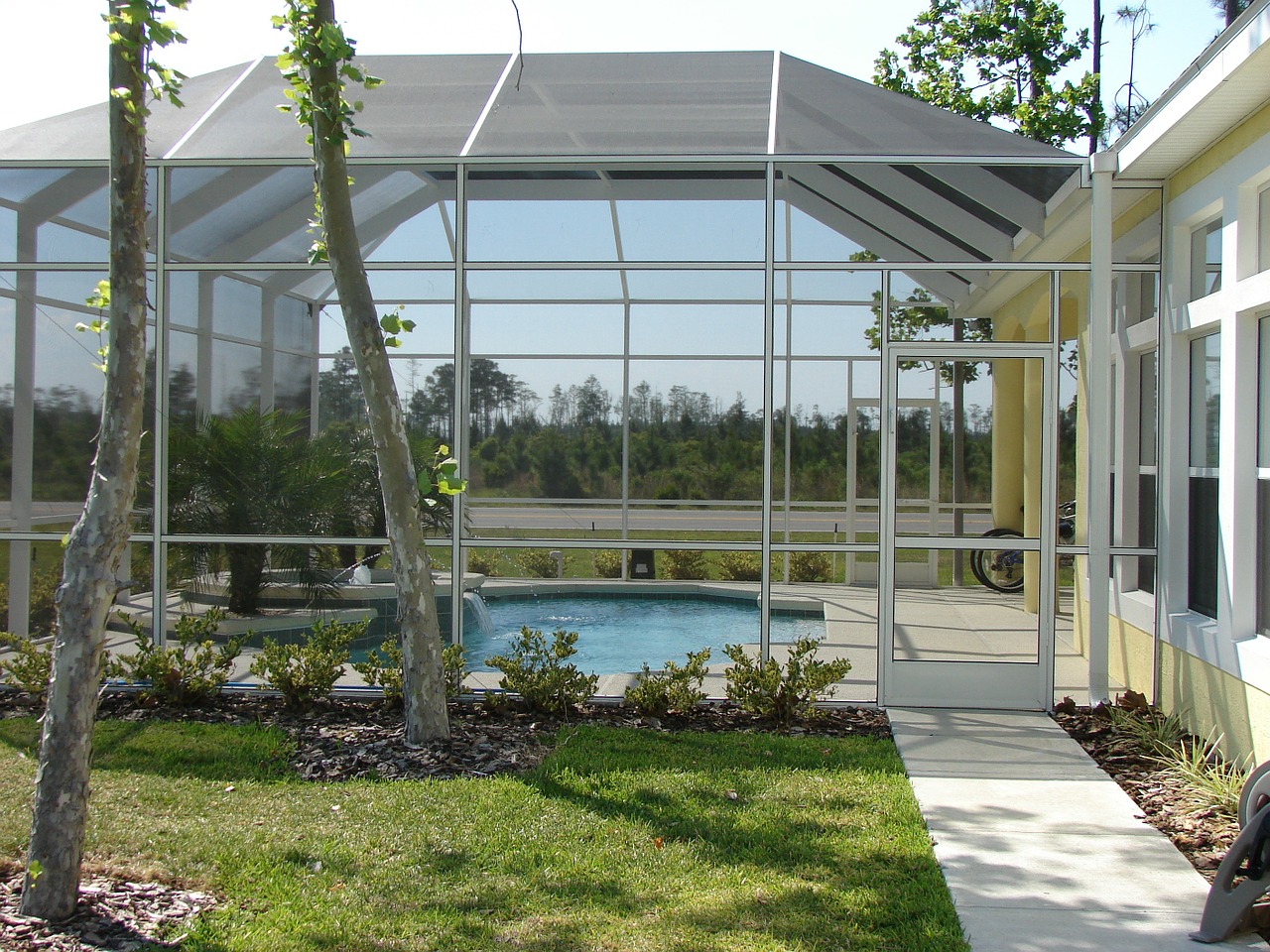 Mistake: Big Palm Trees
Lounging by the pool surrounded by plenty of palms sounds luxurious.

Here's the thing — palms grow.

Make sure you consider a palm tree or larger plant's size at maturity before you plant.

Lots of pool owners want a palm tree in the corner, but they can outgrow the area in 5-10 years, pressing up against your pool screen and even damaging it.
Better Choice: Petite Palms
Try a Roebelenii Palm. This dwarf date palm is petite enough to work even inside your pool screen, but they look great leaning out over the pool to allow room for their spreading canopies.

It'll add real beauty to your pool area, with its dense, full crown of arching glossy, green leaves.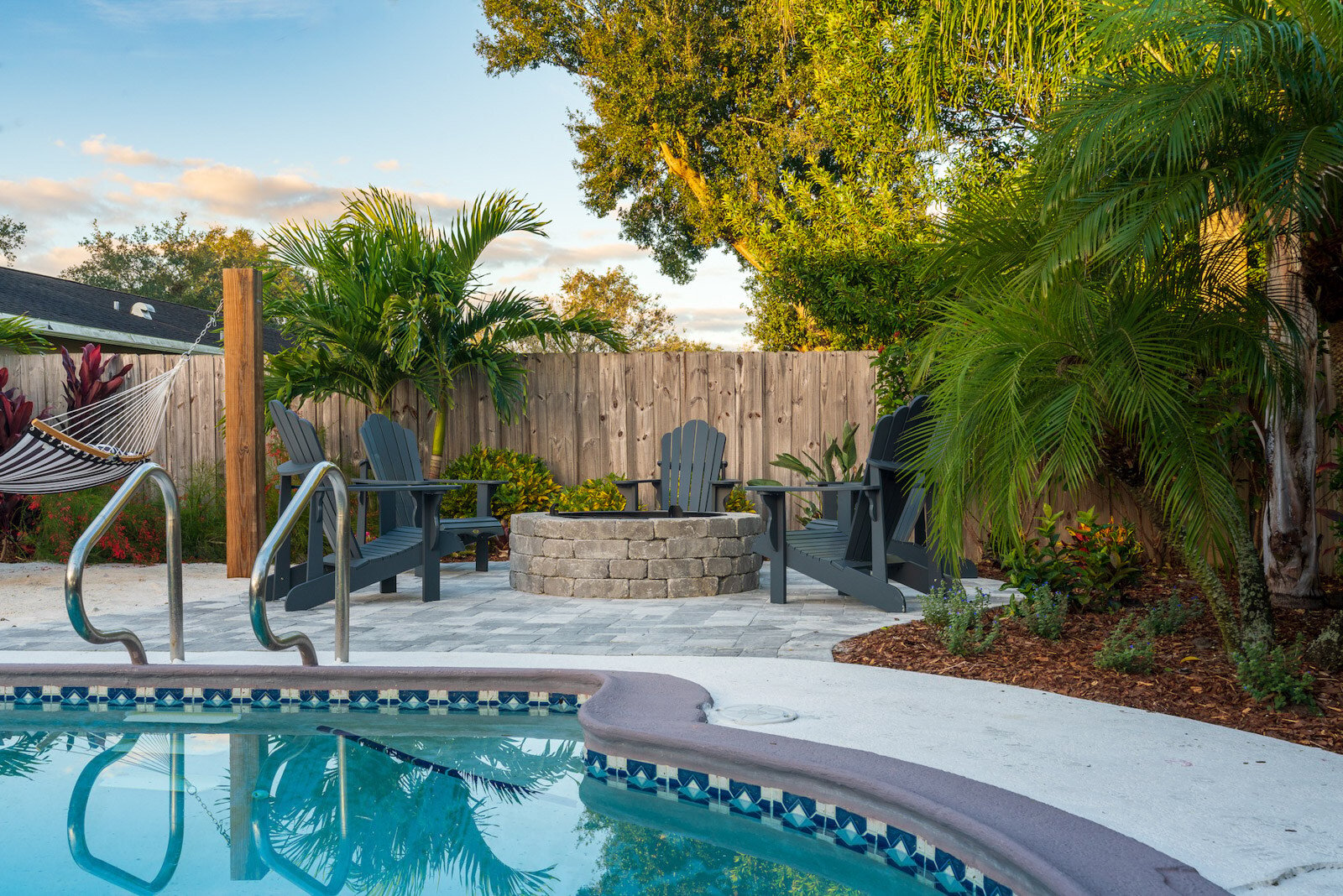 Mistake: Rock as Pool Landscaping Ground Cover
Pool owners love using rock as ground cover, but this pool landscaping design element can get messy.

You'll need to periodically clean plant debris out of the rocks to keep it looking tidy.
Better Choice: Mulch
If leaves fall, it can just be raked up from time to time and new mulch added.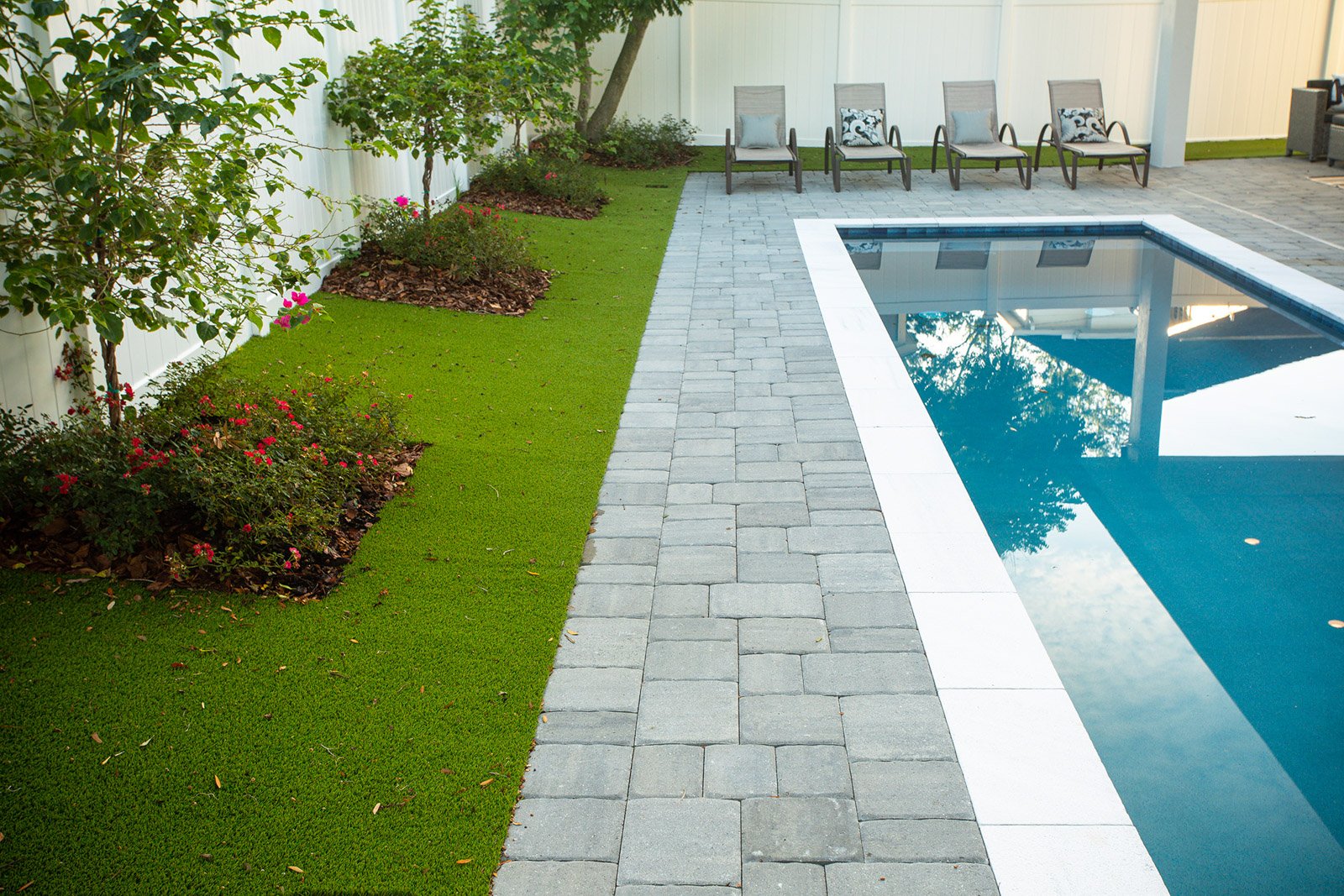 Mistake: Slippery Pool Deck
Pools attract lots of bare feet, so make sure you choose decking material that won't become slippery with all that splashed water, or get ouch-ouch-ouch hot in the sun.

Poured concrete is a popular choice for pool landscaping deck and patio areas, but plain concrete gets slippery when it's wet. Be sure it has a textured surface so people don't slip.
Better Choice: Pavers for Pool Deck and Patio
Better yet, pick pavers. Make your pool decking and patio areas unique by creating patterns and shapes.

Versatile, slip-resistant, easy to repair, pavers are a great choice.

Stick to light colors so they reflect light and stay cooler.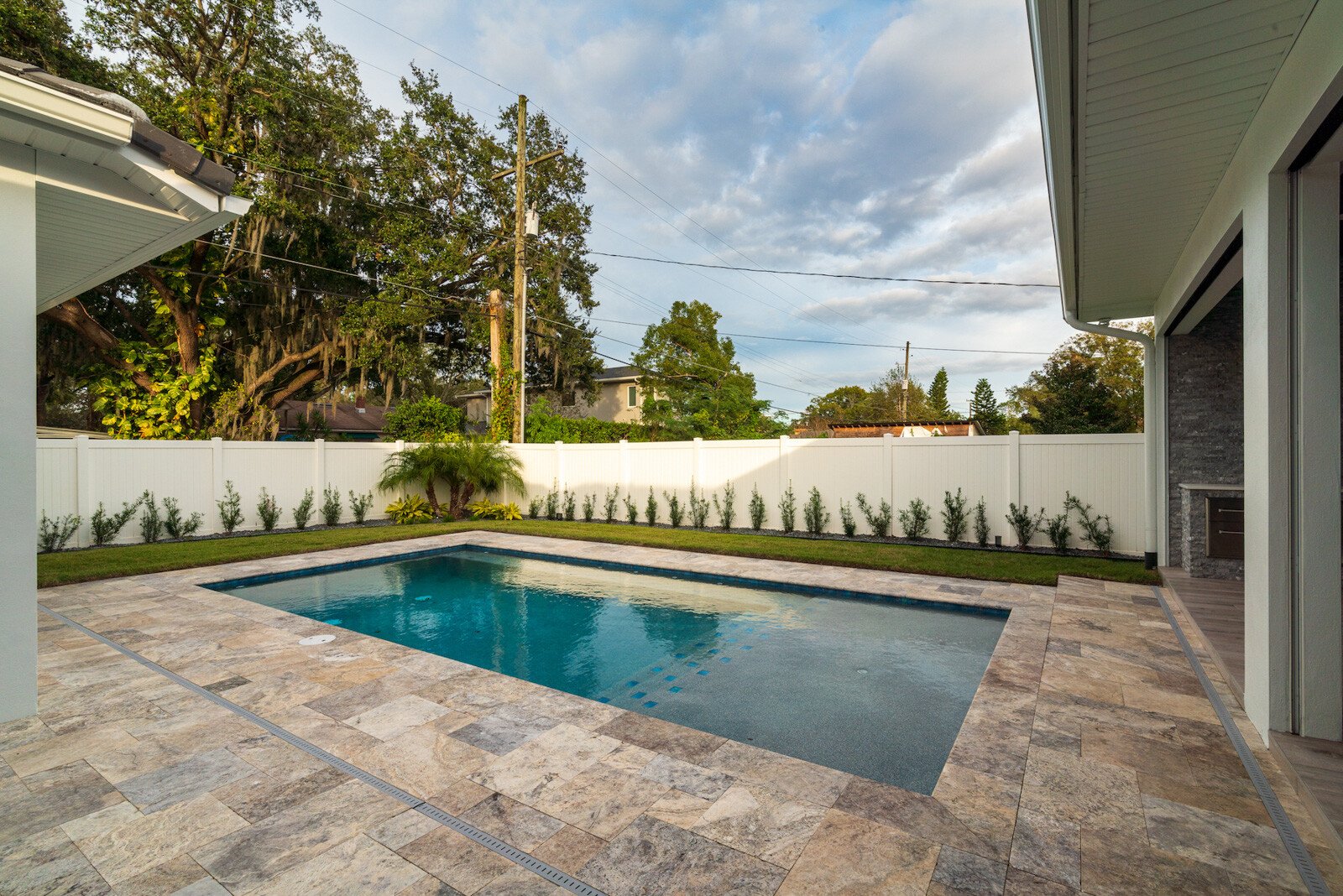 Need Great Pool Landscaping Ideas? Trust Ground Source
If you think about pool fun but forget about function, it's easy to make mistakes.
Leave the pool landscaping to us. You just grab your suit and sunglasses.

We're pool landscape design experts, but our skills don't stop there. We're with you every step of the way as you plan your perfect outdoor space.

Sod, irrigation, landscape design: Let us transform your yard from an embarrassing eyesore to a place you spend every spare minute.

Are you ready to enjoy the vibrant, impressive yard you've always wanted? Request a quote today! We'll help you review your options and then transform your property.