You wouldn't think a driveway would be the centerpiece of a stunning Orlando residential landscape design.

How great can a driveway be, right?

At this Spanish Colonial home in an Orlando gated community, a paver driveway made all the difference.

Add artistic lighting, intriguing, well-behaved plants, and a new irrigation system and you get an impressive landscape makeover that doesn't just look great, it works great.
First, the Landscape Dilemma
The homeowners of this striking high-end home entertain lots of friends, colleagues, and family.

But it wasn't a very easy place to visit.

The sidewalk leading from street parking to the front door was about 80 feet long and led up a hill.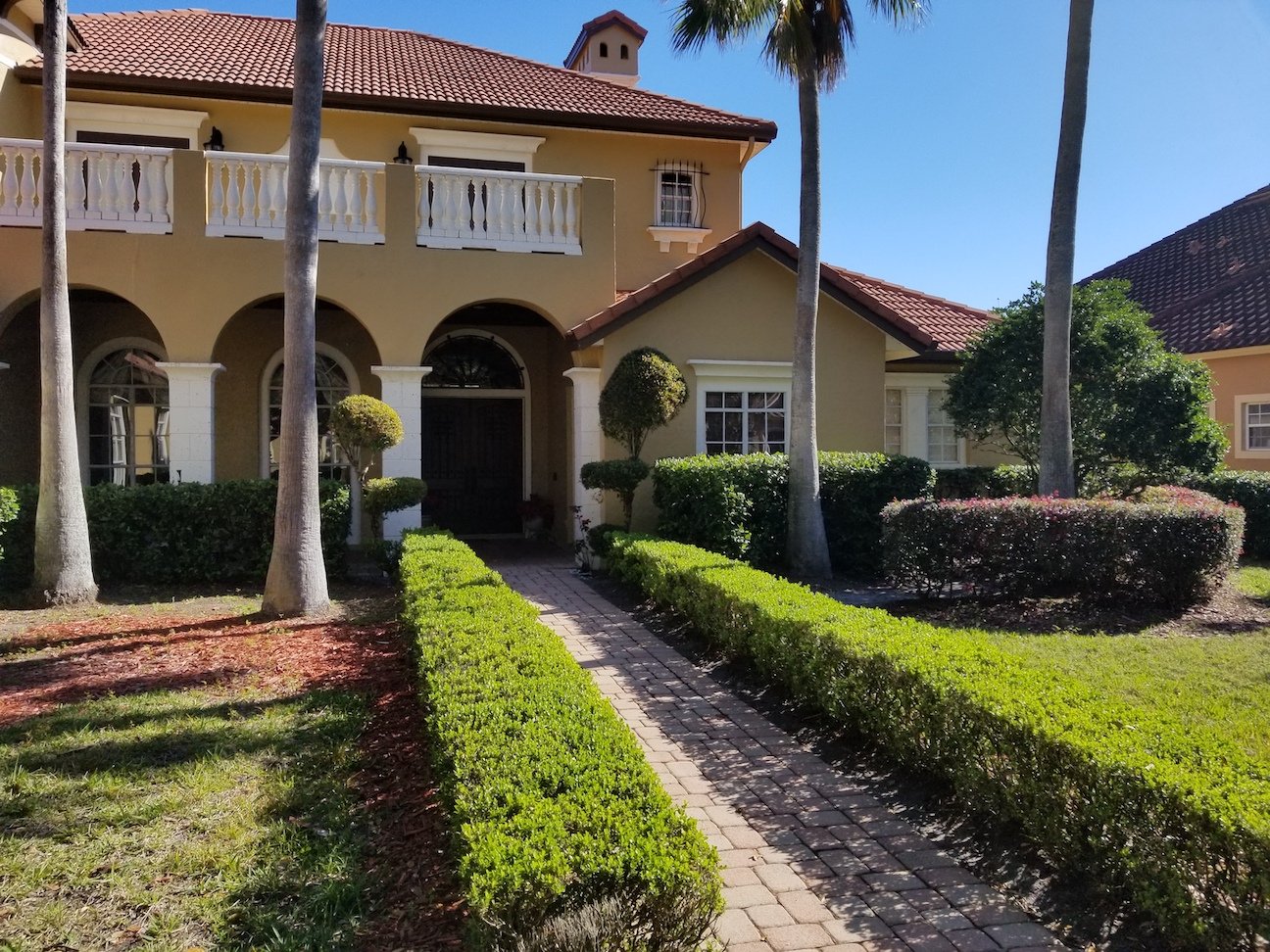 If you were headed here for appetizers, you really earned them.

It's a lovely house, but overgrown plants, shrubs, and trees that had grown too big for their spots obscured the view from the street and sidewalk.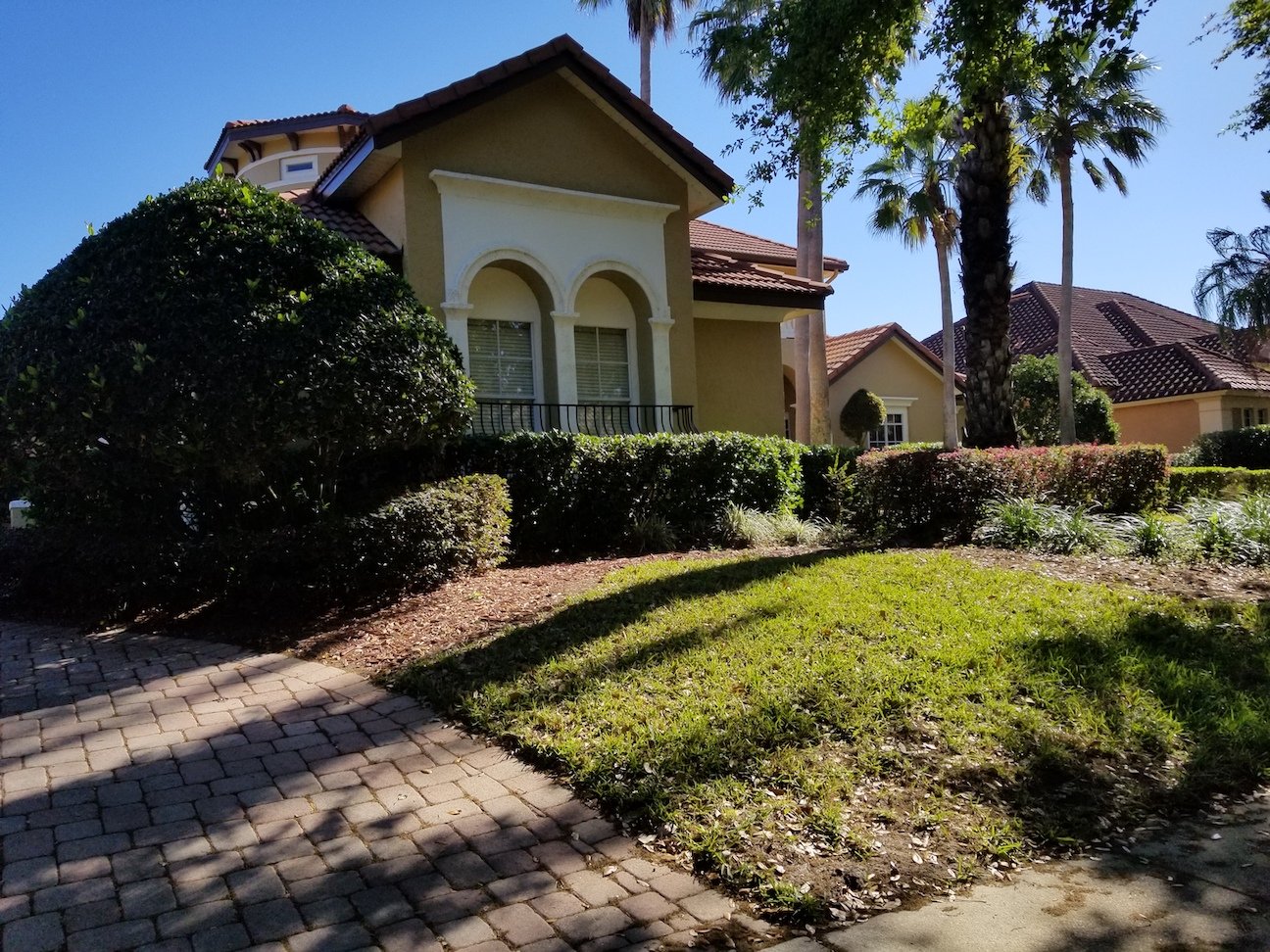 They blocked the view from inside out, too.

The owners wanted their home to be more accessible and welcoming. They needed expert Orlando landscaping design.
The Landscape Renovation Plan
The homeowners worked with Eric Frisch, landscape designer at Ground Source, to create a plan.

The re-do would involve a second driveway, new plantings and sod, a new irrigation system, and lighting that shows off the impressive home's most flattering features after dark.

The best part: it's now a whole lot easier to get there to appreciate it all.
A Dream Paver Driveway
Frisch suggested adding a second driveway, connected to the first and constructed from the same pavers, Catalina by Belgard in Harvest Blend.

The driveway adds extra parking spots for company and connects to the front door entrance, with a courtyard sort of feel. It eliminates that long trudge up from the street.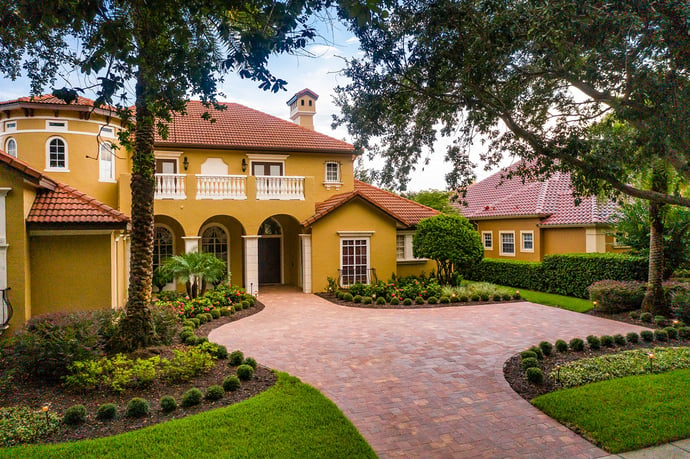 "Now you can pull right up and be close to the front door," Frisch says. "You don't have to walk 80 feet. Adding that driveway was a big thing. It gives them more room, and it looks more grand."

Grand is right. No boring stretch of pavement, the paver driveway incorporates stunning inlay designs in circles and overlapping diamonds.

"People come and go here a fair amount," Frisch says. "They have ample parking space now, so people don't have to park on the street."

Crews installed sleeves under the driveway to allow for wiring for landscape lighting.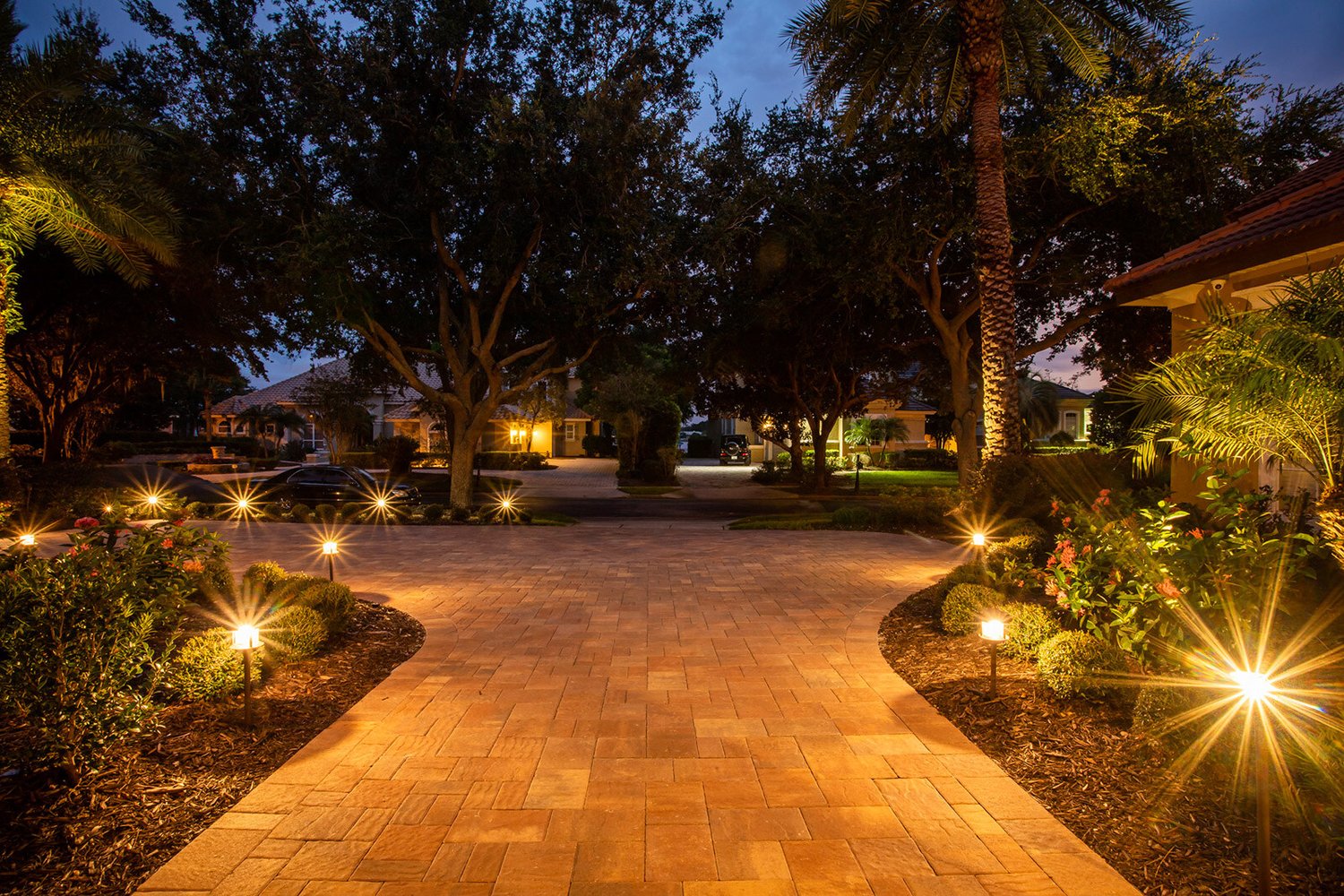 Planning the New Plants
A few large palm trees and some large original Ligustrum trees were kept. Everything else, overgrown and uninspiring, had to go, including several large fan palms that had grown too big for their spots.

The Orlando homeowners wanted plants that won't get huge and overgrown like their original landscaping did.

"They want to be able to see out their windows," Frisch says, "and have a nice view of the house from the outside."

The best Orlando landscaping design incorporates plants perfect for the spot.

The standout plants added to the landscape:
Roebelenii Date Palm
This petite palm is often used in small landscape beds or even inside pool screens. It's perfect for tight spots where you still want a tropical punch.
Podocarpus
An evergreen shrub with soft, fine-textured foliage, it provides the perfect background hedge. Over time they'll become thick and luxurious.
Schilling Holly
Also known as Dwarf Yaupon Shrub, its dense, rounded form makes it great for hedges. It looks like it's been professionally shaped — without any formal cutting.
Variegated Asiatic Jasmine
A striking groundcover, new leaves emerge pink then turn variegated white and emerald green. Bonus: very fragrant, tubular, creamy yellow flowers bloom prolifically in the Florida heat.
Ixora 'Nora Grant'
A Frisch favorite for color in the landscape, Ixora is a year-round flowering shrub that bears clusters of tubular flowers. This variety boasts booms in vivid pink.

"All these plants are designed to be hedges," Frisch says. "So, the homeowners will have nice hedge layers as they grow together."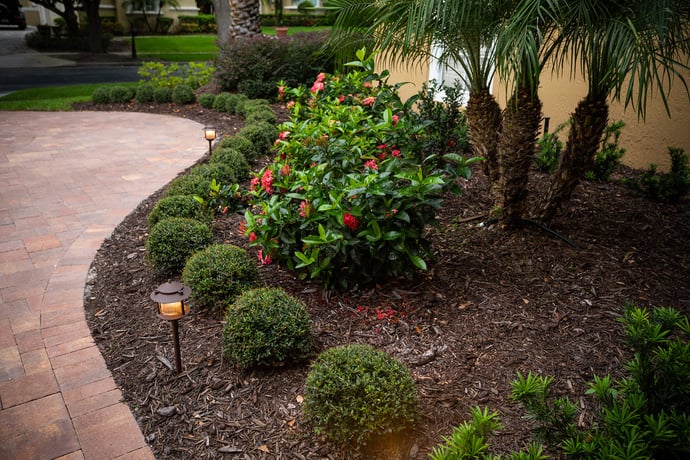 The Allure of Landscape Lighting
This house is way too lovely not to light at night. It's the kind of property Orlando landscape designers love to tackle.

"I like to focus on unique parts of the architecture, like columns, archways, and bricks," Frisch says. "Things that create texture when you light them."

Here, he lit the faux balcony railings and stately columns by the front door.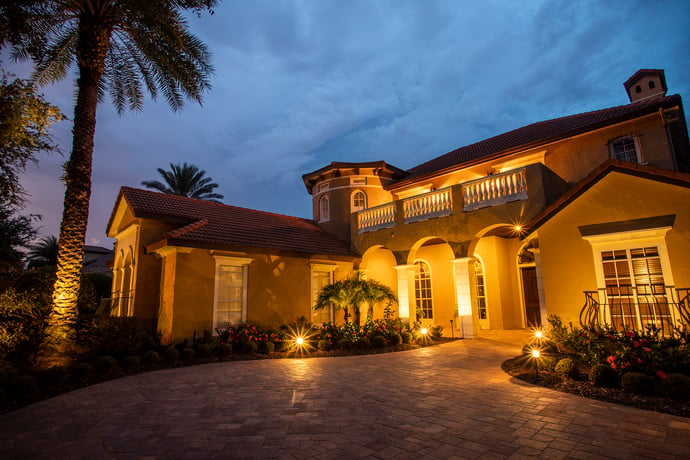 "I like the way the light catches the arches," he says.

Several big trees needed lights on risers, elevated, so the light isn't blocked by the foliage below.

The paver driveway got the lighting treatment, too,

"The driveway is a sidewalk, essentially," Frisch says, leading to the front entrance. "Now it's framed by light."

It's beautiful, but offers safety, too.

"The lighting illuminates the edge of the driveway," he says, "so people know where it is and won't trip and fall."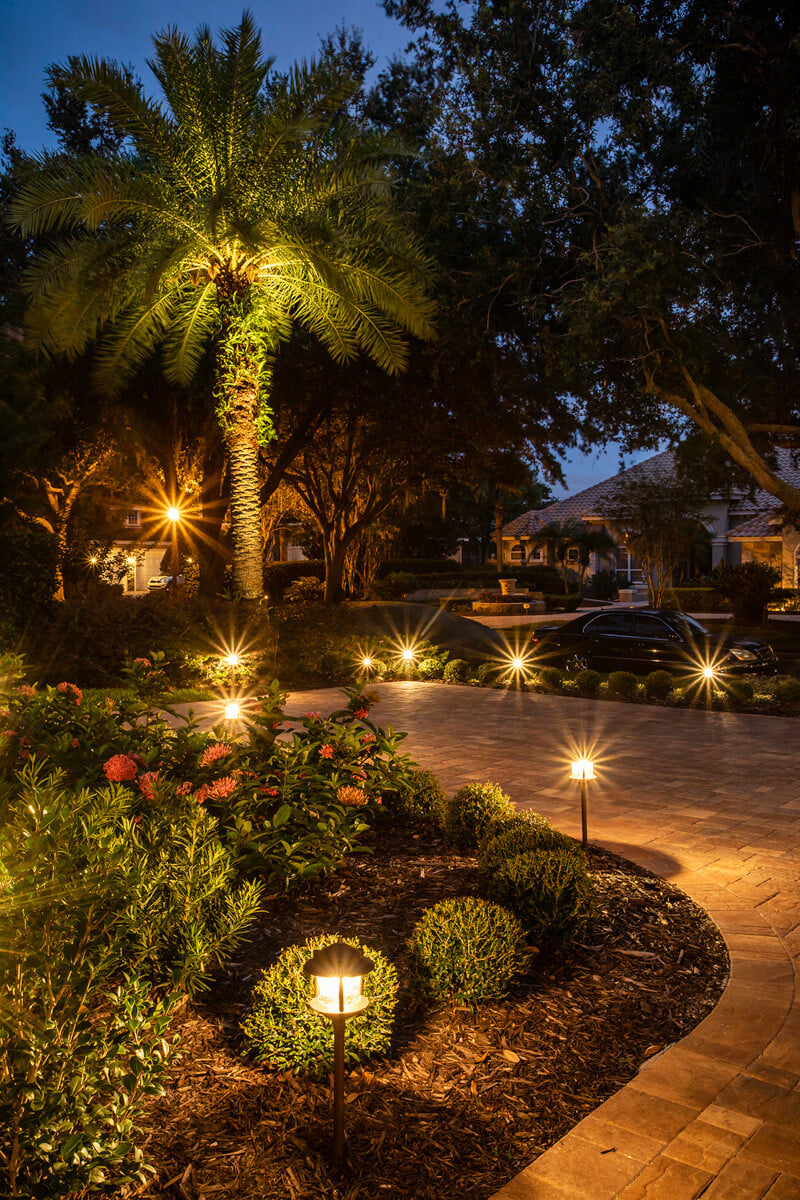 Landscape Makeover Challenges
Frisch was expecting 36 pallets of Belgard Catalina pavers in Harvest Blend.

But when they arrived, they weren't right.

"They sent poorly made pavers with bad color blending," he says. "I had to refuse the order and order a new batch."

Orlando landscaping companies are used to drainage issues, but Frisch got lucky here. He only needed to install downspouts on the left side of the house that run to the sidewalk so water doesn't pour onto the pavers.
Keeping the Landscaping Lush
A carpet of fresh new St. Augustine Palmetto sod provides the verdant backdrop for the project. Frisch chose it because it tolerates shade, and the yard has several trees.

A new irrigation system will keep the lawn and plants well-watered.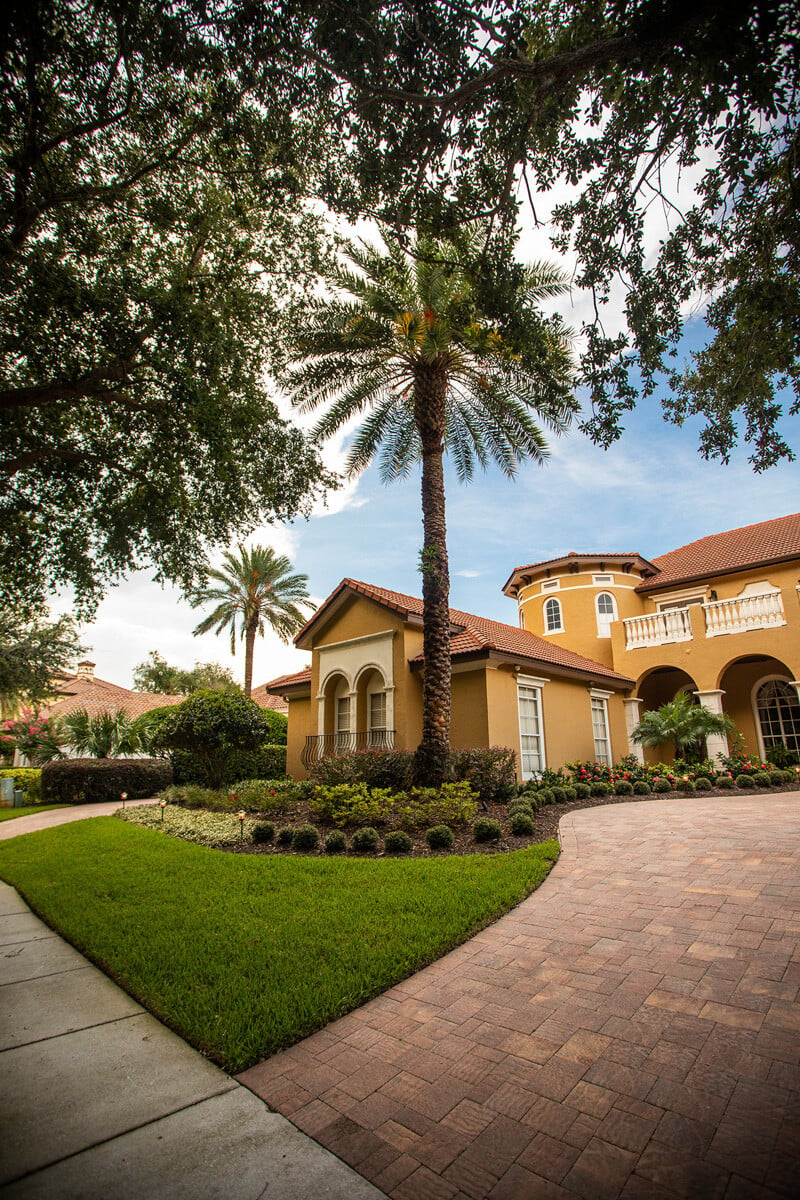 Orlando Landscape Design: A Bit of Everything
Frisch loves a landscaping remodel "that incorporates everything.

"Pavers, sod, lighting, plants, brand new mulch — it encompasses a lot of different things," he says, "which is nice for other customers to see and get ideas."
Need an Orlando Landscaping Company That Does It All? Trust Ground Source
Maybe you don't need an expansive new paver driveway. Or even a Roebelenii palm.

But your landscaping can likely use a lift.

New sod? Updated irrigation? Lighting to show off your home's best features after dark?

You're in luck. At Ground Source, we do it all. Start to finish.

We're paver experts, but our skills don't stop there. We're with you every step of the way as you plan your perfect outdoor space.

Sod, irrigation, landscape design: Let us transform your yard from an embarrassing eyesore to a place you can't wait to come home to.

Are you ready to enjoy the vibrant, impressive yard you've always wanted? Request a quote today! We'll help you review your options and then transform your property.