Unless you're an otter, you'll probably spend more time on your pool patio than actually in the pool.

Is yours perfect?

Lots of pool patio areas aren't very inviting. Outdated concrete squares are pretty common. And not very exciting.

You can do a lot better than that.

After all, hanging out by the pool is half the reason to have one, right?

Let's plan your perfect pool patio.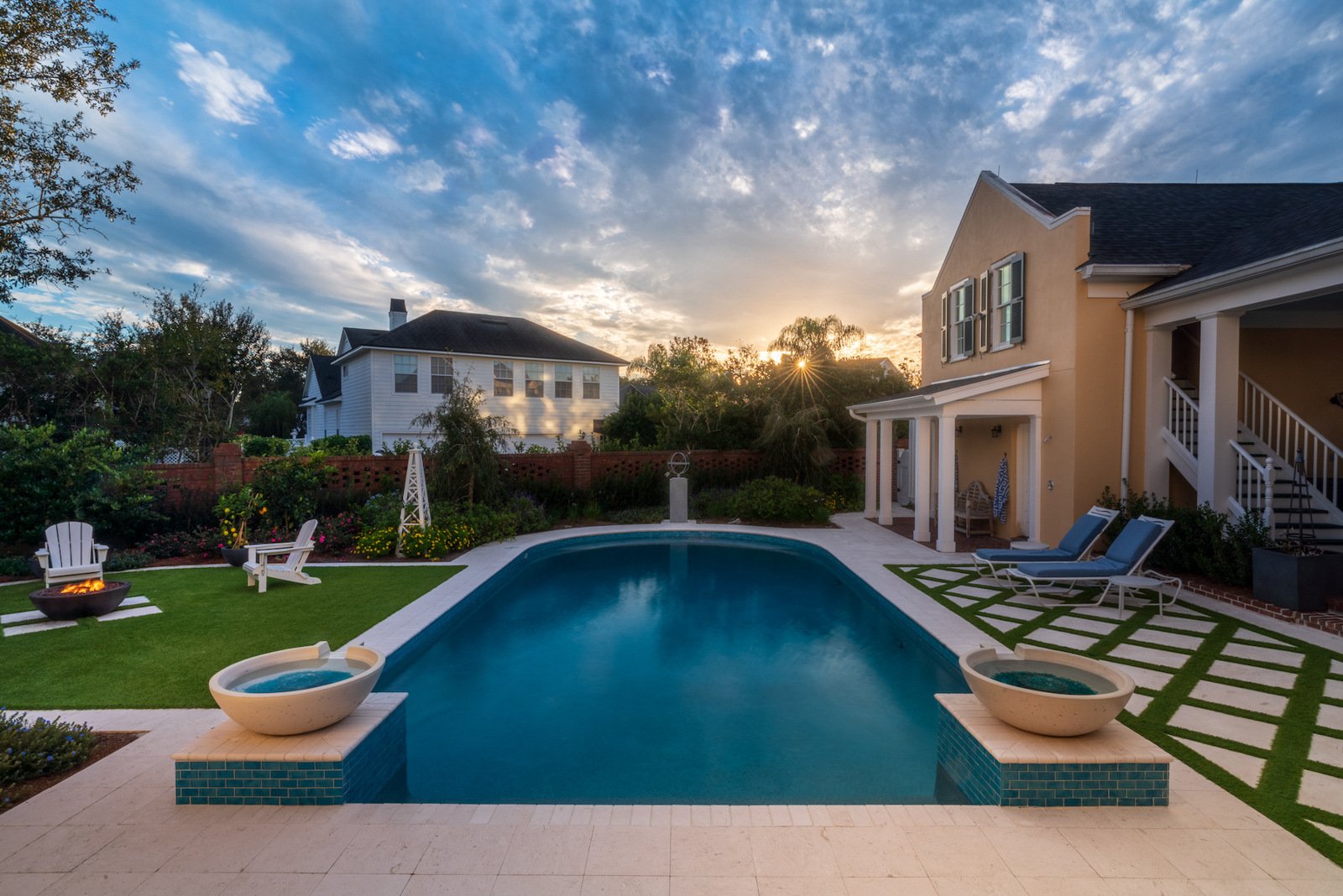 Pool Patios: Function First
The first thing to do is to come up with a list of things you need space for on your pool patio.

How will you use it?

Do you envision big pool parties for holiday cookouts and family birthday parties?

Or do you need a more intimate space, for quiet morning poolside yoga and romantic dinners for two?

Either way, you'll need room for furniture, and enough space to maneuver around it.

Curving lines? They look great. Straight lines? That's fine, too. How about steps, terraces, and seating walls? The best pool patios blend creativity and function.

A creative landscape designer can help you plan the size and shape of pool patio to fit your lifestyle and blend with your existing landscaping.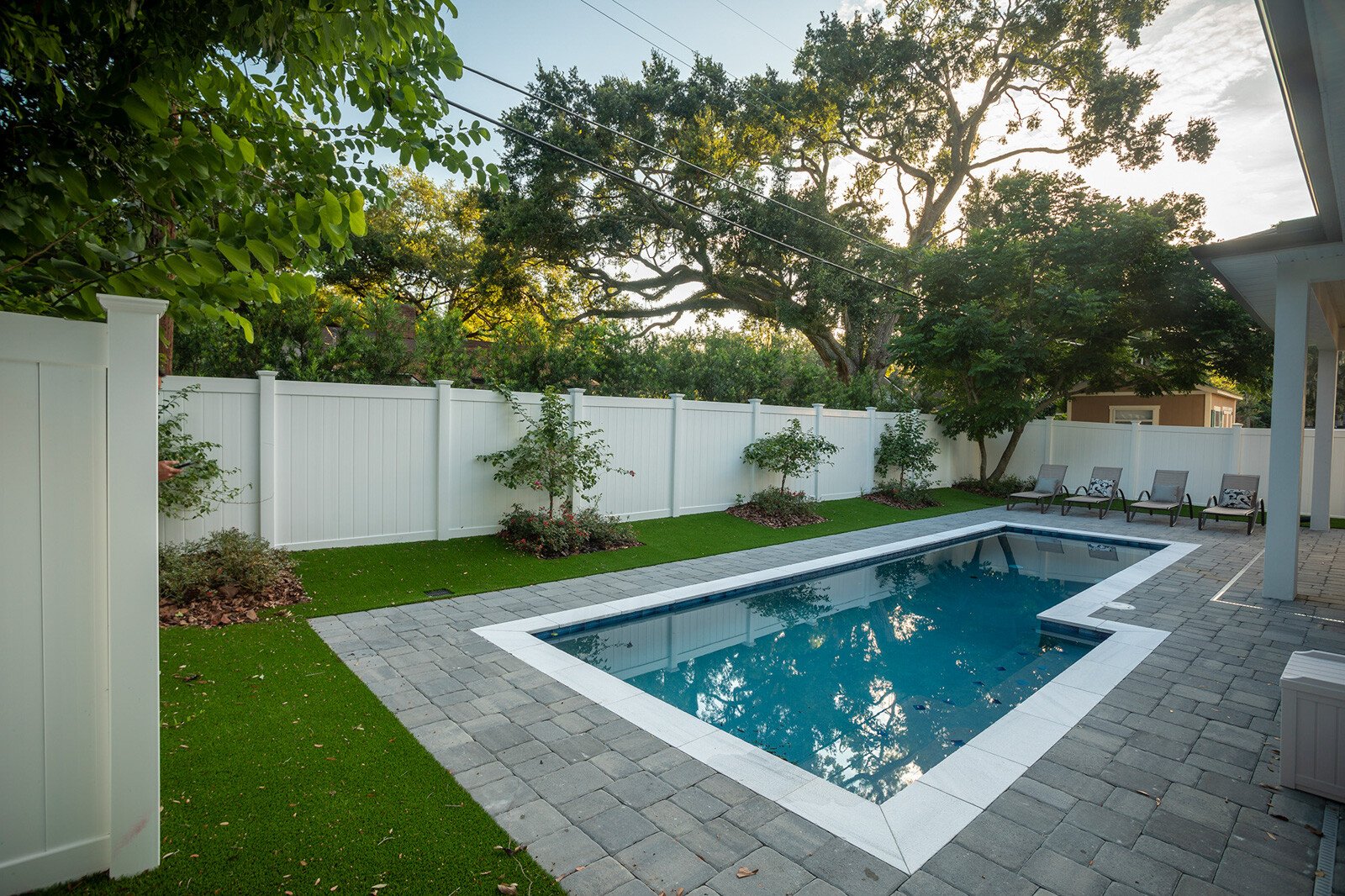 All Feet on Deck
Your pool patio can be made of poured concrete, precast concrete pavers, or natural stone.

How to choose?

Poured concrete is a popular choice for pool landscaping deck and patio areas, but plain concrete gets slippery when it's wet. Be sure it has a textured surface so people don't slip.

Natural stone, like flagstone, bluestone, and travertine, offer a beautiful, natural look. But it's pretty pricey, and tends to get hot in the sun, especially dark varieties like bluestone.

Here at Ground Source, we love paver pool patios.
Versatile, slip-resistant, easy to repair, pavers are a great choice. They're cost-effective and come in so many styles, colors, and patterns.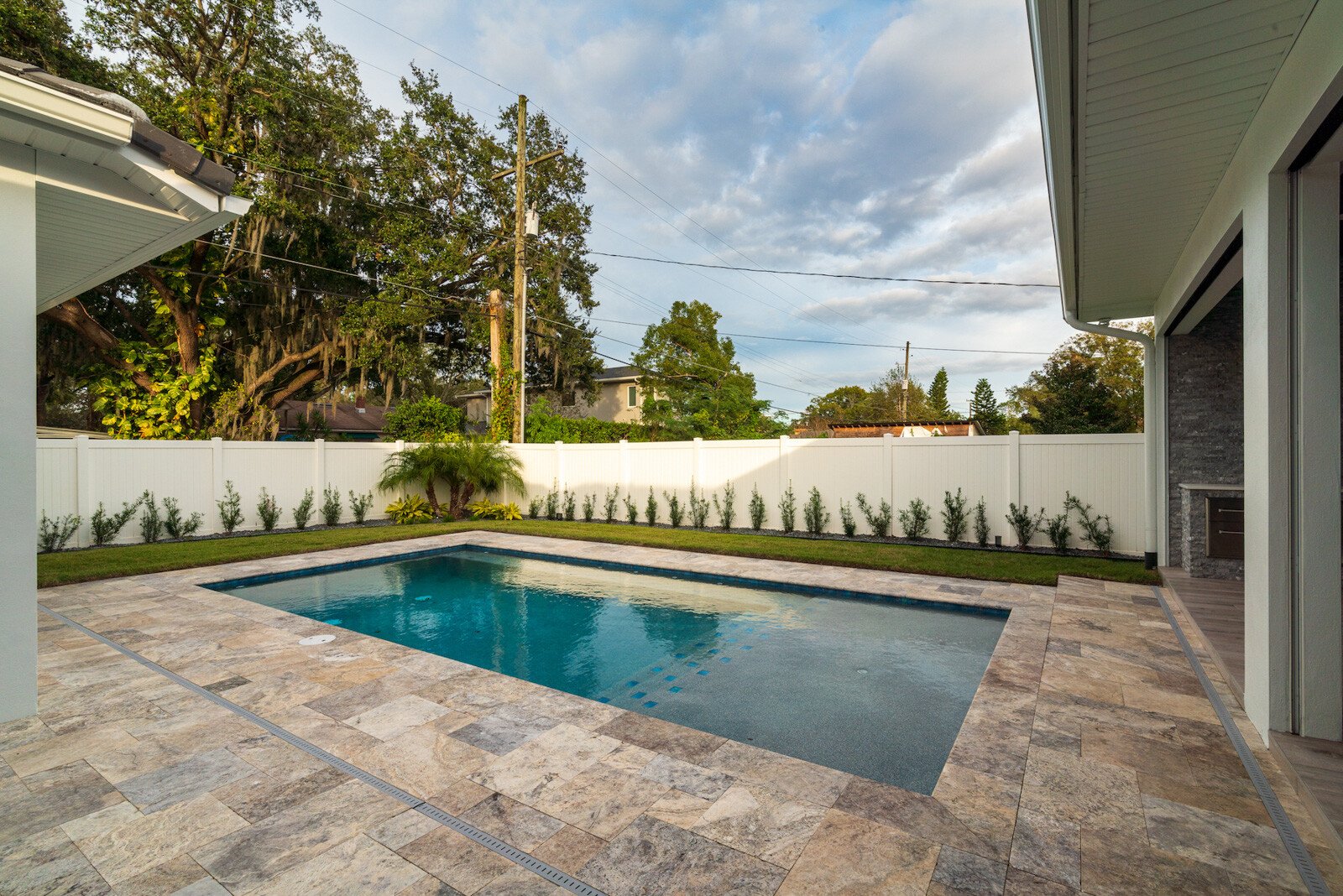 Make your pool patio areas unique by creating patterns and shapes.

Stick to light colors for patio pool pavers so they reflect light and stay cooler. The darker the paver, the hotter it can get.

If you have an existing concrete pool patio that's still in good shape, we can install a more luxurious paver patio right over the top.
Next Up: Fun Pool Patio Additions
Once you've settled on your pool patio size and paver design, how about some fun and functional additions?

Seating wall? Fire pit? Hot tub?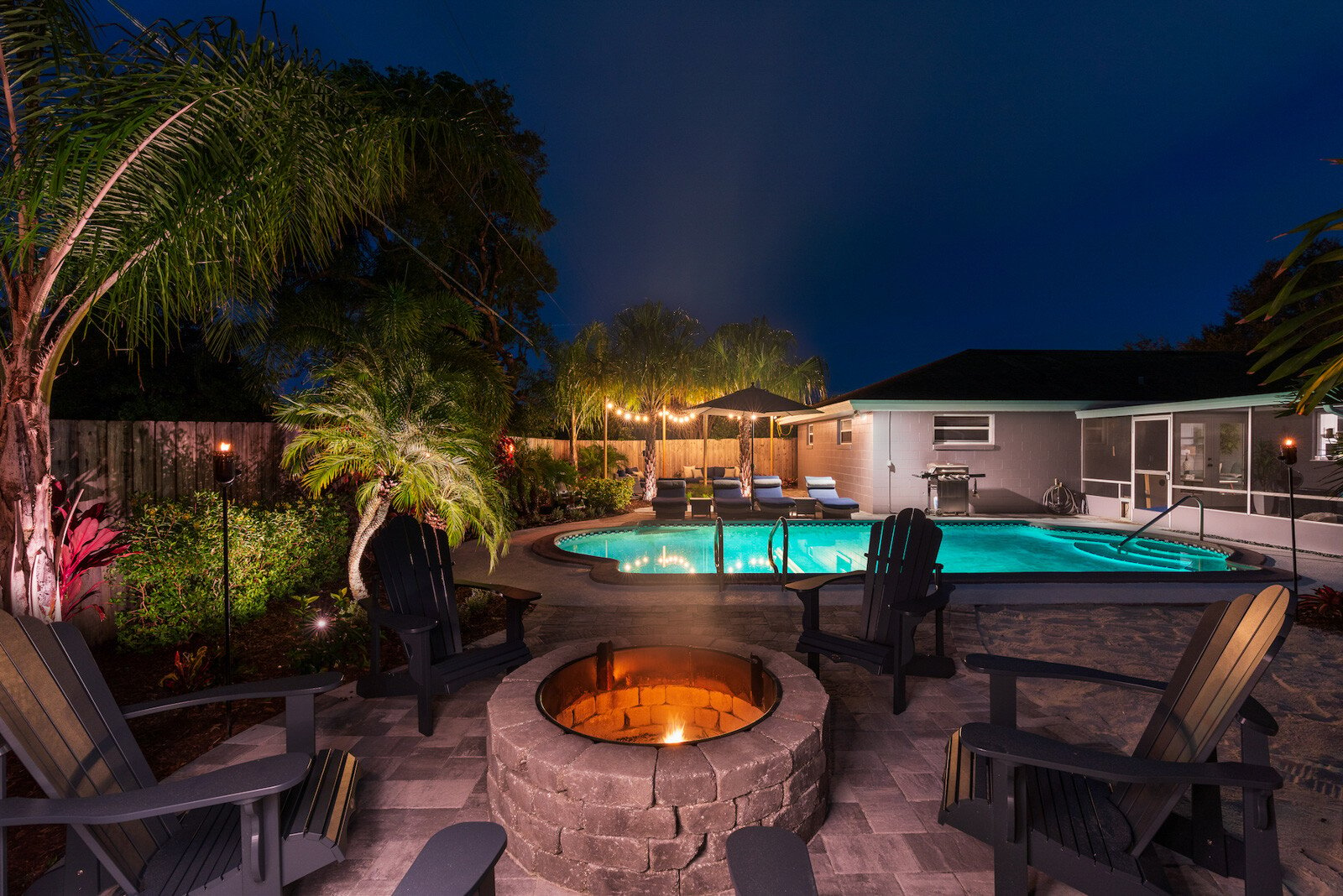 Yes, your paver pool patio can support a hot tub. We treat hot tub pavers like a driveway and add an extra thick six to seven-inch base underneath, which is twice as thick as most paver companies in Orlando use.

Some customers decide to pour a concrete slab under the pavers where the hot tub will go. Either way, your hot tub and pavers will be fine.

Don't forget the plants, from palms to tropicals to containers of colorful annuals.
Get Creative (We Have Ideas)
Think outside the box. You can get some great ideas from pool patio work we've done for our clients.

One poolside patio in Celebration features a lattice pattern created from white travertine and emerald green artificial turf.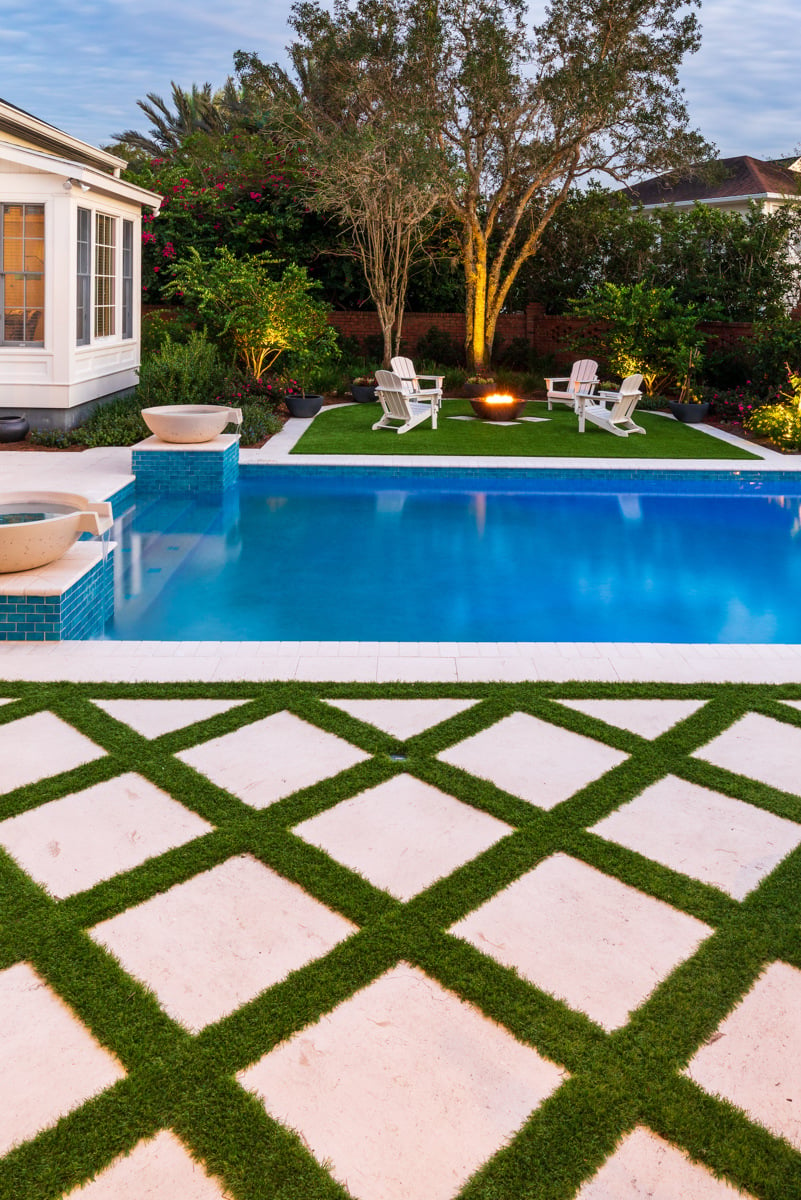 It adds a sense of pattern, a soft place for bare feet to land, and a piece of poolside art, built right in.

Another client wanted a backyard resort — his own tropical paradise.

Our designer created separate areas for the backyard resort, dividing it into sections for relaxing by the pool, hanging out in a hammock, or lounging under festive string lights.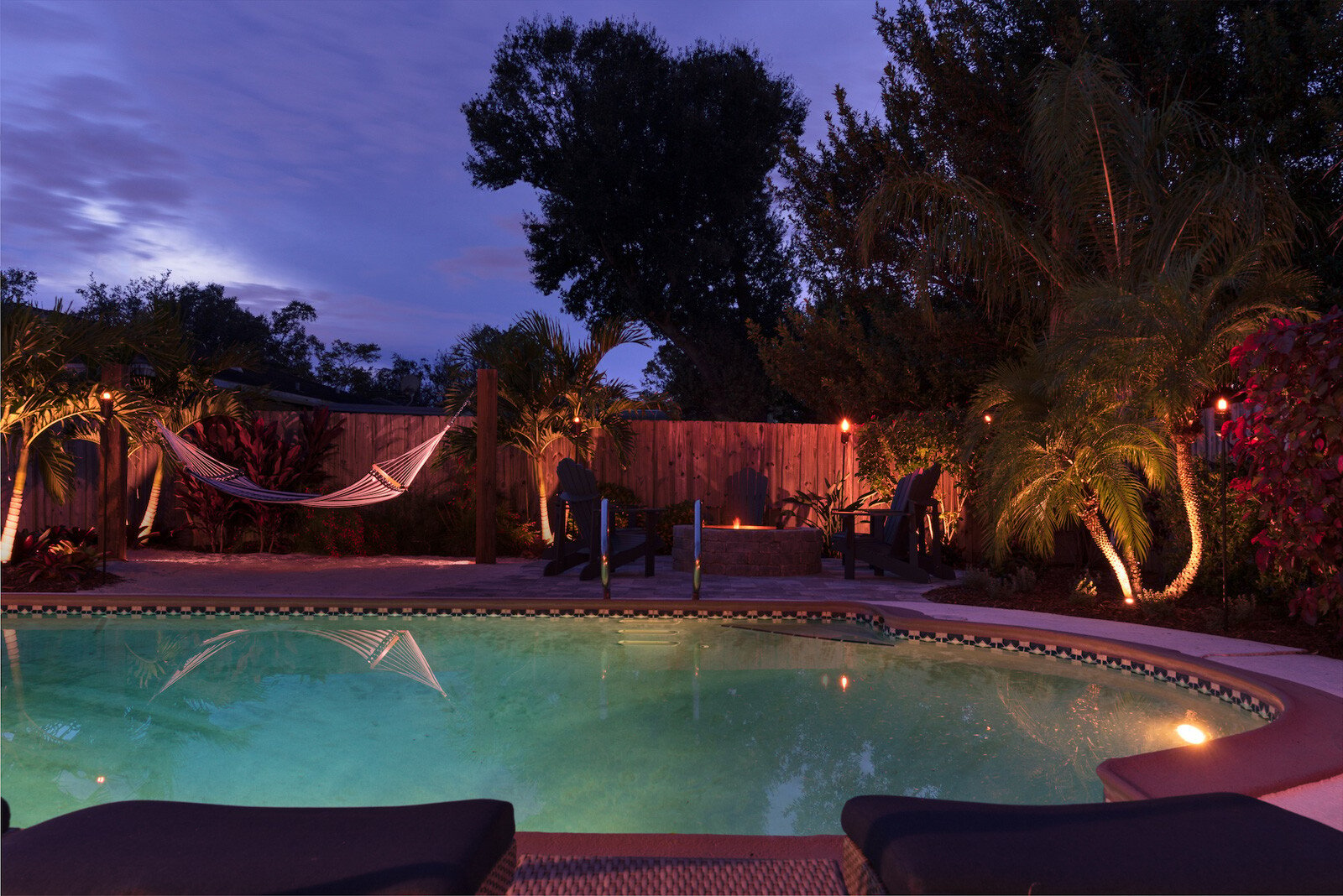 Palm trees divide the formerly long patio into two sections, creating more intimate hang-out areas while offering shade.

The homeowner wanted little maintenance, so the lawn was replaced with a no-muss, no-fuss paver patio.

A small concrete patio didn't provide enough space for lounging or socializing, so we expanded the area with a paver patio with plenty of room for comfy lounge chairs for basking in the sun.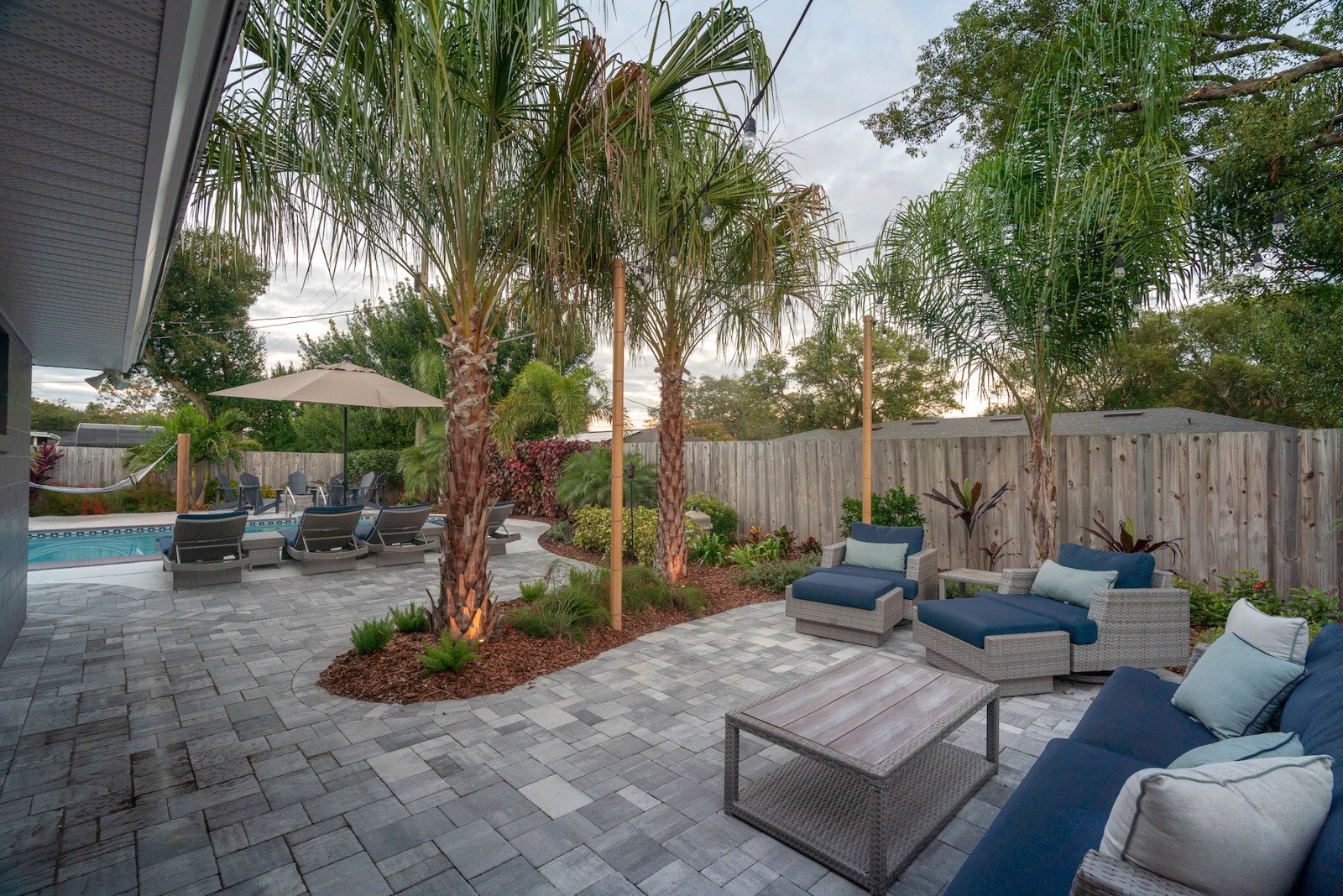 If you dream it, we can make it happen.
Hiring a Pool Patio Pro
So, you have some pool patio ideas, but you have some questions and a couple things stump you.

Who can help? We have a couple tips
Work with a Designer
Make sure your landscaping company has a licensed landscape designer on staff.

A skilled designer will answer all your questions, from how big your pool patio should be to what color and patterns will look best with your house.

They'll have great ideas that might not even occur to you.
Hire a Full-Service Landscaping Company
Maybe you just want a simple pool patio. Nothing fancy.

But what if your landscaping dreams get bigger? It happens.

You might decide to include a fire pit. Or lighting. Or some landscaping to make your pool patio seem lush and tropical.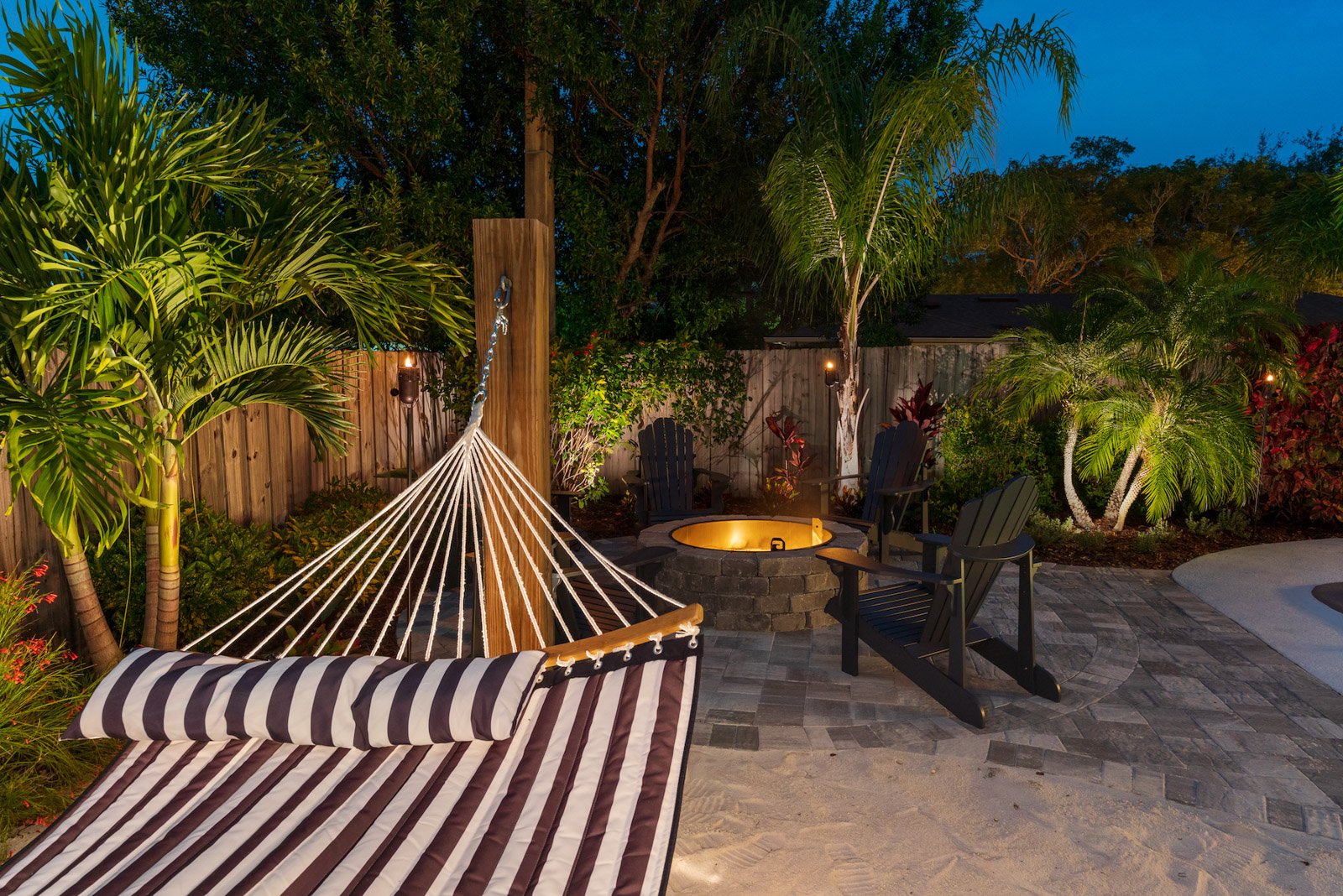 Do you want to have to deal with a whole handful of different companies to get your dream yard? That sounds like a hassle.

Choose a landscaping company with the skills, experience, and creativity to handle your whole project.
Need Great Pool Patio Ideas? Trust Ground Source
All this talk of pool patio planning has us excited to dive in. How about you?

Leave the pool patio landscaping to us. You just grab your suit and sunglasses.

We're pool landscape design experts, but our skills don't stop there. We're with you every step of the way as you plan your perfect outdoor space.

Sod, irrigation, landscape design: Let us transform your yard from an embarrassing eyesore to a place you spend every spare minute.

Are you ready to enjoy the vibrant, impressive yard you've always wanted? Request a quote today! We'll help you review your options and then transform your property.